With Hotel Alsik, Bitten & Mads Clausen's Foundation has, together with PFA Pension, taken the biggest step yet in realizing star architect Frank Gehry's master plan: To transform Sønderborg's old industrial harbor into a city quarter with unique architecture. April 12th marks the hotel's topping out ceremony.
An architectural heavyweight has risen on Als. At 70 meters and 19 stories, Sønderborg's new landmark, the Alsik, has reached the top and protrudes above Northern Europe in more than one sense. Alsik will be the region's first four star conference and business hotel, with Denmark's largest spa and wellness area of 4,500 square feet.
The hotel has been constructed by PFA Pension and Bitten & Mads Clausen's Foundation, the owner foundation behind Danfoss A/S, and is designed by Henning Larsen Architects, whose works also include the Royal Danish Opera House in Copenhagen. The topping out ceremony at Alsik takes place on April 12th and marks the biggest step yet in the realization of the master plan, which the US architect Frank Gehry drafted in 2006 for the transformation of Sønderborg's old industrial harbor into a new city quarter with unique architecture. The master plan was initiated in 2009, and in under ten years the lion's share of the projects have been realized. The quarter has even got its own name: Byens Havn, or the City Harbor.
"It is with great pleasure that we can write, with Alsik, a new chapter in Sønderborg's long history. Alsik will open up the harbor, create life by the water and also offer a unique view from an observation deck 64 meters over the harbor, from which you will be able to see how the Alssund strait, the hillsides and the landscape enclose Sønderborg. As an architect it has been deeply inspiring that the vision behind Alsik and the harbor area in general exude so much regional dedication and a creative urge to develop Sønderborg," says Louis Becker, the architect behind the building.
"With this hotel project we are showing that, together with the municipality and with PFA as co-investor, we have the strength and the will to set Als and Sønderborg on the national map," says Peter Mads Clausen, chairman of the Bitten & Mads Clausen's Foundation.
The first sod was turned on the hotel construction on November 13 2015, and Alsik is scheduled to open in March 2019.
Facts: Alsik
Alsik has achieved its full height, and the last floor is currently being completed. The hotel tower now stands at 70 meters, with 19 stories including the ground floor. There is also one entire floor located underground.
Alsik will be the first RIMC Hotel in Denmark. The German chain operates more than 50 hotels in 12 countries. The director for Alsik will be Irmela Heinsius, who has 30 years of experience from the international hotel industry.
Hotel Alsik will double the hotel capacity in Sønderborg.
An open house event is planned for all those interested in late summer 2018.
Contact:
Kari Stochholm
Project Coordinator
Bitten & Mads Clausen's Foundation                                                   
Nørre Havnegade 43, DK-6400 Sønderborg
Mobile: (+45) 2963 6410
http://www.bmcfond.dk/fonden/
Further information:
Danfoss Media Relations
Tel.: (+45) 70 20 44 88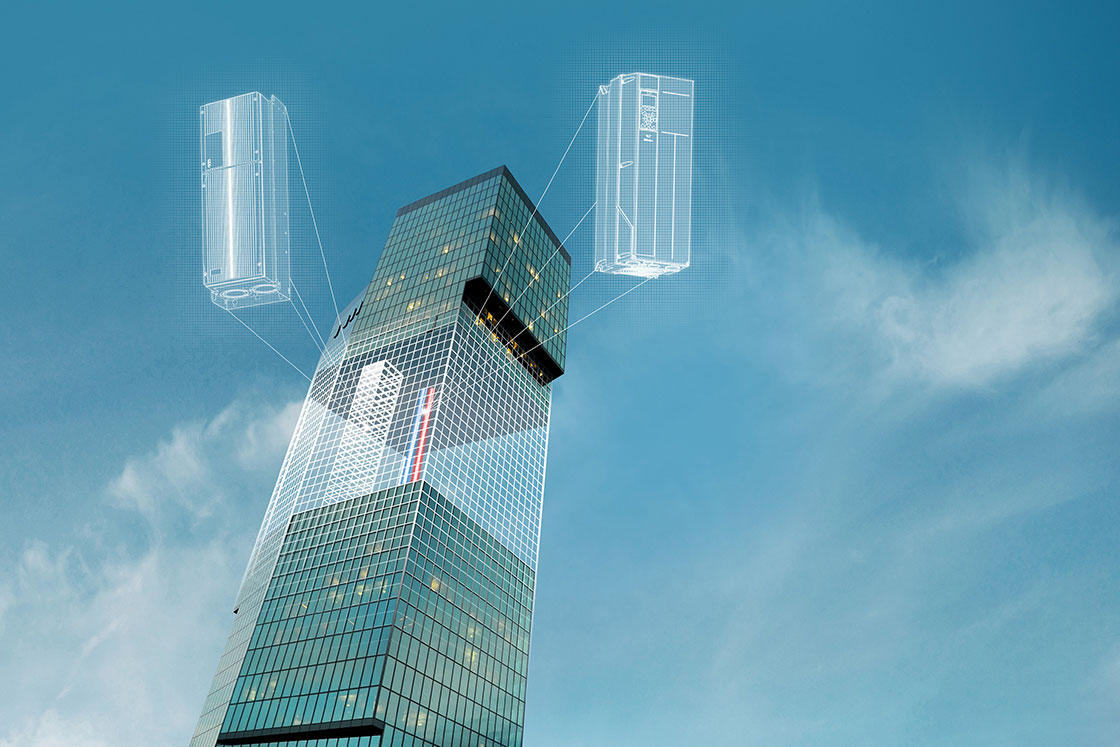 Engineering the world of Tomorrow
Danfoss engineers advanced technologies that enable us to build a better, smarter and more efficient tomorrow. In the world's growing cities, we ensure the supply of fresh food and optimal comfort in our homes and offices, while meeting the need for energy efficient infrastructure, connected systems and integrated renewable energy.
Our solutions are used in areas such as refrigeration, air conditioning, heating, motor control and mobile machinery.
Our innovative engineering dates back to 1933 and today Danfoss holds market-leading positions, employing more than 26,000 and serving customers in more than 100 countries. We are privately held by the founding family.