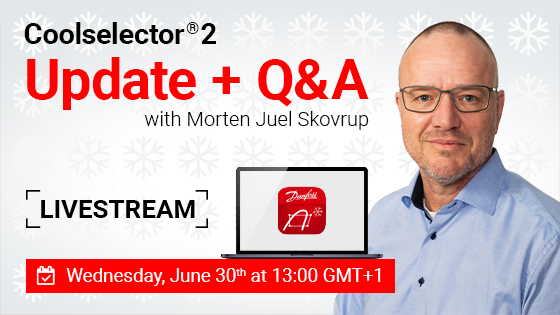 What's new in Coolselector®2 | Latest Updates + Q&A
Join Morten Juel Skovrup for a quick run-through of all the latest improvements and new features available in Coolselector®2. Plus, you'll get to ask questions and get expert tips and tricks to get the most out of the software direct from its lead designer.
Stop by on June 30th at 13:00 GMT+1 for:
News about the latest updates to Coolselector®2
A look at the most recent new features
A chance to ask questions and get answers live
Tip and tricks to help you get the most of the software
Coolselector®2 helps you select the best-suited components for refrigeration systems based on factors such as cooling capacity, refrigerant, and evaporation and condensation temperature. Coolselector®2 features unbiased calculations  based on your requirements as well as standard operating conditions.
Join live stream