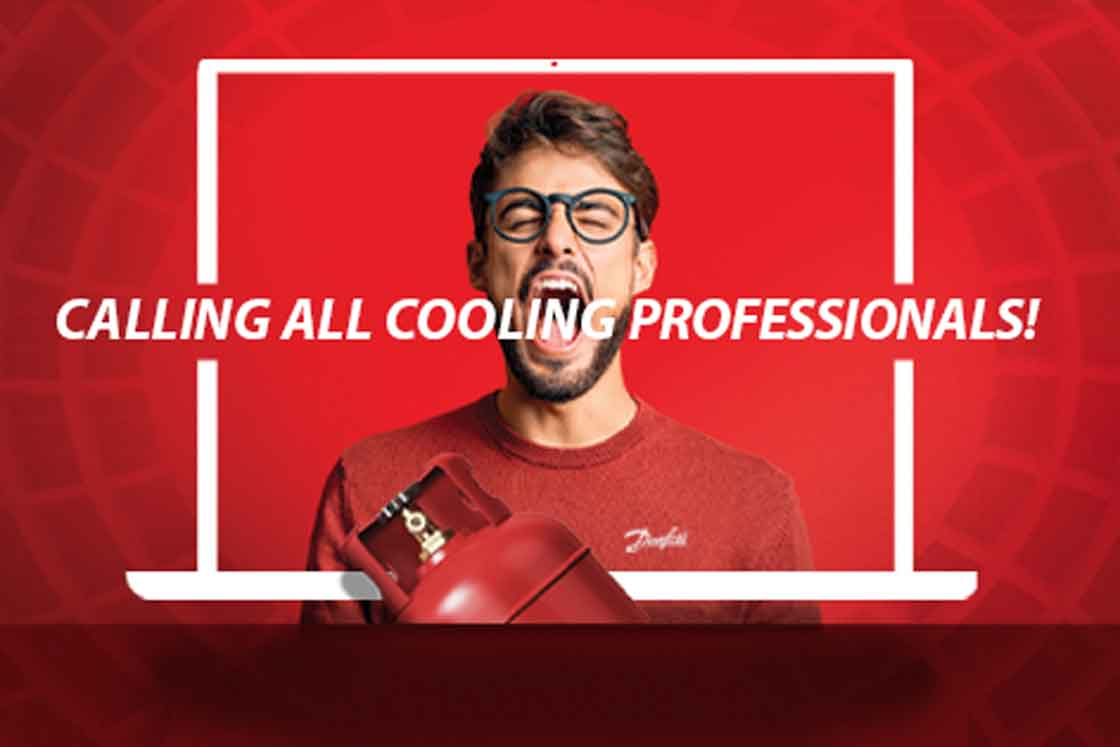 The first-ever Cooling United Live will take place on October 7-8, 2020
But what is Cooling United Live? A virtual exhibition? A webinar? An online conference? Yes. It's all of that and so much more.
In lieu of traditional trade shows and conferences, we are excited to announce our first virtual event — Cooling United Live. Designed specifically for air conditioning, commercial refrigeration, food retail, and industrial refrigeration audiences, Cooling United Live will serve as both a learning forum and a new technology exhibition.
"It is time to reconnect with our peers and leaders in our industry and move cooling forward. We're excited and honored to present Danfoss's first-ever fully immersive digital and live event experience," said Dorthe Borup Sindberg, Marketing Communications Director at Danfoss Cooling. "We have an engaging lineup of thought leaders and interactive sessions for both days of Cooling United Live. And, unlike a traditional conference, attendees can log in from anywhere in the world. Therefore, we've made sure to have experts on hand in multiple languages, so everyone can participate."
Registration open & who should attend
This will be an online experience unlike any other. We've programmed everything you've come to expect from a traditional industry conference into one comprehensive event.
Cooling United Live is tailored toward: 
OEMs
Wholesalers
Installers/Contractors/Service engineers
All refrigeration and air-con professionals
As an attendee of Cooling United Live, you'll hear from industry experts, connect with thought leaders and socialize with other cooling professionals in your region — all from the comfort of your own home or office.
It will be inspiring. It will be live. And — of course — it will be worth every minute. 

Moving forward with Cooling United Live
Cooling United Live will focus on the various ways the cooling industry is growing and evolving. It will feature a wide variety of session types tailored to different audiences, including:
Live panel discussions and Q&A's — Take a deeper dive into the new technologies that will shape the future of cooling. Attendees will have an opportunity to engage with experts in real-time at live events.
Engaging keynote speakers — Topics range from megatrends to returning to the workplace in a new environment. With this online format, attendees can easily pick sessions that best fit individual needs.
Connecting with experts in localized regions — Attendees will have the opportunity to speak with Danfoss experts in their local languages. This creates a custom experience tailored to each attendee.
Smaller chatrooms post-session — Reconnect with fellow cooling professionals to discuss key findings and questions from the session. There will be multiple opportunities for socializing — much like a traditional conference.
Product and system demos — Whether through 3D renderings of new products or more hands-on demonstrations, attendees of Cooling United Live will get an up-close experience of new technology offerings from Danfoss.
A new approach in a remote environment

Preregister today
Preregister today to receive early access to all event information, including the agenda, speaker bios, breakout sessions, and more as soon as they become available.
Follow along for updates using #CoolingUnitedLive on our LinkedIn, Twitter, and Instagram channels!
Register now!