At almost any water or wastewater plant you will see installations where there are several pumps installed outdoors. In the past, managing an electrical installation was simple; all you needed was protection of the mains cable to the pump.
Today, variable frequency drives are being applied in an increasing number of installations for the purpose of minimizing energy consumption, while ensuring accurate flow rates. This trend is largely supported by legislation and industry guidelines for best practice.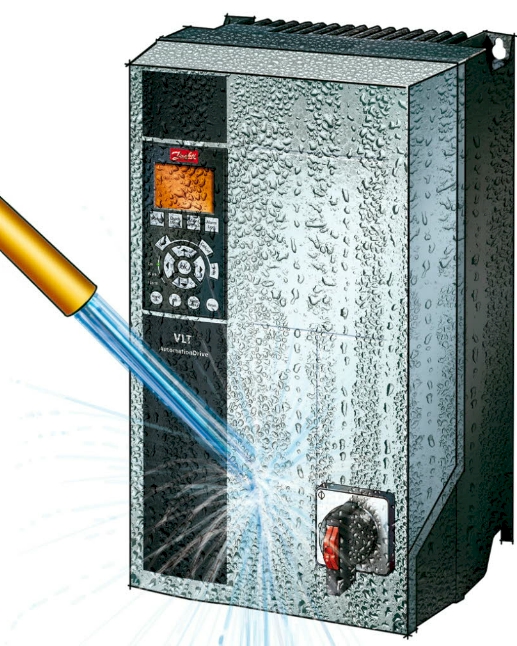 The limited number of enclosure ratings available for variable frequency drives presents a number of new installation challenges. Most drives are typically available with enclosure ratings designed for installation in electrical panels. In North America typically these are chassis or NEMA 1 enclosures and in Europe and Asia IP20 or IP21.
Within the enclosure of a variable frequency drive are electronics that may be susceptible to moisture and corrosion, so normal life span would be reduced in an environment where sufficient protection against dust, rain, snow and ice is not provided. For years it has therefore been common practice to install variable frequency drives in panels and design these panels according to the harshness of the environment. This is a field-proven practice, but can add significant cost to the installation.
More recently, drives have come into the market that provide much better enclosure protection ratings, which significantly reduces the need to mount the drive into a separate electrical panel. NEMA 12 and IP54 rated drives have been common in the market for a number of years but in recent years even more rugged enclosure ratings have become available.
At first the requirement was still for indoor use, where there was a need for protection against wash-down of the drives. This is especially true in the food and beverage industry, where IP66 or NEMA 4X – Indoor rating for the enclosures is required. Today, drives are available in IP66 and Nema 4X Outdoor rated enclosures, both for mounting directly on the pumps and for wall-mounting. The complaint I most often hear about using these "new enclosures" is that there is still a need to install an external panel, since the controls, fuses, and disconnects need to be installed outdoors anyhow. There is also the concern about direct sunlight degrading the drive because it is not UV-protected.
When the drive has a UL-certified Type 4X Outdoor rating, only use of materials which are UV-resistant and meant to withstand both heavy rain and icing is acceptable. It is obvious that if the drive is installed in direct sunlight, there will be a temperature increase within the enclosure during daylight hours. Fortunately, in most locations, this can be managed by using a simple weather-shield to protect the drive. When compared to a larger enclosure that often requires air-conditioning, there is still a clear cost advantage to using one of these newly designed outdoor rated enclosures. Also, these recent design improvements to the drive allow it to more efficiently cool itself, increasing the drive's maximum ambient temperature to 122°F or 50°C, instead of the traditional 104°F or 40°C maximum.
Considering all the electronics in the drives, you may think that the need for decentralized controllers would have been drastically reduced, but there is still a lot of resistance in the market against using the built-in functionality of the drives, which is really a shame. Twenty years ago, the built-in controllers were difficult to program and functionality could not be adapted to the specific application. Today a lot has changed; the drives provide functions which are developed by dedicated teams of engineers with specific application knowledge.
The drives in the market today can even provide customer-specific adaptations of their control functions, thus ensuring that end-user, contractor and OEM-specific requirements for customization of the control functions can be met. This means that several water and wastewater installations could, in fact, eliminate the need for PLC and custom controllers and simply use the functionality already available in the variable frequency drive. This could also potentially eliminate the need for additional panels, as disconnects and fuses are also standard options available from most drives manufacturers.
Article by: Frank Taaning-Grundholm