The Fraunhofer Institute for System and Innovation Research (ISI) reports that electric motors and corresponding systems account for 40 per cent of worldwide electricity consumption and are responsible for 6 billion tonnes of global CO2 emissions, which corresponds to 20 per cent of total carbon dioxide emissions.
Many electric motors and drives waste energy because they do not run in the optimal operating range. Consequently, developers of electric motors are devoting more attention to optimising the environmental compatibility of systems, and in particular their energy efficiency.
Because of the increasing need to build more energy efficient electric motors, the number of different motors commonly used in industrial applications has grown.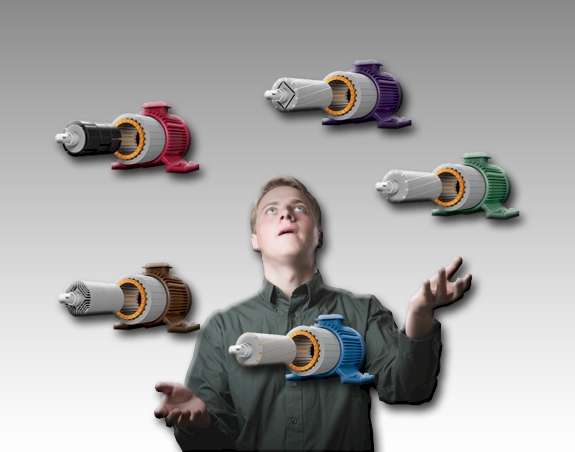 Today we do not just use electric motors. We use standard three-phase induction motors, copper rotor motors, permanent magnet motors, line start pm-motors, synchronous reluctance motors and EC motors. Different motor technologies that require specific algorithms for control.
One Drive
Having one frequency converter that is able to control all these different motor types – instead of using dedicated converters for each motor type – offers you a number of important advantages.
A quick change to other motors during supply bottlenecks or restricted access to a dedicated motor. If the right motor is not available, an alternative one can be used without the need to also replace the frequency converter.
Easy retrofit, because the motor type can be changed without changing the frequency converter.
Economical stock management because of the low number of converter variants.
Low training efforts for engineers, operators and maintenance personnel.
No need to change PLC programs when the motor type changes.
Evolution Continues
Motor evolution is by no means finished. For example, manufacturers are already experimenting with ferrites instead of conventional magnets. The results of the first tests are very promising. As a user, it is therefore also important to choose a supplier of frequency converters that is flexible towards changing customer specifications and new technological trends.