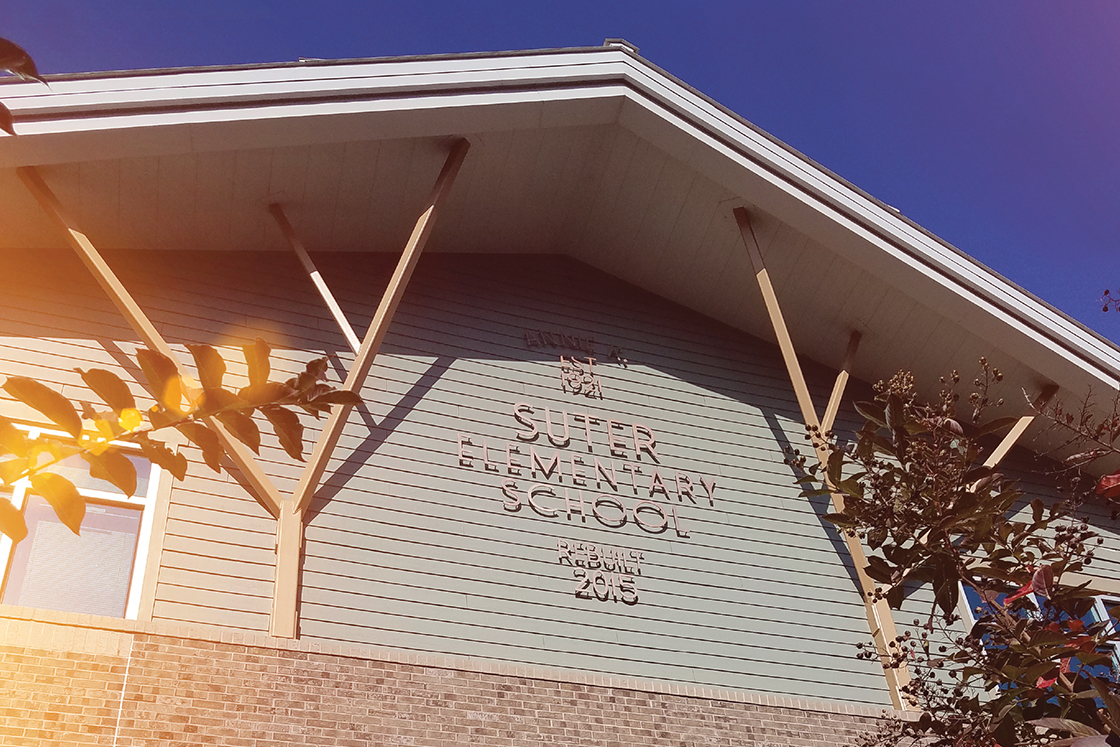 A.K. Suter Elementary School
Pensacola, Florida
Built in 1921, A.K. Suter Elementary School in Pensacola, Florida — like many older public schools in the state — used a retrofitted patchwork of packaged and split system air conditioning equipment to keep students comfortable in a warm, humid climate. In order to rejuvenate the almost 100-year-old school, the District decided in 2011 to tear down the old school and rebuild it from scratch using new, high-efficiency HVAC technology. Today, the brand new A.K. Suter Elementary is by far the most energy-efficient of all ECSD schools – thanks in part to advanced HVAC technology, including Danfoss Turbocor® oil-free centrifugal compressors and AB-QM™ valves.
"The new A.K. Suter Elementary School has a lot of features found in high-performance buildings," says Roger McGraw, P.E., mechanical engineer for ECSD Facility Planning. "The walls are constructed with insulating concrete forms (ICF) and a vapor barrier, so the building envelope is well insulated. The new HVAC system is state-of-the-art – two ultra-efficient variable-speed centrifugal chillers with Danfoss Turbocor oil-free compressors ensure efficient chilled water production. The chilled water is supplied to several air-handling units (AHUs) and over 100 variable-air-volume (VAV) boxes each using Danfoss AB-QM pressure-independent balancing and control valves to optimize flow. This combination of technologies inside the ICF building envelope saves energy and handles our major comfort challenge – humidity."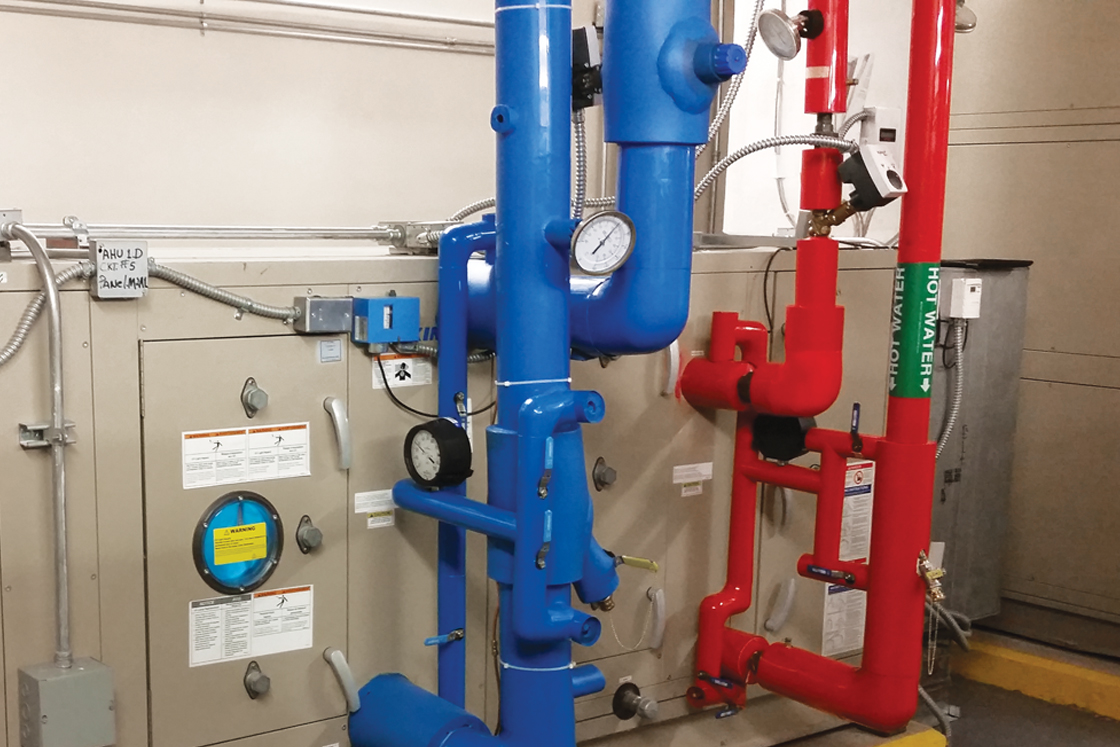 Pensacola humidity dampens the learning environment
Located in the Florida panhandle along the northern coast of the Gulf of Mexico, Pensacola has some of the highest humidity levels in the Sunshine State. "Our summers are pretty extreme," says Jeremy Oksanen, the project's system designer and mechanical engineer with Premier Engineering Group. "We've got 'air you can wear' from April through October. The design conditions for the A.K. Suter project were 93.9°F dry bulb and 77.7°F wet bulb--and an 80°F dew point at 85°F dry bulb temperature. Translated into relative humidity (Rh), our mornings average 84 percent Rh and afternoons, 64 percent. When humidity is at those levels and the dew point is high, everybody feels sticky, especially students."
The state of Florida requires between 68°F and 78°F dry bulb set points for all student areas, in addition to some form of humidity control. But, the set point for indoor humidity is not defined. The U.S. Occupational Safety and Health Administration, however, recommends indoor air be maintained within 20 percent to 60 percent Rh, equivalent to a dew point of 24°F to 60°F (−4.5°C to 15.5 °C).
According to McGraw, "For elementary schools, our dry bulb setpoints are 72°F cooling and 70°F heating. But, our biggest challenge is always how to deal with humidity in an efficient manner. We can get into situations where a room is 72°F, but everybody thinks it's hot and clammy because it's just so humid in there.
"In the old school, we had split-system heat pumps and some packaged rooftop units. However, they were all very old, so we did not have that much control. Due to the humidity, the equipment was in all-cooling mode all the time. That's one reason the energy bills were high."
To measure annual school energy consumption, McGraw uses the metric of millions of BTUs (MBTU) per square foot. Older schools like A.K. Suter typically use over 85,000 BTUs per square foot per year and higher--an amount McGraw hoped to cut in half with the new HVAC system in the new school.
The second biggest problem McGraw hoped to solve was zoning. "Zoning is critical for comfort," he observes. "When you try to create separate zones for different areas, often it seems somebody, somewhere, is uncomfortable pretty much all the time. As a result, doing zoning right was a requirement for the new system design."
View the full case study here
Related products
AB-QM™ Valves

Simple Affordable Comfort - Pressure independent control excellence from the global market leader for over 30 years. Discover how Danfoss AB-QM™ Pressure independent control valves (PICVs) can improve system efficiency by eliminating overflows and increasing ΔT.

Danfoss offers a complete range of innovative solutions - 1/2" to 10", to meet your HVAC system's needs for optimal flow control.

AB-QM™ Actuators

To take advantage of the combined balancing and control features of Danfoss AB-QM it has to be equipped with actuators controlled by room thermostats or a Building Management System. Danfoss offers a broad range of actuators varying from thermal on-off, to digital actuators with bus communication.