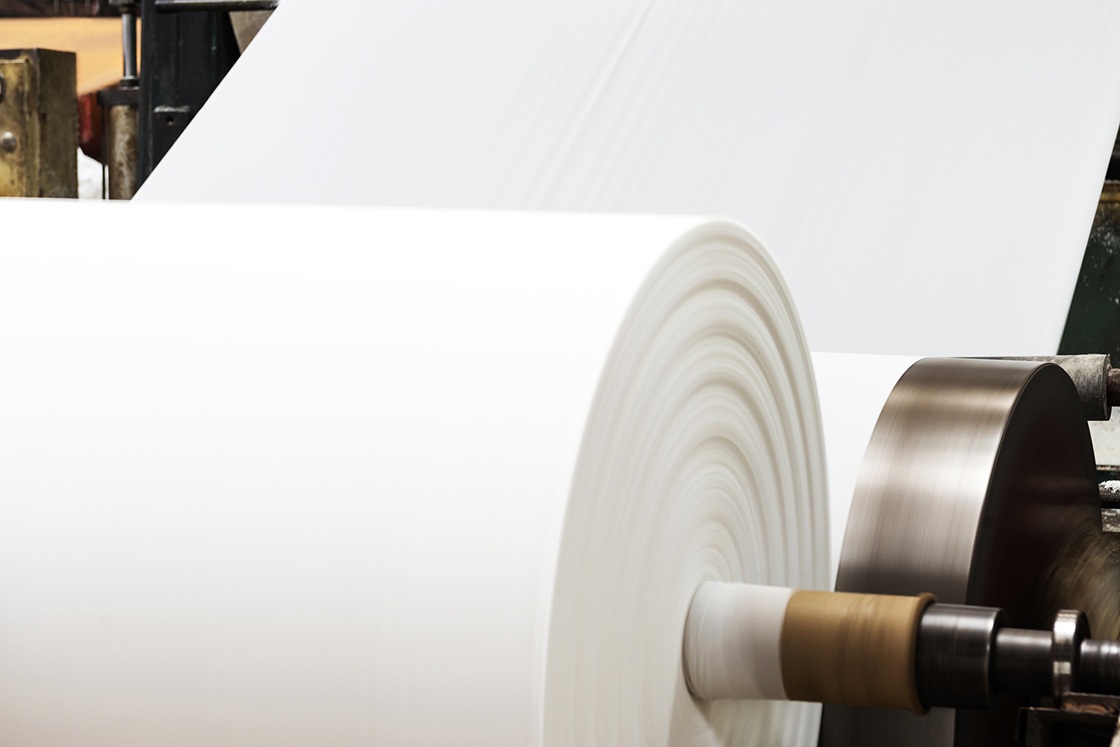 Achieve high precision whilst saving energy
No matter whether the product is newsprint, fine and specialty paper, wood products, packaging material or any other paper product, precision is key in manufacturing. To repeatedly achieve a high precision paper quality and finish, the paper mill demands high tech control solutions to optimize total cost of operations (TCO). Extreme accuracy and purity, which are challenging to achieve in a heavy industry environment, characterize the pulp and paper industry.  In this energy-intensive industry with high water consumption levels, energy efficiency is also a vital factor in remaining competitive.
By controlling the speed of pumps and fans to exactly meet and not exceed requirements, you can achieve significant energy savings in paper machinery. Sophisticated machine control enables you to improve process control by facilitating collection of measurement and supervision information. Danfoss solutions deliver a precise and rapid control response, flexible integration to control the system and robust and accurate motor control.
Improve efficiency and reduce water consumption and operating costs using Danfoss solutions for controlling pumps, fans and conveyors at the various mill sections, ranging from the pulp station with pulp dryer, to stock preparation, and from pulp digestion and water treatment plants to paper finishing.
Torque and speed control for high winder accuracy
The continuous web control and winders are one of the most demanding applications in the pulp and paper industry. The AC drives must be capable of extremely accurate torque and speed control over a wide range, so torque resolution must be sufficiently high.
Achieve more rigorous winder control and that essential neat finish with the label in the correct place, with Danfoss solutions which reliably match the torque range and resolution required. You get more precise operation of the unwind wrapping stations as well as positioning of the rolls used for centering and moving the paper rolls, which play an essential role. Accurate torque control prevents the paper and wrapping material from crinkling.
To ensure the success of your machine design or retrofit in the pulp or paper plant, tap into Danfoss expertise in system control and control system override, dimensioning of drives, commissioning, switchgear know-how, and overall project management.
At Danfoss, expert application advice and lifecycle support is included in the package. Read more about how you can benefit:
Wastewater treatment
Pulp manufacturing needs a great deal of water for pulping processes. Supplying the water for the pulp and paper processes and disposing of the effluents from pulp mill, requires a considerable number of AC-drive-controlled pumps.
The process of delignification of chemical pulps can, if not controlled, release large quantities of organic material into the environment, particularly into rivers or lakes. The wastewater effluent can also be a major source of pollution, containing lignin from the pulp wood, high biological oxygen demand (BOD) and dissolved organic carbon (DOC), along with alcohols, chlorates, heavy metals, and chelating agents.
Reducing the environmental impact of this effluent is accomplished by closing the loop and recycling the effluent "black liquor", as well as employing less damaging agents in the pulping and bleaching processes. Today, chemical pulp mills, especially sulfide mills, are generally energy self-sufficient and operate on closed-cycle principles, releasing virtually no inorganic chemicals in the environment.
Learn more about Danfoss know-how for optimization of these processes, also in related industries:
Applications
Headbox pump
Wire roll
Guide roll/Friction roll
Press section rolls
Dryer rolls
Coating rolls
Calendar
Pope reel
Center winder
Tambour
Unwinder
Slitters