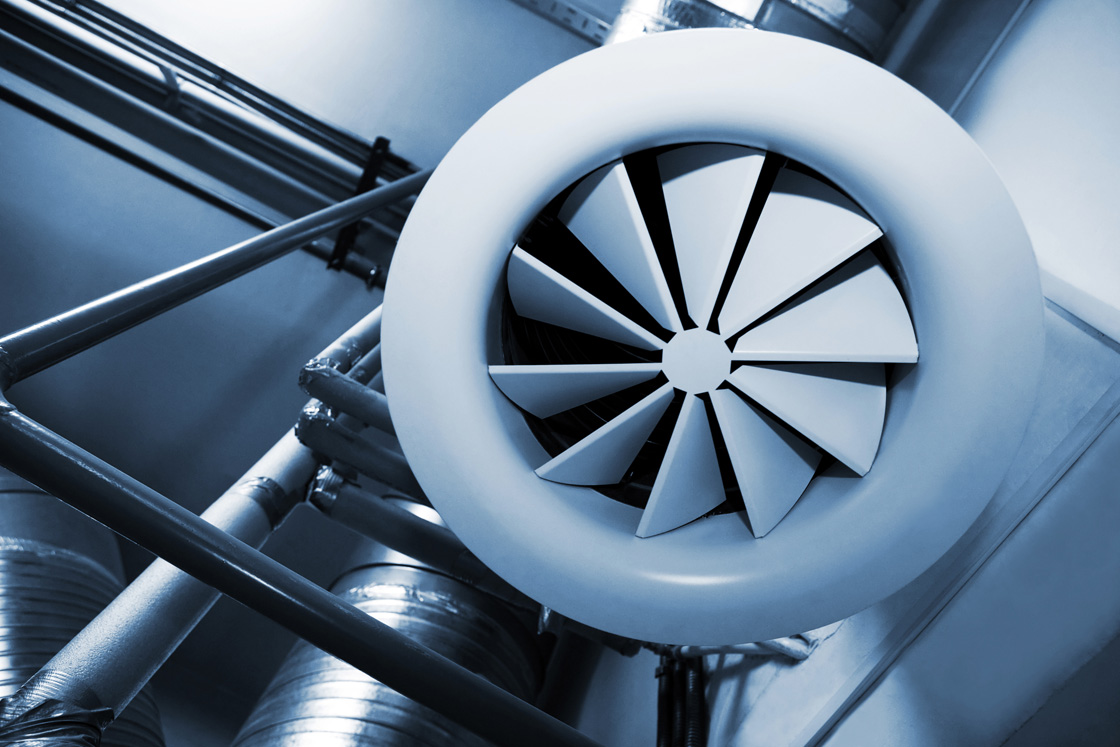 Optimize energy consumption in industrial ventilation
With Danfoss AC drives solutions for industrial ventilation you enjoy the benefits of high precision, user-friendly interfaces, distributed intelligence and low operating costs. And by controlling industrial fans with a Danfoss AC drive you can help optimize processes and significantly reduce energy and maintenance costs.
Danfoss AC drives convert velocity pressure sensor values into flow values, enabling you to set the fan control up based on fixed flow or fixed differential flow. This optimizes both airflow precision and energy consumption. To improve fan control levels even further, drives connected to fans can be set to avoid the frequency bands which create resonance and damage in the ventilation system or in industrial fan applications such as scrubbers.
Fail safe for trip-free performance
Power failures can jeopardize equipment safety and productivity. Drives powering pumps and chillers must be extremely reliable and virtually immune to mains supply disruptions. To achieve this reliability, Danfoss AC drives are designed to ignore voltage sags and even short outages, maintaining full performance at all times.
Protect applications and operators 
You can ensure the safety of your staff and equipment using functional safety capability integrated into the drive, saving you time, cost and effort. Danfoss drives such as the VLT® HVAC Drive FC 102 provide the STO (Safe Torque Off) function in compliance with ISO 13849-1 PL d and SIL 2, according to IEC 61508 / IEC 62061. In high-demand applications, this can be expanded with the VLT® Safe Option MCB 150 series, external modules that provide functions such as Safe Stop 1 (SS1), Safely Limited Speed (SLS) and Safe Maximum Speed (SMS), control of external contactors and safety door monitoring and unlocking.
Improved air-handling performance
The VLT HVAC Drive and VLT Refrigeration Drive are fitted with a built-in Smart Logic Controller and four auto-tune PID controllers to control air-handling functions with fans, valves and dampers. The direct digital controllers of the building management system are released and valuable data points are saved lowering air-handling costs.
The VLT HVAC Drive handles logical rules and input from sensors, real-time functionality, and time-related actions. This enables the AC drive to better control a wide range of functions:
Flow balancing between fresh and outlet air
Cascaded P-PI for temperature control
Belt monitoring. Using the relation between current and speed, the AC drive can reliably recognize a broken belt. Lack of air flow is detected immediately so that action can be taken to reduce costs and downtime
Weekend and working day schedules
Reliable harmonic mitigation
While AC drives increase precision, save energy and extend application lifetime, they also introduce harmonic currents to the site grid. If not kept under control, harmonic currents can affect the performance and reliability of generators and other equipment.
To ensure minimal disturbance Danfoss offers expert harmonics mitigation advice. You can tap into our harmonics application know how, download software tools and choose from diverse harmonic mitigation solutions.

High-performance tunnel ventilation despite long cables
The interference-free tunnel ventilation solution used VLT® HVAC Drive installed with no less than 800 m of unscreened motor cable.