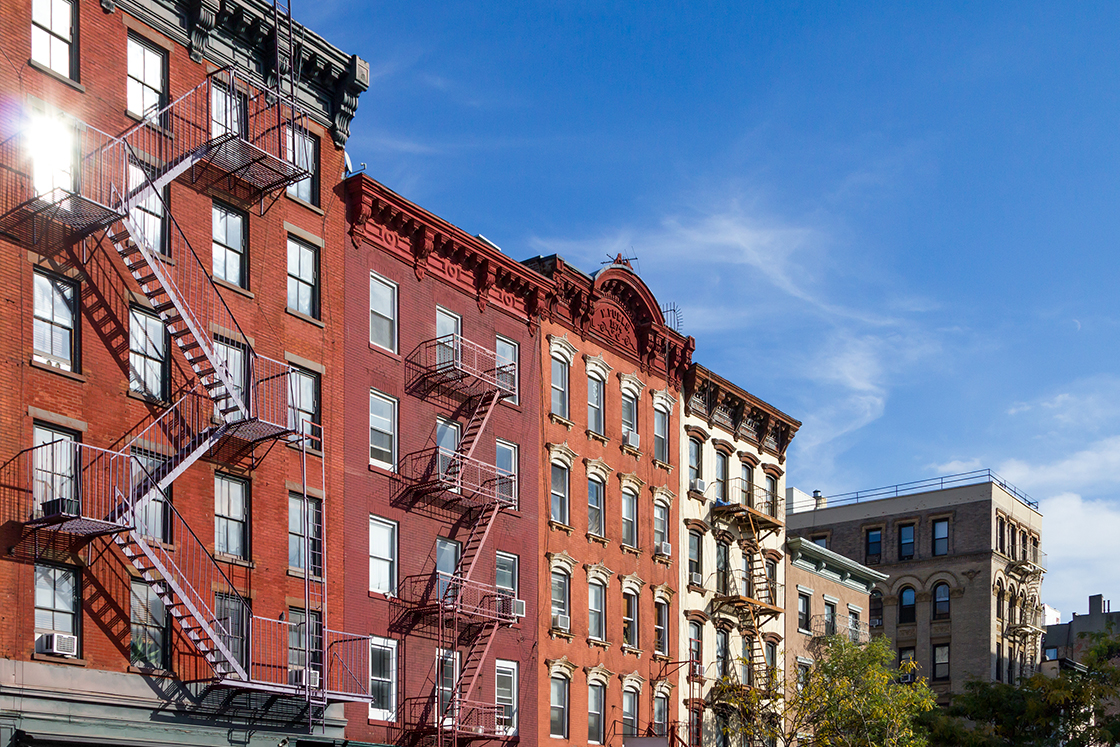 Increase the attractiveness of your multi-family building with solutions from Danfoss...
Danfoss is a leading expert of controls for multifamily buildings that help to optimize HVAC system efficiency, and benefit many types of users.
Achieve a better return on investment while reducing environmental impact, increasing comfort and safety for tenants and residents, and an easy installation process for installers.
Did you know that more than 85% of multi-family buildings have inefficient heating systems?
Major complaints beside very little heat in a city apartment, is an overheated apartment. New Yorkers' solution to overheated apartments for years has been to open up their windows, to release some of the heat trapped in their apartments. Many of these buildings are overheated simply because they have a hard time ensuring that every apartment is heated. So some apartments in the same building might be overheating while other apartments might just have enough heat to comply with local codes and laws.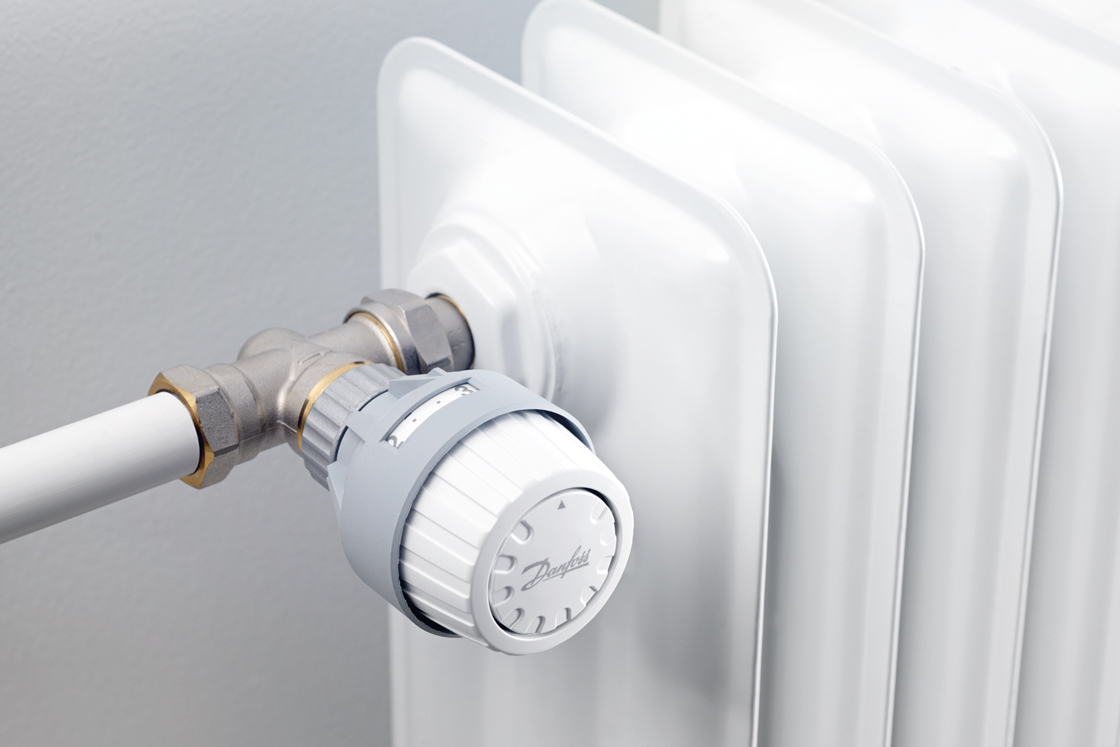 There are solutions for these old apartment buildings that have problems with overheating by their water or steam radiators. The EPA, EEFA, and other environmental agencies recommend installation of thermostatic radiator valves or TRVs on every radiator in the building. Most TRVs do not require electricity, are easy to install by almost any handy person, and are very economical. TRVs have a built-in sensor that opens and closes the radiator according to the temperature in the room, providing an individualized comfort control to any room.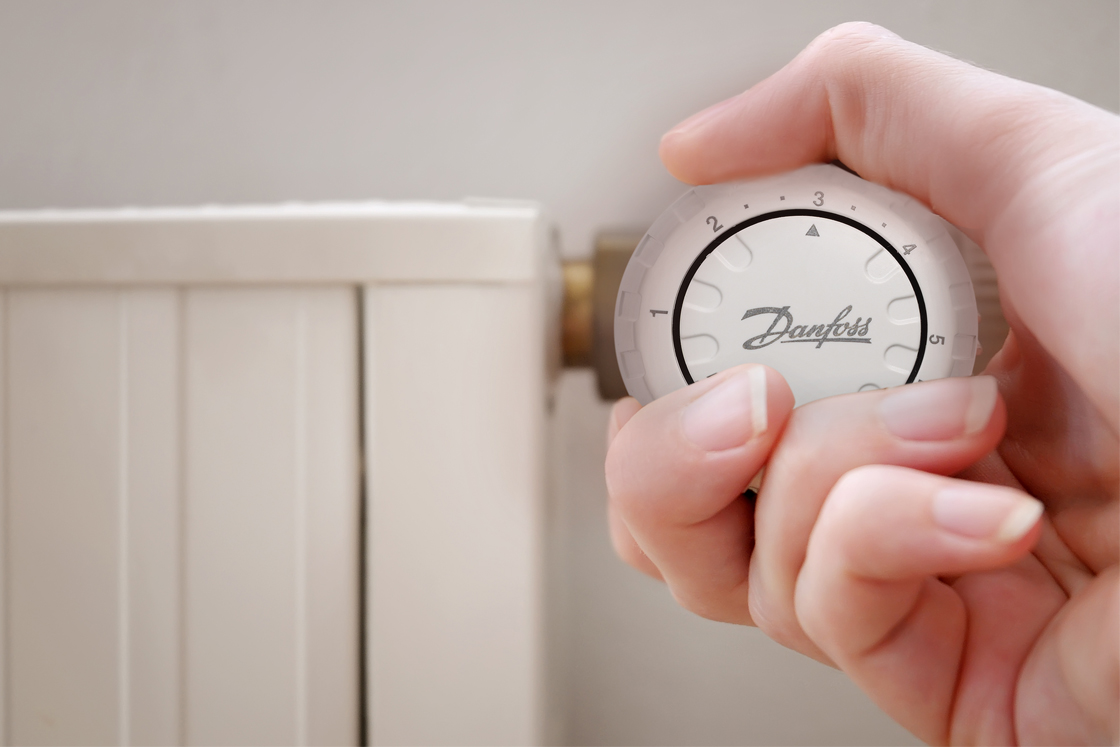 Our solutions
RA2000 TRVs help to dial down energy costs by 20%.
Danfoss thermostatic radiator valves or TRVs, are effective & simple solutions available in a wide variety of inlet supply patterns, connections, & sizes to fit your installation needs. The operator & valve are selected separately based on the application. Whether you're looking for a tamper-proof option, installing on a radiator versus a convector, Danfoss can help assist with selecting the correct option for your building.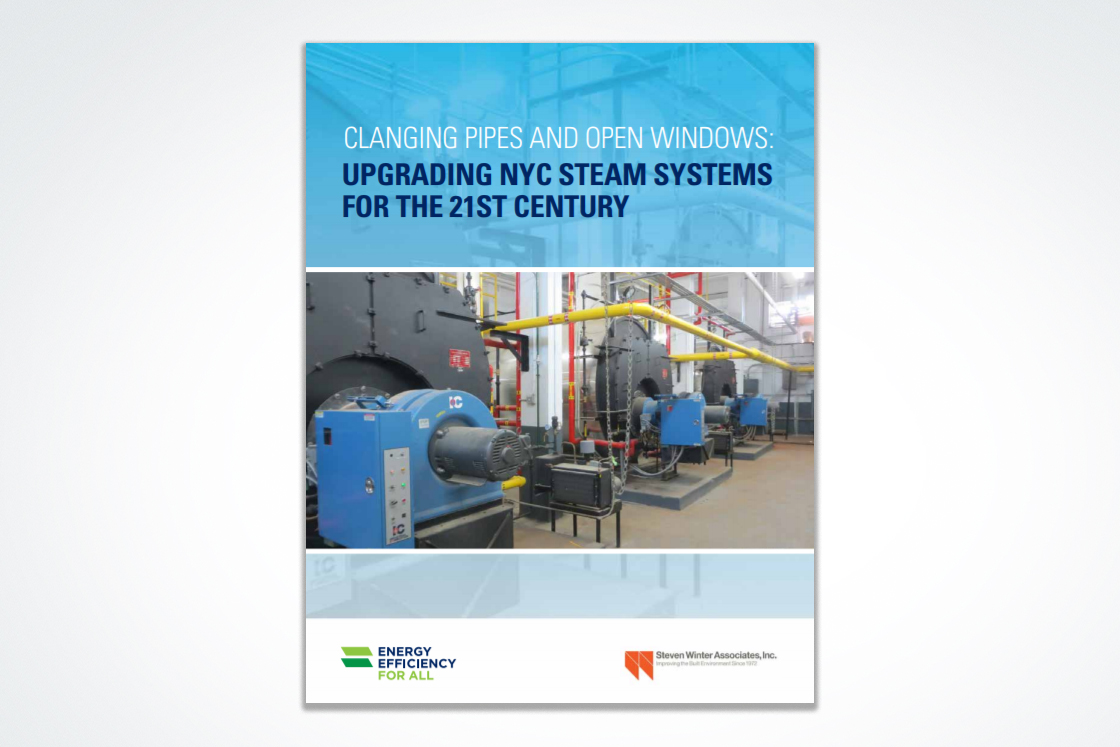 Upgrading NYC steam systems for the 21st century
Report by Energy Efficiency for All (EEFA) explains the importance of upgrades & potential multifamily building savings of $147 million dollars in fuel/maintenance costs. It also includes recommendations on optimizing cost, comfort, and carbon performance with solutions offered by Danfoss.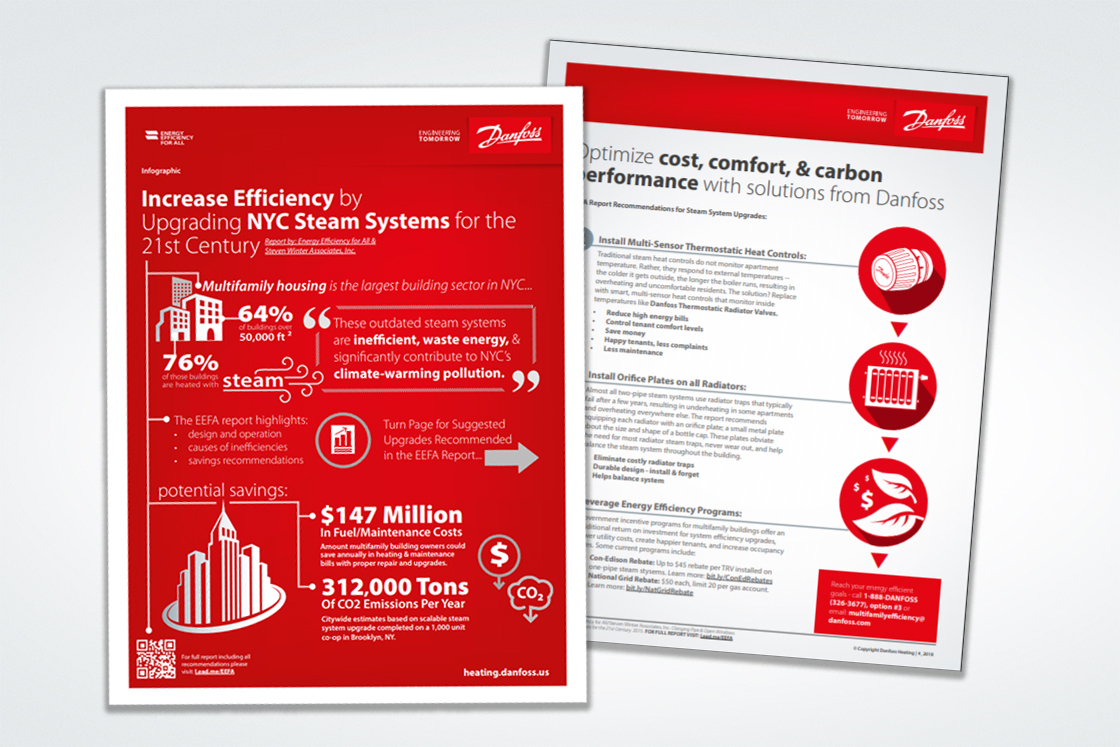 Increase efficiency in steam systems - EEFA's Recommendations Infographic
Danfoss has visually highlighted some key data from the report on steam systems in New York city, energy savings potential, and CO2 emissions that could be saved per year with small optimizations outlined in the article, and summarized in this flyer.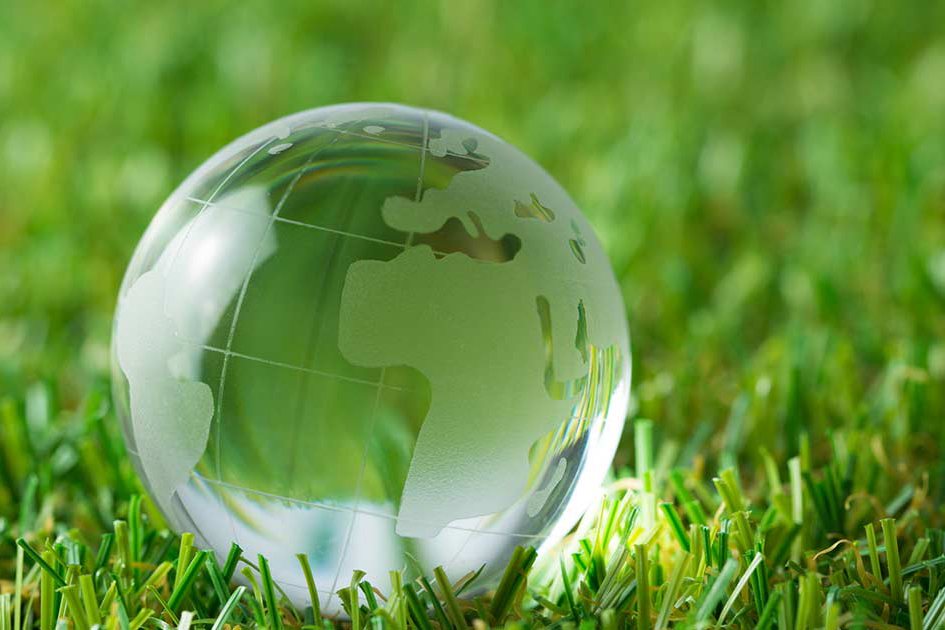 Two pipe steam optimization
Simple measures for two-pipe steam systems that enhance efficiency and comfort.
Although two-pipe steam is commonly associated with overheating and energy waste, optimizing these systems with a few high efficiency upgrades can reduce energy bills and improve resident comfort.
User benefits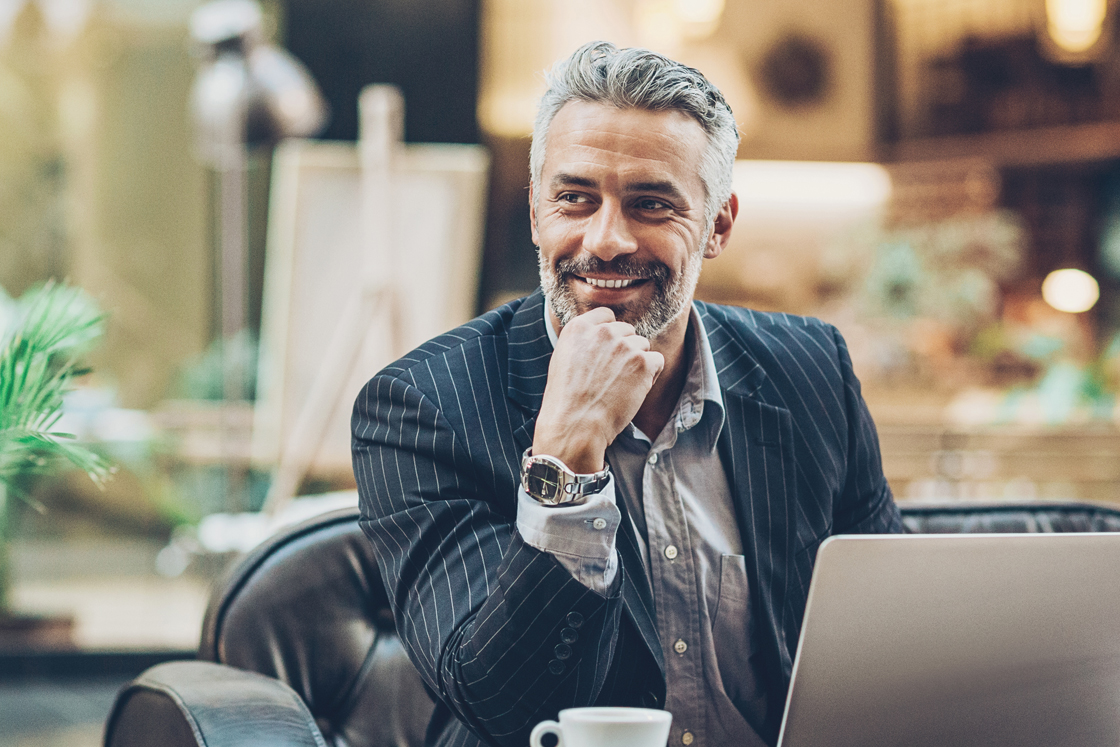 For owners
Increased building efficiency and energy savings
Reduced annual heating service and maintenance costs
Happy and comfortable tenants
High quality, durable products that will pay for themselves
Tamper proof options
Options for various budgets
Utility rebate & incentive program access
Reliable and silent heating technology that's easy to install & operate
Friendly and knowledgeable support staff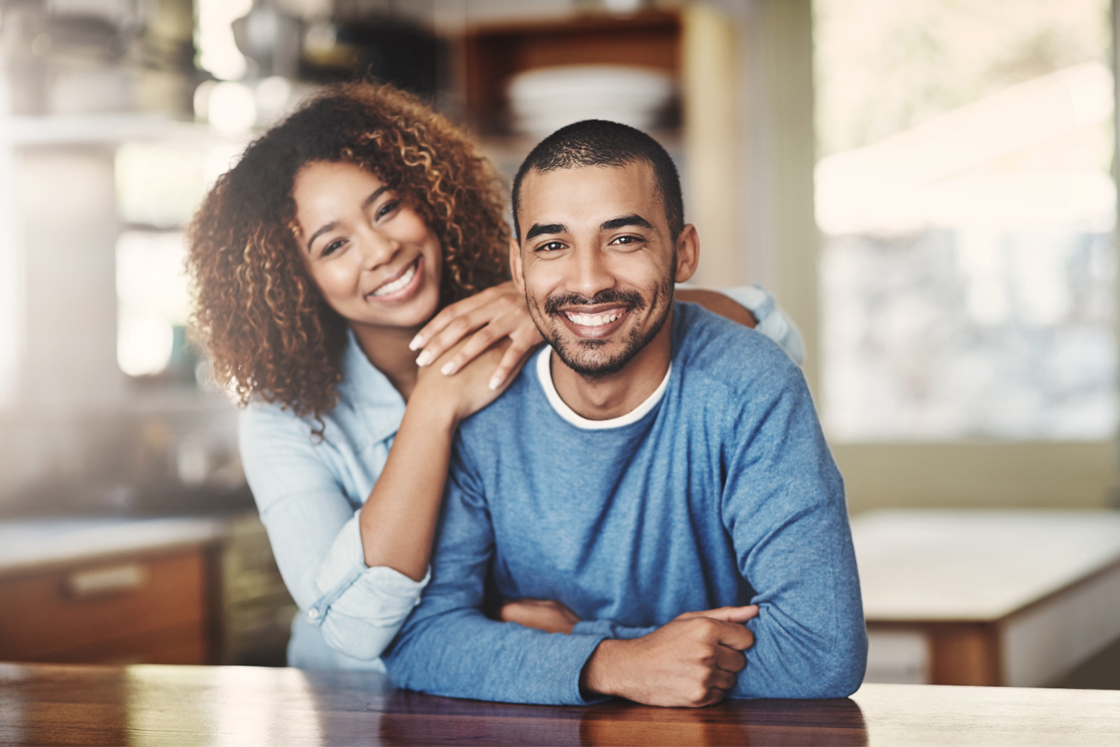 For residents and tenants
Individual room control - get the temperature you set
'Set and forget' heating controls
No noisy heating system
Modern heating technology that increases overall building efficiency, using less energy, and is better for the environment
Affordable rent and utilities with no surprises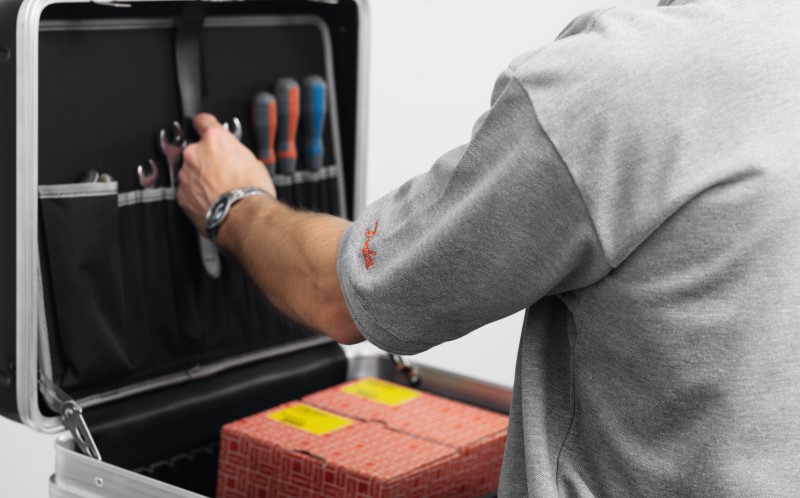 For installers
Quick mounting, simple to install products
Reliable solutions for your business
Strength & durability - deep fitted, secure design with precise calibration
Versatility - Valves for both steam and hot water applications
Easy to download installation instructions
Friendly and knowledgeable support staff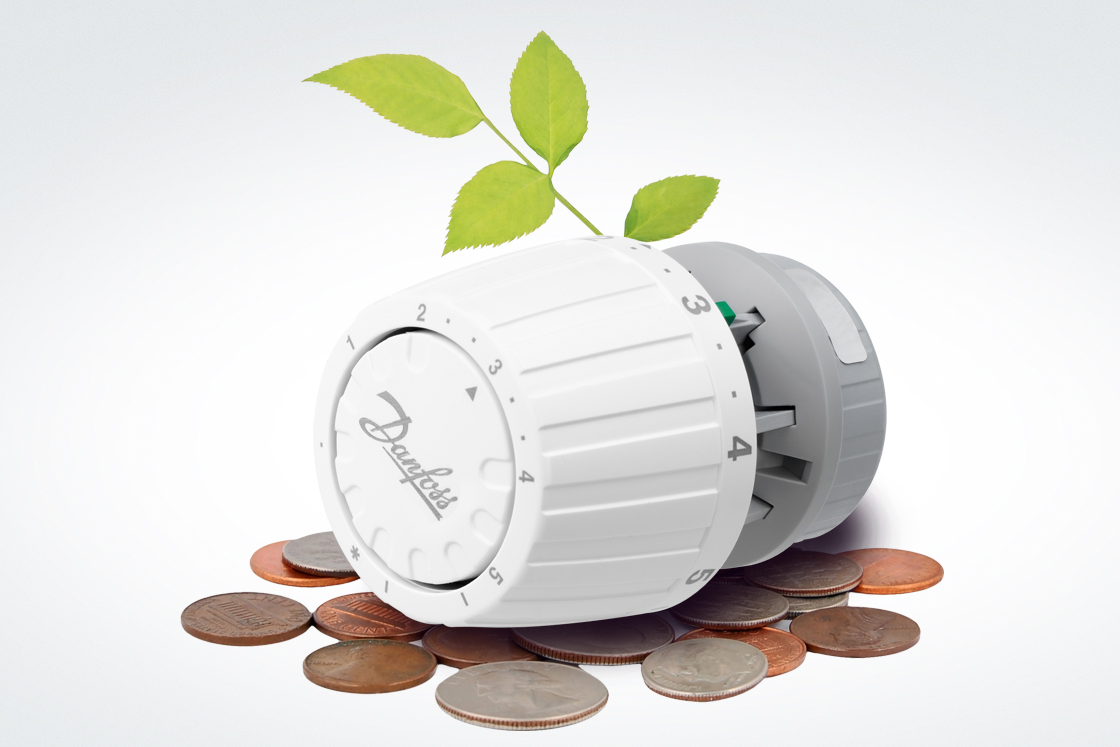 Did you know most gas utilities help to maximize savings by offering either incentives and/or rebates to install TRVs, depending upon your system?
Nozzles

Danfoss and Hago®, are world leaders in manufacturing precision spray nozzles to serve a wide variety of applications, capacities and spray angles. We offer both stainless steel and brass varieties and every single one of our nozzles is efficiency tested for performance.

Danfoss and Hago® Nozzles - bringing you performance, quality and reliability for over 80 years.
Engineering Tomorrow lowers apartments' heating cost to less than $50 annually

In recent years, average rent for a one-bedroom apartment in Brooklyn's Bushwick neighborhood has skyrocketed to more than $3,000 a month, excluding utilities. That's why New York City's Department of Housing Preservation and Development (HPD) and Ridgewood Bushwick Senior Citizens Council (RBSCC) came together to develop Knickerbocker Commons.

NYC Apartment building solves overheating issue with thermostatic radiator valves

The city of New York, undertakes an impressive effort to prepare the city for one million more residents, strengthen its economy, combat climate change and enhance the quality of life for all New Yorkers. 

Results of study show potential annual energy savings of ~$100 million if TRVs were installed in every NYC multifamily building.