Ammonia (NH3) is a well-known refrigerant, particularly applicable in large, industrial plants where its advantages can be fully utilized without compromising safety. 
Ammonia is renowned for its favorable thermodynamic properties. In a wide range of applications, it outperforms synthetic refrigerants. However, it has a number of drawbacks that have so far prevented the use of ammonia for commercial applications, e.g. material compatibility, toxicity, and flammability.
Ammonia is incredibly efficient, with a maximum efficiency on par with or higher than R134a or propane.
Due to the toxicity and flammability of ammonia, installations using ammonia are strictly regulated. Even though these regulations ensure safe operation, reduced charges are highly recommended, especially in populated areas. One way to accommodate safety concerns is to use ammonia in conjunction with CO2 for medium or high temperatures applications or in cascade applications for low temperatures.
Ammonia is a natural refrigerant with ODP and GWP scores of zero, making it one of the most environmentally friendly refrigerants available.
Chemical property challenges
Because ammonia is incompatible with copper and brass, only welded steel pipes can be used in ammonia systems. This also means that it is necessary to use either semi-hermetic compressors or fully hermetic compressors with special motor coatings or aluminium motor wires.
While ammonia is not miscible with common oils, ammonia is lighter than oil, making oil return systems fairly simple.
Ammonia is both inexpensive and abundantly available as a refrigerant. Ammonia system installations, however, tend to be more expensive than standard systems due to needing steel tubing, semi hermetic compressors, and additional safety devices, such as gas detectors.
Today, ammonia is primarily used in industrial refrigeration applications with high capacity charges. Low-charge ammonia systems are currently in development to better take advantage of ammonia's thermodynamic and environmental properties.
Some low-charge systems in development from Danfoss feature advanced control algorithms, ammonia-optimized heat exchangers, DX systems, and new cascade systems with CO2.
 
These applications are high capacity charges however, there are on-going efforts to develop low-charge ammonia systems in order to take further advantage of the beneficial thermodynamic and environmental properties of ammonia. Some of the efforts undertaken by Danfoss and research partners are to develop low-charge systems with new, advanced control algorithms, further development of ammonia-optimized heat exchangers, DX systems and new cascade systems with CO2.
With its low ODP and GWP ratings, there are no plans to phase out ammonia as a refrigerant, making it a solid investment in the future.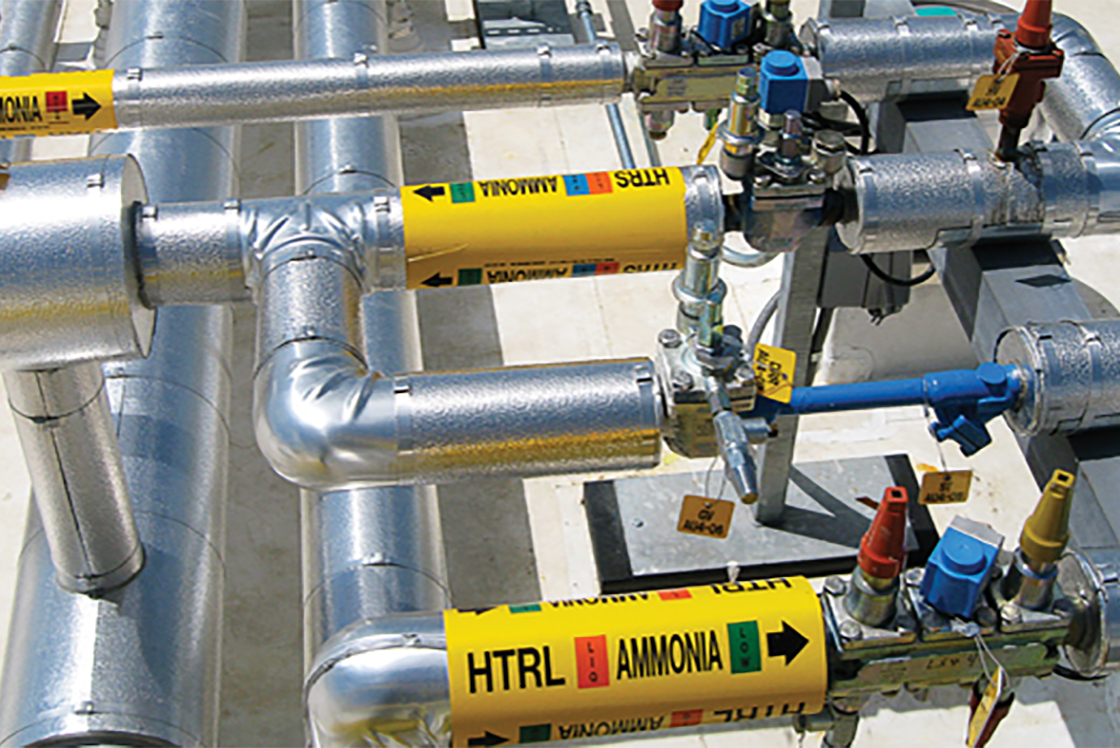 Ammonia in industrial refrigeration
Learn all about the use of ammonia in industrial refrigeration applications in our dedicated Industrial Refrigeration site.
Case studies
if (isSmallPicture) {

; } else if (isBigColumns) {

} else {

}

Sour cream recipe succeeds with ICF Flexline™

Eating healthier, more natural foods is a growing trend that delights Daisy Brands - a family-owned, Garland, Texas-based firm that makes the best-selling brand of sour cream in the United States. Known for its "Pure and Natural" recipe using no additives, preservatives or artificial growth hormones, the company recently opened a plant in Casa Grande, Arizona, to expand its national distribution. The continuing success of Daisy Brands is based on a recipe that uses all-natural ingredients -- plus, the technology ingredient of the Danfoss Flexline™ family of motor control valves and control stations.

if (isSmallPicture) {

; } else if (isBigColumns) {

} else {

}

Ammonia conversion for cold storage facility is simple with ICV Flexline™

Consumer retail stores are looking for tried-and-true ideas to thrive in turbulent economic times That's why a major 190-store retail chain based in the Midwest switched to a proven refrigeration solution for one of its distribution centers - an environmentally friendly ammonia system that uses Danfoss ICV Flexline valve stations