Pressure-to-temperature calculation app for 80+ refrigerants 
Update: Our Low-GWP Tool, Troubleshooter, and Spare Parts apps have now been integrated with Refrigerant Slider. You can still access all the features you're familiar with in Refrigerant Slider, but with additional functionality and convenience. 
Click here to access the browser version of all four tools.
Refrigerant Slider is an essential tool for HVACR professionals, helping you quickly calculate the pressure-to-temperature ratio for more than 80 refrigerants, including natural refrigerants such as ammonia and transcritical CO2. Refrigerant Slider also provides you with information about each refrigerant, including Global Warming Potential (GWP) and Ozone Depleting Potential (ODP). You can switch between the IPCC AR4 and AR5 values, where AR4 values are used in relation to the European F-Gas regulations. 
 
Refrigerant Slider's P/T calculations use extended curve–fitting models based on Refprop 10 results. You can also see both dew and bubble point for refrigerants with glide.
The Low-GWP Tool, Troubleshooter, and Spare Parts apps from Danfoss have now been integrated with Refrigerant Slider. You can access them and get enhanced features by updating to the latest version of the app.  
  
Low-GWP Tool 
Low-GWP Tool helps you find and compare compatible, climate-friendly refrigerants for refrigeration system retrofits by checking compatibility with the TXV. 


Troubleshooter
Troubleshooter helps you navigate issues in refrigeration systems, so you can quickly identify symptoms and get recommended solutions.
Spare Parts
Access and order an extensive list of Danfoss spare parts and service kits for industrial refrigeration applications—right from your smartphone.  
How to use Refrigerant Slider 
On the left side of the screen, an interactive slider helps you quickly set the pressure or temperature reference. On the right side, you can find the precise pressure and temperature based on your input. You can also type in a precise pressure or temperature reading and Refrigerant Slider will instantly give you the corresponding figure and move the slider for visual indication.  
  
You can easily switch pressure and temperature units between metric (SI) and imperial units as well as between gauge and absolute pressures as you see fit.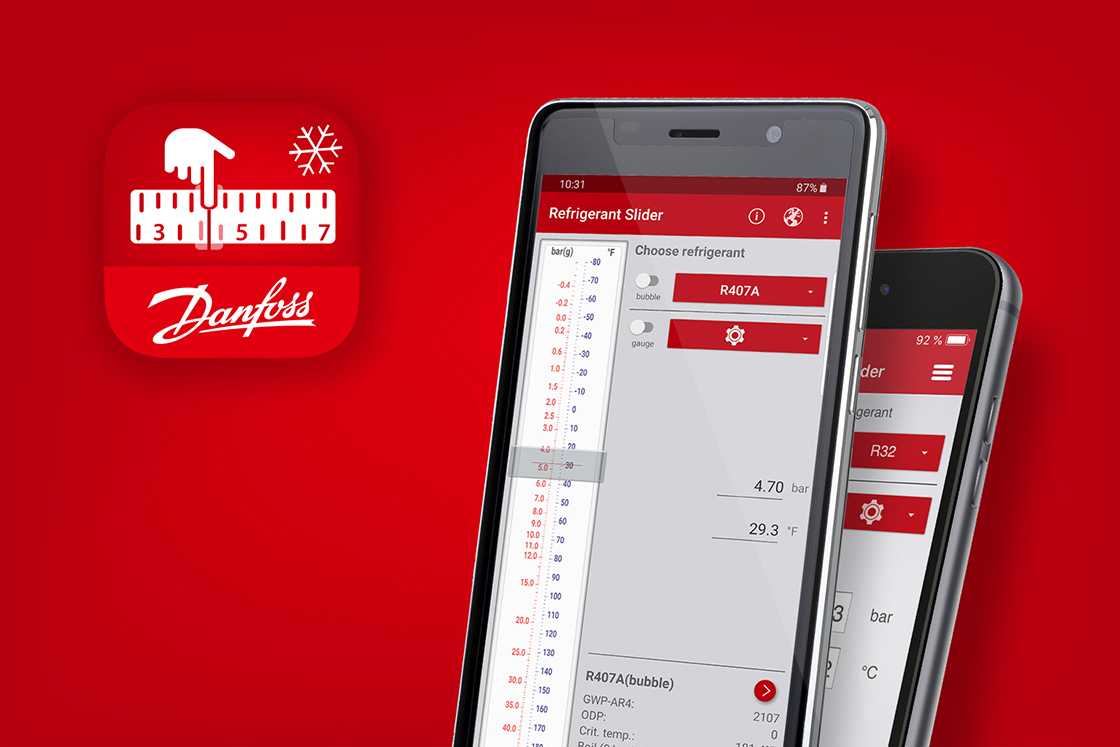 Try the web version
The Refrigerant Slider tool is also available in a web version, enabling you to use it straight from your browser.
In this video, you'll learn how to use the app by comparing two refrigerants, R407F and R507. You'll also get a walkthrough of all the different functions you can perform in the app and see the information you can get about each refrigerant, including class, GWP, ODP, superheat, and more.
Disclaimer
Refrigerant Slider ("the Application") is provided on an "as is" and "as available" basis for the intended purposes as determined by Danfoss only and any use hereof is at the user's sole risk. The Application and results and information generated thereby cannot substitute technical advice but must be verified by the user, they are not promises and should not be relied on as accurate data or analyses.
Danfoss disclaims all warranties and conditions regarding the Application, whether express, implied, or statutory, including, but not limited to, conditions of merchantability, satisfactory quality, fitness for a particular purpose, accuracy and non-infringement of third parties' rights. Danfoss does not warrant that the Application will meet your requirements or that the operation hereof will be uninterrupted or error-free.
To the extent not prohibited by law, in no event shall Danfoss be liable for any direct, special, indirect or consequential damages, whatsoever, including, without limitation, damage to property, damages for loss of savings or profits, or loss of data arising out of any use of the Application.