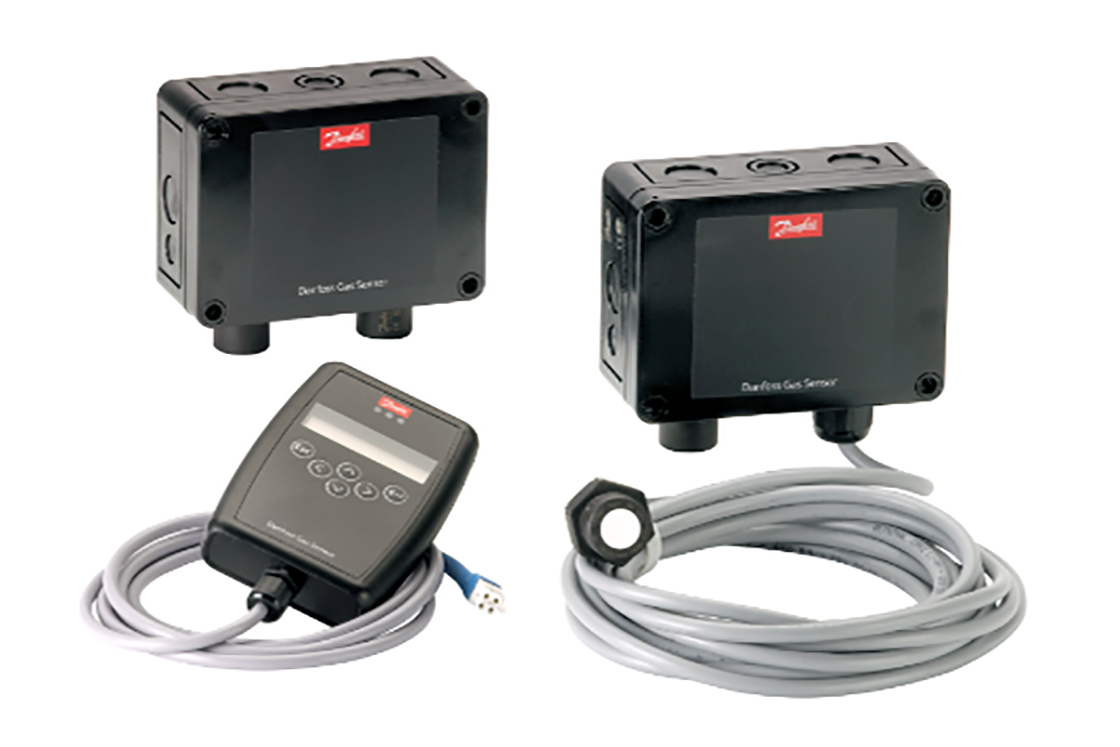 Updated gas detection sensors, same reliability 
You get the same proven reliability, standards compliance, and safety as with the previous DGS series, but with a faster response time. An extra relay is added for early warning of a rising gas concentration. The option of adding an external push button allows convenient testing of the gas alarm system before entering a sensor-protected area.
The new DGS series is based on an all-new digital platform, making it easy to install and use. Sensors can easily be integrated into Danfoss ADAP-KOOL® systems, giving you 24/7 remote service access to parameters and alarms. The new DGS series gives you long calibration intervals for reduced maintenance costs, and sensor heads are easily replaced with a simple plug-and-play process.
With the new DGS series just 5 models but covers 15 refrigerants, including propane with the pellistor sensor variant (DGS-PE). You can get a wide range of accessories like replacement sensor heads, strobes-and-horn, splash guards, a remote kit and duct set, and a calibration kit. A low-cost-variant without built-in buzzer and light is also available for mounting in an electrical panel or in the plant room.
You can easily upgrade the old DGS series to the new one; this requirement was a major priority when Danfoss developed the new series.
Features and benefits
Peace-of-mind that building and personnel are protected
15 refrigerants, including propane, covered with only 5 sensor models
Faster response times and wider measuring range
Test function for safe room entry
Plug 'n' play commissioning and easy integration in Danfoss ADAP-KOOL® systems
User-friendly, semi-automated calibration routine with hand-held service tool
Long CO2 sensor calibration intervals
Quick and easy sensor head replacement
SIL II and EN 61508 compliant control software

Step inside of Danfoss smart store and discover the latest technologies
Every day, we are dedicated to make your supermarket just a little smarter
Play video
Coming soon...
Coming soon...
What's new with CO₂ : New solutions and trainings for Food Retail applications

CO₂ is taking the Food Retail industry by storm and is shaking up how we do business. It offers an eco-friendly and efficient alternative to many refrigerants that are currently being phased out – if you have the right technology, tools, and know-how in place. That's where we can help.

AK-PC 572 MiniPack controller – CO₂ made easy for small store formats

It's not too long ago that we here at Danfoss stood up and boldly declared, "We love CO₂!" This proclamation contained all the passion, knowledge, and hard work that has gone into shifting the food retail industry from HFCs towards natural refrigerants. Our engineers have developed solutions that help make the refrigerant transition even easier for our customers – and now we're ready to introduce one more.

Coolselector®2: We did complex. You do awesome.

Wednesday, March 20, 2019

Coolselector®2 is essential software for engineers, consultants, and system designers who work in the refrigeration and air conditioning industry. Using Coolselector®2, you can easily optimize energy consumption and increase efficiency in your HVACR system — simply run calculations based on your operating conditions and then choose the best component setup for your design.