Energy-efficiency directive
What is the Ecodesign Directive?
Energy-efficiency-related regulations and standards are gradually being intensified around the world. The Ecodesign Directive is the legislative framework that currently sets requirements on all energy-related products in the domestic, commercial and industrial sectors throughout the European Union. Its aim is to ensure manufacturers reduce the energy consumption and environmental impact of their products by establishing minimum energy-efficiency standards. These requirements have been gradually intensified.
Efficiency requirements for IE2, IE3, and IE4 motors
Motors, AC drives and power drive systems are classified according to their energy efficiency. And, since January 2015, it has been a legal requirement that new IE2 motors require an AC drive for operation in Europe. From July 2021, the minimum requirement for motor efficiency is class IE3, and from July 2023 the minimum requirement for motors in the range 75-200 kW is IE4. For AC drives, the minimum requirement is IE2 from July 2021. The IEC 61800-9-2 standard defines the IE classes for AC drives and also the IES classes for power drive systems (motor and drive combined).
Danfoss drives already comply with the strictest requirements of the IEC 61800-9 standard for energy efficiency and are classified as IE2.
The MyDrive® ecoSmart™ online tool makes it easy to calculate IE and IES classes according to the IEC 61800-9-2 standard.
Use MyDrive® ecoSmart™ to: 
look up standard part load loss data for Danfoss AC drives
enter any application-specific part-load points 
calculate the IE class and part-load data for an AC drive 
calculate the IES class for an asynchronous motor and AC-drive system
create a report documenting part load loss data and IE or IES efficiency class
export the part load data points for use in your system
Calculate energy efficiency with MyDrive® ecoSmart™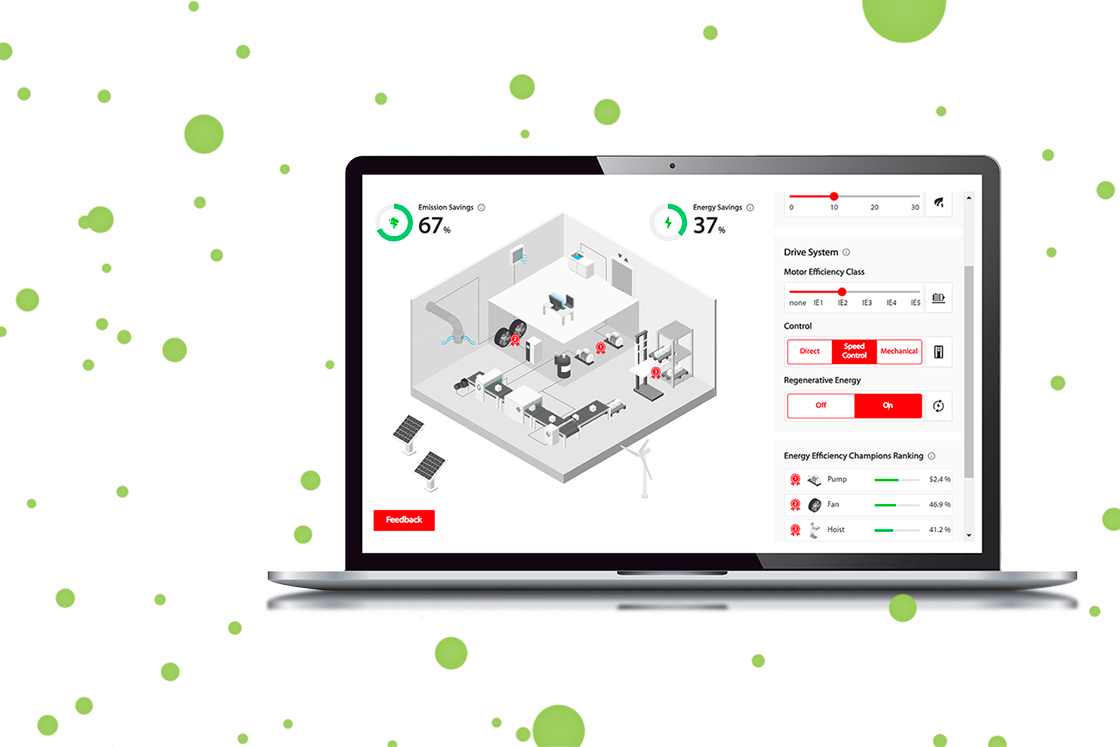 Discover hidden energy efficiency champions in your building
Many companies invest in renewable energies such as photovoltaics on the roof or purchase green electricity. But is that enough?
Discover the hidden energy efficiency champions in your building with the new online tool. Experience which settings will save the most energy, costs and emissions.