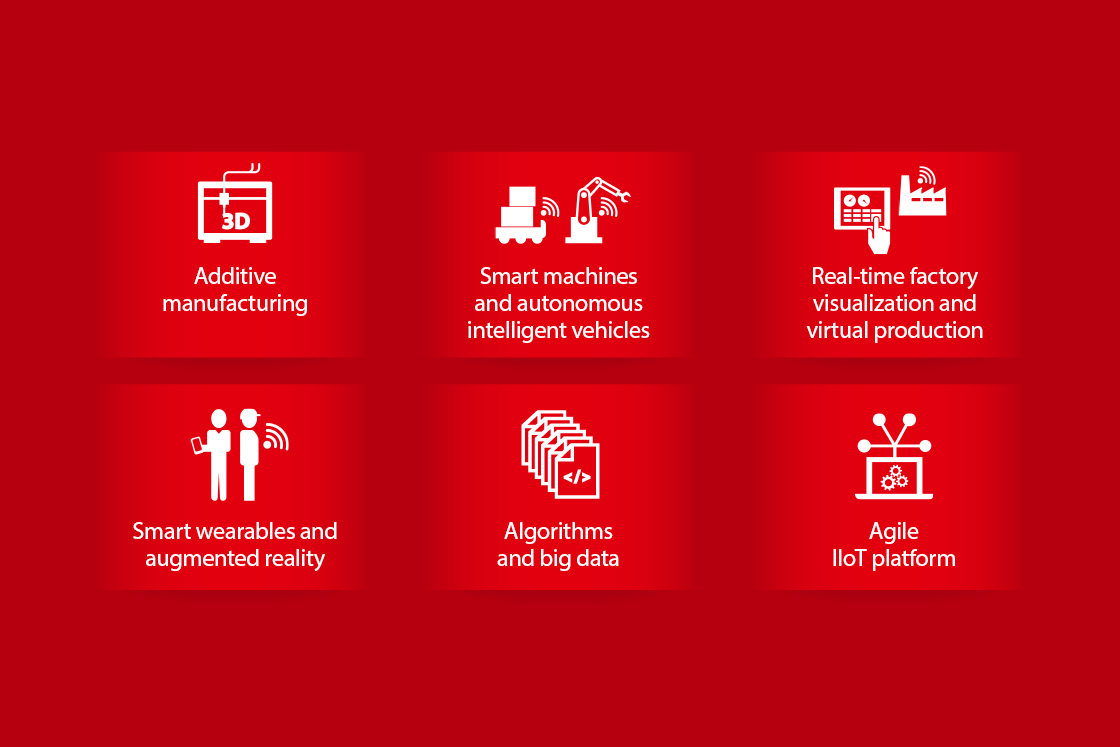 Utilizing digital technology to ensure quality, reliable drives are delivered fast
Your guarantee for quality, reliable drives delivered fast, is our digital factory.
Often referred to as the fourth industrial revolution, Industry 4.0 describes the combination of industry with Internet of Things (IoT) technology. It is a modern approach to achieving results by using the advancements in digital technology that have occurred over the past decade.
Digital manufacturing, or the 'smart factory', is fundamentally linked with Industry 4.0. With access to greater amounts of in-depth data and new communications technology between systems and operators, smart factories are able to bring a higher level of automation and digitization to the production line and supply chain. Industrial manufacturing in an Industry 4.0 environment enables the provision of better quality, and customized, goods, faster.
At Danfoss Drives, Industry 4.0 is already a daily companion driving our operations, and ready to integrate on all levels into customer installations. Our smart, automated manufacturing system can build millions of highly customized drive configurations in a flexible, mass-production environment.
Our manufacturing processes are IT-driven. From printed circuit board assembly, through soldering to mechanical assembly and testing, all processes are governed by advanced production software and state-of-the-art equipment. The products and manufacturing execution system communicate with each other for optimized efficiency.
While the drive is being assembled, the system requests creation of an instruction manual with the content and language that matches the individual specifications of the drive configuration. This unique manual is printed and included in the packaging.
Industrial internet of things platform combined with 3D factory visualization
Connects people, processes and devices
Fully smart-connected enterprise 
Real-time generation and visualization of facts
Real-time control of all processes in supply chain
Enables new cyber-physical systems and relations
Fast response time 
Improves productivity and reliability of production lines
Comprehensive testing ensures quality and reliability
The high performance, quality and reliability of your drives are ensured thanks to the comprehensive and fully automated testing of all Danfoss drives before they leave our factories.
During manufacturing, our testing methods include:
Reliability testing which includes temperature and humidity analysis to find out how products are affected by temperature and humidity variations 
Functional testing which makes use of test benches and automated software tests
Comprehensive approval testing which includes highly accelerated life testing (HALT) and omni-axial (6-axis) random vibration combined with thermal cycling testing. HALT establishes the robustness of products and obtains large margins over the expected use conditions. Testing, performed at subsystem level, determines the limits of the design and identifies the weakest links
EMC testing which helps Danfoss provide AC drives with optimum EMC protection and integrated harmonic filters to ensure the ideal EMC environment, and cleanest power supplies are maintained throughout the operational lifetime of a system
100% factory load testing which ensures high reliability
We also focus on early user involvement and field testing prior to final product release.
IIOT platform for real-time factory status and connecting people, processes and devices


Faster, simplified processes
Voice-interactive smart glasses and augmented reality
Enable online employee training, enhance quality and ensure a better remote service capability.
Autonomous indoor vehicles
Enable connected production with real-time tracing of individual parts and part arrival, and ensure efficient delivery of parts in challenging environments.
Advanced robotics
Ensure improved quality and better productivity, and support a healthy work environment by assisting operators with heavy and repeatable tasks.