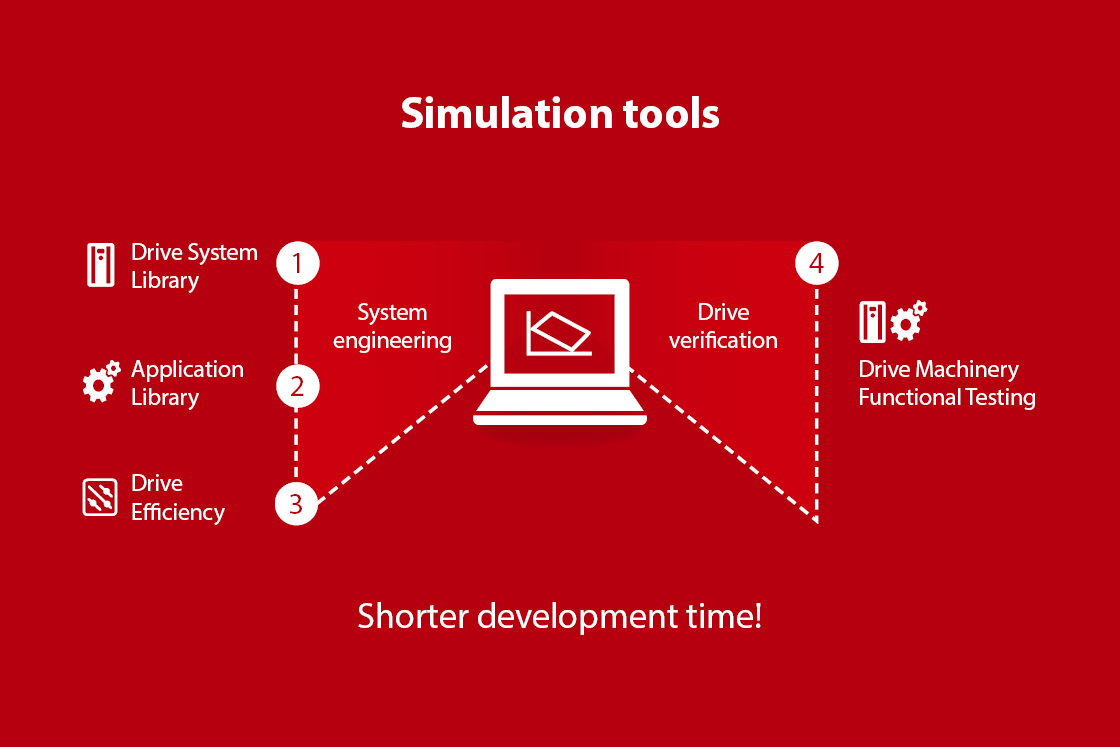 Research and development has the highest priority
R&D is critical to the innovation process. It is an investment in technology and future capabilities, which allows us to develop new products, processes and services to drive your success.
With around 1,000 research and development engineers, we are able to push the boundaries of innovation to strengthen your competitive edge, and to enable the world of tomorrow to do more with less.
At Danfoss Drives, we use a series of simulation tools: electrical, mechanical and thermal simulation, 3D E CAD and M-CAD. These tools shorten the development time of new products, help us create more thorough designs, and ensure the highest quality of your drives.
Designing the perfect system
Danfoss uses digital technologies to design new software and features, and to simulate your environment to help you optimize your processes and productivity. They are ideal for calculating harmonic disturbances and estimating energy savings.
Our range of software tools are used, for example, to:
Configure and monitor your drives
Customize the behavior of your drives
Simulate and analyze performance of your drives
Dimension and design your drives
We also provide a range of downloads that ensure your drive is up to date with all the latest features and functionality.
Tailor your drive
The Drive Configurator is an advanced, but easy-to-use tool that enables you to select and tailor the VLT® drive that exactly matches your requirements. It also offers you quick access to available spare parts and accessories for both current and legacy products.
The Drive Configurator generates a unique code number for the drive you need, preventing errors during order entry and for accurate traceability throughout manufacturing and for the entire lifetime of the drive.
Streamlined purchasing experience
At Danfoss Drives, we use our digital capabilities to guide you to the right drive solution for your application. The configurator is connected to the shop to make ordering easy for you. And your drives are assembled, tested and shipped from our factories within just a few hours.
Select and configure the AC drive that exactly matches your requirements.
Benefit from instant, all-hours access to the Danfoss Product Store to discover everything you need to know about VLT® and VACON® solutions.