Molslinjen – Denmark's largest domestic ferry company – has set its first electric ferry in motion. The E-ferry Grotte will be breaking waves at the UNESCO World Heritage waters between the coastal town of Esbjerg and the island Fanø – and Danfoss is on board.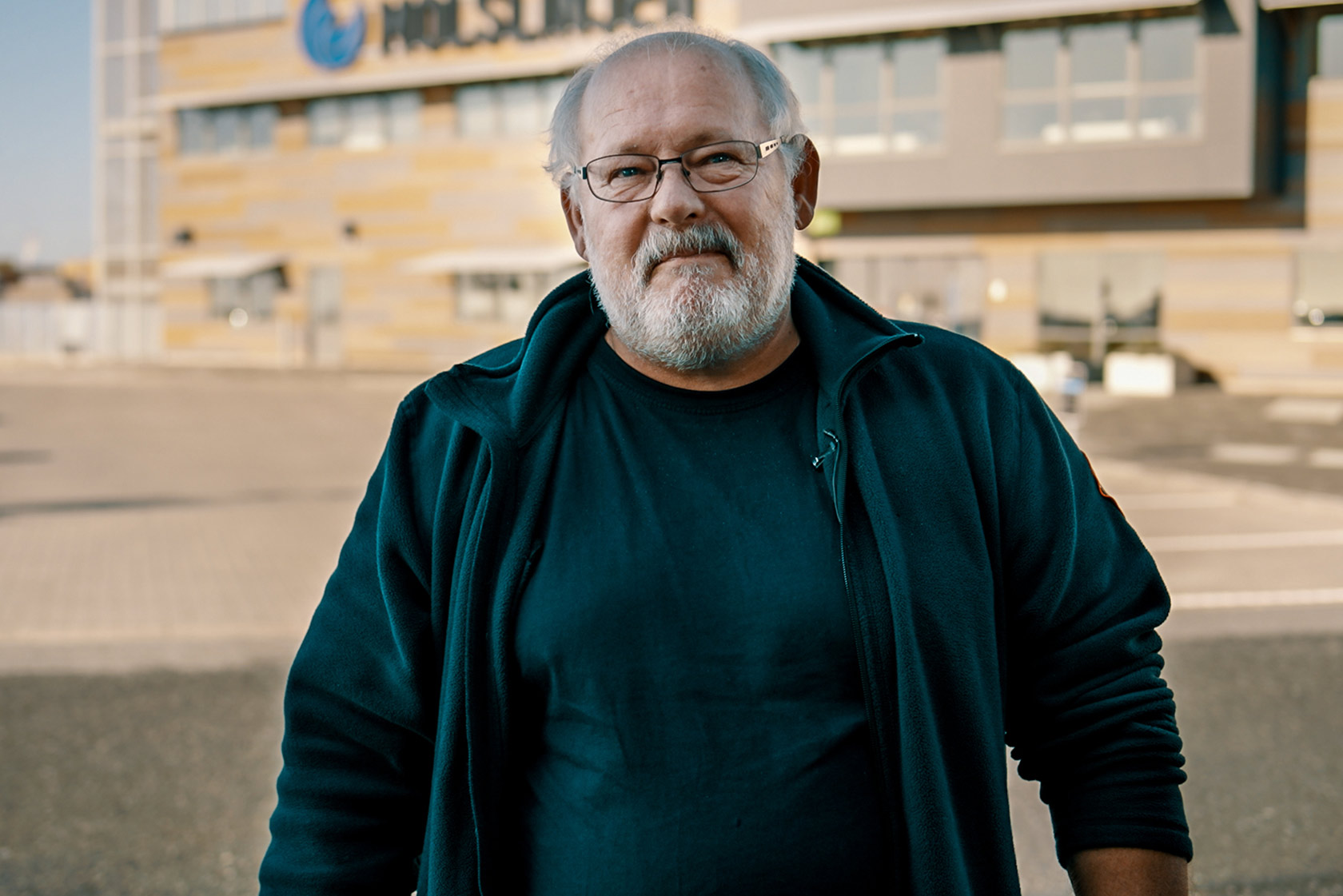 It's 100% electric and it's in operation. The first new-build, fully commercial electric ferry in Denmark, Grotte, is sailing its daily routes on World Heritage waters in the natural habitat, with tidal channels, sandy shoals, mussel beds, sandbars, beaches and dunes of the Wadden Sea.
Ole Berg-Hansen, Chief Engineer at Molslinjen, oversaw the building of the new ferry.
"It's fantastic to be sailing on board Grotte. Our passengers will experience that it is quieter compared a conventional ferry with motors. If we are to reach the climate targets that have been set, we need to start replacing now, otherwise we will never reach the goal. This is our first electric ferry, but I do not think is will be our last."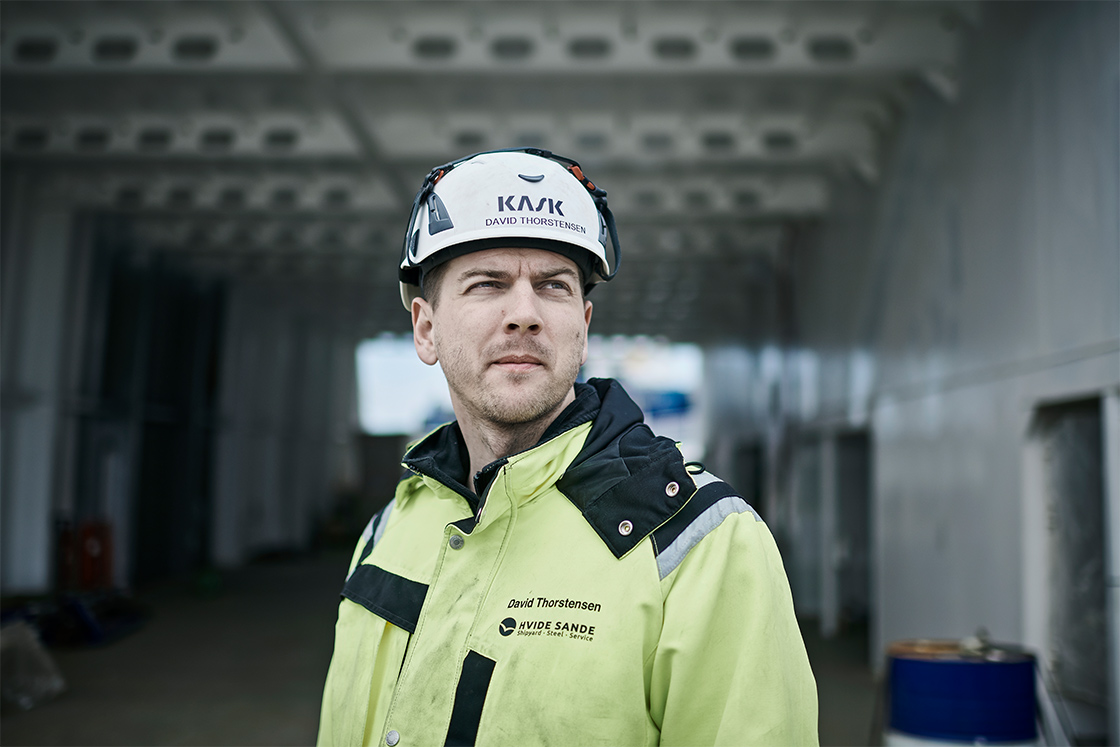 From trot to gallop
Danfoss Drives supplied inverters to control the current on board, and Danfoss Editron delivered the two electric motors. Ship building took place at Hvide Sande Shipyard – specialized in building and repairing ships for the marine industry. It's their first electric ferry, and they partnered with Danfoss and system integrator Vest-El A/S for the project.
"We are going from trot to gallop," says Project Manager at Hvide Sande Shipyard, David B. Thorstensen, when he describes the interest in building electric ferries.
"Many of the new projects we get into our pipeline move towards electrification. Our customers want to implement electrical solutions on board their ships because the technology is available and so is the renewable energy."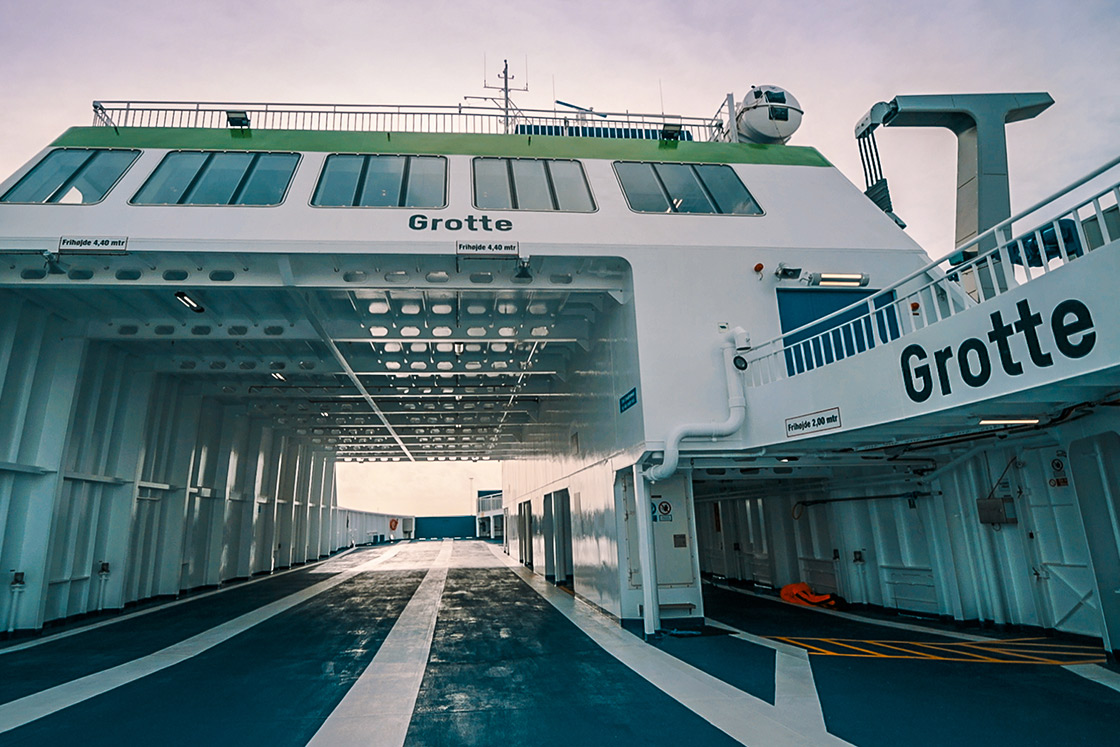 The ferry is 50 meters long and 14 meters wide. More than 15 tons of lithium-ion-batteries, with a capacity of 1,107 kWh, operate on board the ship, and it reaches speeds up to 11 knots (a little over 20 km/hour).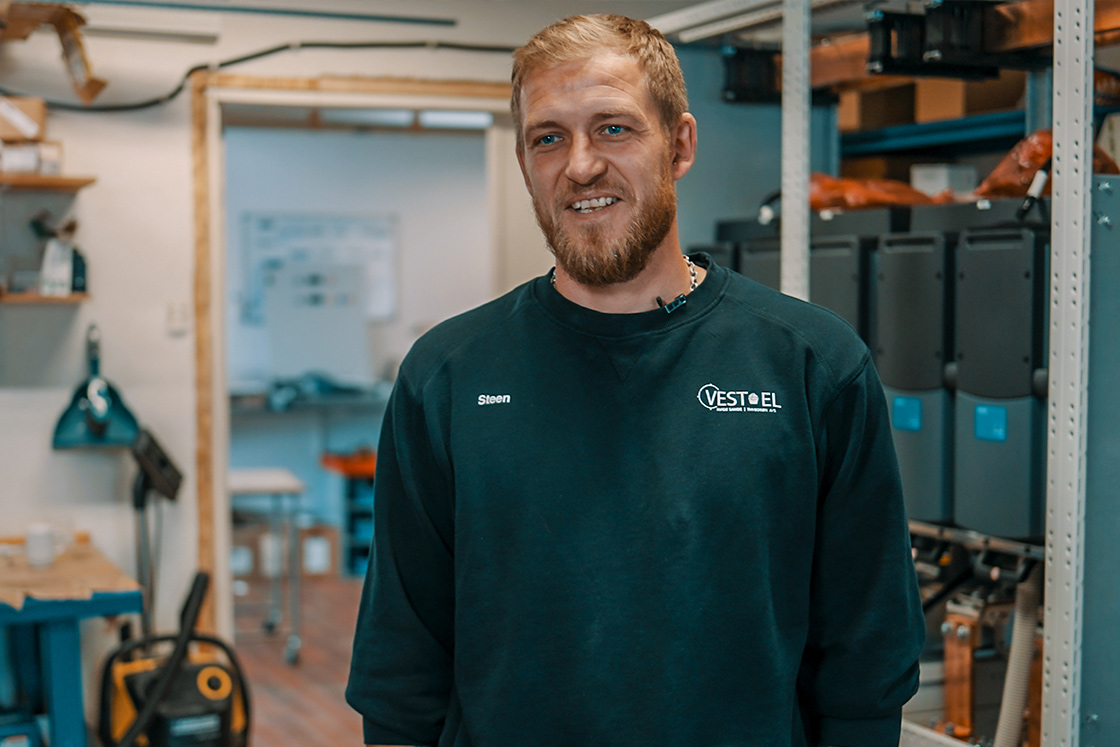 Steen Christensen, Partner, Vest-El A/S, has supplied the entire electrical package on board.
"We go from diesel-fueled generators to electrification and do something good for the climate. That's exciting. This is our first electric ferry, and, in this project, my team relied on well proven and tested products from Danfoss," he says.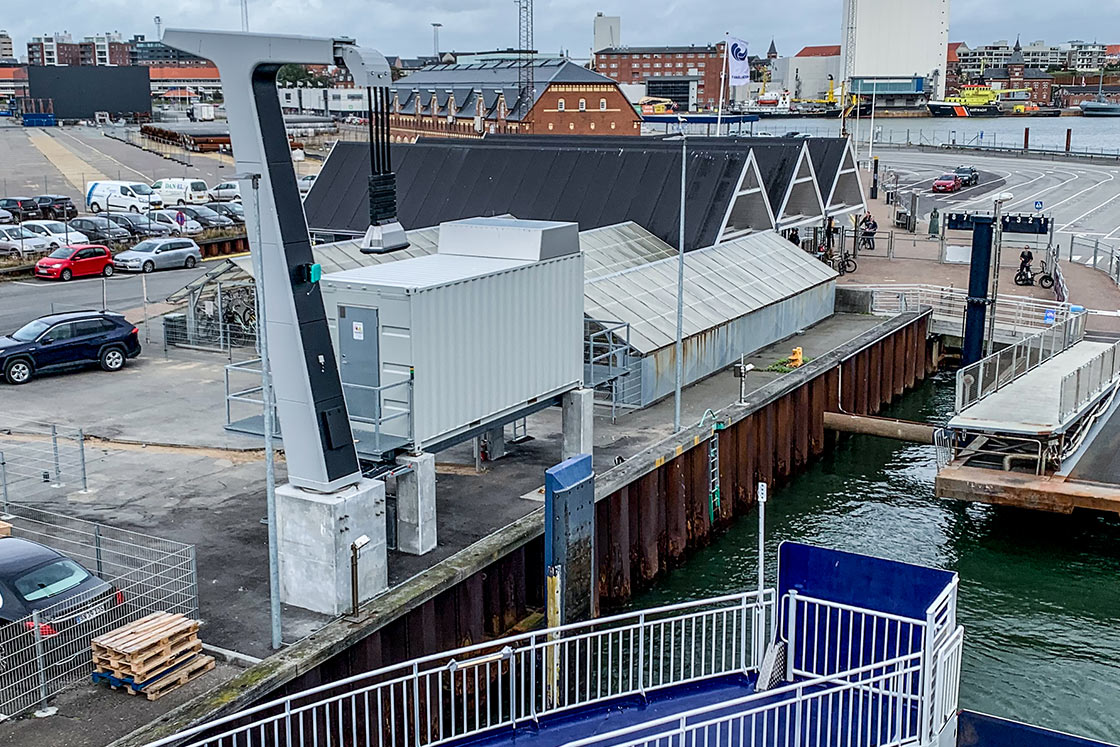 Electrification at sea
In Europe, around 900 ferries operate on shorter routes – all with a potential to be electrified. Maritime transport emits more than 900 million tons of CO2 annually and is responsible for approximately 2.5 percent of global greenhouse gas emissions. Electrification is the way forward for short sea and inland shipping – in harbors, rivers, and fjords.
Søren Schoubye, Head of Sales in North Europe, Danfoss Drives:
"For the smaller ferries and shorter routes, the obvious choice is to go for electrification, and there is a lot to gain in terms of reducing emissions. In the Nordic countries we see a push towards greener maritime transport, and the transformation has already begun. We want to show that when it comes to the green transition, we take part at sea, in the fjords and in city areas."
Fanølinjen's Grotte will be charged with green electricity at the harbor of Esbjerg. During the seven minutes the ferry is off- and on-loading passengers and cars, the batteries will be charged with a power capacity of up to 2,600 kW.
With Grotte in operation and its two sister ferries Fenja and Menja sailing on fossil-free biofuel (Hydrotreated Vegetable Oil), Fanølinjen will operate as close to CO2 neutral as possible. All three ferries will save up to 96 percent emission, compared to traditional marine fuel.
Every year, the three ferries bring 1.8 million passengers across the 2.5-kilometer strait.
This is how it works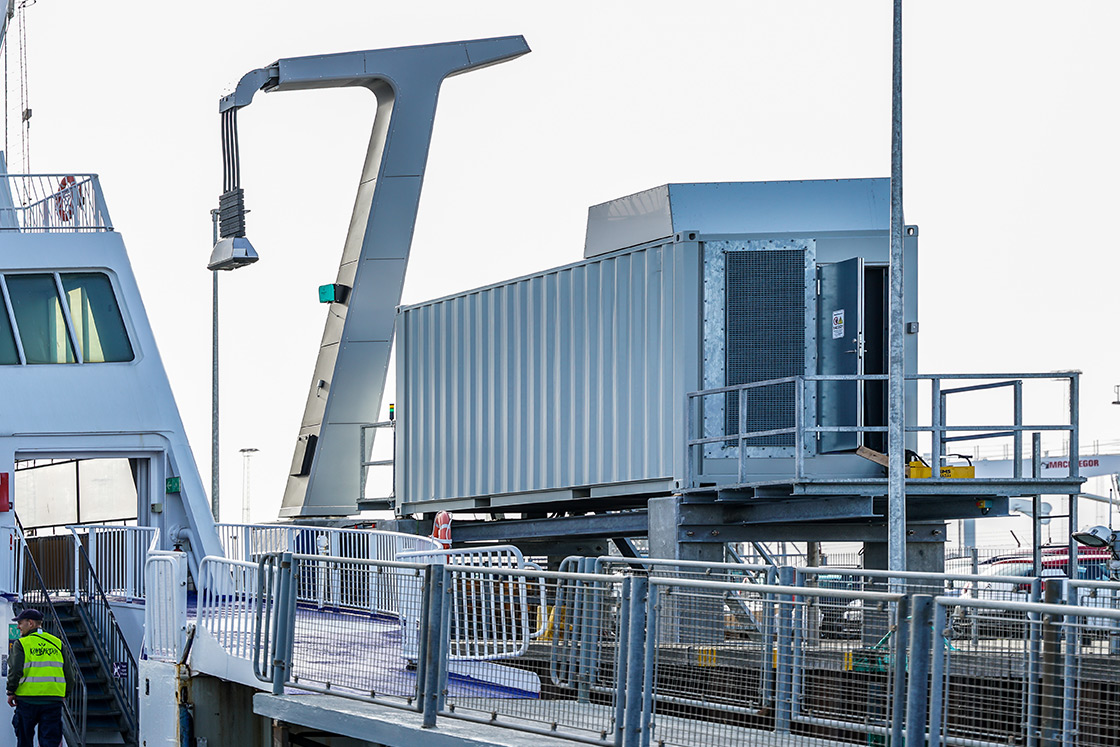 The electrical system - Explore Danfoss Drives solutions
The electrical system is designed as a common DC system, consisting of Danfoss inverters for DC/DC battery control, inverters for motor control, DC-Guard for internal protection and grid converters for AC voltage systems, such as navigation, sub systems and lighting onboard.
The electrical motor - Explore Danfoss Editron solutions
The new ferry is propelled by two 375kW propulsion electrical motors from Danfoss Editron; one in each end of the ship. The two motor systems run independently and are controlled by Danfoss Drives converters.