The ABV is a thermo-hydraulic actuator for two point control used to control floor temperature, floor heating systems, hot-water service systems, zone valves and district heating systems.
Features:
Adjustable flow limitation
manual operation
Code No.
Type
Model
Required Valve Body
082F0002
NO
ABV Actuator
24VAC 9.0 VA
VMT or KOVM
082F0052
NC
ABV Actuator
24VAC 9.0 VA
VMT or KOVM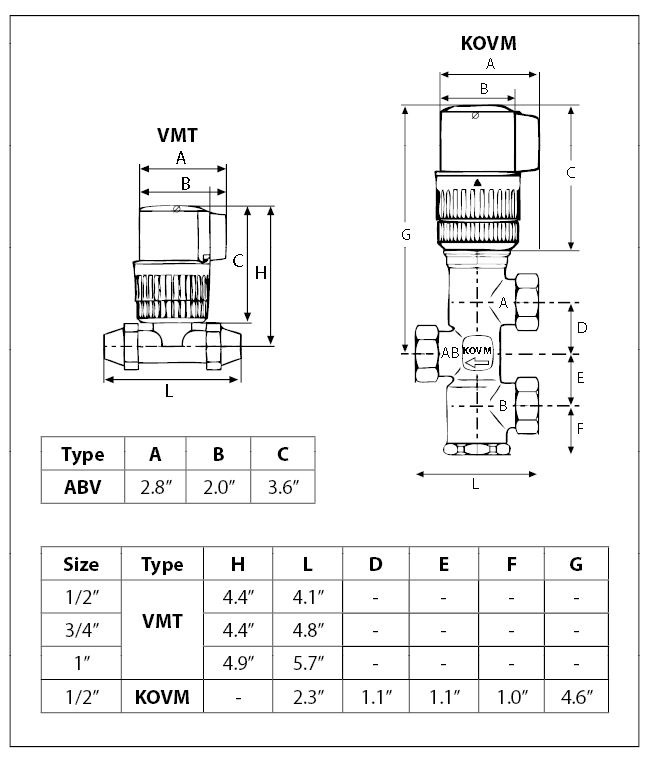 KOVM mixing valve

KOVM mixing valve bodies are designed to maintain room temperature by controlling hot (or chilled) water flow through radiators, fans, convectors, etc. Due to the KOVM's unique bypass design, a constant system flow is achieved regardless of the room's heating (or cooling) requirements. Therefore system pressures and flow rates are automatically kept constant without the need for pressure controlled bypass valves.
Technical Support
Find information on hydronic heating troubleshooting, including our top frequently asked questions, our video library, links to hydronic heating literature, a link to our newsletter, and more.