New!
LX kits
Includes everything you need to heat your new or renovated floors.
The LX kits come complete with an LX Mat (chosen based off dimension & voltage requirements), an LX205T Touch Thermostat, as well as a Little Buzzer continuity alarm to ensure a smooth & stress-free installation.
The Danfoss LX electric floor warming kits are affordable, efficient & perfect to install when wanting to upgrade the value of your property.
Each kit includes: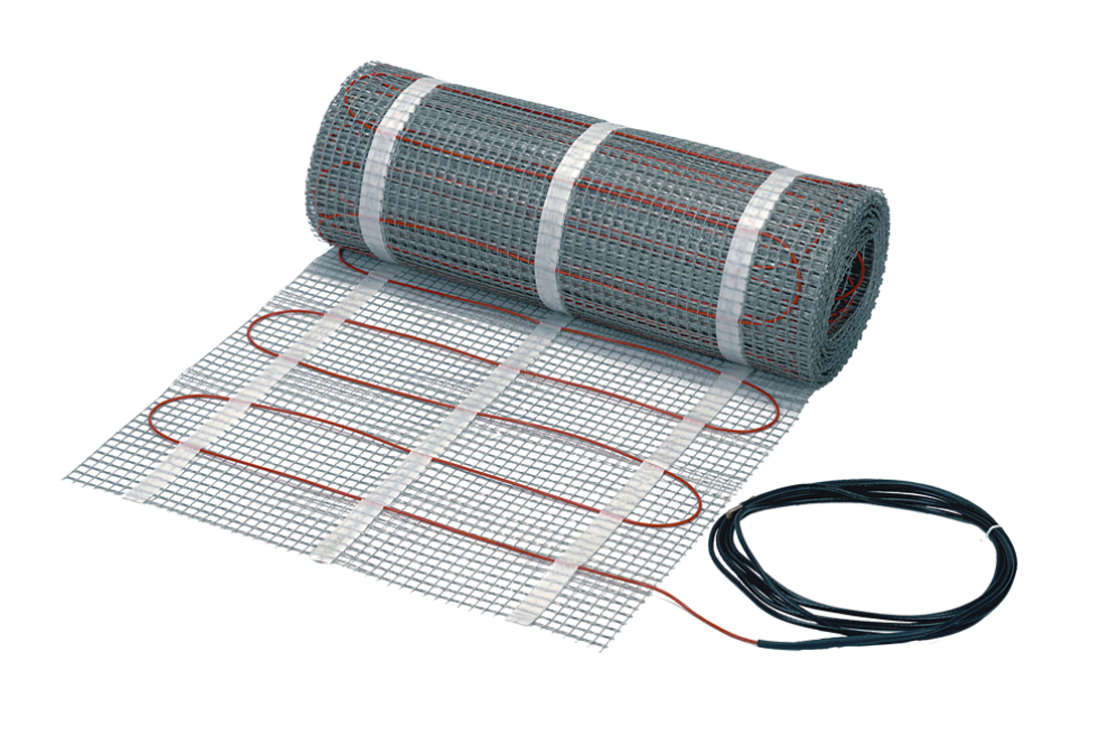 One LX Mat
Available in 120V or 240V and a wide variety of lengths. Enjoy easy installation with our peel & stick design. 
Features and benefits
Savings: save installation and product selection time by simplifying purchasing with our three-in-one kit.
Easy Installation: LX mats feature a peel & stick design, saving up to 70% of the traditional installation time.
All inclusive: In addition to the LX mat of your choice, our kits include a sleek, easy to program touch thermostat, and a continuity alarm to avoid installation errors.
Flexibility: the LX mats mesh can be cut to fit non-standard room sizes.
Versatility: For tile, stone, and laminate floor coverings.
Code Number:

Description:

Coverage in Sq. Ft.:

Watts:

088L3800

LX Mat, 120V, 10 Sq. Ft., 120W
LX205T Thermostat
Little Buzzer

10 Sq. Ft.
120W
088L3801

LX Mat, 120V, 15 Sq. Ft., 180W + LX205T Thermostat + Little Buzzer

15 Sq. Ft.
180W
088L3802

LX Mat, 120V, 20 Sq. Ft., 240W
LX205T Thermostat
Little Buzzer

20 Sq. Ft.
240W
088L3803

LX Mat, 120V, 25 Sq. Ft., 300W
LX205T Thermostat
Little Buzzer

25 Sq. Ft.
300W
088L3804




LX Mat, 120V, 30 Sq. Ft., 360W
LX205T Thermostat
Little Buzzer

30 Sq. Ft.
360W
088L3805

LX Mat, 120V, 35 Sq. Ft., 420W
LX205T Thermostat
Little Buzzer

35 Sq. Ft.
420W
088L3806
LX Mat 120V 40 Sq. Ft. 480W + LX205T Thermostat + Little Buzzer
40 Sq. Ft.
480W
088L3807

LX Mat, 120V, 50 Sq. Ft., 590W
LX205T Thermostat
Little Buzzer

50 Sq. Ft.
590W
088L3808

LX Mat, 120V, 60 Sq. Ft., 710W
LX205T Thermostat
Little Buzzer

60 Sq. Ft. 
710W
Code Number:
Description:
Coverage in Sq. Ft.:
Watts:
088L3810



LX Mat, 240V, 35 Sq. Ft., 420W
LX205T Thermostat
Little Buzzer

35 Sq. Ft.
420W
088L3811

LX Mat, 240V, 40 Sq. Ft., 480W
LX205T Thermostat
Little Buzzer

40 Sq. Ft.
480W
088L3812

LX Mat, 240V, 50 Sq. Ft., 590W
LX205T Thermostat
Little Buzzer

50 Sq. Ft.
590W
088L3813



LX Mat, 240V, 60 Sq. Ft., 710W
LX205T Thermostat
Little Buzzer

60 Sq. Ft.
710W
088L3814

LX Mat, 240V, 70 Sq. Ft., 825W
LX205T Thermostat
Little Buzzer

70 Sq. Ft.
825W
088L3815




LX Mat, 240V, 80 Sq. Ft., 950W
LX205T Thermostat
Little Buzzer

80 Sq. Ft.
950W
088L3816

LX Mat, 240V, 90 Sq. Ft., 1065W
LX205T Thermostat
Little Buzzer

90 Sq. Ft.
1065W
088L3817

LX Mat, 240V, 100 Sq. Ft., 1180W
LX205T Thermostat
Little Buzzer

100 Sq. Ft.
1180W
088L3818




LX Mat, 240V, 110 Sq. Ft.,, 1300W
LX205T Thermostat
Little Buzzer

110 Sq. Ft.
1300W
088L3819




LX Mat, 240V, 120 Sq. Ft., 1415W
LX205T Thermostat
Little Buzzer

120 Sq. Ft.
1415W
088L3820



LX Mat, 240V, 145 Sq. Ft., 1765W
LX205T Thermostat
Little Buzzer

145 Sq. Ft.
1765W