Easy to install,
clean comfortable heating,
with LX Mats
Danfoss LX floor warming mats radiate heat from the floor for even, clean and gentle heating of a room.
Ideal for bathrooms, kitchens, entryways, and utility rooms LX mats provide warmth without blowing dust and debris around like a conventional heating system. Suitable for both residential and commercial electric heating applications.
Features and benefits
Easy to install - ready to lay on the floor
Dual-adhesive backing requires no fastening saving up to 70% in installation time
Minimal thickness-only add 3/16" height to the floor
Eliminates electromagnetic fields (EMFs)
Safety approved for wet locations
Pre-applied heating cable means even heat every time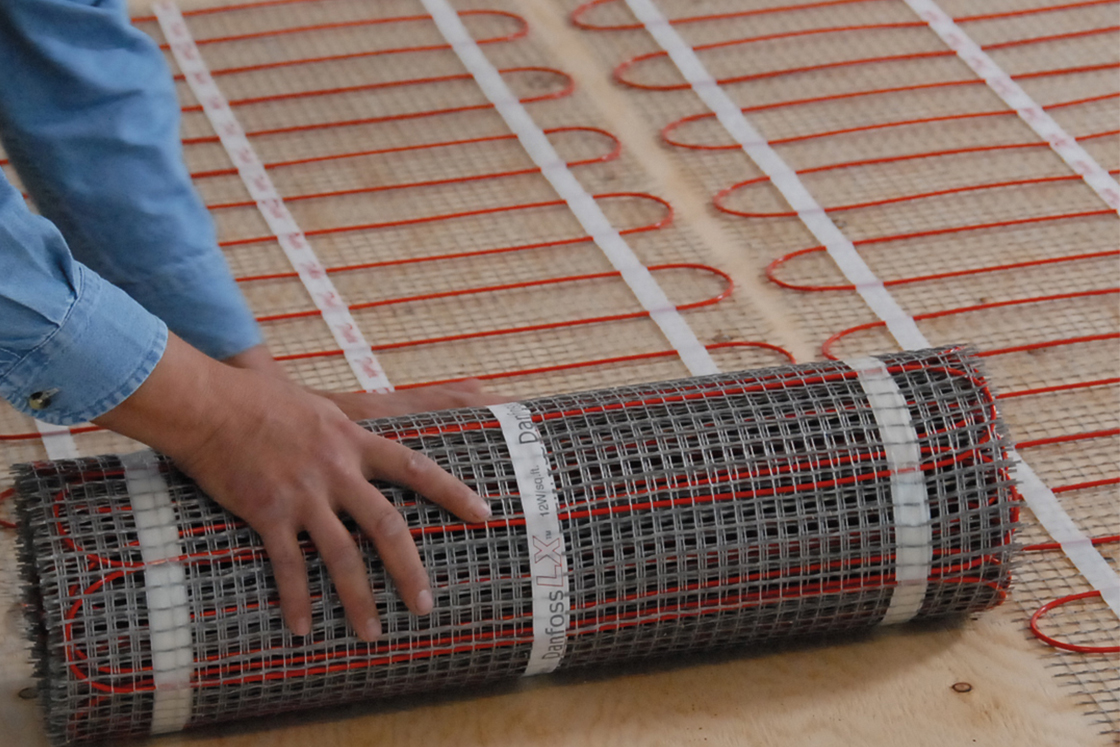 Easy & Flexible Installation
Discover installation tips/tricks and see just how easy it is to install the Danfoss LX floor warming system.
Technical Data:
Mat Construction: Thermoplastic polymer coated fiberglass, self-adhesive backing
Cable Construction: Twin Conductor
Cable Diameter: 3/16" (4.8mm)
Rated Voltage: 120V, 240V
Max. Rated Temperature: 212°F (100°C)
Conductor Insulation: Teflon™ FEP
Outer Insulation: PVC
Solutions for:
Renovations: Renovating this season? Why not upgrade and install the Danfoss LX mat & thermostat to experience year-round comfort with a hassle-free low maintenance system.
Bathrooms: Enjoy warm floors in your bathroom and showers. Enhance comfort & safety and increase the resale value of your home.
Bedrooms: Danfoss LX mats and cables are suitable for stone, tile, & engineered wood floor coverings. Enjoy clean heat and turn down your thermostat maximizing energy savings!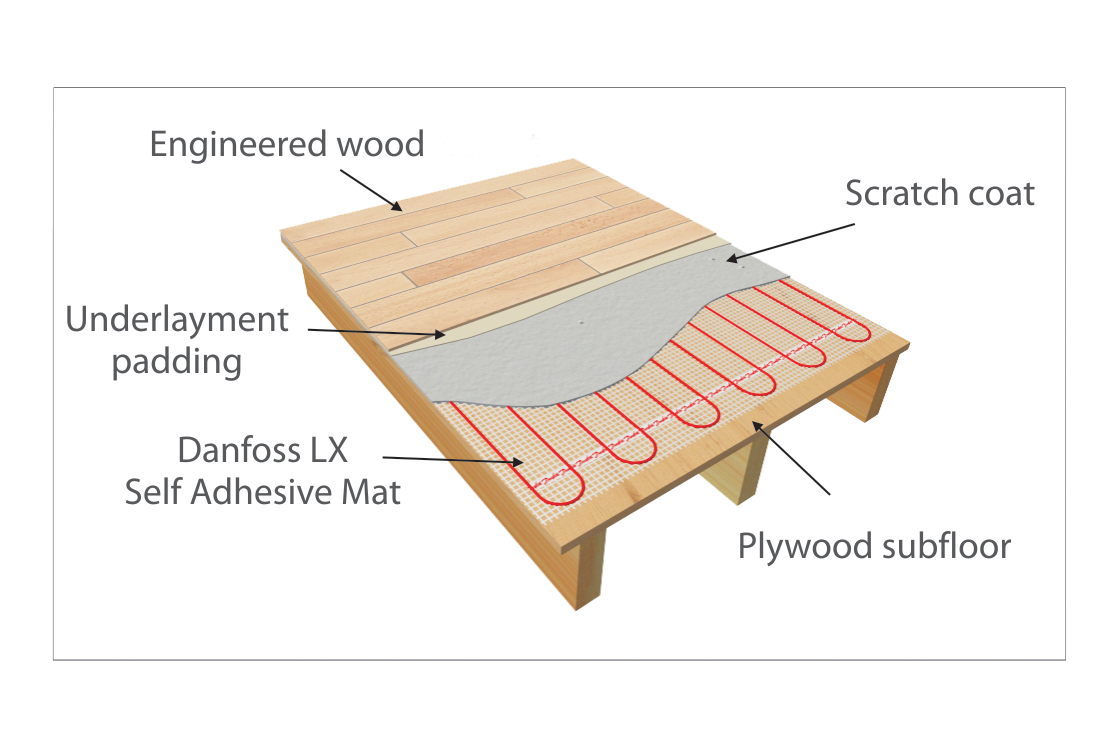 Engineered wood or laminate
Mat is installed on plywood subfloor with scratch coat, underlayment padding, and completed with the finished surface of engineered wood.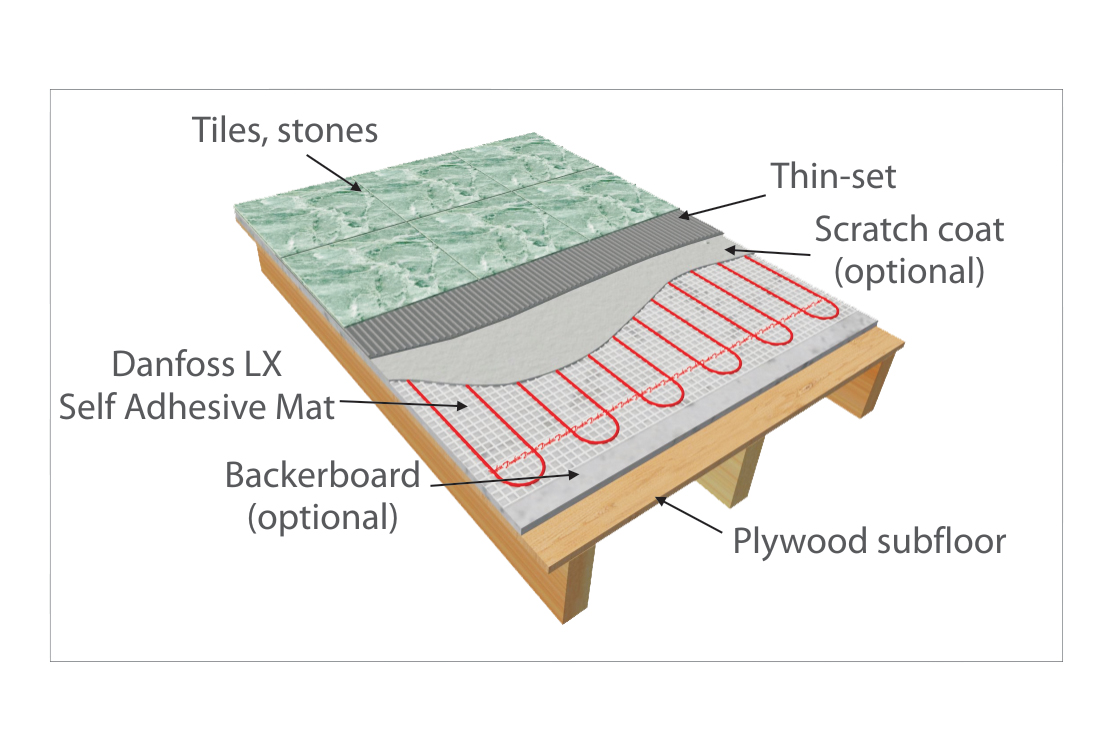 Plywood subfloor
Mat is installed on plywood subfloor with optional backerboard, and scratch coat. Then finished with a layer of thin-set and floor covering of tiles or stones.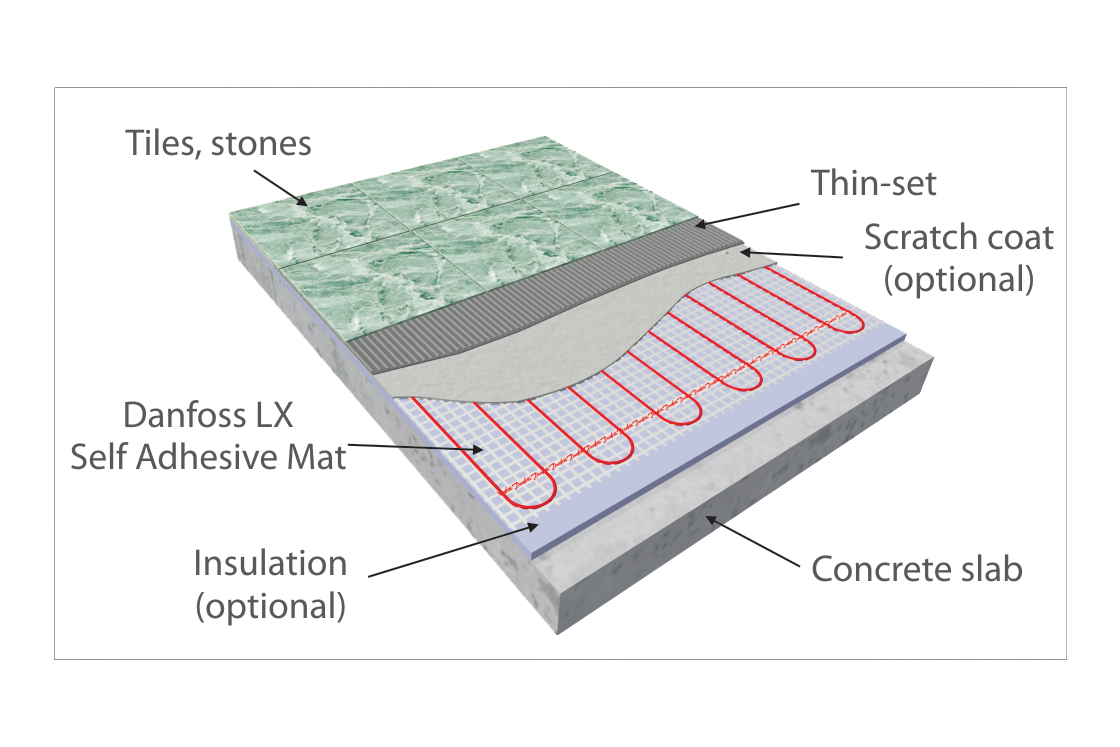 Concrete subfloor
Mat is installed on a concrete slab with optional insulation, and scratch coat layer.  Complete with a layer of thin-set and finished surface of tiles or stone.
Documents

| Type | Name | Language | Valid for | Updated | Download | File type |
| --- | --- | --- | --- | --- | --- | --- |
| Catalog | Electric Heating Product Catalog | English | Multiple | 14 Mar, 2019 | 2.6 MB | .pdf |
| Data sheet | LX Mat Datasheet | English | Multiple | 29 Jan, 2019 | 250.8 KB | .pdf |
| Brochure | LX Mat Floor Warming Brochure | English | Multiple | 21 Aug, 2017 | 1.5 MB | .pdf |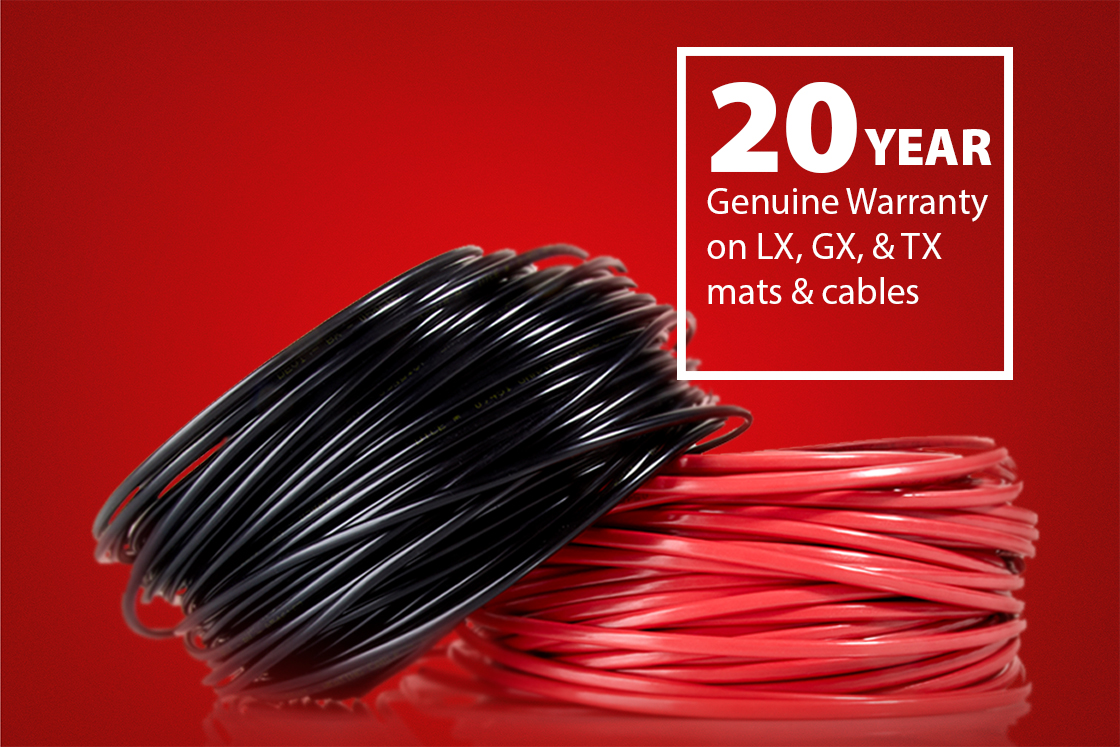 Warranty Registration Form
Register your LX, TX, or GX mats and cables using the online warranty registration form, and view the terms and conditions.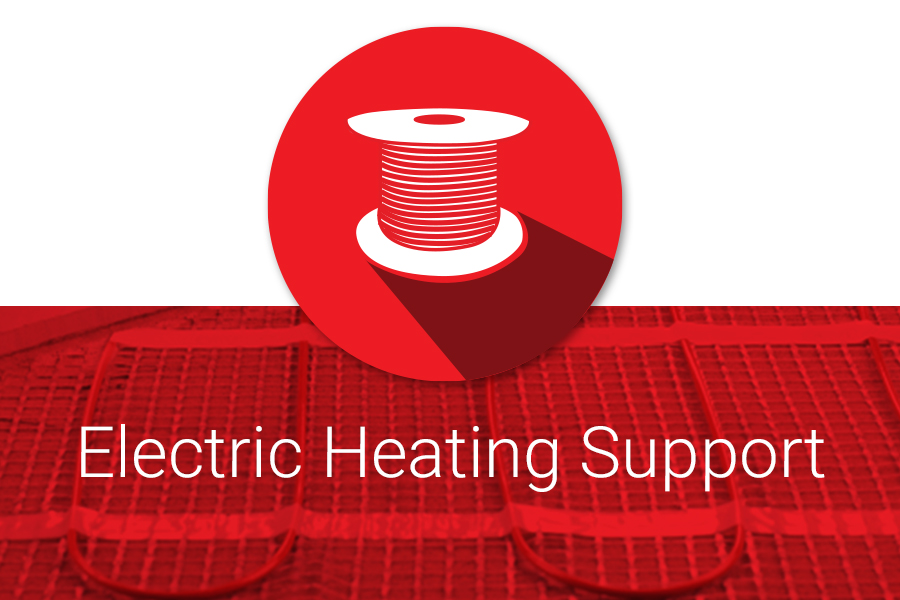 Technical Support
Find information on electric heating troubleshooting, including our top frequently asked questions, our video library, links to electric heating literature, a link to our warranty registration form, newsletter, and more.