Get even more drive in your HVAC – with rock-bottom lifecycle costs in any climate
More than ever, the extreme climates, inaccessible machine rooms and isolated outposts of our planet need the best process control there is for their HVAC installations. Your everyday critical functions and costly systems need it too, as they face ever-increasing competition and efficiency demands. Always with high performance in mind, the enhanced VLT® HVAC Drive gives you more room to maneuver. It confronts the issues and gives you rock-solid reliability. With rock-bottom lifecycle costs too.
The AHRI Certified™ VLT® HVAC Drive is designed to bring optimized process control to all heating, ventilation and air conditioning (HVAC) applications. Easy to use and with built-in intelligence, the drive is fast and cost-effective to commission. It features a wide range of functions specifically developed for use with pumps, fans, and compressors to save energy, meet environmental regulations and reduce costs in modern buildings.
The compact design of the VLT® HVAC Drive and its efficient heat management system mean it is ideal for applications where drive space is restricted.  A selection of safety features, such as Safe Torque Off and Safe Maximum Speed, protect both applications and their operators.
Maximum uptime is ensured as this robust drive offers problem-free operation in harsh environments. Enclosures are available up to IP 66 (depending on the model). And a special coating is available as an option to provide extra protection for circuit boards. Integrated DC chokes and RFI filters safeguard installations by minimizing harmonic distortion and electromagnetic interference.
Supply voltages and power range
3 x 200-240 V...1.1-45 kW

3 x 380-480 V...1.1-1000 kW

3 x 525-600 V...1.1-90 kW

3 x 525-690 V...1.1-1400 kW
Low harmonic drive
3 x 380-480 V...160-710 kW
12-pulse drive
3 x 380-500 V...315-1000 kW

3 x 525-690 V...450-1400 kW
Features and benefits
There's no need for external cooling or oversizing as the maximum ambient temperature is 50°C without derating
PLC capacity is often unnecessary thanks to the Smart Logic Controller 
A low initial investment and easy upgrades are possible thanks to the modular concept with a wide range of options
The need for external control and conversion equipment is avoided due to integrated pump, fan and compressor functionality
5–15% energy is saved as a result of the Automatic Energy Optimization function
Less gateway solutions are needed thanks to a wide range of HVAC protocols for building management system controller connectivity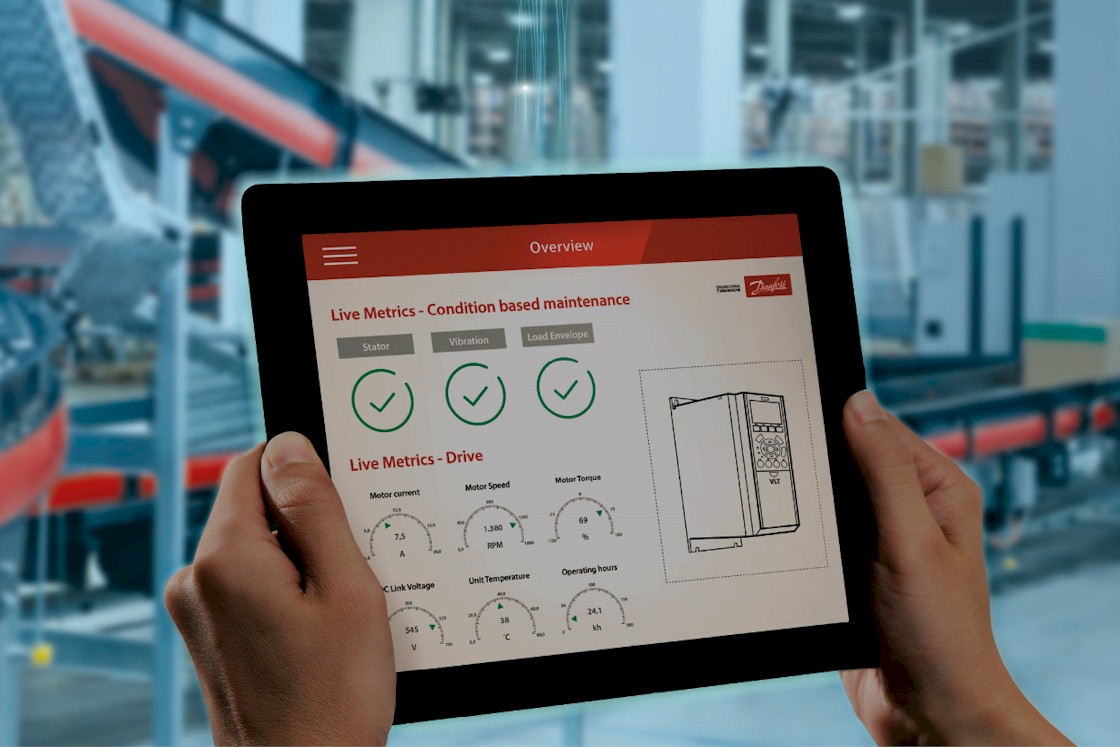 Avoid unplanned downtime with condition based monitoring
Unplanned downtime of HVAC systems can be catastrophic for essential infrastructure and those who depend on it today. Danfoss technologies empower frontline operators - both on site and remote - to predict unforeseen early failures thereby better planning for maintenance and maximizing uptime. Explore how intelligent VLT® drives solve potentially critical problems in HVAC applications.
VLT® HVAC Drive literature
Documents

| Type | Name | Language | Valid for | Updated | Download | File type |
| --- | --- | --- | --- | --- | --- | --- |
| Operating guide - AQ | IM Vertical Bypass Manual | English | United States | 01 Mar, 2020 | 6.7 MB | PDF |
3D models and drawings

| Type | Name | Language | Updated | Download | File type |
| --- | --- | --- | --- | --- | --- |
| EPLAN-files - EP | 130B1117 | | 01 Mar, 2019 | 1.9 MB | ZIP |
Software

| Type | Name | Language | Updated | Version | Status | Download | File type |
| --- | --- | --- | --- | --- | --- | --- | --- |
Pumps, fans, compressors.
Drives for compressors in residential buildings

Variable speed control of a chiller allows you to provide constant pressure regulation while matching the capacity to the actual need based on measurements in the system. Speed control is beneficial when a compressor runs for long periods at partial load. Reduce operational costs by running applications at a lower speed which reduces energy consumption. And reduce installation costs by optimizing the system and the compressor itself.
Healthcare Data Center Takes Control of Uptime and Energy with Danfoss VLT® Drives

The data center industry has standards to define the level of uptime required for a given class of application and the infrastructure needed to maintain that level. The standard being applied to medical data centers — known as the Uptime Institute's Tier III standard — calls for 99.982 percent uptime, which translates to no more than 1.6 hours of downtime per year. This standard requires an uninterruptible power supply (UPS) system that can handle a power outage of at least 72 hours, and Danfoss was selected to help meet this standard.

Reliability and Consistency Make Danfoss VFD's a Sure Bet in Las Vegas

For the mechanical systems that manage the indoor environment in this desert city, consistency and simplicity are desirable traits. Owners of casino hotels and restaurants that operate around-the-clock require HVAC equipment that is reliable and easy to operate and maintain.