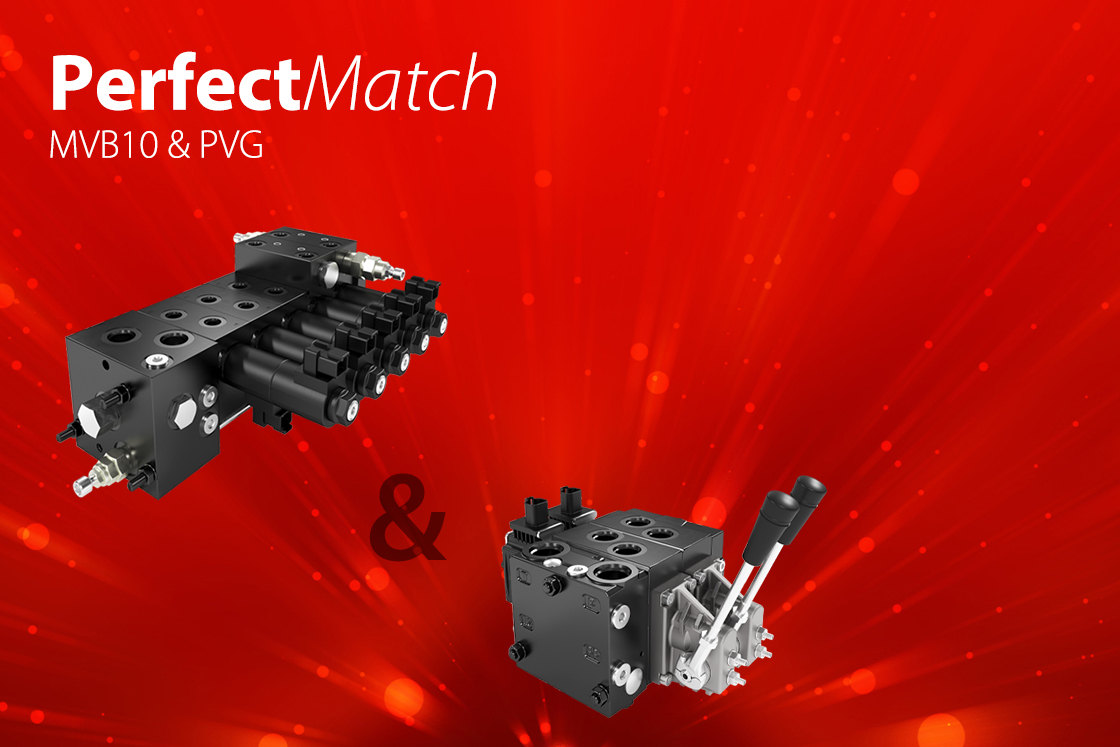 Flexible and rapid solutions for demanding applications
With this Perfect Match from Danfoss Power Solutions, you can offer valve solutions that meet any request for flexibility and compact design.
The combination of MVB10 Modular Valve Block with PVG16 and PVG32 valves gives you the tailor-made solutions that can match the increasing demands within the hydraulic controls market.
The MVB10 is a modular system that enables you to create flexible hydraulic control solutions with standard components, ensuring the best speed to market is achieved with a high-quality product tailored to machine requirements.
"The MVB10 system is designed for the electrohydraulic control of mobile machines for performance up to 80 l/min inlet flow and 210 bar working pressure. MVB10 is completely configurable, allowing end customers to apply standard, cost effective solutions in applications. Sections can be added, removed or interchanged based on the machine options," said Travis Hancock, Team Lead - HIC Engineering.
With an interface module designed for this Perfect Match, you can seamlessly combine MVB10 with our proven proportional load-sense valves PVG16 and PVG32.
"Combining MVB10 with PVG valves, you can tailor the valve solution precisely to your performance needs with standard off-the-shelf products," said Travis.
Both PVG32 and PVG16 provide a unique combination of optimized functionality and precise flows up to 130 l/min at 400 bar working pressure. Controls include manual, analog and CANbus actuation options compatible with most common machine control systems.
An array of applications can benefit from this Perfect Match. A few examples are scissor lifts, woodchippers, airport ground support equipment and roll-off trucks.
"The PVG32 and PVG16 combined with MVB10 provide our customers with proven performance results for medium to lower high-power applications requiring both precision and cost-effective solutions," said Randall Bobbitt, Sales Development Manager.
If you wish to learn more about this Perfect Match, please visit our campaign site to dive more into the features and benefits of pairing our MVB10 with our PVG16/32 valves or reach out to your Account Manager with any questions you may have.
Stay tuned for more information on other Perfect Matches in our extensive product portfolio.