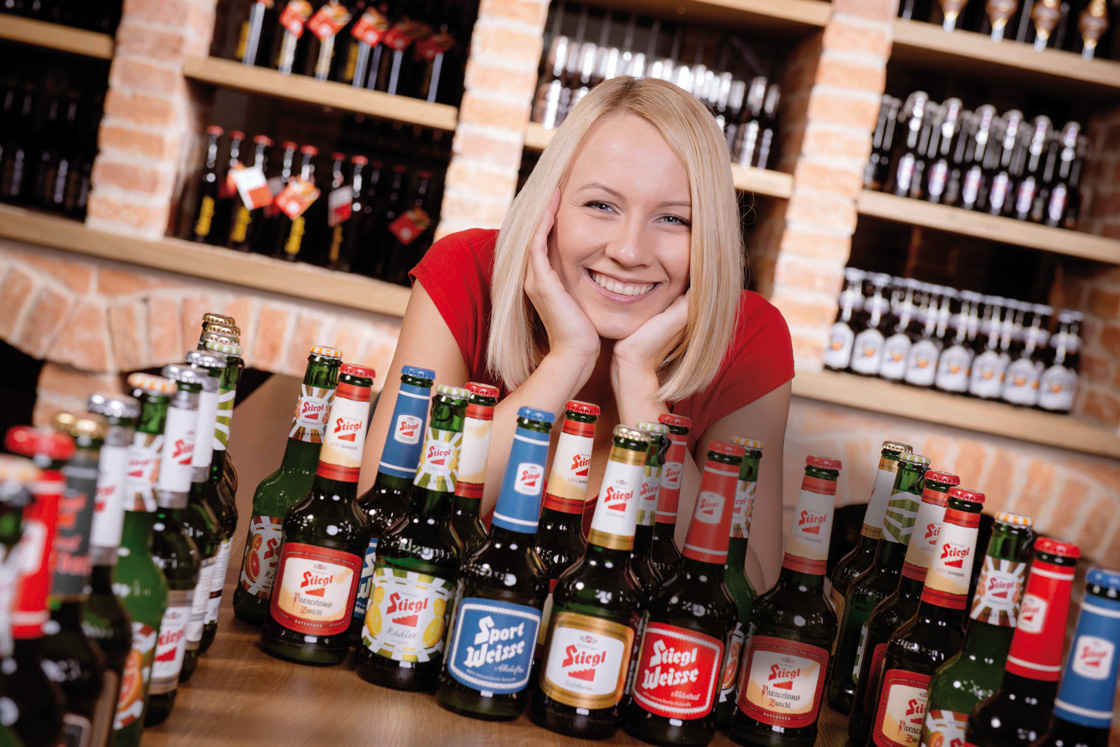 Since upgrading its filling plant to energy-efficient drives from Danfoss, Stiegl Brewery of Salzburg saves about EUR 15,000 annually in maintenance and energy consumption.
Beverage filling lines require robust, waterproof motors that can withstand even strong cleaning agents, since hygiene regulations are particularly strict. VLT® OneGearDrive® Hygienic drives controlled by VLT® AutomationDrive FC 302 meet these strict requirements, and at the same time, reduce energy and maintenance costs.
Steigl Brewery in Salzburg, Austria, is steeped in tradition, with a history extending back to 1492. Nonetheless, it follows the times and needs to maintain its competitiveness. The combination of state-of-the-art technology and traditional brewing techniques plays an important role in this privately held company. In this spirit, its brewing experts have upgraded the old drives of the filling plant with VLT® OneGearDrive® Hygienic drives controlled by VLT® AutomationDrive FC 302, to ensure that Stiegl Brewery will continue to deliver first-rate beer to its customers far into the future.
Reduced maintenance costs
The new VLT® OneGearDrive® has reduced maintenance costs largely due to its very long maintenance intervals. When using food-quality oil, the oil change cycle is about 35,000 operating hours in the partial load range. This is a vast improvement on the maintenance requirement of the old drives, which required more frequent maintenance, including dismantling and repair by an external company.
Another advantage of the VLT® OneGearDrive® Hygienic is its very smooth and easy-to-clean surface. The motor is designed with no edges or recesses where dirt could settle, thus automatically keeping it cleaner. In addition, the surface allows liquids to drain away easily and without residue., the VLT® OneGearDrive® Hygienic is fast and easy to clean.
Unlike the previously installed motors that made cleaning difficult because Stiegl employees had to work around them, employees can simply include the VLT® OneGearDrive® in the lather and thus clean it as well. Thanks to this design, cleaning time is much faster than before the upgrade.
Less inventory
In addition, Stiegl Brewery previously had to maintain a large motor and spare parts inventory, since the individual system segments used different drives. This inventory has significantly decreased after converting to the VLT® OneGearDrive®, since the new design requires only three types of VLT® OneGearDrive® to properly operate the
complete system.
Perfectly synchronized
In the filling line, the filling machine determines the speed, since it can fill carbonated beverages into bottles only at a specific speed to prevent overflow. The VLT® AutomationDrive FC 302 adjusts the speed of the conveyor belts precisely and ensures that there are always enough bottles waiting to be filled in the buffer zone and at the filling machine.
Engineered for tomorrow
Thanks to the upgrade, the historic Steigl Brewery is now well-equipped to enjoy all these valuable advantages, enabling it to maintain its competitive edge far into the future.