Next year, Danfoss headquarters will be CO2 neutral. And, in 2024, by utilizing excess heat, Danfoss own data centers will provide 25% of the headquarters heating need. "We want to show that digital transformation and green transition go hand in hand," says Danfoss CIO Sune T. Baastrup.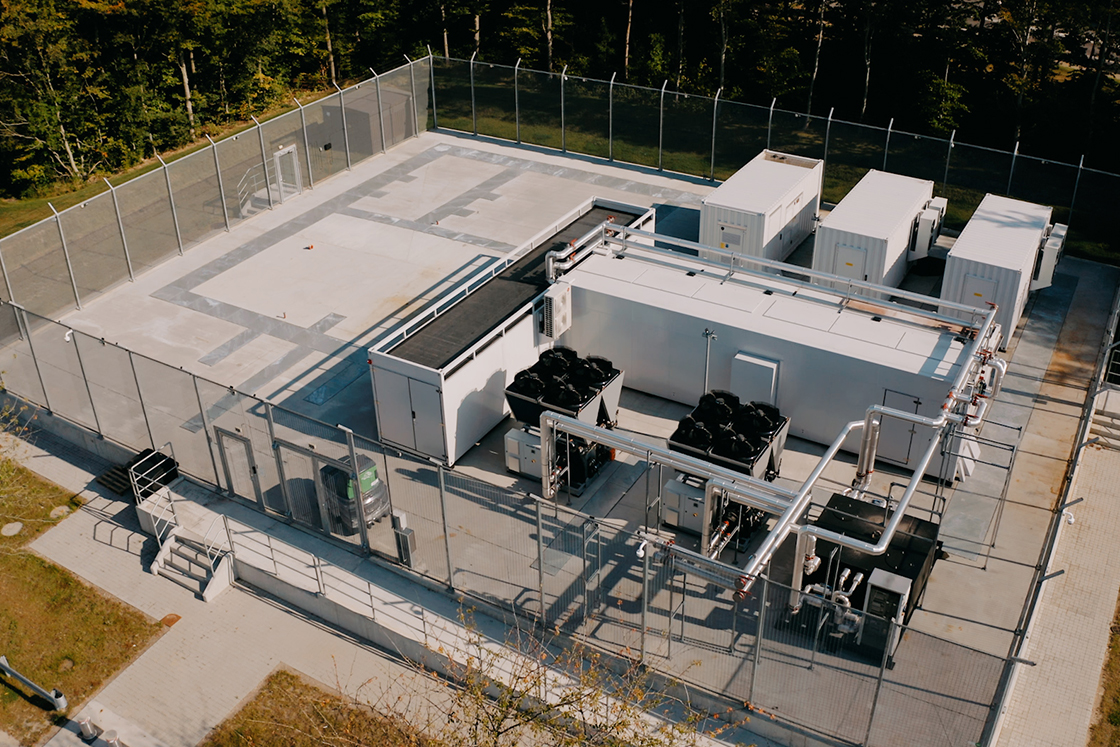 Data centers, the brains and beating hearts of the internet, are consuming vast amounts of energy. Energy to supply servers with power, but also to cool down server rooms and remove the huge amounts of heat they generate. It is estimated that 10% of all electricity is used within the IT ecosystem. This makes reducing the climate impact of digitalization a high priority.
In response to the exponential growth of data-center energy consumption, Danfoss decided to build data centers that will be an example for future climate-friendly designs. Danfoss has the technologies to cool  data centers in a greener way, to reduce energy consumption within them, and to reuse the excess heat for other applications.
"We cool our data centers in a very energy-efficient way, and we recover and reuse the excess heat produced within the data centers. This is what we consider green digitalization," says Senior Vice President and CIO of Danfoss Group IT, Sune T. Baastrup.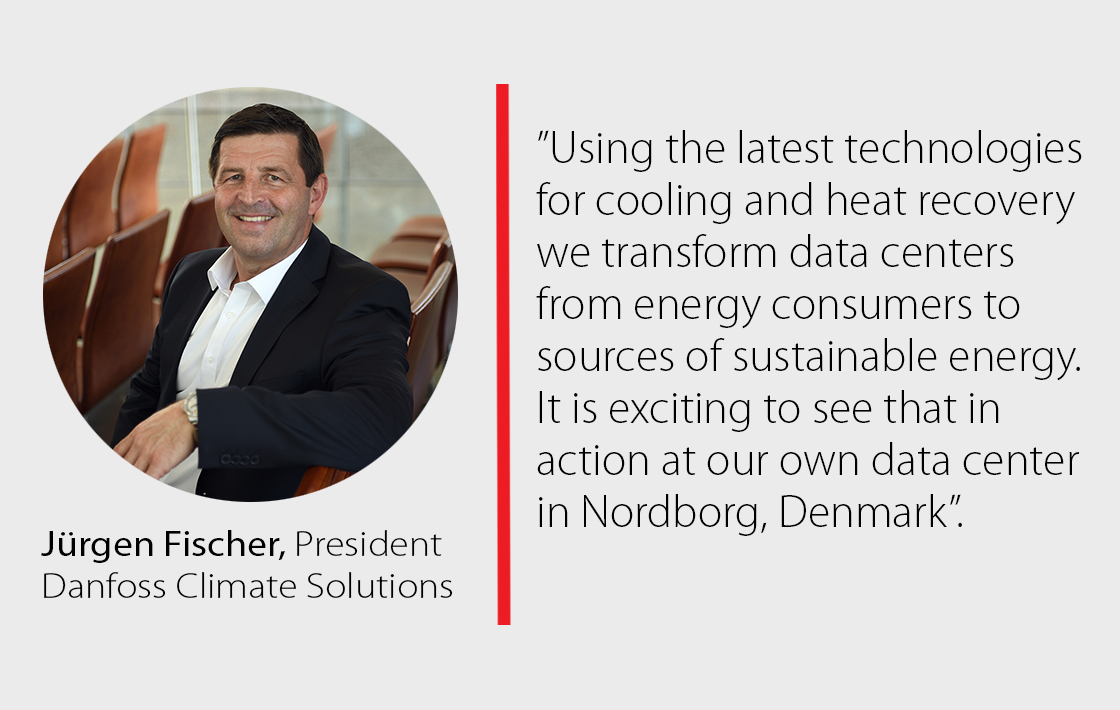 Data centers as power plants
The technologies include chillers and heat pumps featuring Danfoss Turbocor® technology that allow data centers to be cooled up to 30% more efficiently and to recover excess heat generated by the data centers.
Decarbonization of data centers starts from the cooling side. Danfoss has a wide portfolio and expertise to reduce direct and indirect CO2 emissions with lower-GWP refrigerants and energy effective solutions. Danfoss technologies are also optimized for operating conditions at higher temperatures to enable less need for cooling, thus naturally reducing the power consumption used for cooling.
In addition, Danfoss has innovative solutions for heat recovery. Excess heat is generated by server equipment as part of data center operation and is discharged into the atmosphere. Utilizing this excess heat for use in heating applications, instead of allowing it to escape, represents a massive opportunity for Danfoss to provide an environmentally friendly solution that will help the company reach complete global decarbonization by 2030.
The Danfoss decarbonization
An example of this concept is Danfoss headquarters in Nordborg, Denmark. In 2015, it was heated 100% by fossil fuel. In 2022, it will be CO2 neutral. And, in 2024, reused excess heat from Danfoss data centers will provide 25% of the overall heat supply for the 250,000 square meter of factories and offices.  
Location plays a key factor to optimally utilize excess heat. The data center will be near the location of data use and where the local area can benefit from the excess heat.  This provides the opportunity to use oil-free heat-pump systems to transform the data center into a heat source. The excess heat from the data center can then be distributed to a local neighborhood, helping to reduce the data-center energy costs, and lowering greenhouse-gas emissions.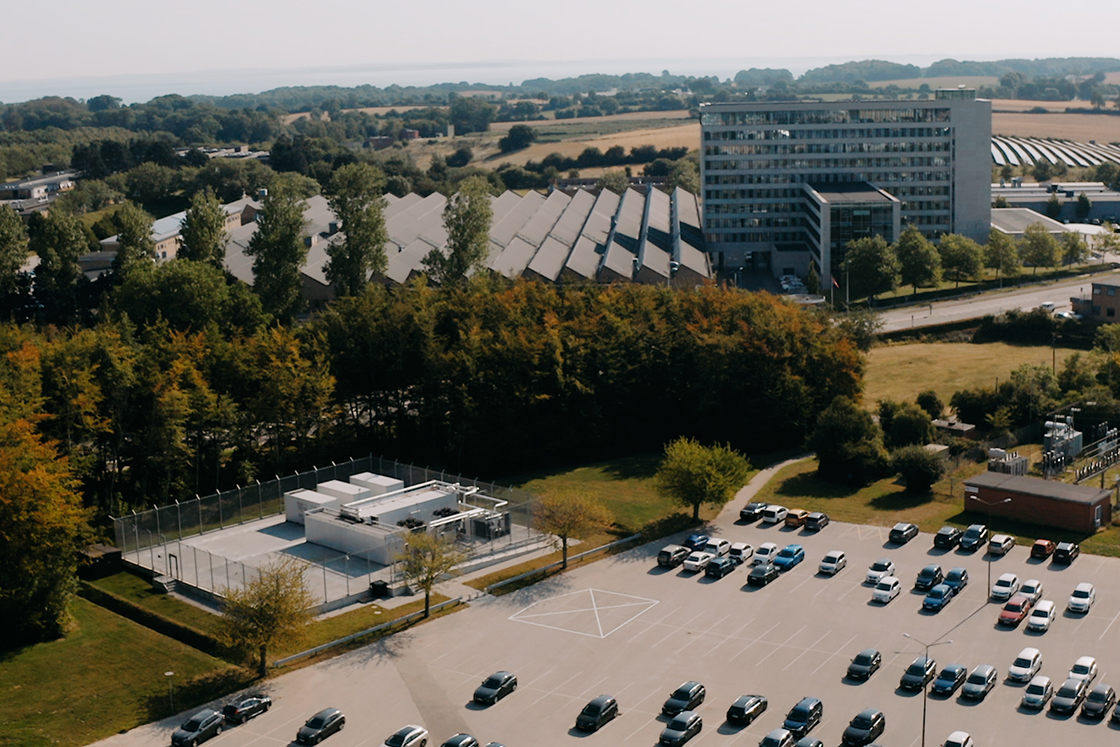 "The data centers of the future will be hybrid data centers where we combine the best of two worlds: the cloud and the on-site data center. And we utilize the excess heat in the energy grids close to where it is produced," Danfoss CIO Sune T. Baastrup says.
Danfoss is on a digital transformation journey, consolidating 20 global data centers and 135 server rooms into a handful of data centers, which will all be built utilizing Danfoss green technologies.
"We put words into action. We have managed to build our own climate-friendly data centers, effectively in less than half a year. We want to show that digital transformation and green transition go hand in hand," says Sune T. Baastrup.
Keep data flowing with intelligent AC drives
With Danfoss intelligent AC drives, condition-based monitoring and EC+ concept, data centers can achieve more climate-friendly and competitive HVAC performance. Using variable speed control, these drives ensure that the capacity of fans, pumps and compressors adjusts to load variations occurring over the day, the week, and the year.
Adapting capacity to the exact demand brings significant energy savings and smaller CO2 footprint.  Other significant benefits for data centers include improved reliability and power usage effectiveness (PUE), increased capacity, and enhanced asset protection.
Featuring unique integrated heat management, Danfoss variable speed control at data centers also reduces energy costs and maintenance for optimal Total Cost of Ownership (TCO)
Discover how AC drives improve HVAC reliability and efficiency in data centers:
Solutions for data centers
Need energy storage? Find world-class engineering support here:
Intelligent power conversion for smart grids
Energy efficiency across the full range of data centers
Using the vast offering of Danfoss heating and cooling technology energy-efficient solutions for data center designs are now possible throughout the entire range from edge and colocation to hybrid data centers. 
In addition to solutions for air-cooled and water-cooled chillers, other highly efficient data-center cooling solutions include evaporative-cooled systems using Danfoss oil-free compressors and high-pressure pumps.  Evaporative-cooled systems reject heat using the evaporation of water from the condenser.  This method can offer higher efficiency in areas with low humidity and low wet-bulb temperatures compared to an air-cooled system.
Danfoss Turbocor® Oil Free Compressors
Danfoss is the pioneering and leading manufacturer of the first oil-free magnetic-bearing compressor for the HVAC industry. Danfoss Turbocor® compressors use advanced technology to deliver high efficiency and low sound levels in a compact footprint.  Industry-leading performance is achieved by using oil-free, magnetic bearings that provide world-class efficiency and zero performance degradation over the life of the compressor.  Permanent magnet motors and variable speed drives provide unmatched full- and part-load efficiency.  Variable speed drives also provide an added benefit by reducing the starting current, offering the ability to downsize emergency generators.
The wide operating map of the new Danfoss Turbocor® compressor with SST capability is ideally suited for data-center operation as it provides the flexibility to generate higher water temperatures up to 28°C for cooling and operation at low pressure ratios commonly seen in low ambient conditions.  Both scenarios result in significant cost savings and are not supported using traditional oiled-screw compressors.
Optimal features on Danfoss Turbocor® compressors provide additional benefits for mission-critical facilities, include a rapid-restart function as fast as 30 sec upon power restoration and low in-rush current in case of power loss event.