Smooth and dependable
Danfoss offers innovative saws, blades and precision cutting tools designed to ensure the success of your hose assembly operation.
Operation - Smooth and dependable
Robust construction - Built to last
Design - Clean cuts with less smoke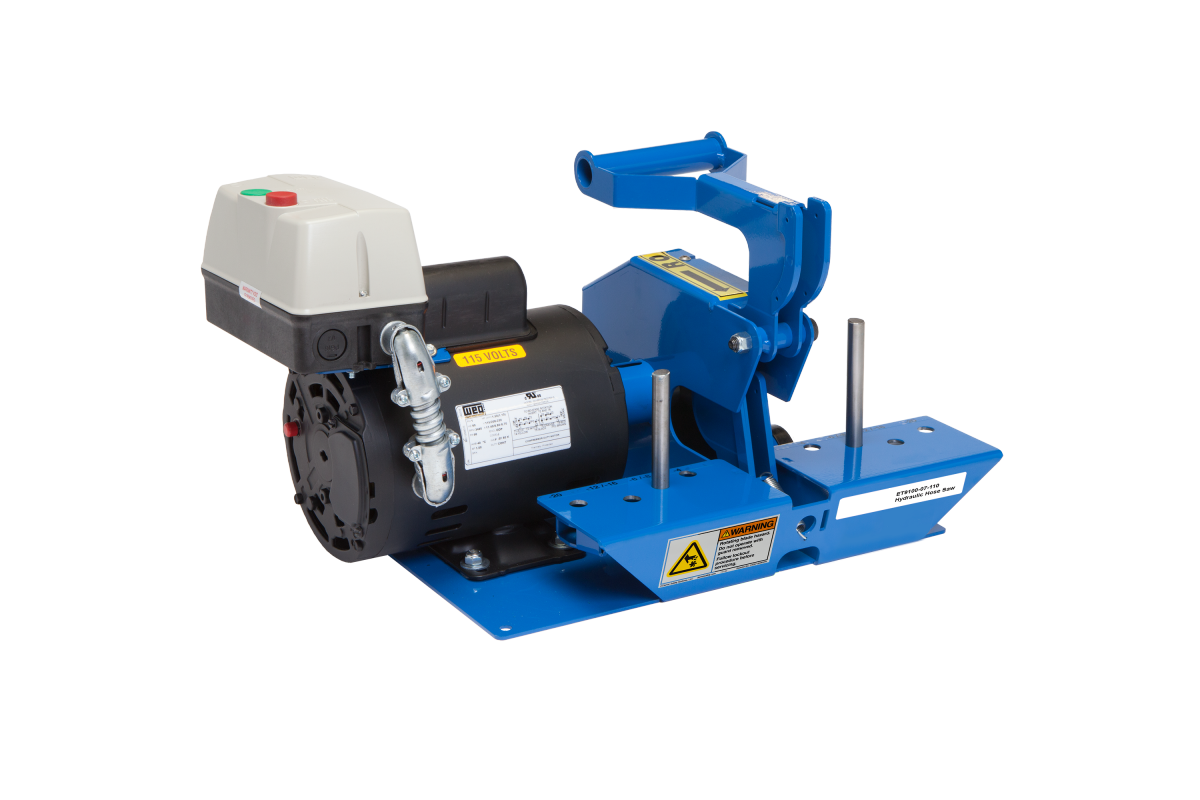 Hose saws and blades
Danfoss' hydraulic hose cutting system is break-through technology using a toothed knife, cutting with the backs of each tooth, so the knife does not take a kerf.
The hose is positioned across two pins and moved into the blade by a feed foot using the extendable handle and adjustable pivot point for cutting larger industrial hose. The feed motion causes the hose to stretch at the point of contact with the blade, allowing it to separate as it is cut. This separation allows the hose to pass clear of the saw blade leading to less friction, heating and debris. A vacuum hose is attached to a vacuum port to remove any tiny amount of debris or smoke during cutting.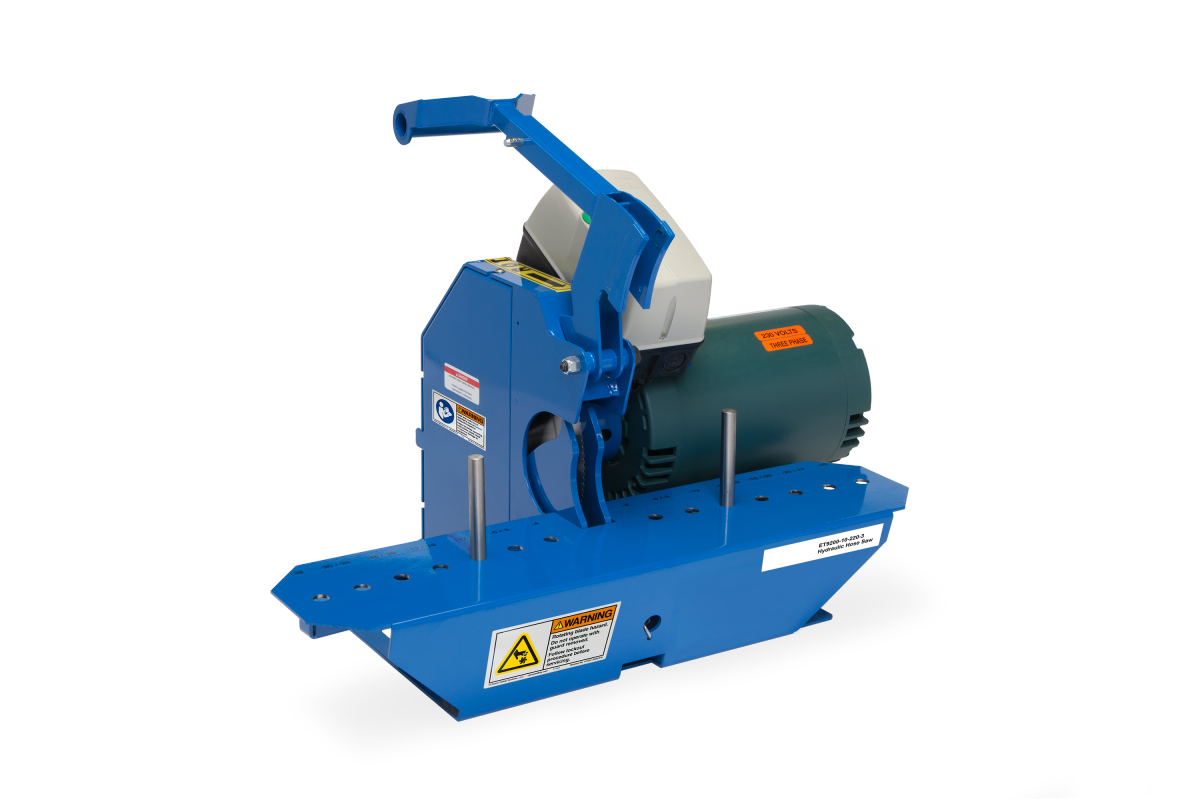 Hydraulic hose blades
Choosing the ideal blade for cutting hydraulic hose depends greatly on the saw you are using, the type of hose you are cutting and the production rates you require.
Danfoss offers 6 types of blades designed to cut hydraulic hose. If you're not sure which is best suited to your application please call us for our recommendation.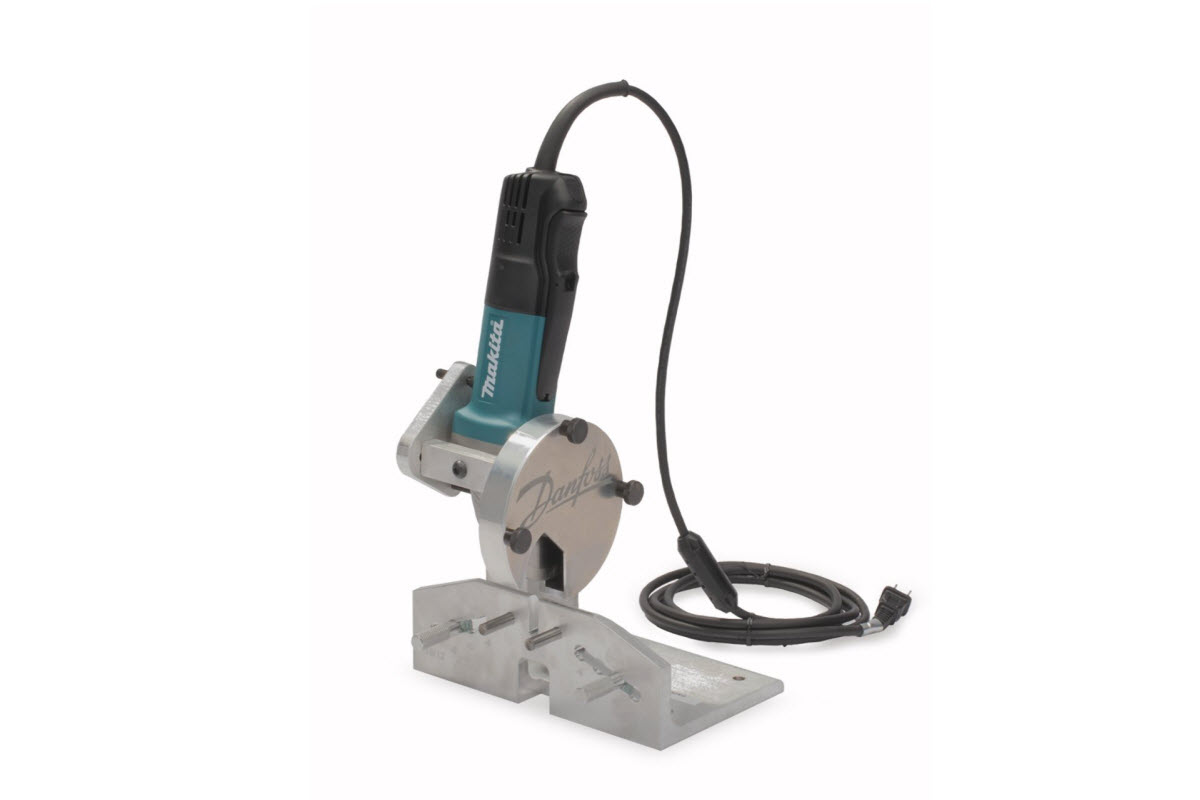 Introducing the ET9000 series portable hydraulic hose saw
Danfoss brings portability and affordability to your field operations with our new ET9000 series portable hydraulic hose saw. Built off the platform of an angle grinder, this easy to transport lightweight saw is a smart, low-cost solution for smaller hose assembly shops and portable applications.
ET9000 Benefits:
Lightweight – just 12 lbs. and ideal for cutting hose in the field
Built to cleanly cut up to ¾ inch two-wire braided hose and comes standard with our 4.5 inch micro-slotted clean-cuts blade
Low cost and effective solution for automotive, agricultural, maintenance departments, municipalities, and mobile applications
Available in convenient package options including portable crimper
Visit PowerSource
In our digital catalog you can find product specifications, literature and helpful tools like product configurators, 2D/3D models, cross reference, crimp specs and many more.