Applications that demand flawless condensation conditions are easily managed using our customized traditional, semi-welded, and brazed SONDEX® condenser solutions. For low-pressure vapor duties, our specialized condenser plate design accommodates large vapor volumes while maintaining the thermal performance of the plates.​
What does that mean for you?
Similar to our evaporators and semi-welded plate heat exchangers, the condenser uses plate cassettes. These cassettes, however, feature an asymmetric pattern design for improved condensing and efficiency.
Consequently, the pressure drop on the welded side can be kept to a minimum while still maintaining a high level of turbulence on the gasketed side. This design maximizes the heat transfer co-efficient and optimizes your performance, while reducing the load on your pumps and lowering the energy consumption for your entire system.
Operation with differences in volume
Our unique Multi-Gap plates are specially designed for condensation duties with a big difference between the two flow volumes. With this solution you will be able to run large vapor volumes on the welded side and smaller liquid volumes on the gasketed side. This allows for the most effective use of the pressure drop.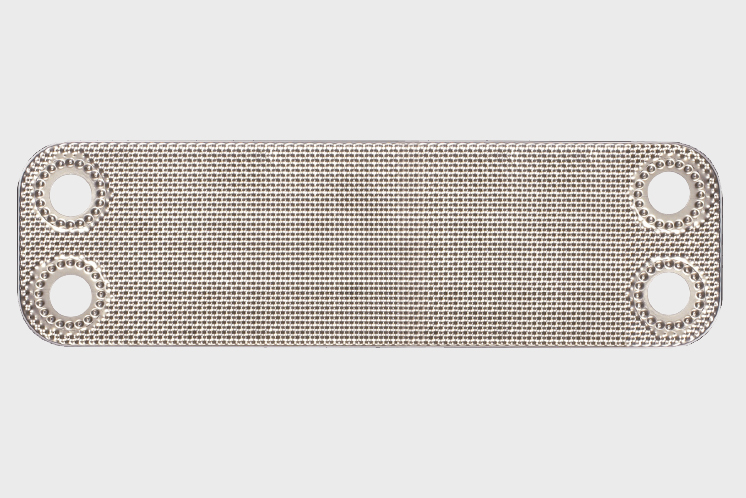 Micro plate technology
Our heat exchangers with the new state-of-the art Micro Plate™ technology feature next-generation efficiency and performance – giving you more from your district heating and cooling applications.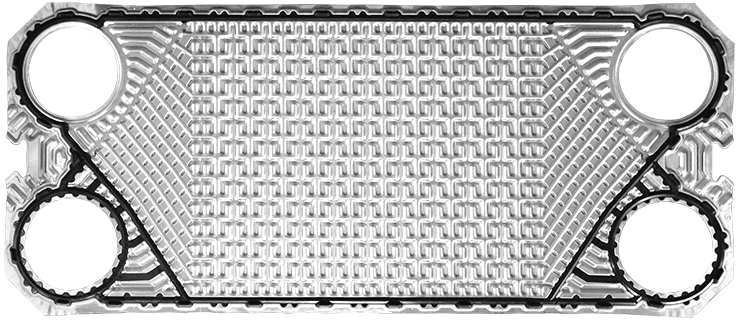 SONDEX® Free flow patterns
The SONDEX® Free Flow pattern is designed to treat media that is unsuitable for regular heat exchangers due to high viscosity, fiber and particle contents, or considerable risk of fouling.
Applications
Dairy/food/beverage industry
- e.g. vapor condensation of fruit juice, pasteurization, and cooling of soft drinks
Sugar industry
- e.g. vacuum condensation duties
Biogas industry
Pulp and paper industry
Heavy industry
Mining industry
Petrochemical industry
Chemical industry
Technical specifications
Connections from DN200 to DN800
(Frames designed according to FEA and PED 2014/68/EU (EN13445) and ASME sec VIII, Div. 1 construction standards)
Plate materials: AISI 304/316, titanium, SMO, Hastelloy. Other materials available upon request
Gasket materials: EPDM-HT, NBR-HT. Other materials available upon request
Plate heights up to 2.3 m (7.5 ft)
Flow rates up to 800 m3/h (3,522 gpm)
Working pressure up to 10 bar (145 psi)
Working temperature up to 200 °C (392 °F)
Features and benefits
Designed specifically for demanding condensation duties that benefit from a special asymmetric plate design that is unavailable for regular heat exchangers.
Experience the high thermal efficiency of SONDEX® heat exchangers and enjoy peace of mind with an ideal turbulent flow that reduces the risk of fouling.
Special Multi-Gap plate design that can lower the energy consumption considerably for condensation duties that differ in flow volume.
What kind of heat exchanger is right for me?
The choice of heat exchanger depends on many factors. Our skilled sales engineers design the heat exchanger with the appropriate dimensions and correct specifications based on your input and requirements, to ensure that you receive a quality solution that performs optimally.
Which certificates are available for the heat exchangers?
Our heat exchangers are approved and certified according to industry standards and requirements. For specific details, please reach out to your local SONDEX® brand sales representative.
Where can I get a price list?
Please contact your local SONDEX® brand sales responsible.
How can I get a quotation?
Please contact your local SONDEX® brand sales office. For the most accurate quotation, please prepare the following data:
Duty,
Type of media,
Pressure drop,
Flow rate,
Working pressure,
Thermodynamic properties, Temperature,
Working temperature.