An innovative product portfolio for complete coverage of heating and cooling applications
Our brazed plate heat exchangers (BPHE) offer a compact and flexible solution designed for ultra-efficient performance for your high-pressure or extreme-temperature applications.
What does that mean for you?
Low operational costs and very high performance make the gasket-free brazed plate heat exchangers optimal choices, even if your system has large temperature swings, or varying or constant pressure.
We customize our brazed heat exchangers according to your specifications. We offer a choice of copper, CoResist , or stainless steel brazing materials. Our Fishbone and Micro Plate™ plate technologies are available with different corrugations appropriate for any given task. The adaptable design of our brazed heat exchangers makes a variety of connection options possible (including the number of connections, sizes, types, and positions). The optimal amount of plates in a plate pack is determined based on the specifications of the application.
30 years of constant development
The performance and efficiency of the brazed plate heat exchanger have been proven through 30 years of constant development to ensure high thermal efficiency leading to energy savings in air conditioning systems. With its ingenious construction of corrugated plates, the brazed plate heat exchangers offers you one of the most efficient ways to transfer heat from one medium to another.
Micro Plate™ technology - ideal for district energy solutions and for use in heat pumps and chillers
Our heat exchangers with the state-of-the art Micro Plate™ technology feature next-generation efficiency and performance – giving you more from your district heating and cooling applications.
Features and benefits
High working pressures (for use with refrigerant R 410A; up to 45 bar (653 psig))
High efficiency evaporator closer approach temperatures
Low internal hold-up volume
Less pressure drop to reduce pumping costs and pump size
High design flexibility with many connections & configurations options
High-quality manufacturing

Plate heat exchangers with Micro Plate™ technology
Introduction to the concept and principle of the Micro Plate™ heat exchangers and the new and innovative Z-design
Fishbone technology
Our brazed heat exchangers based on fishbone technology is a legacy product, and is perfectly suited for applications with high temperatures or pressures. It is also capable of running with fairly visous fluids, due to a larger gap between the plates. Fishbone plates typically has lower pressure drop compared to the MicroPlate™ technology.
Liquid to liquid brazed heat exchangers
Technical specification
Connections from ¾" threaded BSP/NPT to flange DN150 (6")
Brazing materials: Copper, CoResist, or stainless steel
Plate materials: AISI 316*
Plate heights from 0.202 m to 1 m (0.66 – 3.3 ft)
Flow rates up to 150 m3/h (661 gpm)
Working pressure up to 40 bar (580 psi)
Working temperature from -196 °C to 225 °C (-321 °F to 437 °F)
*other materials available upon request
Applications
HVAC industry
Dairy/food/beverage industry
Solar heating
Oil units
Heat recovery
Engine cooling
Absorption systems
Domestic hot water installations
Hydraulic oil cooling
Laser cooling
Water cooling and heating
MTDC (Data Centers)
Roof tops / DOAS / air dryers
Snow melt
Refrigerant to liquid brazed heat exchangers
Technical specification
Brazing materials: Copper
Plate materials: AISI 316
Working pressure up to 45 bar (635 psi) refrigerant side / 30 bar (435 psi)
brine side
Working temperature from -196 °C to 200 °C (-321 °F to 390 °F)
Applications
Chillers
Heat Pumps
Refrigeration / air-conditioning
Transportation (refrigerated containers)
Water cooling and heating
Heat recovery
Desuperheating
Process cooling
Evaporator and condenser applications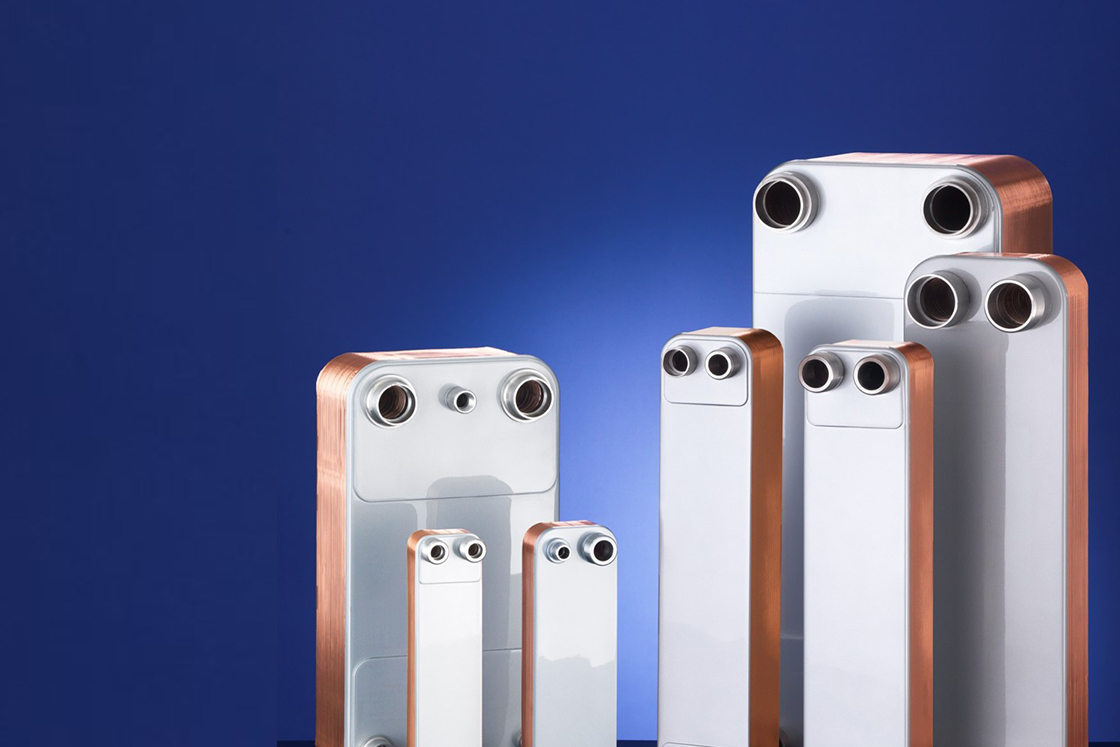 Heat exchanger design software
No matter if you have a chiller, a heat pump or a domestic hot water application, our heat exchanger software
will allow the right heat exchanger selection by always
ensuring you get the latest product range and software
features at hand. To get access to our software, simply
reach out to your local Danfoss representative or contact
our helpdesk via the link below.
Documents

| Type | Name | Language | Valid for | Updated | Download | File type |
| --- | --- | --- | --- | --- | --- | --- |
| Brochure | A new Dawn! High-performance heat exchangers for HVAC | French | Multiple | 26 Jun, 2019 | 5.4 MB | .pdf |
| Brochure | A new Dawn! High-performance heat exchangers for HVAC | German | Multiple | 26 Jun, 2019 | 5.6 MB | .pdf |
| Brochure | A new Dawn! High-performance heat exchangers for HVAC | English | Multiple | 26 Jun, 2019 | 7.0 MB | .pdf |
| Brochure | A world of heat exchangers | Romanian, Moldavian, Moldovan | Romania | 16 Nov, 2022 | 4.1 MB | .pdf |
| Brochure | A world of heat exchangers | Italian | Italy | 03 May, 2022 | 4.8 MB | .pdf |
| Brochure | A world of heat exchangers | Latvian | Latvia | 28 May, 2020 | 7.1 MB | .pdf |
| Brochure | A world of heat exchangers | English | United States | 08 Jul, 2021 | 19.0 MB | .pdf |
| Brochure | A world of heat exchangers | English | Multiple | 25 Jan, 2023 | 6.9 MB | .pdf |
| Brochure | A world of heat exchangers | Hungarian | Hungary | 15 Feb, 2023 | 1.8 MB | .pdf |
| Operating guide | Brazed plate heat exchangers | Bulgarian; Czech; Danish; German; English; Spanish, Castilian; Estonian; Finnish; French; Croatian; Hungarian; Italian; Lithuanian; Latvian; Dutch, Flemish; Polish; Romanian, Moldavian, Moldovan; Russian; Slovak; Slovenian; Serbian (RS); Swedish; Chinese (CN) | Multiple | 01 Jul, 2022 | 6.4 MB | .pdf |
| Operating guide | Brazed plate heat exchangers | Bulgarian; Czech; Danish; German; English; Spanish, Castilian; Estonian; Finnish; French; Croatian; Hungarian; Italian; Lithuanian; Latvian; Dutch, Flemish; Polish; Romanian, Moldavian, Moldovan; Russian; Slovak; Slovenian; Serbian (RS); Swedish; Chinese (CN) | Multiple | 16 Mar, 2022 | 6.5 MB | .pdf |
| Operating guide | Brazed plate heat exchangers | Bulgarian; Czech; Danish; German; English; Spanish, Castilian; Estonian; Finnish; French; Croatian; Hungarian; Italian; Lithuanian; Latvian; Dutch, Flemish; Polish; Romanian, Moldavian, Moldovan; Russian; Slovak; Slovenian; Serbian (RS); Swedish; Chinese (CN) | Multiple | 23 Apr, 2021 | 7.1 MB | .pdf |
| Operating guide | Brazed plate heat exchangers | Czech; Danish; German; English; Estonian; Finnish; French; Italian; Lithuanian; Latvian; Dutch, Flemish; Polish; Romanian, Moldavian, Moldovan; Russian; Slovenian; Serbian (RS); Chinese (CN) | Multiple | 24 Aug, 2020 | 4.8 MB | .pdf |
| Operating guide | Brazed plate heat exchangers | Czech; Danish; German; English; Estonian; Finnish; French; Italian; Lithuanian; Latvian; Polish; Romanian, Moldavian, Moldovan; Russian; Slovenian; Serbian (RS); Chinese (CN) | Multiple | 22 Apr, 2020 | 4.7 MB | .pdf |
| Application guide | Danfoss control components for district heating | Hungarian | Hungary | 16 Sep, 2014 | 3.1 MB | .pdf |
| Application guide | Danfoss control components for district heating | German | Switzerland | 16 Sep, 2014 | 1.9 MB | .pdf |
| Application guide | Danfoss control components for district heating | French | France | 16 Sep, 2014 | 3.2 MB | .pdf |
| Application guide | Danfoss control components for district heating | Bulgarian | Bulgaria | 16 Sep, 2014 | 3.1 MB | .pdf |
| Application guide | Danfoss control components for district heating | Serbian (RS) | Serbia | 10 Oct, 2014 | 3.2 MB | .pdf |
| Application guide | Danfoss control components for district heating | Turkish | Turkey | 05 Jan, 2015 | 3.2 MB | .pdf |
| Application guide | Danfoss control components for district heating | Czech | Czech Republic | 07 Oct, 2014 | 3.1 MB | .pdf |
| Application guide | Danfoss control components for district heating | German | Austria | 16 Sep, 2014 | 2.4 MB | .pdf |
| Application guide | Danfoss control components for district heating | Slovenian | Slovenia | 16 Sep, 2014 | 3.2 MB | .pdf |
| Application guide | Danfoss control components for district heating | Finnish | Finland | 10 Oct, 2014 | 2.7 MB | .pdf |
| Application guide | Danfoss control components for district heating | German | Multiple | 04 Sep, 2019 | 2.0 MB | .pdf |
| Application guide | Danfoss control components for district heating | German | Multiple | 16 Sep, 2014 | 2.0 MB | .pdf |
| Application guide | Danfoss control components for district heating | Romanian, Moldavian, Moldovan | Romania | 08 Oct, 2014 | 3.1 MB | .pdf |
| Application guide | Danfoss control components for district heating | Italian | Italy | 16 Sep, 2014 | 3.2 MB | .pdf |
| Application guide | Danfoss control components for district heating | Polish | Poland | 16 Sep, 2014 | 3.2 MB | .pdf |
| Application guide | Danfoss control components for district heating | Slovak | Slovakia | 16 Sep, 2014 | 3.1 MB | .pdf |
| Application guide | Danfoss control components for district heating | Ukrainian | Ukraine | 10 Oct, 2014 | 4.2 MB | .pdf |
| Application guide | Danfoss control components for district heating | Spanish, Castilian | Spain | 16 Sep, 2014 | 3.2 MB | .pdf |
| Brochure | Danfoss Solutions for Chillers | Ukrainian | Ukraine | 27 Apr, 2020 | 2.8 MB | .pdf |
| Brochure | Danfoss Solutions for Chillers | French | Multiple | 29 Oct, 2018 | 44.2 MB | .pdf |
| Brochure | Danfoss Solutions for Chillers | English | Multiple | 14 Apr, 2020 | 3.9 MB | .pdf |
| Brochure | Danfoss Solutions for Chillers | Italian | Multiple | 20 Mar, 2018 | 3.7 MB | .pdf |
| Brochure | Danfoss Solutions for Chillers | Chinese (CN) | Multiple | 19 May, 2017 | 2.3 MB | .pdf |
| Brochure | Danfoss Solutions for Chillers | Spanish, Castilian | Multiple | 26 Oct, 2018 | 44.2 MB | .pdf |
| Brochure | Danfoss Solutions for Chillers | Russian | Multiple | 28 Jun, 2019 | 2.8 MB | .pdf |
| Brochure | Eine Welt der Plattenwärmetauscher | German | Multiple | 06 Jul, 2021 | 14.8 MB | .pdf |
| Data sheet | Heat exchanger XB 61 | German | Multiple | 31 Jan, 2012 | 382.3 KB | .pdf |
| Data sheet | Heat exchanger XB 61 | French | Multiple | 28 May, 2019 | 367.3 KB | .pdf |
| Data sheet | Heat exchanger XB 61 | Hungarian | Multiple | 31 May, 2012 | 264.4 KB | .pdf |
| Data sheet | Heat exchanger XB 61 | English | Multiple | 11 Nov, 2011 | 283.1 KB | .pdf |
| Data sheet | Heat exchanger XB 61 | English | Multiple | 25 Feb, 2013 | 396.5 KB | .pdf |
| Data sheet | Heat exchanger XB 61 | Estonian | Multiple | 28 Jun, 2013 | 401.1 KB | .pdf |
| Data sheet | Heat exchanger XB 61 | German | Multiple | 19 Sep, 2017 | 364.9 KB | .pdf |
| Data sheet | Heat exchanger XB 61 | Estonian | Multiple | 06 Feb, 2017 | 399.4 KB | .pdf |
| Data sheet | Heat exchanger XB 61 | German | Multiple | 06 Jan, 2020 | 443.8 KB | .pdf |
| Data sheet | Heat exchanger XB 61 | German | Multiple | 28 Jun, 2013 | 468.0 KB | .pdf |
| Data sheet | Heat exchanger XB 61 | Latvian | Multiple | 14 Jan, 2022 | 478.2 KB | .pdf |
| Data sheet | Heat exchanger XB 61 | Estonian | Multiple | 14 Jan, 2022 | 468.2 KB | .pdf |
| Data sheet | Heat exchanger XB 61 | German | Multiple | 14 Jan, 2022 | 507.4 KB | .pdf |
| Data sheet | Heat exchanger XB 61 | Swedish | Multiple | 14 Jan, 2022 | 467.7 KB | .pdf |
| Data sheet | Heat exchanger XB 61 | Estonian | Multiple | 10 Feb, 2023 | 471.0 KB | .pdf |
| Data sheet | Heat exchanger XB 61 | Lithuanian | Multiple | 14 Jan, 2022 | 469.0 KB | .pdf |
| Data sheet | Heat exchanger XB 61 | French | Multiple | 14 Jan, 2022 | 477.2 KB | .pdf |
| Data sheet | Heat exchanger XB 61 | Croatian | Multiple | 14 Jan, 2022 | 471.4 KB | .pdf |
| Data sheet | Heat exchanger XB 61 | Croatian | Multiple | 10 Feb, 2023 | 474.1 KB | .pdf |
| Data sheet | Heat exchanger XB 61 | Slovak | Multiple | 14 Jan, 2022 | 384.5 KB | .pdf |
| Data sheet | Heat exchanger XB 61 | Polish | Multiple | 14 Jan, 2022 | 502.9 KB | .pdf |
| Data sheet | Heat exchanger XB 61 | German | Multiple | 10 Feb, 2023 | 510.2 KB | .pdf |
| Data sheet | Heat exchanger XB 61 | Romanian, Moldavian, Moldovan | Multiple | 14 Jan, 2022 | 489.3 KB | .pdf |
| Data sheet | Heat exchanger XB 61 | French | Multiple | 10 Feb, 2023 | 477.5 KB | .pdf |
| Data sheet | Heat exchanger XB 61 | Italian | Multiple | 14 Jan, 2022 | 466.6 KB | .pdf |
| Data sheet | Heat exchanger XB 61 | Hungarian | Multiple | 14 Jan, 2022 | 383.9 KB | .pdf |
| Data sheet | Heat exchanger XB 61 | Romanian, Moldavian, Moldovan | Multiple | 10 Feb, 2023 | 489.4 KB | .pdf |
| Data sheet | Heat exchanger XB 61 | Latvian | Multiple | 14 Feb, 2014 | 422.2 KB | .pdf |
| Data sheet | Heat exchanger XB 61 | Latvian | Multiple | 06 Feb, 2017 | 433.9 KB | .pdf |
| Data sheet | Heat exchanger XB 61 | Croatian | Multiple | 06 Feb, 2017 | 361.8 KB | .pdf |
| Data sheet | Heat exchanger XB 61 | Swedish | Multiple | 10 Feb, 2023 | 467.7 KB | .pdf |
| Data sheet | Heat exchanger XB 61 | Hungarian | Multiple | 06 Feb, 2017 | 348.1 KB | .pdf |
| Data sheet | Heat exchanger XB 61 | Lithuanian | Multiple | 10 Feb, 2023 | 469.1 KB | .pdf |
| Data sheet | Heat exchanger XB 61 | Latvian | Multiple | 10 Feb, 2023 | 478.2 KB | .pdf |
| Data sheet | Heat exchanger XB 61 | Lithuanian | Multiple | 28 Jun, 2013 | 411.8 KB | .pdf |
| Data sheet | Heat exchanger XB 61 | Lithuanian | Multiple | 31 Aug, 2012 | 317.0 KB | .pdf |
| Data sheet | Heat exchanger XB 61 | Romanian, Moldavian, Moldovan | Multiple | 28 Jun, 2013 | 411.9 KB | .pdf |
| Data sheet | Heat exchanger XB 61 | Italian | Multiple | 28 Jun, 2013 | 436.9 KB | .pdf |
| Data sheet | Heat exchanger XB 61 | Swedish | Multiple | 31 May, 2012 | 311.2 KB | .pdf |
| Data sheet | Heat exchanger XB 61 | Swedish | Multiple | 28 Jun, 2013 | 404.1 KB | .pdf |
| Data sheet | Heat exchanger XB 61 | Slovak | Multiple | 06 Feb, 2017 | 365.7 KB | .pdf |
| Data sheet | Heat exchanger XB 61 | Romanian, Moldavian, Moldovan | Multiple | 06 Feb, 2017 | 410.6 KB | .pdf |
| Data sheet | Heat exchanger XB 61 | Polish | Multiple | 31 May, 2012 | 320.1 KB | .pdf |
| Data sheet | Heat exchanger XB 61 | Swedish | Multiple | 06 Feb, 2017 | 402.7 KB | .pdf |
| Data sheet | Heat exchanger XB 61 | Slovak | Multiple | 28 Jun, 2013 | 416.2 KB | .pdf |
| Data sheet | Heat exchanger XB 61 | Polish | Multiple | 28 Jun, 2013 | 417.4 KB | .pdf |
| Data sheet | Heat exchanger XB 61 | Romanian, Moldavian, Moldovan | Multiple | 31 May, 2012 | 315.0 KB | .pdf |
| Data sheet | Heat exchanger XB 61 | Slovak | Multiple | 12 Jan, 2013 | 322.8 KB | .pdf |
| Data sheet | Heat exchanger XB 61 | Italian | Multiple | 20 Sep, 2012 | 341.9 KB | .pdf |
| Data sheet | Heat exchanger XB 61 | Polish | Multiple | 06 Feb, 2017 | 415.7 KB | .pdf |
| Data sheet | Heat exchanger XB 61 | English | Multiple | 08 Nov, 2016 | 338.1 KB | .pdf |
| Data sheet | Heat exchanger XB 61 | Italian | Multiple | 10 Feb, 2023 | 466.7 KB | .pdf |
| Data sheet | Heat exchanger XB 61 | Estonian | Multiple | 31 May, 2012 | 301.4 KB | .pdf |
| Data sheet | Heat exchanger XB 61 | Italian | Multiple | 06 Feb, 2017 | 361.6 KB | .pdf |
| Data sheet | Heat exchanger XB 61 | Croatian | Multiple | 28 Jun, 2013 | 405.5 KB | .pdf |
| Data sheet | Heat exchanger XB 61 | Hungarian | Multiple | 28 Jun, 2013 | 348.7 KB | .pdf |
| Data sheet | Heat exchanger XB 61 | Polish | Multiple | 10 Feb, 2023 | 502.9 KB | .pdf |
| Data sheet | Heat exchanger XB 61 | Slovak | Multiple | 10 Feb, 2023 | 384.7 KB | .pdf |
| Data sheet | Heat exchanger XB 61 | Lithuanian | Multiple | 06 Feb, 2017 | 364.2 KB | .pdf |
| Data sheet | Heat exchanger XB 61 | Latvian | Multiple | 02 Apr, 2013 | 317.2 KB | .pdf |
| Data sheet | Heat exchanger XB 61 | Hungarian | Multiple | 10 Feb, 2023 | 384.0 KB | .pdf |
| Data sheet | Heat Exchanger XB06 | Romanian, Moldavian, Moldovan | Multiple | 15 Feb, 2017 | 1.1 MB | .pdf |
| Data sheet | Heat Exchanger XB06 | English | Multiple | 21 Jun, 2017 | 1.1 MB | .pdf |
| Data sheet | Heat Exchanger XB06 | Romanian, Moldavian, Moldovan | Multiple | 19 Jul, 2014 | 1.4 MB | .pdf |
| Data sheet | Heat Exchanger XB06 | English | Multiple | 23 Jun, 2014 | 1.3 MB | .pdf |
| Data sheet | Heat Exchanger XB06 | Italian | Multiple | 21 Sep, 2018 | 1.1 MB | .pdf |
| Data sheet | Heat Exchanger XB06 | Lithuanian | Multiple | 19 Jul, 2014 | 1.4 MB | .pdf |
| Data sheet | Heat Exchanger XB06 | Lithuanian | Multiple | 15 Feb, 2017 | 1.0 MB | .pdf |
| Data sheet | Heat Exchanger XB06 | French | Multiple | 21 Sep, 2018 | 1.2 MB | .pdf |
| Data sheet | Heat Exchanger XB06 | Latvian | Multiple | 19 Jul, 2014 | 1.4 MB | .pdf |
| Data sheet | Heat Exchanger XB06 | English | Multiple | 08 Nov, 2016 | 1.1 MB | .pdf |
| Data sheet | Heat Exchanger XB06 | Polish | Multiple | 19 Jul, 2014 | 1.4 MB | .pdf |
| Data sheet | Heat Exchanger XB06 | Lithuanian | Multiple | 18 Oct, 2022 | 1.1 MB | .pdf |
| Data sheet | Heat Exchanger XB06 | Romanian, Moldavian, Moldovan | Multiple | 18 Oct, 2022 | 1.1 MB | .pdf |
| Data sheet | Heat Exchanger XB06 | Latvian | Multiple | 18 Oct, 2022 | 1.1 MB | .pdf |
| Data sheet | Heat Exchanger XB06 | French | Multiple | 18 Oct, 2022 | 1.1 MB | .pdf |
| Data sheet | Heat Exchanger XB06 | Polish | Multiple | 18 Oct, 2022 | 1.1 MB | .pdf |
| Data sheet | Heat Exchanger XB06 | Italian | Multiple | 18 Oct, 2022 | 1.1 MB | .pdf |
| Data sheet | Heat Exchanger XB06 | English | Multiple | 08 Aug, 2022 | 1.1 MB | .pdf |
| Data sheet | Heat Exchanger XB06 | Latvian | Multiple | 15 Feb, 2017 | 1.1 MB | .pdf |
| Data sheet | Heat Exchanger XB06 | Polish | Multiple | 15 Feb, 2017 | 1.1 MB | .pdf |
| Data sheet | Heat Exchanger XB06 | English | Multiple | 16 Dec, 2021 | 1.1 MB | .pdf |
| Data sheet | Heat exchanger XB59 | Italian | Multiple | 11 Feb, 2023 | 363.1 KB | .pdf |
| Data sheet | Heat exchanger XB59 | Italian | Multiple | 15 May, 2023 | 363.1 KB | .pdf |
| Data sheet | Heat exchanger XB59 | Estonian | Multiple | 11 Feb, 2023 | 360.8 KB | .pdf |
| Data sheet | Heat exchanger XB59 | Romanian, Moldavian, Moldovan | Multiple | 11 Feb, 2023 | 383.6 KB | .pdf |
| Data sheet | Heat exchanger XB59 | Swedish | Multiple | 11 Feb, 2023 | 360.5 KB | .pdf |
| Data sheet | Heat exchanger XB59 | Slovak | Multiple | 11 Feb, 2023 | 372.3 KB | .pdf |
| Data sheet | Heat exchanger XB59 | English | Multiple | 27 Mar, 2023 | 345.3 KB | .pdf |
| Data sheet | Heat exchanger XB59 | Lithuanian | Multiple | 11 Feb, 2023 | 358.6 KB | .pdf |
| Data sheet | Heat exchanger XB59 | Latvian | Multiple | 11 Feb, 2023 | 370.0 KB | .pdf |
| Data sheet | Heat exchanger XB59 | French | Multiple | 11 Feb, 2023 | 369.4 KB | .pdf |
| Data sheet | Heat exchanger XB59 | German | Multiple | 15 May, 2023 | 399.8 KB | .pdf |
| Data sheet | Heat exchanger XB59 | Hungarian | Multiple | 15 May, 2023 | 386.7 KB | .pdf |
| Data sheet | Heat exchanger XB59 | Slovak | Multiple | 15 May, 2023 | 372.3 KB | .pdf |
| Data sheet | Heat exchanger XB59 | Hungarian | Multiple | 11 Feb, 2023 | 386.7 KB | .pdf |
| Data sheet | Heat exchanger XB59 | Lithuanian | Multiple | 15 May, 2023 | 358.6 KB | .pdf |
| Data sheet | Heat exchanger XB59 | French | Multiple | 15 May, 2023 | 369.4 KB | .pdf |
| Data sheet | Heat exchanger XB59 | Polish | Multiple | 11 Feb, 2023 | 396.1 KB | .pdf |
| Data sheet | Heat exchanger XB59 | Estonian | Multiple | 15 May, 2023 | 360.8 KB | .pdf |
| Data sheet | Heat exchanger XB59 | Latvian | Multiple | 05 Nov, 2015 | 309.7 KB | .pdf |
| Data sheet | Heat exchanger XB59 | Romanian, Moldavian, Moldovan | Multiple | 31 May, 2012 | 319.7 KB | .pdf |
| Data sheet | Heat exchanger XB59 | Swedish | Multiple | 20 Jul, 2014 | 284.6 KB | .pdf |
| Data sheet | Heat exchanger XB61 | English | Multiple | 16 Nov, 2021 | 449.4 KB | .pdf |
| Data sheet | Heat exchanger XB61 | English | Multiple | 03 Feb, 2023 | 830.7 KB | .pdf |
| Application guide | Making applications future proof, all our knowledge – is now yours | French | France | 16 Sep, 2014 | 9.9 MB | .pdf |
| Application guide | Making applications future proof, all our knowledge – is now yours | German | Multiple | 10 Nov, 2014 | 10.2 MB | .pdf |
| Application guide | Making applications future proof, all our knowledge – is now yours | English | Multiple | 16 Sep, 2014 | 63.5 MB | .pdf |
| Application guide | Making applications future proof, all our knowledge – is now yours | Bulgarian | Bulgaria | 16 Sep, 2014 | 9.8 MB | .pdf |
| Application guide | Making applications future proof, all our knowledge – is now yours | Italian | Italy | 28 May, 2015 | 9.7 MB | .pdf |
| Data sheet | Micro Plate Heat Exchanger (MPHE): XB06 | Romanian, Moldavian, Moldovan | Multiple | 09 Nov, 2015 | 1.1 MB | .pdf |
| Data sheet | Micro Plate Heat Exchanger (MPHE): XB06 | English | Multiple | 09 Nov, 2015 | 1.0 MB | .pdf |
| Data sheet | Micro Plate Heat Exchanger (MPHE): XB06 | Latvian | Multiple | 09 Nov, 2015 | 1.1 MB | .pdf |
| Data sheet | Micro Plate Heat Exchanger (MPHE): XB06 | Lithuanian | Multiple | 09 Nov, 2015 | 1.1 MB | .pdf |
| Data sheet | Micro Plate Heat Exchanger (MPHE): XB06 | Polish | Multiple | 09 Nov, 2015 | 1.1 MB | .pdf |
| Data sheet | Micro plate heat exchanger (MPHE): XB12 | Finnish | Multiple | 05 Nov, 2015 | 861.4 KB | .pdf |
| Data sheet | Micro plate heat exchanger (MPHE): XB12 | Lithuanian | Multiple | 28 Jul, 2022 | 925.9 KB | .pdf |
| Data sheet | Micro plate heat exchanger (MPHE): XB12 | German | Multiple | 07 Jan, 2020 | 910.7 KB | .pdf |
| Data sheet | Micro plate heat exchanger (MPHE): XB12 | Latvian | Multiple | 28 Jul, 2022 | 934.8 KB | .pdf |
| Data sheet | Micro plate heat exchanger (MPHE): XB12 | English | Multiple | 28 Jul, 2022 | 907.1 KB | .pdf |
| Data sheet | Micro plate heat exchanger (MPHE): XB12 | Finnish | Multiple | 28 Jul, 2022 | 923.0 KB | .pdf |
| Data sheet | Micro plate heat exchanger (MPHE): XB12 | Finnish | Multiple | 11 Feb, 2023 | 923.1 KB | .pdf |
| Data sheet | Micro plate heat exchanger (MPHE): XB12 | Polish | Multiple | 29 Jul, 2022 | 960.2 KB | .pdf |
| Data sheet | Micro plate heat exchanger (MPHE): XB12 | Polish | Multiple | 11 Feb, 2023 | 960.5 KB | .pdf |
| Data sheet | Micro plate heat exchanger (MPHE): XB12 | Romanian, Moldavian, Moldovan | Multiple | 29 Jul, 2022 | 946.9 KB | .pdf |
| Data sheet | Micro plate heat exchanger (MPHE): XB12 | English | Multiple | 29 Jul, 2022 | 907.5 KB | .pdf |
| Data sheet | Micro plate heat exchanger (MPHE): XB12 | German | Multiple | 28 Jul, 2022 | 965.6 KB | .pdf |
| Data sheet | Micro plate heat exchanger (MPHE): XB12 | Romanian, Moldavian, Moldovan | Multiple | 28 Jul, 2022 | 946.2 KB | .pdf |
| Data sheet | Micro plate heat exchanger (MPHE): XB12 | Polish | Multiple | 28 Jul, 2022 | 959.6 KB | .pdf |
| Data sheet | Micro plate heat exchanger (MPHE): XB12 | Finnish | Multiple | 29 Jul, 2022 | 923.4 KB | .pdf |
| Data sheet | Micro plate heat exchanger (MPHE): XB12 | English | Multiple | 05 Nov, 2015 | 848.2 KB | .pdf |
| Data sheet | Micro plate heat exchanger (MPHE): XB12 | Lithuanian | Multiple | 11 Feb, 2023 | 927.1 KB | .pdf |
| Data sheet | Micro plate heat exchanger (MPHE): XB12 | Lithuanian | Multiple | 29 Jul, 2022 | 926.4 KB | .pdf |
| Data sheet | Micro plate heat exchanger (MPHE): XB12 | German | Multiple | 11 Feb, 2023 | 964.5 KB | .pdf |
| Data sheet | Micro plate heat exchanger (MPHE): XB12 | English | Multiple | 03 Feb, 2023 | 1.3 MB | .pdf |
| Data sheet | Micro plate heat exchanger (MPHE): XB12 | Latvian | Multiple | 29 Jul, 2022 | 935.1 KB | .pdf |
| Data sheet | Micro plate heat exchanger (MPHE): XB12 | Romanian, Moldavian, Moldovan | Multiple | 11 Feb, 2023 | 947.3 KB | .pdf |
| Data sheet | Micro plate heat exchanger (MPHE): XB12 | Latvian | Multiple | 11 Feb, 2023 | 935.7 KB | .pdf |
| Data sheet | Micro plate heat exchanger (MPHE): XB12 | Lithuanian | Multiple | 05 Nov, 2015 | 864.8 KB | .pdf |
| Data sheet | Micro plate heat exchanger (MPHE): XB12 | Latvian | Multiple | 06 Nov, 2015 | 884.6 KB | .pdf |
| Data sheet | Micro plate heat exchanger (MPHE): XB12 | Romanian, Moldavian, Moldovan | Multiple | 06 Nov, 2015 | 866.8 KB | .pdf |
| Data sheet | Micro plate heat exchanger (MPHE): XB12 | Polish | Multiple | 06 Nov, 2015 | 870.9 KB | .pdf |
| Data sheet | Micro plate heat exchanger XB66 | German | Multiple | 07 Jan, 2020 | 505.6 KB | .pdf |
| Data sheet | Micro plate heat exchanger XB66 | German | Switzerland | 23 Oct, 2019 | 392.7 KB | .pdf |
| Data sheet | Micro plate heat exchanger XB66 | German | Multiple | 30 Aug, 2019 | 508.4 KB | .pdf |
| Data sheet | Micro plate heat exchanger XB66 | Lithuanian | Multiple | 26 Apr, 2016 | 450.1 KB | .pdf |
| Data sheet | Micro plate heat exchanger XB66 | Finnish | Multiple | 28 May, 2015 | 352.2 KB | .pdf |
| Data sheet | Micro plate heat exchanger XB66 | English | Multiple | 17 Apr, 2015 | 394.1 KB | .pdf |
| Data sheet | Micro plate heat exchanger XB66 | Latvian | Multiple | 31 Aug, 2018 | 464.3 KB | .pdf |
| Data sheet | Micro plate heat exchanger XB66 | English | Multiple | 27 Nov, 2018 | 458.3 KB | .pdf |
| Data sheet | Micro plate heat exchanger XB66 | Lithuanian | Multiple | 27 Nov, 2018 | 461.6 KB | .pdf |
| Data sheet | Micro plate heat exchanger XB66 | Lithuanian | Multiple | 19 Sep, 2018 | 418.9 KB | .pdf |
| Data sheet | Micro plate heat exchanger XB66 | Romanian, Moldavian, Moldovan | Multiple | 17 Jan, 2022 | 556.2 KB | .pdf |
| Data sheet | Micro plate heat exchanger XB66 | Lithuanian | Multiple | 10 Feb, 2023 | 535.7 KB | .pdf |
| Data sheet | Micro plate heat exchanger XB66 | Finnish | Multiple | 17 Feb, 2022 | 532.8 KB | .pdf |
| Data sheet | Micro plate heat exchanger XB66 | Lithuanian | Multiple | 17 Jan, 2022 | 535.4 KB | .pdf |
| Data sheet | Micro plate heat exchanger XB66 | Latvian | Multiple | 17 Jan, 2022 | 546.1 KB | .pdf |
| Data sheet | Micro plate heat exchanger XB66 | Latvian | Multiple | 10 Feb, 2023 | 546.0 KB | .pdf |
| Data sheet | Micro plate heat exchanger XB66 | German | Multiple | 10 Feb, 2023 | 531.4 KB | .pdf |
| Data sheet | Micro plate heat exchanger XB66 | Swedish | Multiple | 17 Jan, 2022 | 534.6 KB | .pdf |
| Data sheet | Micro plate heat exchanger XB66 | English | Multiple | 22 Nov, 2021 | 1.1 MB | .pdf |
| Data sheet | Micro plate heat exchanger XB66 | English | Multiple | 03 Feb, 2023 | 903.9 KB | .pdf |
| Data sheet | Micro plate heat exchanger XB66 | Polish | Multiple | 10 Feb, 2023 | 572.0 KB | .pdf |
| Data sheet | Micro plate heat exchanger XB66 | German | Multiple | 17 Jan, 2022 | 573.8 KB | .pdf |
| Data sheet | Micro plate heat exchanger XB66 | German | Switzerland | 10 Feb, 2023 | 531.4 KB | .pdf |
| Data sheet | Micro plate heat exchanger XB66 | Polish | Multiple | 17 Jan, 2022 | 571.6 KB | .pdf |
| Data sheet | Micro plate heat exchanger XB66 | Swedish | Multiple | 02 Jun, 2015 | 399.7 KB | .pdf |
| Data sheet | Micro plate heat exchanger XB66 | Finnish | Multiple | 10 Feb, 2023 | 533.2 KB | .pdf |
| Data sheet | Micro plate heat exchanger XB66 | Polish | Multiple | 31 Aug, 2018 | 489.7 KB | .pdf |
| Data sheet | Micro plate heat exchanger XB66 | Romanian, Moldavian, Moldovan | Multiple | 13 May, 2015 | 409.8 KB | .pdf |
| Data sheet | Micro plate heat exchanger XB66 | Romanian, Moldavian, Moldovan | Multiple | 31 Aug, 2018 | 457.8 KB | .pdf |
| Data sheet | Micro plate heat exchanger XB66 | Romanian, Moldavian, Moldovan | Multiple | 10 Feb, 2023 | 556.6 KB | .pdf |
| Data sheet | Micro plate heat exchanger XB66 | Finnish | Multiple | 31 Aug, 2018 | 459.0 KB | .pdf |
| Data sheet | Micro plate heat exchanger XB66 | Swedish | Multiple | 27 Nov, 2018 | 467.7 KB | .pdf |
| Data sheet | Micro plate heat exchanger XB66 | Romanian, Moldavian, Moldovan | Multiple | 27 Nov, 2018 | 474.5 KB | .pdf |
| Data sheet | Micro plate heat exchanger XB66 | Swedish | Multiple | 10 Feb, 2023 | 534.9 KB | .pdf |
| Data sheet | Micro plate heat exchanger XB66 | Polish | Multiple | 27 Nov, 2018 | 492.3 KB | .pdf |
| Data sheet | Micro plate heat exchanger XB66 | Swedish | Multiple | 31 Aug, 2018 | 466.8 KB | .pdf |
| Data sheet | Micro plate heat exchanger XB66 | English | Multiple | 27 Mar, 2018 | 456.2 KB | .pdf |
| Data sheet | Micro plate heat exchanger XB66 | Finnish | Multiple | 27 Nov, 2018 | 461.9 KB | .pdf |
| Data sheet | Micro plate heat exchanger XB66 | Latvian | Multiple | 27 Nov, 2018 | 467.5 KB | .pdf |
| Data sheet | Micro plate heat exchanger XB66 | German | Multiple | 30 Aug, 2019 | 489.7 KB | .pdf |
| Data sheet | Micro plate heat exchanger XB66 | German | Multiple | 05 Jun, 2015 | 360.4 KB | .pdf |
| Data sheet | Micro plate heat exchanger XB66 | Polish | Multiple | 15 Jun, 2015 | 407.6 KB | .pdf |
| Data sheet | Micro plate heat exchanger XB66H | German | Multiple | 19 Jan, 2017 | 392.7 KB | .pdf |
| Data sheet | Micro plate heat exchanger XB66H | Finnish | Multiple | 14 Dec, 2016 | 401.3 KB | .pdf |
| Data sheet | Micro plate heat exchanger XB66H | German | Multiple | 19 Sep, 2016 | 412.7 KB | .pdf |
| Data sheet | Micro plate heat exchanger XB66H | English | Multiple | 30 Jul, 2013 | 532.5 KB | .pdf |
| Data sheet | Micro plate heat exchanger XB66H | English | Multiple | 08 Nov, 2016 | 381.2 KB | .pdf |
| Data sheet | Micro plate heat exchanger XB66H | Polish | Multiple | 14 Dec, 2016 | 461.7 KB | .pdf |
| Data sheet | Micro plate heat exchanger XB66H | Swedish | Multiple | 14 Dec, 2016 | 448.6 KB | .pdf |
| Data sheet | Micro plate heat exchanger XB66H | Romanian, Moldavian, Moldovan | Multiple | 14 Dec, 2016 | 458.9 KB | .pdf |
| Data sheet | Micro plate heat exchanger XB66H | Lithuanian | Multiple | 14 Dec, 2016 | 405.3 KB | .pdf |
| Application guide | Podręcznik aplikacji sieci cieplnych | Polish | Poland | 16 Sep, 2014 | 9.8 MB | .pdf |
| Brochure | Ultra-efficient Brazed Heat Exchangers | German | Multiple | 14 Feb, 2022 | 5.7 MB | .pdf |
| Brochure | Ultra-efficient Brazed Heat Exchangers | English | Multiple | 14 Feb, 2022 | 5.7 MB | .pdf |
| Brochure | Ultra-efficient Brazed Heat Exchangers | Slovak | Slovakia | 18 Apr, 2023 | 5.6 MB | .pdf |
| Brochure | Ultra-efficient brazed heat exchangers for your district energy applications | French | France | 25 Jun, 2020 | 4.6 MB | .pdf |
| Brochure | Ultra-efficient brazed heat exchangers for your district energy applications | Hungarian | Hungary | 18 Dec, 2014 | 2.4 MB | .pdf |
| Brochure | Ultra-efficient brazed heat exchangers for your district energy applications | Spanish, Castilian | Spain | 09 Dec, 2014 | 2.5 MB | .pdf |
| Brochure | Ultra-efficient brazed heat exchangers for your district energy applications | Bulgarian | Bulgaria | 12 Jan, 2015 | 2.5 MB | .pdf |
| Brochure | Ultra-efficient brazed heat exchangers for your district energy applications | Italian | Italy | 28 May, 2015 | 2.9 MB | .pdf |
| Brochure | Ultra-efficient brazed heat exchangers for your district energy applications | Lithuanian | Lithuania | 22 Jun, 2015 | 3.6 MB | .pdf |
| Brochure | Ultra-efficient brazed heat exchangers for your district energy applications | Czech | Czech Republic | 18 Dec, 2014 | 2.5 MB | .pdf |
| Brochure | Ultra-efficient brazed heat exchangers for your district energy applications | English | Multiple | 02 Jan, 2023 | 10.2 MB | .pdf |
| Brochure | Ultra-efficient brazed heat exchangers for your district energy applications | Czech | Czech Republic | 01 Feb, 2022 | 25.0 MB | .pdf |
| Brochure | Ultra-efficient brazed heat exchangers for your district energy applications | English | United Kingdom | 25 Aug, 2016 | 2.8 MB | .pdf |
| Brochure | Ultra-efficient brazed heat exchangers for your district energy applications | Serbian (RS) | Serbia | 09 Dec, 2014 | 2.4 MB | .pdf |
| Brochure | Ultra-efficient brazed heat exchangers for your district energy applications | English | Multiple | 06 Jan, 2020 | 7.2 MB | .pdf |
| Brochure | Ultra-efficient brazed heat exchangers for your district energy applications | Slovak | Slovakia | 17 Apr, 2015 | 2.9 MB | .pdf |
| Brochure | Ultra-efficient brazed heat exchangers for your district energy applications | French | Switzerland | 27 Sep, 2017 | 19.0 MB | .pdf |
| Brochure | Ultra-efficient brazed heat exchangers for your district energy applications | German | Switzerland | 27 Sep, 2017 | 2.8 MB | .pdf |
| Brochure | Ultra-efficient brazed heat exchangers for your district energy applications | Romanian, Moldavian, Moldovan | Romania | 21 Apr, 2015 | 3.7 MB | .pdf |
| Brochure | Ultra-efficient brazed heat exchangers for your district energy applications | French | France | 30 Apr, 2015 | 3.0 MB | .pdf |
| Brochure | Wymienniki ciepła Sondex | Polish | Poland | 19 Jul, 2019 | 1.5 MB | .pdf |
| Data sheet | XB 12 | French | Multiple | 11 Feb, 2023 | 941.2 KB | .pdf |
| Data sheet | XB 12 | Finnish | Multiple | 02 Oct, 2014 | 846.1 KB | .pdf |
| Data sheet | XB 12 | Latvian | Multiple | 02 Oct, 2014 | 869.8 KB | .pdf |
| Data sheet | XB 12 | French | Multiple | 29 Jul, 2022 | 940.7 KB | .pdf |
| Data sheet | XB 12 | Romanian, Moldavian, Moldovan | Multiple | 02 Oct, 2014 | 851.9 KB | .pdf |
| Data sheet | XB 12 | Lithuanian | Multiple | 02 Oct, 2014 | 851.0 KB | .pdf |
| Data sheet | XB 12 | English | Multiple | 28 Aug, 2014 | 834.8 KB | .pdf |
| Data sheet | XB 12 | Polish | Multiple | 02 Oct, 2014 | 856.3 KB | .pdf |
| Data sheet | XB 12 | French | Multiple | 15 May, 2016 | 881.5 KB | .pdf |
| Data sheet | XB 25 | English | Multiple | 12 Sep, 2016 | 375.8 KB | .pdf |
| Data sheet | XB 25 | English | Multiple | 28 May, 2019 | 397.2 KB | .pdf |
| Data sheet | XB 25 | French | Multiple | 28 May, 2019 | 404.5 KB | .pdf |
| Operating guide | XB Brazed plate heat exchangers | Czech; Danish; German; English; Estonian; Finnish; French; Italian; Lithuanian; Latvian; Polish; Romanian, Moldavian, Moldovan; Russian; Slovenian; Serbian (RS); Chinese (CN) | Multiple | 07 Oct, 2019 | 5.1 MB | .pdf |
| Operating guide | XB Brazed plate heat exchangers | Czech; Danish; German; English; Estonian; Finnish; Italian; Lithuanian; Latvian; Polish; Romanian, Moldavian, Moldovan; Russian; Slovenian; Serbian (RS); Chinese (CN) | Multiple | 26 Sep, 2012 | 2.3 MB | .pdf |
| Operating guide | XB Brazed plate heat exchangers | Czech; Danish; German; English; Estonian; Finnish; Lithuanian; Latvian; Polish; Romanian, Moldavian, Moldovan; Russian; Serbian (RS); Chinese (CN) | Multiple | 25 Mar, 2009 | 1.9 MB | .pdf |
| Operating guide | XB Brazed plate heat exchangers | Czech; Danish; German; English; Estonian; Finnish; Italian; Lithuanian; Latvian; Polish; Romanian, Moldavian, Moldovan; Russian; Serbian (RS); Chinese (CN) | Multiple | 17 Sep, 2009 | 1.9 MB | .pdf |
| Operating guide | XB Brazed plate heat exchangers | Czech; Danish; German; English; Estonian; Finnish; Lithuanian; Latvian; Polish; Russian; Serbian (RS); Chinese (CN) | Multiple | 14 Jun, 2006 | 1.8 MB | .pdf |
| Operating guide | XB Brazed plate heat exchangers | German; English; Estonian; Finnish; Lithuanian; Latvian; Polish; Russian; Serbian (RS); Chinese (CN) | Multiple | 23 Mar, 2004 | 1.5 MB | .pdf |
| Operating guide | XB Brazed plate heat exchangers | Czech; Danish; German; English; Estonian; Finnish; Italian; Lithuanian; Latvian; Polish; Romanian, Moldavian, Moldovan; Russian; Slovenian; Serbian (RS); Chinese (CN) | Multiple | 17 Nov, 2010 | 2.0 MB | .pdf |
| Operating guide | XB Brazed plate heat exchangers | Czech; German; English; Estonian; Finnish; Lithuanian; Latvian; Polish; Russian; Serbian (RS); Chinese (CN) | Multiple | 02 Sep, 2004 | 2.1 MB | .pdf |
| Operating guide | XB Brazed plate heat exchangers | Czech; German; English; Estonian; Finnish; Lithuanian; Latvian; Polish; Russian; Serbian (RS); Chinese (CN) | Multiple | 13 Jun, 2005 | 1.6 MB | .pdf |
| Data sheet | XB05M | Polish | Multiple | 03 Jan, 2017 | 485.0 KB | .pdf |
| Data sheet | XB05M | German | Multiple | 06 Jan, 2020 | 513.2 KB | .pdf |
| Data sheet | XB05M | Latvian | Multiple | 31 Jul, 2014 | 405.1 KB | .pdf |
| Data sheet | XB05M | Finnish | Multiple | 03 Jan, 2017 | 429.0 KB | .pdf |
| Data sheet | XB05M | Latvian | Multiple | 03 Jan, 2017 | 487.5 KB | .pdf |
| Data sheet | XB05M | Lithuanian | Multiple | 31 Jul, 2014 | 387.1 KB | .pdf |
| Data sheet | XB05M | English | Multiple | 08 Nov, 2016 | 405.0 KB | .pdf |
| Data sheet | XB05M | Polish | Multiple | 31 Jul, 2014 | 391.6 KB | .pdf |
| Data sheet | XB05M | German | Multiple | 31 Jul, 2014 | 444.1 KB | .pdf |
| Data sheet | XB05M | Romanian, Moldavian, Moldovan | Multiple | 31 Jul, 2014 | 388.0 KB | .pdf |
| Data sheet | XB05M | German | Multiple | 19 Sep, 2017 | 436.2 KB | .pdf |
| Data sheet | XB05M | Finnish | Multiple | 31 Jul, 2014 | 382.5 KB | .pdf |
| Data sheet | XB05M | English | Multiple | 16 Jul, 2014 | 378.3 KB | .pdf |
| Data sheet | XB05M | Lithuanian | Multiple | 03 Jan, 2017 | 435.2 KB | .pdf |
| Data sheet | XB05M | Romanian, Moldavian, Moldovan | Multiple | 03 Jan, 2017 | 481.5 KB | .pdf |
| Data sheet | XB05M heat exchanger | English | Multiple | 04 Oct, 2019 | 491.2 KB | .pdf |
| Data sheet | XB05M heat exchanger | English | Multiple | 18 Jan, 2022 | 566.3 KB | .pdf |
| Data sheet | XB05M heat exchanger | French | Multiple | 23 Jan, 2023 | 589.0 KB | .pdf |
| Data sheet | XB05M heat exchanger | English | Multiple | 16 Dec, 2021 | 566.1 KB | .pdf |
| Data sheet | XB06 | German | Multiple | 06 Jan, 2020 | 1.2 MB | .pdf |
| Data sheet | XB06 | German | Multiple | 18 Oct, 2022 | 1.1 MB | .pdf |
| Brochure | Z-design MPHEs for chillers Economic and environmental savings in cooling | English | Multiple | 23 Mar, 2023 | 2.4 MB | .pdf |
| Brochure | Z-design MPHEs for chillers Economic and environmental savings in cooling | Chinese (CN) | Multiple | 12 May, 2016 | 21.6 MB | .pdf |
| Brochure | Брошура_Вдосконалені рішення теплообміну | Ukrainian | Ukraine | 01 Sep, 2022 | 3.2 MB | .pdf |