Our brazed plate heat exchangers (XB/SL) offer a compact and flexible solution designed for ultra-efficient performance for your high-pressure or extreme-temperature applications.
What does that mean for you?
Low operational costs and very high performance make the gasket-free brazed plate heat exchangers optimal choices, even if your system has large temperature swings, or varying or constant pressure.
We have consolidated the Danfoss and SONDEX® brazed solutions into a single, combined plate heat exchanger portfolio. Through our new, second-to-none product range we can offer you complete coverage with quality heat exchangers that are optimized for each individual application.
We customize our brazed heat exchangers according to your specifications. We offer a choice of copper, copper+, or stainless steel brazing materials. Our Fishbone and Micro Plate™ patterns are available with different corrugations appropriate for any given task. The adaptable design of our brazed heat exchangers makes a variety of connection options possible (including the number of connections, their sizes, types, and positions). The optimal amount of plates in a plate pack is determined based on the specifications of the application.
Ultimate leakage protection
Our Sonder Safe technology is a double-walled plate system designed to make any leakage however unlikely, visible from outside the heat exchanger. This safety measure, available in industrial or sanitary versions, ensures that the malfunctioning unit can quickly be identified and replaced.
Because all leaks are external instead of internal the media are always separated. This makes double-walled brazed plate heat exchangers the ideal solution when operating with media that must not be allowed to mix at any cost.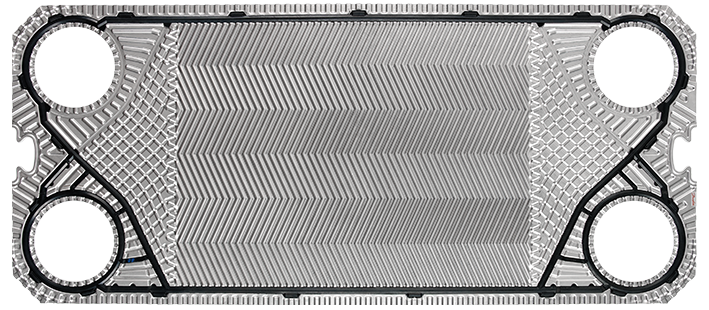 Fishbone plate technology
Engineered to maximize turbulence, even at low flow rates, this pattern achieves unparalleled heat transfer. The pattern has proved its effectiveness through rigorous testing and is the default choice for plate heat exchangers.
Low operational costs, small hold-up volume, and high performance make our brazed heat exchanger solutions the ideal choice for many applications. Cut your costs and increase your profits with the help of our brazed portfolio.
The permanently sealed heat exchangers offer a durable solution with an extended lifetime. Enjoy peace of mind with the double-walled design that provides the ultimate protection against leaks.
With the energy-optimized, tried-and-true Fishbone technology, or the revolutionary Micro Plate™ technology; the combined Danfoss and SONDEX® product range offers the ultimate in brazed heat transfer solutions.
HVAC industry
Dairy/food/beverage industry
Refrigeration industry
Evaporator and condenser applications
Solar heating
Oil units
Heat recovery
Engine cooling
Evaporation and condensing
Desuperheating
Absorption systems
Domestic hot water installations
Process cooling
Hydraulic oil cooling
Laser cooling
Water cooling and heating
Connections from ¾" threaded BSP/NPT to flange DN150
Brazing materials: Copper, copper+, or stainless steel
Plate materials: AISI 316. Other materials available upon request
Plate heights from 0.202 m to 1 m (0.66 – 3.3 ft)
Flow rates up to 150 m3/h (661 gpm)
Working pressure up to 40 bar (580 psi)
Working temperature from -196 °C to 225 °C (-321 °F to 437 °F)
SONDEX® Traditional plate heat exchangers

SONDEX® Traditional plate heat exchangers are the ideal choice for a wide range of applications across numerous market segments. We have the largest plate portfolio in the world, and customize each heat exchanger to meet your exact requirements. Innovative technologies and smart design make our traditional plate heat exchangers a stellar investment.
Documents

| Type | Name | Language | Valid for | Updated | Download | File type |
| --- | --- | --- | --- | --- | --- | --- |
| Installation guide | Adapter XB | Arabic; Bulgarian; Czech; Danish; German; Greek (modern); English; Spanish, Castilian; Estonian; Persian; Finnish; French; Irish; Hebrew (modern); Hindi; Croatian; Hungarian; Indonesian; Icelandic; Italian; Japanese; Kazakh; Korean; Lithuanian; Latvian; Macedonian; Norwegian Bokmål; Dutch, Flemish; Polish; Portuguese; Romanian, Moldavian, Moldovan; Russian; Slovak; Slovenian; Serbian (RS); Swedish; Tamil; Thai; Turkish; Ukrainian; Vietnamese; Chinese (CN) | Multiple | 05 Nov, 2012 | 291.9 KB | .pdf |
| Operating guide | Brazed plate heat exchangers | Bulgarian; Czech; Danish; German; English; Spanish, Castilian; Estonian; Finnish; French; Croatian; Hungarian; Italian; Lithuanian; Latvian; Dutch, Flemish; Polish; Romanian, Moldavian, Moldovan; Russian; Slovak; Slovenian; Serbian (RS); Swedish; Chinese (CN) | Multiple | 06 Nov, 2020 | 6.4 MB | .pdf |
| Application guide | Danfoss control components for district heating | German | Switzerland | 16 Sep, 2014 | 1.9 MB | .pdf |
| Data sheet | Heat exchanger XB 61 | Italian | Multiple | 06 Feb, 2017 | 361.6 KB | .pdf |
| Data sheet | Heat exchanger XB 61 | Latvian | Multiple | 06 Feb, 2017 | 433.9 KB | .pdf |
| Data sheet | Heat exchanger XB 61 | Romanian, Moldavian, Moldovan | Multiple | 06 Feb, 2017 | 410.6 KB | .pdf |
| Data sheet | Heat exchanger XB 61 | Polish | Multiple | 06 Feb, 2017 | 415.7 KB | .pdf |
| Data sheet | Heat exchanger XB 61 | German | Multiple | 06 Jan, 2020 | 443.8 KB | .pdf |
| Data sheet | Heat exchanger XB 61 | French | Multiple | 28 May, 2019 | 367.3 KB | .pdf |
| Data sheet | Heat exchanger XB 61 | Estonian | Multiple | 06 Feb, 2017 | 399.4 KB | .pdf |
| Data sheet | Heat exchanger XB 61 | Croatian | Multiple | 06 Feb, 2017 | 361.8 KB | .pdf |
| Data sheet | Heat exchanger XB 61 | Hungarian | Multiple | 06 Feb, 2017 | 348.1 KB | .pdf |
| Data sheet | Heat exchanger XB 61 | Lithuanian | Multiple | 06 Feb, 2017 | 364.2 KB | .pdf |
| Data sheet | Heat exchanger XB 61 | Swedish | Multiple | 06 Feb, 2017 | 402.7 KB | .pdf |
| Data sheet | Heat exchanger XB 61 | Slovak | Multiple | 06 Feb, 2017 | 365.7 KB | .pdf |
| Data sheet | Heat Exchanger XB06 | Italian | Multiple | 21 Sep, 2018 | 1.1 MB | .pdf |
| Data sheet | Heat Exchanger XB06 | Romanian, Moldavian, Moldovan | Multiple | 15 Feb, 2017 | 1.1 MB | .pdf |
| Data sheet | Heat Exchanger XB06 | Polish | Multiple | 15 Feb, 2017 | 1.1 MB | .pdf |
| Data sheet | Heat Exchanger XB06 | Lithuanian | Multiple | 15 Feb, 2017 | 1.0 MB | .pdf |
| Data sheet | Heat Exchanger XB06 | Latvian | Multiple | 15 Feb, 2017 | 1.1 MB | .pdf |
| Data sheet | Heat Exchanger XB06 | French | Multiple | 21 Sep, 2018 | 1.2 MB | .pdf |
| Data sheet | Heat exchanger XB59 | Estonian | Multiple | 12 Dec, 2016 | 290.8 KB | .pdf |
| Data sheet | Heat exchanger XB59 | French | Multiple | 28 May, 2019 | 252.2 KB | .pdf |
| Data sheet | Heat exchanger XB59 | Polish | Multiple | 07 Dec, 2016 | 306.5 KB | .pdf |
| Data sheet | Heat exchanger XB59 | Latvian | Multiple | 12 Dec, 2016 | 318.8 KB | .pdf |
| Data sheet | Heat exchanger XB59 | Hungarian | Multiple | 12 Dec, 2016 | 242.8 KB | .pdf |
| Data sheet | Heat exchanger XB59 | Italian | Multiple | 12 Dec, 2016 | 248.5 KB | .pdf |
| Data sheet | Heat exchanger XB59 | German | Switzerland | 10 Jul, 2017 | 253.4 KB | .pdf |
| Data sheet | Heat exchanger XB59 | Lithuanian | Multiple | 12 Dec, 2016 | 246.1 KB | .pdf |
| Data sheet | Heat exchanger XB59 | Swedish | Multiple | 12 Dec, 2016 | 293.6 KB | .pdf |
| Brochure | M65 leaflet for Sondex and Danfoss brazed heat exchangers | English | Multiple | 28 Feb, 2018 | 2.1 MB | .pdf |
| Application guide | Making applications future proof, all our knowledge – is now yours | English | Multiple | 16 Sep, 2014 | 63.5 MB | .pdf |
| Application guide | Making applications future proof, all our knowledge – is now yours | Italian | Italy | 28 May, 2015 | 9.7 MB | .pdf |
| Application guide | Making applications future proof, all our knowledge – is now yours | German | Multiple | 10 Nov, 2014 | 10.2 MB | .pdf |
| Application guide | Making applications future proof, all our knowledge – is now yours | French | France | 16 Sep, 2014 | 9.9 MB | .pdf |
| Data sheet | Micro Plate Heat Exchanger (MPHE) XB37 | Lithuanian | Multiple | 15 Feb, 2017 | 755.9 KB | .pdf |
| Data sheet | Micro Plate Heat Exchanger (MPHE) XB37 | Romanian, Moldavian, Moldovan | Multiple | 15 Feb, 2017 | 802.8 KB | .pdf |
| Data sheet | Micro Plate Heat Exchanger (MPHE) XB37 | Polish | Multiple | 15 Feb, 2017 | 809.1 KB | .pdf |
| Data sheet | Micro Plate Heat Exchanger (MPHE) XB37 | German | Multiple | 07 Jan, 2020 | 897.2 KB | .pdf |
| Data sheet | Micro Plate Heat Exchanger (MPHE) XB37 | French | Multiple | 24 Sep, 2018 | 814.7 KB | .pdf |
| Data sheet | Micro Plate Heat Exchanger (MPHE) XB37 | Italian | Multiple | 24 Sep, 2018 | 810.2 KB | .pdf |
| Data sheet | Micro plate heat exchanger (MPHE): XB12 | Finnish | Multiple | 05 Nov, 2015 | 861.4 KB | .pdf |
| Data sheet | Micro plate heat exchanger (MPHE): XB12 | Latvian | Multiple | 06 Nov, 2015 | 884.6 KB | .pdf |
| Data sheet | Micro plate heat exchanger (MPHE): XB12 | Lithuanian | Multiple | 05 Nov, 2015 | 864.8 KB | .pdf |
| Data sheet | Micro plate heat exchanger (MPHE): XB12 | Romanian, Moldavian, Moldovan | Multiple | 06 Nov, 2015 | 866.8 KB | .pdf |
| Data sheet | Micro plate heat exchanger (MPHE): XB12 | Polish | Multiple | 06 Nov, 2015 | 870.9 KB | .pdf |
| Data sheet | Micro plate heat exchanger XB66 | Swedish | Multiple | 27 Nov, 2018 | 467.7 KB | .pdf |
| Data sheet | Micro plate heat exchanger XB66 | Romanian, Moldavian, Moldovan | Multiple | 27 Nov, 2018 | 474.5 KB | .pdf |
| Data sheet | Micro plate heat exchanger XB66 | Polish | Multiple | 27 Nov, 2018 | 492.3 KB | .pdf |
| Data sheet | Micro plate heat exchanger XB66 | Finnish | Multiple | 27 Nov, 2018 | 461.9 KB | .pdf |
| Data sheet | Micro plate heat exchanger XB66 | German | Multiple | 07 Jan, 2020 | 505.6 KB | .pdf |
| Data sheet | Micro plate heat exchanger XB66 | Latvian | Multiple | 27 Nov, 2018 | 467.5 KB | .pdf |
| Data sheet | Micro plate heat exchanger XB66 | Lithuanian | Multiple | 27 Nov, 2018 | 461.6 KB | .pdf |
| Article | Optimum control of heat exchangers | Bulgarian | Multiple | 11 Oct, 2011 | 1.5 MB | .pdf |
| Brochure | Ultra-efficient Brazed Heat Exchangers | German | Germany | 28 Feb, 2018 | 2.1 MB | .pdf |
| Brochure | Ultra-efficient brazed heat exchangers for your district energy applications | Romanian, Moldavian, Moldovan | Romania | 21 Apr, 2015 | 3.7 MB | .pdf |
| Brochure | Ultra-efficient brazed heat exchangers for your district energy applications | Ukrainian | Ukraine | 08 May, 2015 | 5.9 MB | .pdf |
| Brochure | Ultra-efficient brazed heat exchangers for your district energy applications | Spanish, Castilian | Spain | 09 Dec, 2014 | 2.5 MB | .pdf |
| Brochure | Ultra-efficient brazed heat exchangers for your district energy applications | English | United Kingdom | 25 Aug, 2016 | 2.8 MB | .pdf |
| Brochure | Ultra-efficient brazed heat exchangers for your district energy applications | Serbian (RS) | Serbia | 09 Dec, 2014 | 2.4 MB | .pdf |
| Brochure | Ultra-efficient brazed heat exchangers for your district energy applications | Slovak | Slovakia | 17 Apr, 2015 | 2.9 MB | .pdf |
| Brochure | Ultra-efficient brazed heat exchangers for your district energy applications | Czech | Czech Republic | 18 Dec, 2014 | 2.5 MB | .pdf |
| Brochure | Ultra-efficient brazed heat exchangers for your district energy applications | Bulgarian | Bulgaria | 12 Jan, 2015 | 2.5 MB | .pdf |
| Brochure | Ultra-efficient brazed heat exchangers for your district energy applications | Italian | Italy | 28 May, 2015 | 2.9 MB | .pdf |
| Brochure | Ultra-efficient brazed heat exchangers for your district energy applications | Hungarian | Hungary | 18 Dec, 2014 | 2.4 MB | .pdf |
| Brochure | Ultra-efficient brazed heat exchangers for your district energy applications | Lithuanian | Lithuania | 22 Jun, 2015 | 3.6 MB | .pdf |
| Brochure | Ultra-efficient brazed heat exchangers for your district energy applications | French | France | 25 Jun, 2020 | 4.6 MB | .pdf |
| Brochure | Ultra-efficient brazed heat exchangers for your district energy applications | English | Multiple | 06 Jan, 2020 | 7.2 MB | .pdf |
| Brochure | Ultra-efficient brazed heat exchangers for your district energy applications | French | Switzerland | 27 Sep, 2017 | 19.0 MB | .pdf |
| Brochure | Ultra-efficient brazed heat exchangers for your district energy applications | German | Switzerland | 27 Sep, 2017 | 2.8 MB | .pdf |
| Installation guide | XB & XG Standard insulation | Arabic; Bulgarian; Czech; Danish; German; Greek (modern); English; Spanish, Castilian; Estonian; Persian; Finnish; French; Irish; Hebrew (modern); Hindi; Croatian; Hungarian; Indonesian; Icelandic; Italian; Japanese; Kazakh; Korean; Lithuanian; Latvian; Macedonian; Norwegian Bokmål; Dutch, Flemish; Polish; Portuguese; Romanian, Moldavian, Moldovan; Russian; Slovak; Slovenian; Serbian (RS); Swedish; Tamil; Thai; Turkish; Ukrainian; Vietnamese; Chinese (CN) | Multiple | 30 Mar, 2004 | 512.2 KB | .pdf |
| Data sheet | XB 12 | French | Multiple | 15 May, 2016 | 881.5 KB | .pdf |
| Data sheet | XB Brazed heat exchanger | Bulgarian | Multiple | 01 Sep, 2016 | 1.5 MB | .pdf |
| Data sheet | XB Brazed heat exchanger | Czech | Multiple | 01 Sep, 2016 | 1.5 MB | .pdf |
| Data sheet | XB Brazed heat exchanger | German | Multiple | 06 Jan, 2020 | 1.6 MB | .pdf |
| Data sheet | XB Brazed heat exchanger | French | Multiple | 02 Dec, 2014 | 1.6 MB | .pdf |
| Data sheet | XB Brazed heat exchanger | Polish | Multiple | 01 Sep, 2016 | 1.5 MB | .pdf |
| Data sheet | XB Brazed heat exchanger | Slovak | Multiple | 01 Sep, 2016 | 1.5 MB | .pdf |
| Data sheet | XB Brazed heat exchanger | Romanian, Moldavian, Moldovan | Multiple | 01 Sep, 2016 | 1.5 MB | .pdf |
| Data sheet | XB Brazed heat exchanger | Spanish, Castilian | Multiple | 01 Sep, 2016 | 1.5 MB | .pdf |
| Data sheet | XB Brazed heat exchanger | Estonian | Multiple | 01 Sep, 2016 | 1.5 MB | .pdf |
| Data sheet | XB Brazed heat exchanger | Latvian | Multiple | 01 Sep, 2016 | 1.5 MB | .pdf |
| Data sheet | XB Brazed heat exchanger | Lithuanian | Multiple | 01 Sep, 2016 | 1.5 MB | .pdf |
| Data sheet | XB Brazed heat exchanger | Italian | Multiple | 01 Sep, 2016 | 1.5 MB | .pdf |
| Data sheet | XB Brazed heat exchanger | Swedish | Multiple | 01 Sep, 2016 | 1.5 MB | .pdf |
| Data sheet | XB Brazed heat exchanger | English | Multiple | 01 Sep, 2016 | 1.5 MB | .pdf |
| Data sheet | XB Brazed heat exchanger | Hungarian | Multiple | 01 Sep, 2016 | 1.5 MB | .pdf |
| Data sheet | XB Brazed heat exchanger | Croatian | Multiple | 01 Sep, 2016 | 1.5 MB | .pdf |
| Data sheet | XB Brazed heat exchanger | Serbian (RS) | Multiple | 01 Sep, 2016 | 1.5 MB | .pdf |
| Installation guide | XB Mounting bracket | Arabic; Bulgarian; Czech; Danish; German; Greek (modern); English; Spanish, Castilian; Estonian; Persian; Finnish; French; Irish; Hebrew (modern); Hindi; Croatian; Hungarian; Indonesian; Icelandic; Italian; Japanese; Kazakh; Korean; Lithuanian; Latvian; Macedonian; Norwegian Bokmål; Dutch, Flemish; Polish; Portuguese; Romanian, Moldavian, Moldovan; Russian; Slovak; Slovenian; Serbian (RS); Swedish; Tamil; Thai; Turkish; Ukrainian; Vietnamese; Chinese (CN) | Multiple | 23 Oct, 2015 | 528.7 KB | .pdf |
| Installation guide | XB Polyurethane Insulation | Arabic; Bulgarian; Czech; Danish; German; Greek (modern); English; Spanish, Castilian; Estonian; Persian; Finnish; French; Irish; Hebrew (modern); Hindi; Croatian; Hungarian; Indonesian; Icelandic; Italian; Japanese; Kazakh; Korean; Lithuanian; Latvian; Macedonian; Norwegian Bokmål; Dutch, Flemish; Polish; Portuguese; Romanian, Moldavian, Moldovan; Russian; Slovak; Slovenian; Serbian (RS); Swedish; Tamil; Thai; Turkish; Ukrainian; Vietnamese; Chinese (CN) | Multiple | 21 Aug, 2008 | 225.2 KB | .pdf |
| Data sheet | XB05M | Finnish | Multiple | 03 Jan, 2017 | 429.0 KB | .pdf |
| Data sheet | XB05M | Polish | Multiple | 03 Jan, 2017 | 485.0 KB | .pdf |
| Data sheet | XB05M | German | Multiple | 06 Jan, 2020 | 513.2 KB | .pdf |
| Data sheet | XB05M | Latvian | Multiple | 03 Jan, 2017 | 487.5 KB | .pdf |
| Data sheet | XB05M | Lithuanian | Multiple | 03 Jan, 2017 | 435.2 KB | .pdf |
| Data sheet | XB05M | Romanian, Moldavian, Moldovan | Multiple | 03 Jan, 2017 | 481.5 KB | .pdf |
| Data sheet | XB06 & IHPT | English | Multiple | 09 Mar, 2017 | 1.3 MB | .pdf |
| Data sheet | XB06 & IHPT | Swedish | Multiple | 20 Apr, 2017 | 1.4 MB | .pdf |
| Data sheet | XB06 & IHPT | German | Multiple | 19 Dec, 2019 | 1.3 MB | .pdf |
| Data sheet | XB06 & IHPT | Polish | Multiple | 20 Apr, 2017 | 1.4 MB | .pdf |
| Data sheet | XB06 & IHPT | Hungarian | Multiple | 20 Apr, 2017 | 1.3 MB | .pdf |
| Data sheet | XB06 & IHPT | Romanian, Moldavian, Moldovan | Multiple | 20 Apr, 2017 | 1.4 MB | .pdf |
| Data sheet | XB06 & IHPT | Slovenian | Multiple | 20 Apr, 2017 | 1.3 MB | .pdf |
| Data sheet | XB06 heat exchanger (OEM) | Polish | Multiple | 06 Oct, 2015 | 262.9 KB | .pdf |
| Data sheet | XB52 | Latvian | Multiple | 07 Feb, 2017 | 619.4 KB | .pdf |
| Data sheet | XB52 | Lithuanian | Multiple | 07 Feb, 2017 | 554.4 KB | .pdf |
| Data sheet | XB52 | French | Multiple | 28 May, 2019 | 552.6 KB | .pdf |
| Data sheet | XB52 | Finnish | Multiple | 07 Feb, 2017 | 548.9 KB | .pdf |
| Data sheet | XB52 | Estonian | Multiple | 07 Feb, 2017 | 587.1 KB | .pdf |
| Data sheet | XB52 | German | Multiple | 07 Jan, 2020 | 632.4 KB | .pdf |
| Data sheet | XB52 | Swedish | Multiple | 07 Feb, 2017 | 592.8 KB | .pdf |
| Data sheet | XB52 | Romanian, Moldavian, Moldovan | Multiple | 07 Feb, 2017 | 600.8 KB | .pdf |
| Data sheet | XB52 | Polish | Multiple | 07 Feb, 2017 | 605.7 KB | .pdf |
| Installation guide | XB52 Mounting bracket & Insulation | Arabic; Bulgarian; Czech; Danish; German; Greek (modern); English; Spanish, Castilian; Estonian; Persian; Finnish; French; Irish; Hebrew (modern); Hindi; Croatian; Hungarian; Indonesian; Icelandic; Italian; Japanese; Kazakh; Korean; Lithuanian; Latvian; Macedonian; Norwegian Bokmål; Dutch, Flemish; Polish; Portuguese; Romanian, Moldavian, Moldovan; Russian; Slovak; Slovenian; Serbian (RS); Swedish; Tamil; Thai; Turkish; Ukrainian; Vietnamese; Chinese (CN) | Multiple | 23 Oct, 2015 | 1.0 MB | .pdf |
| User guide | Паяные пластинчатые теплообменные аппараты типа XB | Russian | Russia | 18 Aug, 2016 | 2.6 MB | .pdf |
| Catalog | Пластинчасті теплообмінники | Ukrainian | Ukraine | 23 Sep, 2010 | 10.2 MB | .pdf |
| Article | Пластинчатые теплообменники. Современные тенденции применения. | Ukrainian | Ukraine | 28 Nov, 2013 | 238.3 KB | .pdf |