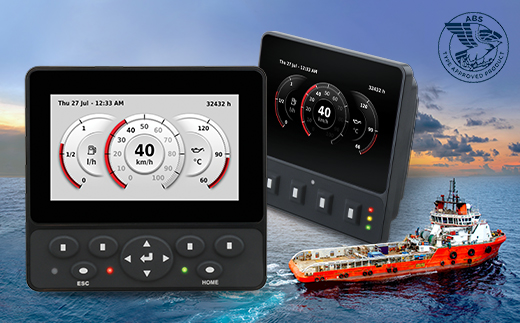 The DM430M display is rugged, easy to read and programmable for a wide variety of vessel applications
Leveraging more than 30 years of experience in the marine industry and its expertise in designing components built to withstand the most extreme environments, Danfoss Power Solutions has introduced its first display specifically for marine applications.

"After years specializing in making components dirt-proof, dust-proof, weather-proof, vibration-resistant and much more, we are excited to offer the same rugged durability for marine markets," said Ankit Shrivastava, Program Manager for Marine, Oil and Gas at Danfoss Power Solutions.

"We have expanded our rigorous testing process — verifying operational, physical and environmental requirements — to include certification from the American Bureau of Shipping."
Sturdy for the seas, streamlined for performance
The DM430M display offers customers peace of mind and added control. Key features include:
Built and certified for marine environments — This marine display from Danfoss is certified for the marine market with the ABS Type Approval, meaning customers will not have to independently test and document its performance. It also meets strict electromagnetic emissions requirements to ensure no radio interference, meaning it can be seamlessly integrated into any vessel. Our testing standards and certifications significantly streamline time-to-market.


IP66/67 compliant — This display meets the most rigorous requirements for operating in harsh conditions. Whether used on the deck or in the engine room, the DM430M is built to perform.


Superior viewability in all lighting conditions — The optically-bonded and anti-glare coated screen is optimized to provide outstanding viewability at all times of day. Using the integrated light sensor, the DM430M display series can be programmed to automatically switch between day and night modes and adjust brightness from high-peak sunlight to the darkest hours at sea.


Customizable screen — Increased control over what information is displayed and how it looks also increases overall flexibility. Ship-owners can use one product in multiple places and determine the best inputs based on the application. As a PLUS+1®-compliant product, this display can be programmed with easy-to-use screen editing features and a widget library, all done on the latest edition of the PLUS+1 Platform.


Streamlines electrification integration — As more and more shipbuilders integrate electrification systems, there are more digital components to monitor and control. The DM430M is designed to work seamlessly with digital systems, as up to five extra inputs can be added without an additional I/O module. Plus, it's engineered to pair with the extremely efficient marine DC system from Danfoss Editron. 
The DM430M display is ideal to pair with propulsion systems, in the navigation bridge, on cranes and winches, and much more.
Learn more about DM430M series