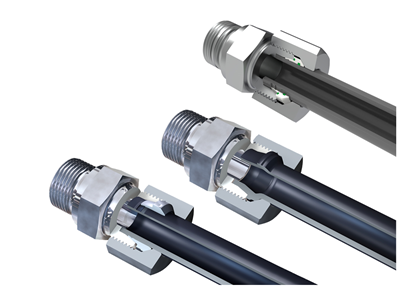 New name highlights the series' leading technology and marks a new era of engineering innovation under Danfoss ownership.
NORDBORG, Denmark – Danfoss Power Solutions has rebranded its Walterscheid series of tube fittings. Following its acquisition of Eaton's hydraulics business, Danfoss plans to continue investing in the product line under the new name Waltech. The Waltech name better aligns with the three connection systems that are part of the series: Walpro®, Walring™ and Walform®.
Danfoss' Waltech tube-fitting series features a leak-free design, high bending and impulse resistance, and a variety of manual and machine assembly options. OEMs and end users rely on the system's quick, simple assembly and dependable performance, as well as an array of services that help deliver successful project outcomes. The Waltech system is used in hydraulic and fluid conveyance applications across agriculture, construction, manufacturing, transportation and other industries.
Following several decades of technical advances and product line additions, the rebrand from Walterscheid to Waltech marks a new era of engineering innovation under Danfoss ownership. The appearance of the Waltech series will also be brought in line with the familiar red-and-white Danfoss branding.
"The Waltech series is known for outstanding performance, robust design and leak-free operation," said Christian Kuenstel, product management leader, Connectors, Fluid Conveyance, Danfoss Power Solutions. "It offers a complete solution for any application requirement, while enabling simple, safe and repeatable assembly by hand or by machine.
"Our brand refresh marks a new beginning. We'll be applying the global expertise of Danfoss to build on Waltech's fantastic heritage, engineering new advances that ensure it remains the clear choice for high-performance tube-fitting systems."
Danfoss' Waltech line represents a complete system solution for all tube-fitting needs. Available for tube diameters of 6 millimeters to 42 mm, the fittings provide exceptional durability and stability as well as a 4-to-1 safety factor.
To learn more about Danfoss' Waltech tube-fitting series, visit the Waltech webpage.