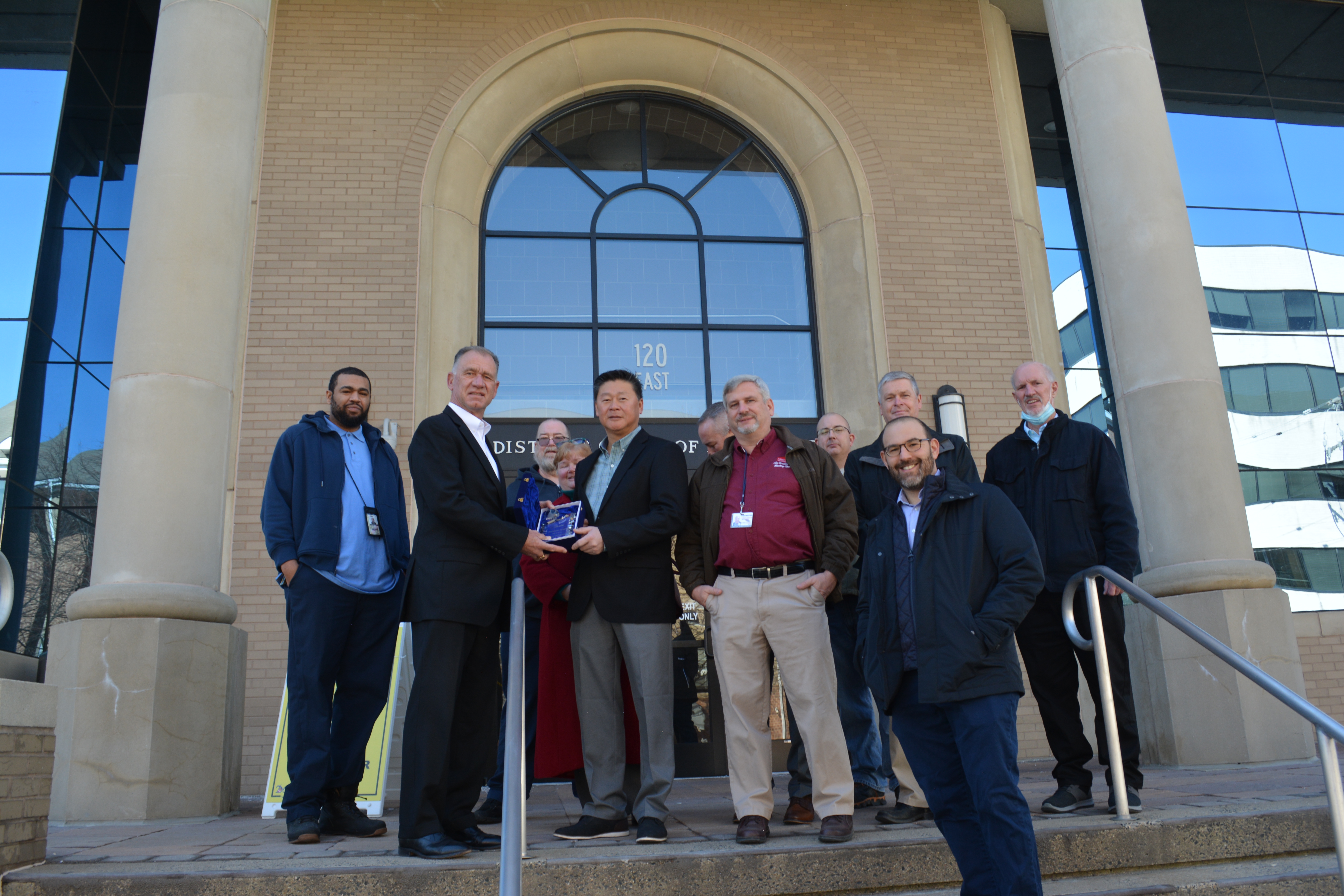 Danfoss recognizes Jae Chon of Chesapeake Systems with 2021 EnVisioneer of the Year award
Danfoss has named Jae Chon, Director of Strategic Markets at Chesapeake Systems, a Maryland-based HVAC consultant and equipment distributor, as its 12th EnVisioneer of the Year for their work on retrofitting the Towson Courthouse in Towson, Maryland. Chesapeake Systems.  Chesapeake Systems was the project manager responsible for upgrading the courthouse's HVAC system with a synchronized hydronic loop, utilizing Danfoss high efficiency scroll compressors, pressure-independent control valves of various sizes, HVAC variable frequency drives and WaterFurnace's 80-ton modular heat recovery chillers, resulting in big energy savings.
Launched in 2010, the annual EnVisioneer of the Year award competition recognizes North American original equipment manufacturers, building owners, municipalities, contractors and end users that have introduced a new product, opened a new facility or invested in a building or system upgrade in the past 18 months using Danfoss products or solutions to realize significant energy and environmental savings.
In 2020, after unsuccessful attempts to repair the Towson Courthouse's existing HVAC system, the Maryland Department of General Services (DGS) made the decision to replace the entire system at the recommendation of Chon, . With aging air handling units and other components, the system could no longer maintain temperatures at comfortable levels; employees consistently complained about pockets of hot and cold air as well as humidity and dampness throughout the building. 
At the time, Danfoss and its partners were developing a synchronized hydronic loop, an HVAC system where all components work together in synergy to enhance the efficiency of the entire loop. Often, a hydronic HVAC system can lose efficiency if the components don't work in conjunction with each other. In a synchronized system, pressure independent control valves (PICVs) installed at the air handling units tightly control the water temperature entering and exiting the unit's coils, allowing the chiller's variable speed compressors to work as efficiently as possible. Variable frequency drives (VFDs) on the pumps supply only as much water as is demanded to take advantage of part-load conditions to save energy. The system was a perfect match for the challenges at the Courthouse.
The system selected included the following pieces of equipment:  
·        3 WaterFurnace 80-ton modular chillers, each with two Danfoss high-efficiency scroll compressors.   
·        52 Danfoss pressure-independent control valves of various sizes.  
·        4 Danfoss HVAC variable frequency drives installed on fan motors.   
·        6 Armstrong Design Envelope Pumps with factory-mounted Danfoss VFDs.   
The variable speed technology on the chillers, pumps and fan motors act in concert, automatically speeding up or slowing down to adapt to the comfort needs of the building while optimizing overall system performance and efficiency. The WaterFurnace modular chillers' heat recovery capabilities allow for simultaneous heating and cooling by recovering heat off the compressors, producing hot water with up to a combined efficiency of 8 COP. Chiller modules that are not simultaneously producing chilled and hot water operate at lower condensing temperatures to increase cooling efficiencies even further. Not only does this increase occupant comfort, but also reduces natural gas consumption and carbon emissions by only running boilers during the peak heating months.
In October and November of 2021, the building used 59% less natural gas than it did during the same months in 2019. While monthly average energy use over the new system's first six months decreased by 23% versus 2019, total energy use was reduced by a staggering 55% in November 2021, the first month with significant heating needs. That energy reduction equates to more than $2,000 in monthly utility bill savings.
"The Integration of energy-efficient technologies by looking at the building holistically is a shining example of EnVisioneering. Retrofits are always a challenge and the innovation shown by Jae Chon in creating a high performing system that will adapt and endure is exactly what we strive to recognize. We are proud to present Jae with this award," said John Galyen, president of Danfoss North America.
The award was presented to Jae Chon, along with representatives from the Courthouse, DGS and Chesapeake Systems, at the Courthouse on February 9.