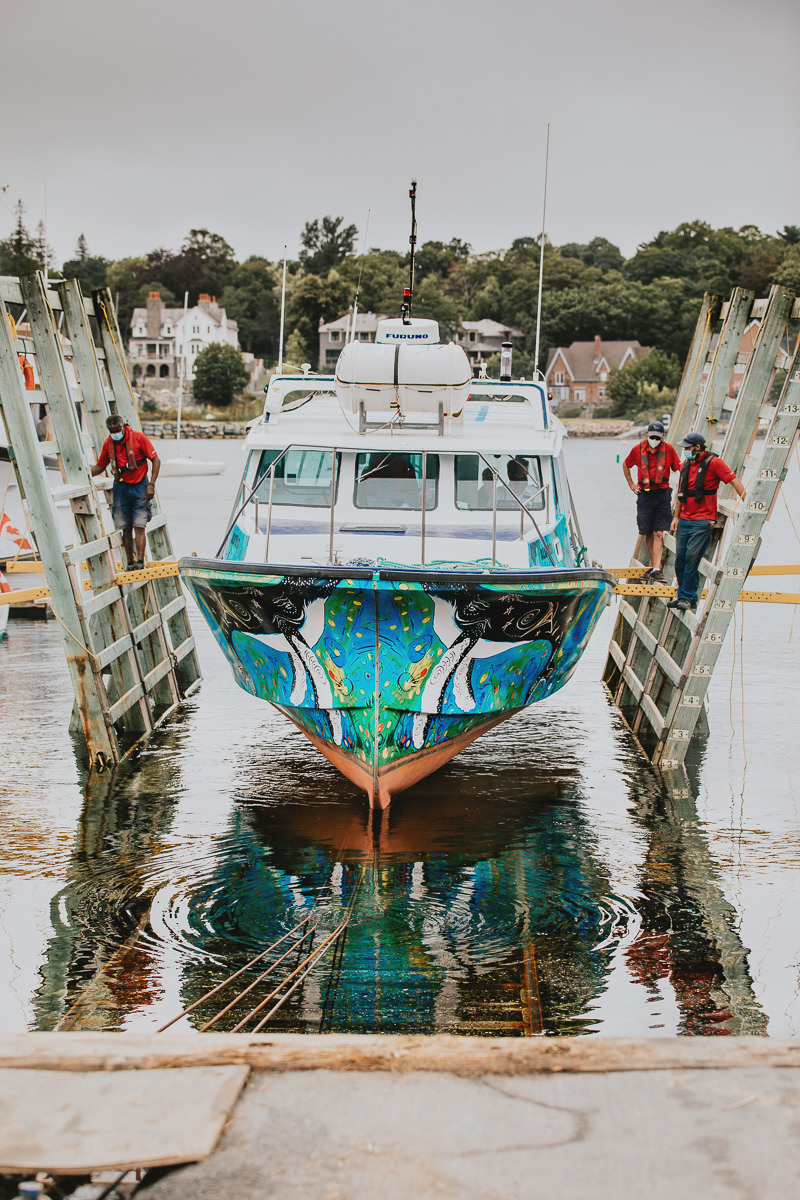 Living up to its name—"Glas" being Gaelic for "green"—Glas Ocean Electric (GOE) has taken a giant step forward in reducing the environmental impact of the world's hundreds of thousands of small fishing boats and similar working vessels. By developing innovative technology that can provide a practical flexible-fuel electrification option, the company is showing how to wean smaller boats off fossil fuels.
"Huge vessels such as cruise ships get much attention when it comes to emissions reduction. Small working boats tend to be overlooked in this regard, yet there are so many of them that they can collectively make a huge negative impact on air quality and the marine environment," explained GOE company founder and president Sue Molloy. "Our goal is to help reduce those impacts in a way that makes financial sense, too."
GOE's innovation is an effective and convenient lithium-ion battery-powered electric motor kit that can be easily installed in new or retrofitted in existing boats. The kit allows vessels to mainly run on cleaner electric power yet maintain the ability to switch to diesel when greater power is needed, such as moving out to a fishing area or returning home in the evening. Furthermore, they are building routes to a fast return on investment.
To bring this maritime vision to reality, Molloy and her team developed an innovative new electric propulsion system based on a 135kW Danfoss Editron electric motor and ED-DT250 controller system. The EDITRON ‪system features a high performance, liquid-cooled, brushless permanent magnet motor and a full-featured digital signal processor controller. Providing up to 95% efficiency, the system includes the torque multiplying function of a single-speed transmission and proprietary software that optimally controls each individual component of the drivetrain.
The innovation, which promises to deliver a host of environmental benefits, is being demonstrated in the conversion of a 15-ton prototype vessel now owned by Sma'knis, a company led by a member of the indigenous Mi'kmaw community of Canada's Atlantic Provinces located in the Halifax area. Named Alutasi – "Fishing Guide" in the native language – the vessel is the first electric hybrid coastal passenger vessel approved to carry lithium ion batteries by Transport Canada. Alan Syliboy, a prominent Mi'kmaw artist, was selected to decorate the boat with a vibrant design that draws attention to the region and the boat's enhanced, environmentally friendlier mode of operation.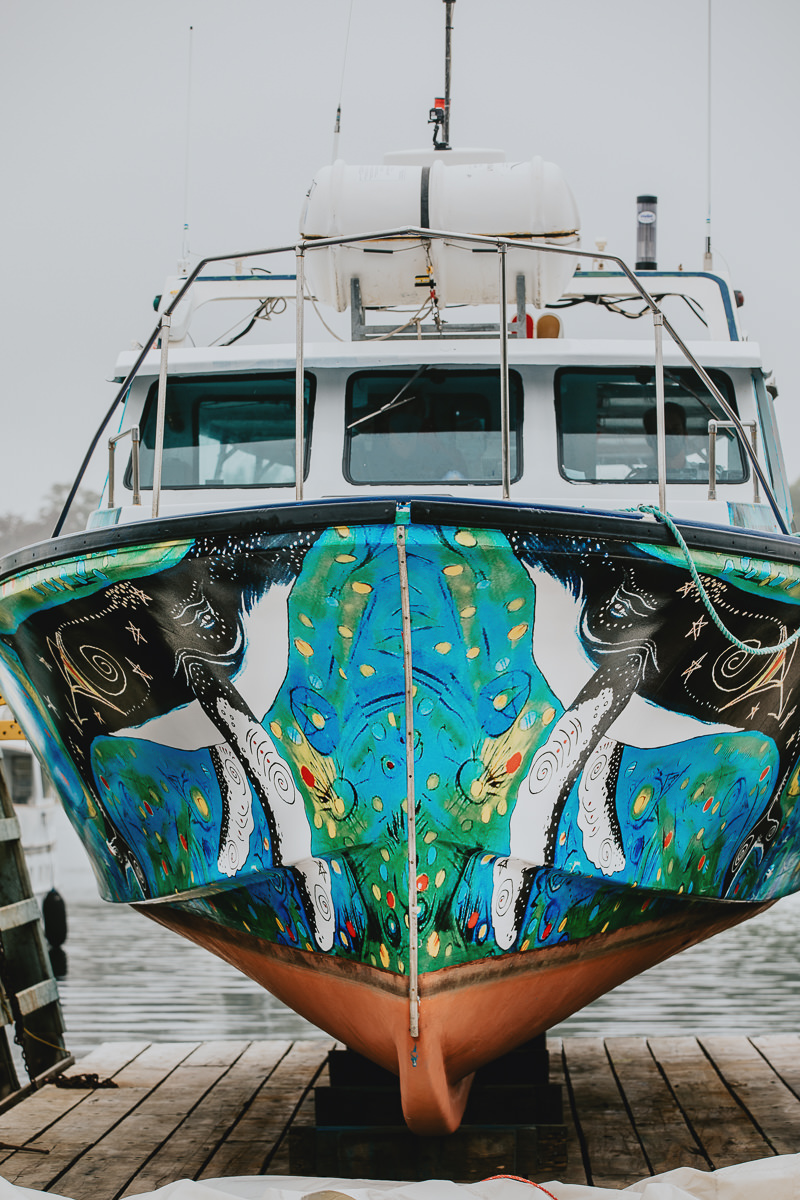 A host of environmental benefits
According to Molloy, understanding of emissions and pollution in the small vessel sector was not well documented or understood. So, her team started collecting data on maritime power usage and building the first database of this information to paint a truer picture of the extensive impacts of small boats on the marine environment. This effort has provided many real-world insights into how vessels are run, such as the distances they travel daily and how they use power. For example, it was found that small boats frequently engaged the diesel engines for relatively short hops simply to readjust their fishing positions, which provides a unique electrification opportunity.
"With these benchmark operational profiles showing how these vessels use power, we are confident that electrification with a GOE system like that of the Alutasi can reduce a boat's greenhouse gas (GHG) emissions by 40%," said Molloy.
There are also other types of pollution and environmental damage to humans and sea life that the GOE innovation will positively impact.
"Typically, the noise and vibrations generated by diesel engines would make it impossible for fishers to talk to each other while working unless they shouted. Rates of hearing loss among fishers were also 3-4 times that of the general population, while the constant vibrations left them even more fatigued at the end of the day," explained Molloy. "When the fishers we invited went out on the Alutasi for the first time, they loved it. They could have a clear conversation and see the opportunity to come home less exhausted which leads to real improvements in working conditions and increased productivity and quality of life."
What's good for human health is good for ocean health, too, with the reduction in boat noise expected to reduce stress on surrounding sea creatures. This is especially true for whales, dolphins and other mammals that use sound to communicate and find food that seem to be detrimentally impacted by the high decibel interference.
"We made the system as quiet as possible, using a belt system instead of a chain system," said Molloy. "We have seen a reduction in underwater radiated noise pressure of upwards of 80%."
The GOE project was the 2021 Recipient of the (Nova Scotia) Lieutenant Governor's Award for Excellence in Engineering. This annual award is given to a project that shows creative accomplishment in applying engineering principles and excellence in engineering design, plus demonstrates a high quality of professional engineering standards. The project was also praised for showing economic benefit and highlighting Nova Scotian leadership in the practice of engineering.
Strong support from Danfoss Editron
To create this innovative new maritime electrical propulsion system, GOE broke new ground, building components and creating the design to integrate an electric battery with the motor.
Small size and weight for both the battery and the motor were vital, as the system had to fit into the existing footprint under the deck and not add too much weight to the boat. The diesel engine and electric propulsion system share a shaft but otherwise function completely separately. Molloy notes that an immediate benefit of working with Danfoss Editron was that its system was not only well-proven in automotive transportation applications but is half the size and a third lighter than the incumbent motor. According to Molloy, these characteristics were highly significant to meeting the project's goals.
However, as much as Danfoss Editron's advanced technology helped GOE succeed, it was the company's dedication that Molloy believes was even more valuable to her organization.
"We would not have been able to accomplish this project without the ongoing, expert and enthusiastic support we received from Danfoss Editron," she explained. "If they had just sold us the motor and went away, this project would not have worked. We needed to customize the operation of the motor to see how it would best work in the system we were creating. As we were machining new components and breaking new ground, we had many questions about how their motors might work with other components and in certain situations. For example, how would the motor react when going from full forward to full reverse, something you might need to do in a boat but never in a car. Danfoss Editron's experts were very responsive and always provided smart, helpful, detailed answers."
Danfoss Editron also provided valuable assistance on the regulatory side, helping GOE perform the intricate and arduous, yet vital, safety and performance testing needed to get the necessary approvals from regulatory bodies such as Transport Canada.
"Danfoss Editron's positivity, enthusiasm and cooperation were evident as soon as they came on board the project," noted Molloy. "The team shared our vision and were excited about the environmental contribution that this project was making, and they worked as hard as we did to help make it succeed."
The effort has a high potential for significant environmental as well as business success. With the Alutasi successfully in operation, GOE has set its sights on proactive expansion, as interest in the electrification kits from boat manufacturers and operators is expected to accelerate quickly.
"Once we get the kits in mass production, I hope to see around 2,000 boats with the system in two years, rising to potentially 10,000 in five years. If we can convert 15,000 boats to hybrid electric operation, we can drop emissions in the region by some 400,000 tons of CO2 a year," said Molloy. "And with Danfoss Editron supporting us, I know that this is a very reachable goal that will make a healthy dent in the issues faced by the oceans and the living things that depend on it—which, really, is all of us."