Tackling marine emissions
The Taiwanese port city of Kaohsiung relies on its marine network to transport machined goods across its bustling harbor. It is the thirteenth largest in the world. Kaohsiung is typical of many harbor cities in Asia, where diesel ferries are a necessary part of life.
Yet this activity comes at a cost, with emissions from energy intensive ferries and heavy industries contributing to local air pollution. In nearby Hong Kong, air pollution kills an estimated 3,200 people every year.
There is a wider drive to improve air quality. Therefore, the Kaohsiung City Government tasked Taiwan's Ship reducing emissions from its ferry fleet. They included Ocean Industries R&D Center (SOIC) as well to help.
Replacing diesel with electricity
SOIC required an efficient and cost-effective solution for reducing ferry emissions and decided that a hybrid and electric power system was the best solution.
A major challenge for the new system was ensuring that it generated the required power to meet demand. Replicating the electric systems commonly used in large ships was not an option. The reason was that their bulky AC generation systems are unsuitable for small passenger ferries. SOIC needed a more manageable energy generation system that was smaller, lighter and yet robust.
Custom electrification solutions
Danfoss worked with SOIC to electrify a vessel on the popular Cijian Island passenger ferry route. It transports eight million passengers every year along the 650 meter route.
Launching from berth every 15 minutes, the 100-tonne, 23 meter-long Ferry Happiness transports 15,000 passengers every day using two 300HP diesel engines.
The Danfoss solution replaces the diesel engines with two Danfoss EM-PMI electric motors. They have synchronous reluctance-assisted permanent magnet technology – a smaller and more manageable solution than a diesel engine.
The drive power of the motors was then delivered using Danfoss EC-C1200 converters. One EC-C1200 converter was used as the DCDC-converter. It is used to control the discharging and charging of the Lithium Iron Phosphate battery during operation. Another converter was used as the active front end (AFE) to charge the battery. That was done directly from the city's utility grid or from the ferry's existing diesel generators. So the ferry can be charged from the utility grid or can draw backup power from the diesel generators. The ferry's propulsion motors are also driven with separate EC-C1200 converters acting as motor inverters.
To achieve this, a Danfoss EC-C1200 converter was combined with sophisticated software to coordinate power flow. This means the EC-C1200 can perform different power conversion tasks. These are controlled by active load sharing technology from the power management system. 
This single-component approach meant it was straightforward to retrofit the existing diesel engines. It reduced the size of the space required by the engine, and simplified spare part management.
Less fuel, reduced noise, fewer emissions and lower costs
In 2017, Danfoss delivered Asia's first hybrid electric ferry, Ferry Happiness. And since then, it has become a model of excellence in e-transport in the region.
The new e-ferry is capable of a top speed of nine knots. Its Danfoss system ensures pure electric cruising for half the ferry's operation time. This can easily be higher thanks to fast shore charging.
It is estimated that the electric power will save more than 25,000lt of fuel every year. Lowering diesel consumption also prevents the release of harmful emissions which will help to improve air quality in the region.
To date, the e-ferry has consumed around a third (33%) less fuel since energy now comes from shore power charging. It is estimated that the fuel saving could be cut by as much as a half. This is in comparison with the original diesel-powered ferry. Other benefits of the hybrid system include reduced operational noise and lower maintenance costs.
Following the success of this project, the Kaohsiung City Government plans to retrofit the rest of its diesel fleet. This is leading to reduce pollution levels around Taiwan's largest harbor.
Asia's first hybrid electric ferry captured headlines around the world. Especially in marine media: Marine Insight, Marine Link, Ship Technology, Ship & Bunker as well as Business Green, Greenport, Charged EVs and Green Style.
Head of SOIC's System Development ChihHung Lin says:
"The Kaohsiung ferries are a key part of the public transport, often playing the role that buses do elsewhere. Taiwan's 'Harbour Capital' has long suffered from heavy air pollution and was double Taiwan's national average for carbon dioxide levels a few years ago. In response, the Kaoshiung City Government committed to cleaning up its fleet. They are currently considering the possibility of replacing all 11 of its vessels with this new type of e-ferry. All of this has been made possible with the expertise of the Danfoss marine team in delivering custom electric drivetrain solutions."
Danfoss Editron Vice President Kimmo Rauma says:
"After Kaohsiung realized that emissions from its diesel ferry fleet were a major concern for the city, we were pleased to work with SOIC to deliver a unique solution. The expertise of our dedicated marine team has assisted in swapping noisy, dirty and expensive diesel for quieter hybrid electric power, with no compromise on power. We look forward to further collaboration with SOIC to electrify the rest of its fleet and other e-ferry projects across Asia."
| | |
| --- | --- |
| Project | Ferry Happiness |
| Customer | Taiwan's Ship and Ocean Industries R&D Center (SOIC) |
| Location | Kaohsiung, Taiwan |
| Scope | Electrification of drivetrain and system upgrade for 100-tonne, 23m-long passenger ferry vessel powered by two 300HP diesel engines. |
| Solution | Replace diesel with two Danfoss EM-PMI motors with synchronous reluctance-assisted permanent magnet technology. |
| Power | Power delivered from batteries or AC generators via Danfoss EC-C1200 inverters, converted to a variable AC current to control propulsion. These include a fixed 400V AC output powering on-board microgrid, electronic devices or multiple DC voltage requirements. |
| Benefits | Estimated savings of 25,000lt of fuel annually, greatly reduced associated greenhouse and particulate emissions, reduced operating noise, reduced ongoing maintenance costs. |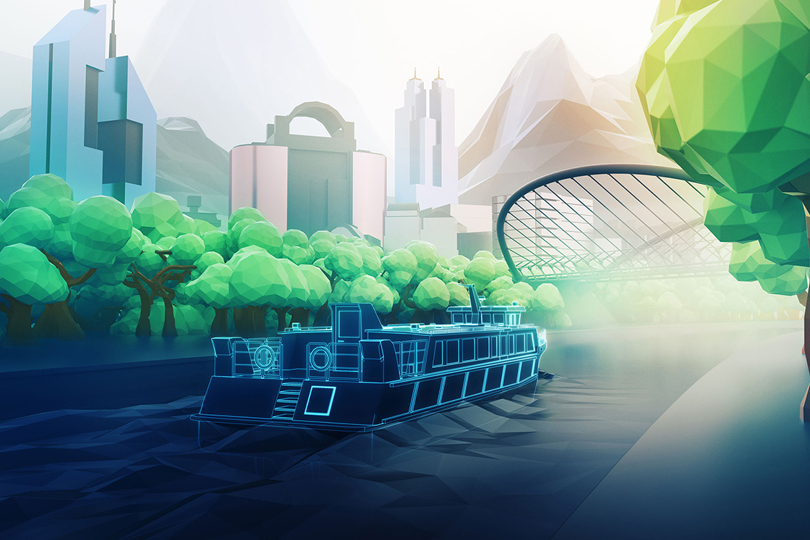 Danfoss Editron
Danfoss Editron is taking fuel savings and energy efficiency to the next level. We specialize in hybrid and electric powertrain systems for marine, off-highway and commercial transport markets. Our mission is to end pollution through electrification.