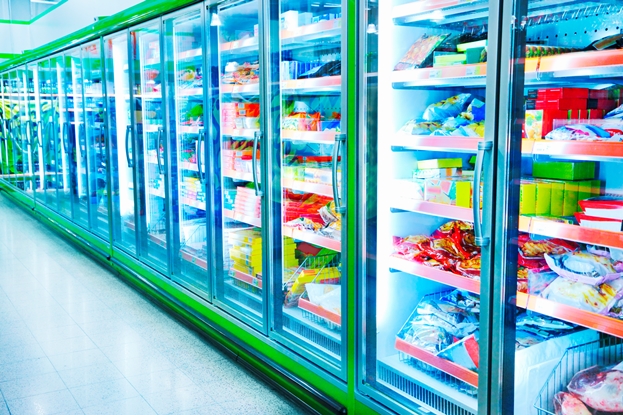 Facing-ever increasing demands for higher energy efficiency and lower global warming potential refrigerants, the food industry is witnessing a transition away from a traditional centralized approach to the control of refrigerated cases toward a decentralized—or distributed—approach. This method relies on individual controls—case controllers—placed on each refrigerated case that work independently and ensure the most efficient operation of the case, while helping to guarantee food safety and quality.
Control, one case at a time
Until recently, supermarkets relied on a single central control device to monitor and manage multiple refrigerated units in a store. However, the introduction of case controllers changed this approach, first in Europe and later, in the early 1990s, in the United States, as energy prices climbed and the food industry became better acquainted with the proven technology.
Installed on individual refrigerated units, case controllers provide a single point of control for all aspects of a refrigerated unit. The controllers incorporate a processor with defined algorithms, using inputs (sensors) and outputs (relays) and solid-state electronic expansion valves. Settings are programmed directly into the case controller, giving operators the ability to manage the electronic expansion valves and control lights, fans, defrost and anti-sweat heaters. The controls also offer night setback features, dual temperature switching, walk-in control and cleaning functions. All information about the case is shared with the system manager for remote or local viewing of the operation.
Today, the popularity of case controllers continues to grow. The increasing cost of energy, along with the number of experienced technicians, has improved the return on investment and reduced payback time associated with case controllers. And because the controllers contribute to lower energy consumption, they also support a growing interest in reducing carbon emissions and embracing green technology.