For the commercial food service and related industries – which rely daily on large quantities of ice for food displays, safety, preparation, beverages and more – the ability to reliably and cost efficiently produce ice can have an impact on a business' operation. Between 2005 and 2010, Manitowoc Ice, Inc., the Wisconsin-based manufacturer of commercial ice machines, became interested in taking their product portfolio one step further and turned to Danfoss with the idea to design an ice machine that would improve customers' sustainability efforts by operating on natural refrigerants.
The collaboration with Danfoss led to the development of two new models within Manitowoc's Indigo Series and two Q-Series under-counter units that are cooled by R290, or propane, which Manitowoc introduced in mid-2011. The use of an environmentally friendly hydrocarbon refrigerant enables Manitowoc to offer customers a product that has zero ozone depletion potential (ODP) and low global warming potential (GWP), which also improves energy efficiency and reduces operating costs.
Fuelled by increasing market interest in environmentally friendly systems and practices, and a goal of preparing the global market for greater hydrocarbon acceptance, the first collaborative project was Manitowoc's 500-pound ice maker. To convert the ice maker to natural refrigerants, Danfoss replaced a compressor using R-404a, a hydrofluorocarbon (HFC), with a new compressor designed for R290, a hydrocarbon (HC). 
Knowing it would also help reduce energy use, Danfoss chose to install one of its S Series compressors (SC18CNX) for R290, which features a reliable, compact design and a motor with specially-optimized valves and internal motor protection. The SC compressor offers high cooling capacities, low noise levels and low energy consumption at high ambient temperatures (113o F). 
To further improve the efficiency of the ice makers, Manitowoc installed a specially-designed Danfoss TU thermostatic expansion valve, which helps to optimize the charge and regulate the injection of the refrigerant. Manitowoc also replaced the condenser with a new Danfoss microchannel condenser.

"This project was a tremendous step forward in working with alternative refrigerants," commented Greg Erickson, field marketing manager at Manitowoc Ice, Inc. "The decision to offer units operating R290 was primarily driven by some of our large accounts' internal demand to become more environmentally friendly. We are currently looking at other natural refrigerants like CO2, but R290 provides the great energy efficiency benefits that our customers are also demanding."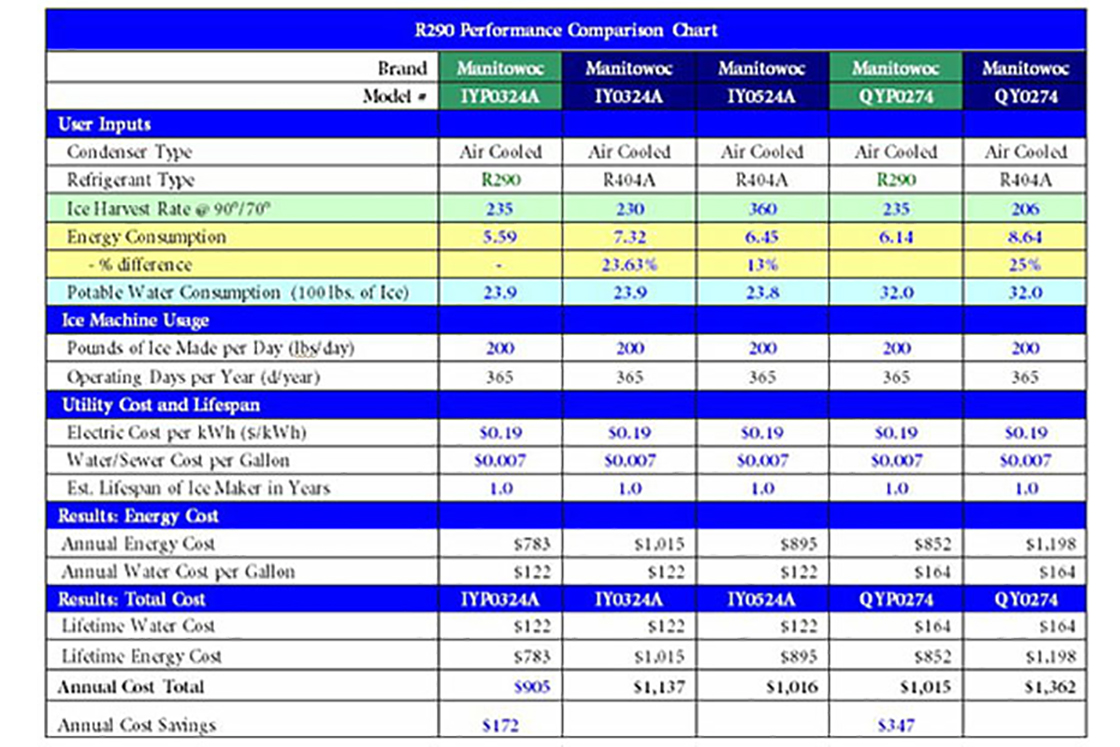 Typically, replacing R-404a with natural R290 causes production – the volume of ice harvest within each 24-hour period – losses up to 10%. However, by increasing compressor displacement with R290, reducing operating pressure with microchannel heat exchangers and optimizing component selection, Danfoss and Manitowoc were able to maintain ice production capacity of the R290 systems at the same level as R404a systems, while staying within the 150g charge limit.
Though the introduction of hydrocarbon refrigerant was first and foremost intended to create an environmentally friendly system promoting sustainable practices, the lower pressure ratio and discharge temperatures of R290 combined with the high efficiency compressor and components work together to save 20 to 30% more energy than comparable ice makers. This is a direct benefit to customers who are also motivated by a reduction in energy costs over time.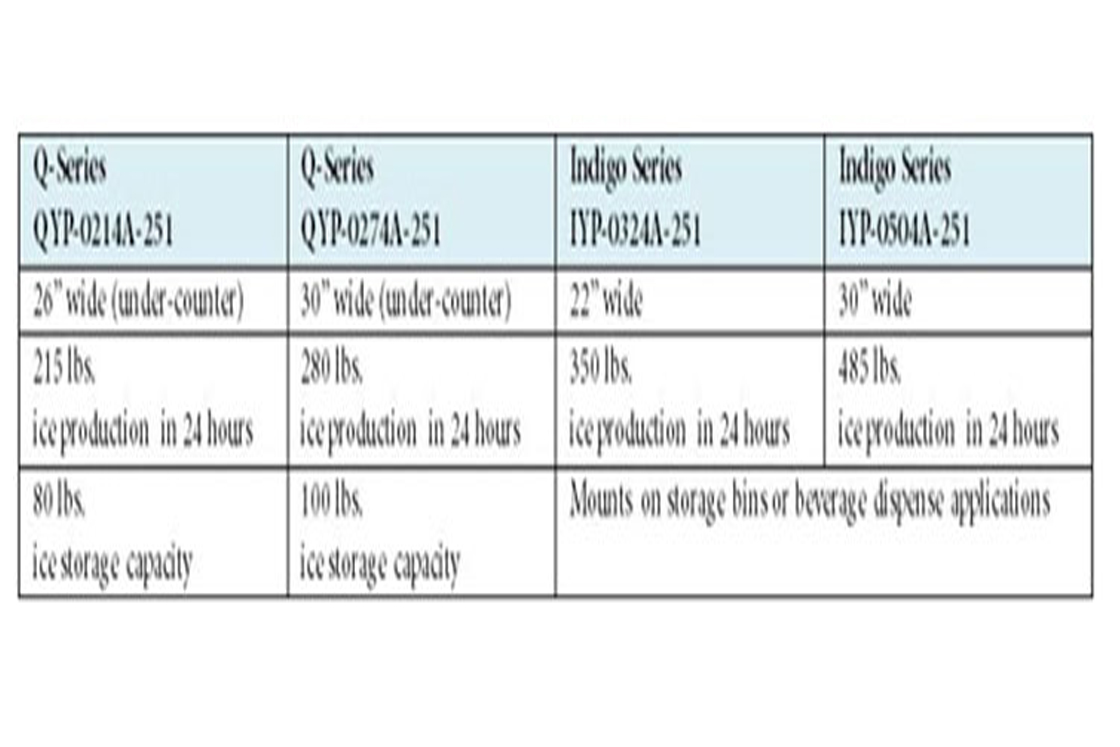 Local & Global Production
To date, the R290 Indigo Series ice makers are being manufactured for and sold to the European market. However, according to Erickson, Manitowoc is producing the R290 Indigo units at the company's facilities in Wisconsin and the Q-Series under-counter units in China. 
"Because of its readiness for natural refrigerants, we saw the European market as an opportunity to put a stake in the ground and showcase a proven technology. We believe the R290 ice makers will become much more relevant here in the United States over the coming years – and we'll be prepared with environmentally friendly and energy efficient ice makers when that day comes." 
Deploying these technologies in the U.S. market will, however, first require tackling a few large hurdles, including the modification of safety standards, which the industry hopes will happen in 2013. Only then can the SNAP approval process for R290 ice machines move forward – and only then can these low GWP, energy efficient hydrocarbon refrigeration systems begin to reshape the market and its environmental impact. 
Danfoss received Manitowoc's 2011 Technology Supplier of the Year award for their critical role in this project.