In 1937, an ice cube for a cold drink was a rarity and a real treat to enjoy. Today, the luxury of an ice cube is commonplace, thanks to the refining of refrigeration temperature and pressure control over the last 80 years. The Danfoss RT switch has always been part of this accelerated development and, this year, the durable, all-purpose switch celebrates its 80th birthday as a favorite in many industrial, marine, and refrigeration applications.
"It is amazing how an ingenious invention, contained in such a simple design, can have such a long-standing impact on industrial development. Back in 1937, when the founder of Danfoss designed and produced the first RT switch, it was to support the tentative beginnings of the automatic control of heating and cooling systems. He had no idea that his invention would still be flourishing in the 21st century. Looking ahead, it seems there will still be a market for the RT switches despite the continued emergence of new technologies," says product manager Krzysztof Lech. 

From day one, Danfoss RT has served a wide range of applications as a fail-safe solution, providing longer service life than any other standard control. The sturdy switch is available in nearly 100 variants, controlling temperatures that range from -60°C to 300°C and pressures from -1 to 30 bar.
Protect people and equipment with the safest solution of all
With today's automated solutions, reliable measurement of pressure and temperature is vital to protect people and equipment. The RT switch has an unrivalled track record of being the most accurate, robust, and durable component, performing flawlessly day-to-day, even under the harshest conditions.
The RT switch is used in numerous applications, ranging from light to heavy industry, including mobile and stationary engines. The sealed construction of the RT switch makes it well-suited to withstand moist and dusty environments, and special RT variants are designed to withstand shocks and vibrations. The RT-E ATEX variant can even be used in explosive zone 1 applications.
"The long history of the RT switch has allowed Danfoss to diversify the use of the switch and develop tailored variants for specific purposes and applications. Today, I think it is fair to say that the RT pressure and temperature controls are suitable for more applications than any other control," says product manager Krzysztof Lech.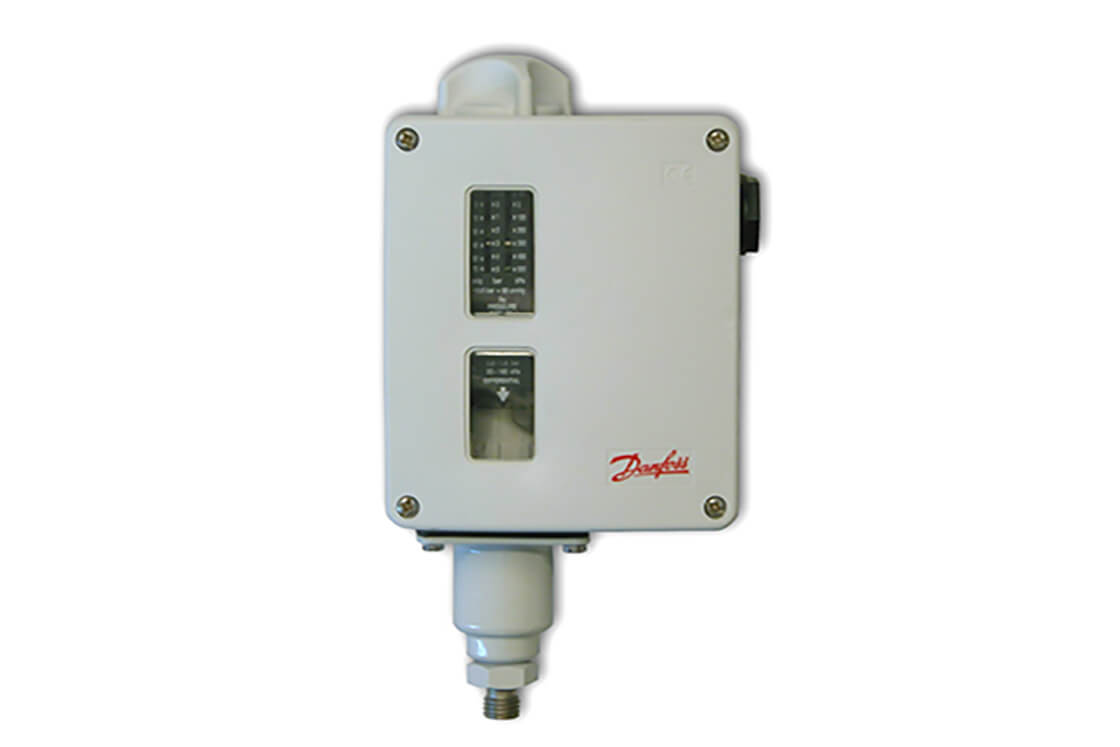 Keeping steam plants and engines running forever
RT pressure switches are crucial components in steam boiler plants and marine engines where safety and reliability come first. The safety pressure switches for steam boiler plants and engines are ideal for applications in which both safety and the financial consequences of operational stops are critical. The Danfoss RT switches are TÜV approved, available with marine approvals, and manufactured according to ISO/TS 16949 for maximum quality. Furthermore, the RTs are classified as Safety Integrity Level 2 (SIL2).
"Throughout the years, the RT switch has consistently found its way into new industries and applications. Due to its simple design and unmatched reliability, the RT remains a favorite in a large number of industries, from irrigation and water pumps to air compressors and district heating systems," says product manager Krzysztof Lech.
Keeping homes warm and freezers cold
The RT thermostat was born in the late 1930s, around the time that the market for cooling and freezing appliances started to grow. At the same time, the oil and gas burners used to heat private homes began to feature new automatic indoor temperature control options.
From their humble start, the RT thermostats have seen consistent improvement and wider usage over the past 80 years. Today, the RT thermostat series has developed into one of the widest ranges in the market, comprising a large variety of room temperature and remote sensor temperature switches.
"Optimized for many different applications, the Danfoss RT temperature switches all share the same basic qualities of outstanding accuracy and durability. They are found across industries from farming to marine and they are trusted in some of the world's most challenging applications," says product manager Krzysztof Lech.