Available in many sizes
Our aluminum gear motors are the ideal choice for a wide range of applications - from small to medium and large off-highway vehicles.
Available in three different frame sizes our aluminum gear motors feature high strength extruded aluminum housings, an aluminum rear cover and a front flange for a maximum strength and a low weight.
A broad variety of configurations are available with European or SAE flange options to meet widely varying machine requirements.
Our gear motors are designed to achieve significant improvement in overall efficiency. Use them to power your work functions and see your energy consumption reach a new low.
Our fixed displacement aluminum gear motors put your machine to work – providing maximum strength at minimum weight in the right frame size for your requirements.
A high efficiency and a light weight aluminum construction
Pressure balanced bearing blocks for maximum performance across operating range
Teflon® coated bushings extend life under extreme temperature, pressure and speed conditions
One piece gears minimize deflection under pressure
An excellent starting torque


 
 
Frame size
Frame size
Frame size
Frame size
Frame size
Frame size
Frame size
Frame size
 
 
2,6
3,2
3,8
4,3
6,0
7,8
010
012
Displacement
cm3/rev
[in3/rev]
2.62
[0.158]
3.14
[0.195]
3.66
[0.231]
4.19
[0.262]
5.89
[0.366]
7.59
[0.463]
9.94
[0.607]
12
[0.732]
SKM1NN
(a standard, bidirectional motor)
 
 
 
 
 
 
 
 
 
Peak pressure
bar
[psi]
270
[3915]
270
[3915]
270
[3915]
270
[3915]
250
[3625]
220
[3190]
180
[2610]
150
[2175]
Rated pressure
bar
[psi]
250
[3625]
250
[3625]
250
[3625]
250
[3625]
230
[3335]
200
[2900]
160
[2320]
130
[1895]
Back pressure
bar
[psi]
250
[3625]
250
[3625]
250
[3625]
250
[3625]
230
[3335]
200
[2900]
160
[2320]
130
[1895]
Min speed
min-1
(rpm)
1000
1000
1000
800
800
800
800
800
Max speed
min-1
(rpm)
4000
4000
3000
3000
2000
2000
2000
2000
SKU1NN
(a standard, unidirectional motor)
 
 
 
 
 
 
 
 
 
Peak pressure
bar
[psi]
270
[3915]
270
[3915]
270
[3915]
270
[3915]
250
[3625]
220
[3190]
170
[2465]
140
[2030]
Rated pressure
bar
[psi]
250
[3625]
250
[3625]
250
[3625]
250
[3625]
230
[3335]
200
[2900]
150
[2175]
120
[1740]
Min speed
min-1
(rpm)
1000
1000
1000
800
800
800
800
800
Max speed
min-1
(rpm)
4000
4000
3000
3000
2000
2000
2000
2000
SNU1NN 
(a standard, unidirectional motor)
 
 
 
 
 
 
 
 
 
Peak pressure
bar
[psi]
270
[3915]
270
[3915]
270
[3915]
270
[3915]
190
[2755]
180
[2610]
-
-
Rated pressure
bar
[psi]
250
[3625]
250
[3625]
250
[3625]
250
[3625]
170
[2465]
160
[2320]
-
-
Min speed
min-1
(rpm)
1000
1000
1000
800
800
800
-
-
Max speed
min-1
(rpm)
4000
4000
3000
3000
2000
2000
-
-
 All
 
 
 
 
 
 
 
 
 
Weight
kg
[lb]
1.02
[2.26]
1.14
[2.51]
1.18
[2.60]
1.20
[2.65]
1.30
[2.87]
1.39
[3.06]
1.55
[3.42]
1.65
[3.64]
Moment of inertia of rotating components
x 10-6 kg•m2
[x 10-6 lbf•ft2]
5.1
[121.0]
5.7
[135.2]
6.4
[151.9]
7.1
[168.5]
9.3
[220.7]
11.4
[270.5]
14.6
[339.4]
17.1
[405.8]
1kg•m2 = 23.68 lb•ft2
A high efficiency and a light weight aluminum construction
Pressure balanced bearing blocks for maximum performance across operating range
Teflon® coated bushings extend life under extreme temperature, pressure and speed conditions
One piece gears minimize deflection under pressure
An excellent starting torque


 
 
Frame size
Frame size
Frame size
Frame size
Frame size
Frame size
Frame size
Frame size
 
 
6,0*
8,0
011
014
017
019
022
025
Displacement
cm3/rev
[in3/rev]
6.0
[0.36]
8.4
[0.513]
10.8
[0.659]
14.4
[0.879]
16.8
[1.025]
19.2
[1.171]
22.8
[1.391]
25.2
[1.538]
SNM2NN
(bidirectional motor)
 
 
 
 
 
 
 
 
 
Peak pressure
bar
[psi]
280
[4060]
280
[4060]
280
[4060]
280
[4060]
260
[3770]
230
[3335]
200
[2900]
180
[2610]
Rated pressure
bar
[psi]
250
[3625]
250
[3625]
250
[3625]
250
[3625]
230
[3335]
210
[3045]
180
[2610]
160
[2320]
Outlet back pressure
bar
[psi]
250
[3625]
250
[3625]
250
[3625]
250
[3625]
230
[3335]
210
[3045]
180
[2610]
160
[2320]
Min speed
min-1
(rpm)
700
700
700
700
500
500
500
500
Max speed
min-1
(rpm)
4000
4000
4000
4000
4000
3500
3500
3500
SNU2NN
(unidirectional motor)
 
 
 
 
 
 
 
 
 
Peak pressure
bar
[psi]
-
280
[4060]
280
[4060]
280
[4060]
260
[3770]
230
[3335]
200
[2900]
180
[2610]
Rated pressure
bar
[psi]
-
250
[3625]
250
[3625]
250
[3625]
230
[3335]
210
[3045]
180
[2610]
160
[2320] 
Min speed
min-1
(rpm)
-
600
600
600
500
500
500
500
Max speed
min-1
(rpm)
-
3500
3500
3500
3000
3000
3000
2500
SKU2NN
(unidirectional motor)
 
 
 
 
 
 
 
 
 
Peak pressure
bar
[psi]
-
280
[4060]
280
[4060]
280
[4060]
260
[3770]
230
[3335]
200
[2900]
180
[2610]
Rated pressure
bar
[psi]
-
250
[3625]
250
[3625]
250
[3625]
230
[3335]
210
[3045]
180
[2610]
160
[2320] 
Min speed
min-1
(rpm)
-
600
600
600
500
500
500
500
Max speed
min-1
(rpm)
-
3500
3500
3500
3000
3000
3000
2500
All
(SNM2NN, SNU2NN, SKU2NN)
 
 
 
 
 
 
 
 
 
Weight
kg
[lb]
2.4
[5.3]
2.5
[5.5]
2.7
[5.5]
2.9
[6.3]
3.0
[6.5]
3.1
[6.7]
3.2
[7.0]
3.3
[7.3]
Moment of inertia of rotating components
x 10-6 kg•m2
[x 10-6 lbf•ft2]
26.5
[629]
32.4
[769]
38.4
[911]
47.3
[1122]
53.3
[1265]
59.2
[1405]
68.1
[1616]
74.1
[1758]
Theoretical flow at max speed
l/min
[US gal/min]
24
[6.3]
33.6
[8.9]
43.2
[11.4]
50.4
[13.3]
50.4
[13.3]
57.6
[15.2]
68.4
[18.0]
75.6
[20.0]
1kg•m2 = 23.68 lb•ft2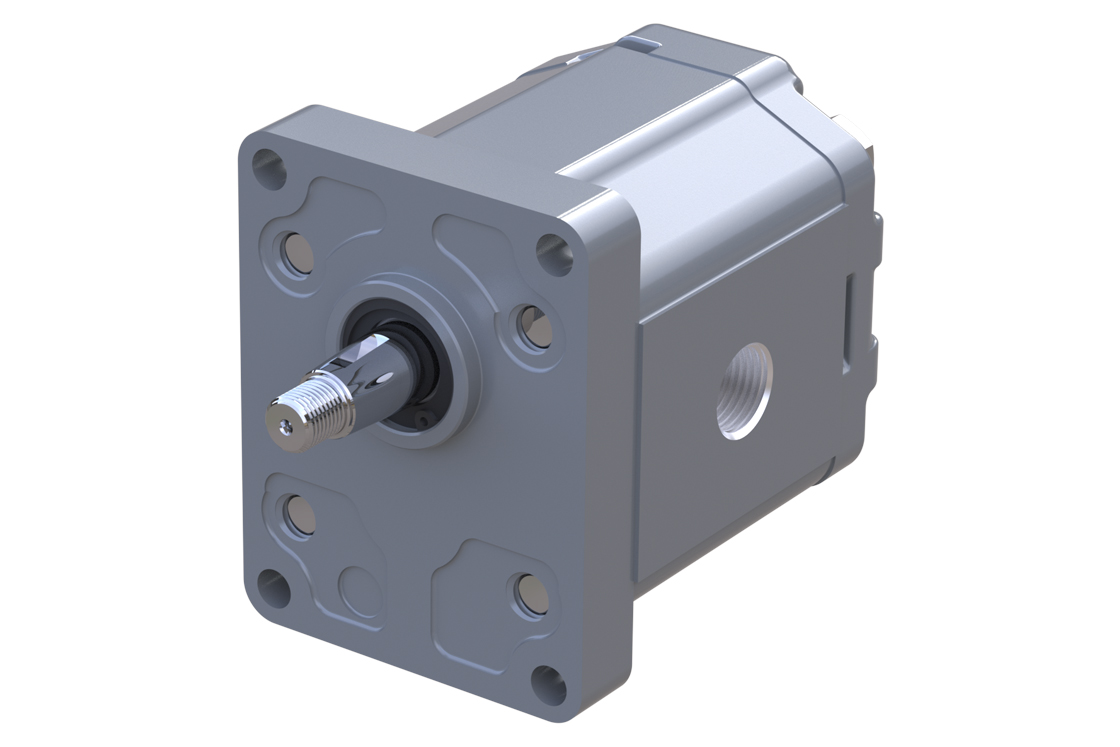 A high efficiency and a light weight aluminum construction
Pressure balanced bearing blocks for maximum performance across operating range
Teflon® coated bushings extend life under extreme temperature, pressure and speed conditions
One piece gears minimize deflection under pressure
An excellent starting torque 


 
 
Frame size
Frame size
Frame size
Frame size
Frame size
Frame size
Frame size
Frame size
Frame size
Frame size
 
 
022
026
033
038
044
048
055
063
075
090
Displacement
cm3/rev
[in3/rev]
22.1
[1.35]
26.2
[1.60]
33.1
[2.02]
37.9
[2.32]
44.1
[2.69]
48.3
[2.93]
55.2
[3.36]
63.4
[3.87}
74.4
[4.54]
88.2
[5.38]
SNU3NN (unidirectional)
 
 
 
 
 
 
 
 
 
 
 
Peak pressure
bar
[psi]
270
[3915]
270
[3915]
270
[3915]
270
[3915]
270
[3915]
250
[3625]
230
[3336]
210
[3045]
190
[2755]
170
[2465]
Rated pressure
bar
[psi]
250
[3625]
250
[3625]
250
[3625]
250
[3625]
250
[3625]
230
[3336]
210
[3045]
190
[2755]
170
[2465]
150
[2175]
Min speed
min-1
(rpm)
800
800
800
800
800
800
800
800
800
800
Max speed
min-1
(rpm)
2500
2500
2500
2500
2300
2300
2300
2300
2100
2100
SNM3NN (bidirectional) motor in parallel
 
 
 
 
 
 
 
 
 
 
 
Peak pressure
bar
[psi]
270
[3915]
270
[3915]
270
[3915]
270
[3915]
270
[3915]
250
[3625]
230
[3336]
210
[3045]
190
[2755]
170
[2465]
Rated pressure
bar
[psi]
250
[3625]
250
[3625]
250
[3625]
250
[3625]
250
[3625]
230
[3336]
210
[3045]
190
[2755]
170
[2465]
150
[2175]
Min speed
min-1
(rpm)
800
800
800
800
800
800
800
800
800
800
Max speed
min-1
(rpm)
2500
2500
2500
2500
2300
2300
2300
2300
2100
2100
SNM3NN (bidirectional) motor in series
 
 
 
 
 
 
 
 
 
 
 
Peak pressure
bar
[psi]
250
[3625]
250
[3625]
250
[3625]
250
[3625]
250
[3625]
230
[3336]
210
[3045]
190
[2755]
170
[2465]
150
[2175]
Rated pressure
bar
[psi]
250
[3625]
250
[3625]
250
[3625]
250
[3625]
250
[3625]
230
[3336]
210
[3045]
190
[2755]
170
[2465]
150
[2175]
Min speed
min-1
(rpm)
800
800
800
800
800
800
800
800
800
800
Max speed
min-1
(rpm)
2500
2500
2500
2500
2300
2300
2200
2100
2100
2100
All (SNU3NN, SNM3NN)
 
 
 
 
 
 
 
 
 
 
 
Weight
kg
[lb]
6.8
[15.0]
6.8
[15.0]
7.2
[15.8]
7.3
[16.1]
7.5
[16.5]
7.6
[16.8]
7.8
[17.3]
8.1
[17.9]
8.5
[18.7]
8.9
[19.6]
Moment of inertia of rotating components
x 10-6 kg•m2
[x 10-6 lbf•ft2]
198
[4698]
216
[5126]
246
[5837
267.2
[6341]
294.2
[6981]
312.2
[7408]
342.3
[8123]
378.3
[8977]
426.4
[10118]
486.5
[11545]
1kg•m2 = 23.68 lb•ft2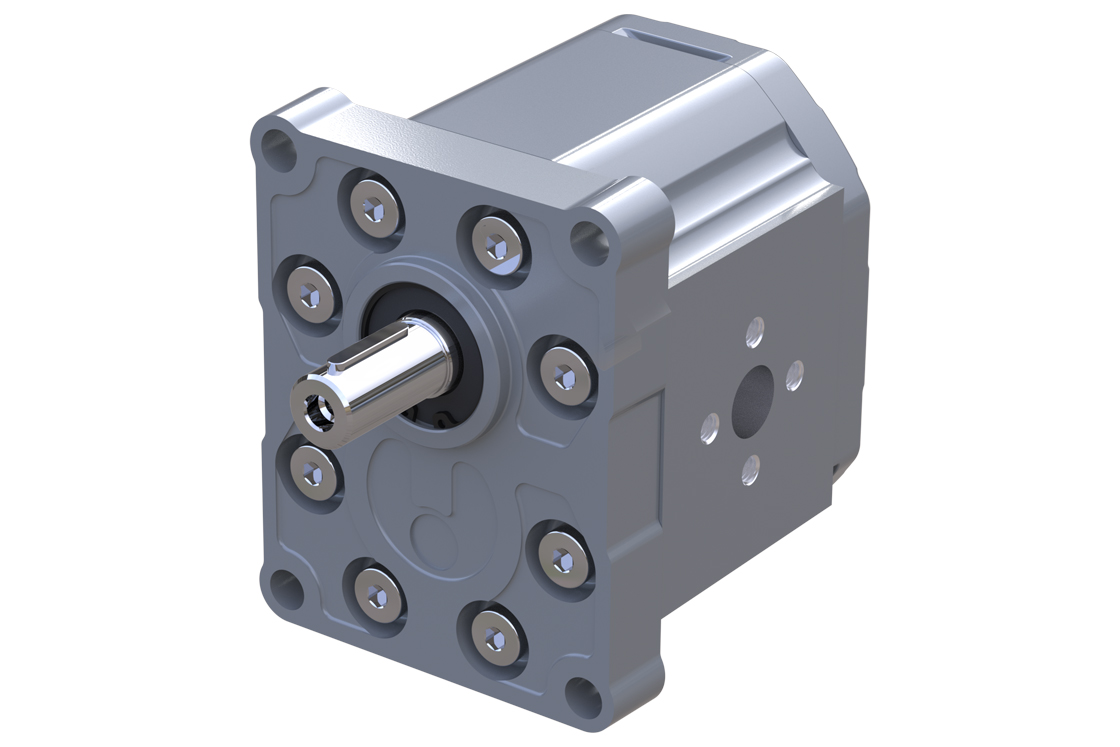 Aluminum fan drive motor Gr 2
An integrated dust cover to extend product life by preventing dirt ingression across the shaft seal
An enhanced gear teeth machining and special coating to reduce noise levels to boost operator comfort
EH proportional valve integrated in the rear casting to provide more uniform performance over the entire operating temperature range
PLUS+1® Compliant technology to ensure all electro-hydraulic products integrate seamlessly in a customized control system


Frame size
 
8,0
011
014
017
019
022
025
Displacement
cm3/rev
[in3/rev]
8.4
[0.51]
10.8
[0.66]
14.4
[0.88]
16.8
[1.03]
19.2
[1.17]
22.8
[1.39]
25.2
[1.54]
Peak pressure
bar
[psi]
270
[3916]
270
[3916]
270
[3916]
250
[3626]
230
[3336]
210
[3046]
180
[2610]
Rated pressure
bar
[psi]
250
[3626]
250
[3626]
250
[3626]
230
[3336]
210
[3046]
180
[2610]
160
[2320]
Back pressure
bar
[psi]
250
[3626]
250
[3626]
250
[3626]
230
[3336]
210
[3046]
180
[2610]
160
[2320]
Max speed
min-1 (rpm)
3500
3500
3500
3500
3200
3200
3200
Min speed
min-1 (rpm)
700
700
700
500
500
500
500
Weight
kg
[lb]
3.2
[7.05]
3.75
[8.26]
3.9
[8.60]
4.05
[8.93]
4.15
[9.15]
4.3
[9.48]
4.4
[9.70]
Moment of inertia of
rotating components
x 10-6 kg•m2
[x 10-6 lb•ft2]
32.4
[769]
38.4
[911]
47.3
[1122]
53.3
[1265]
59.2
[1405]
68.1
[1616]
74.1
[1758]
1kg•m2 = 23.68 lb•ft2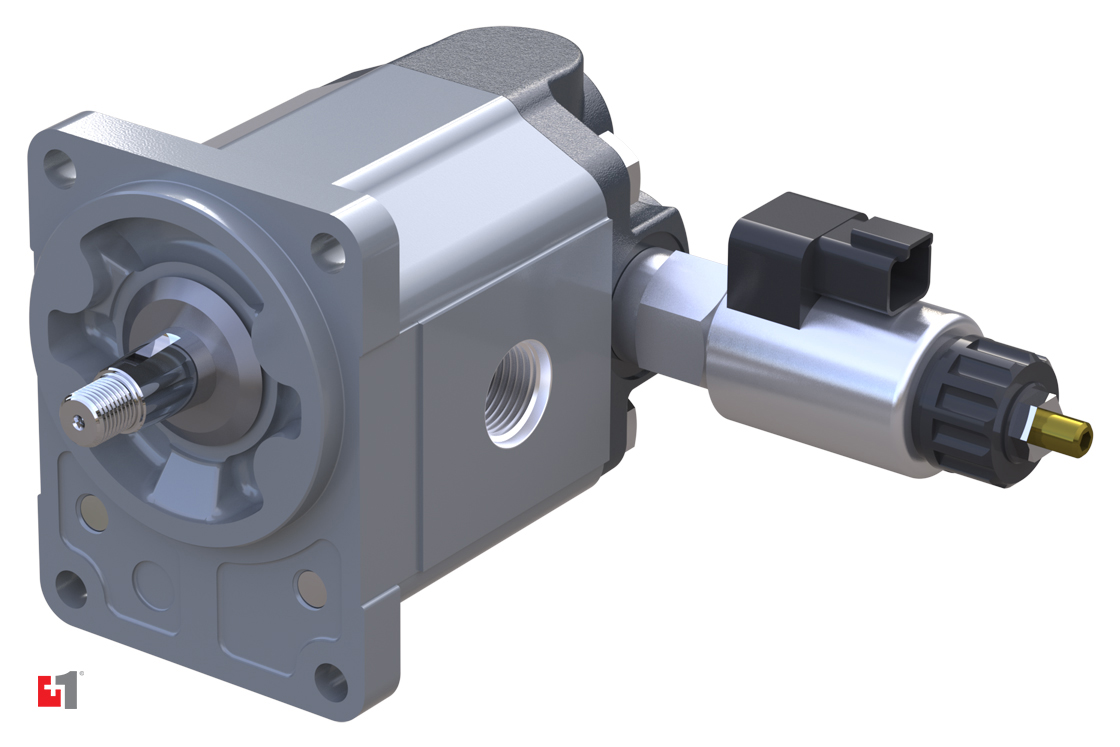 Aluminum fan drive motor Gr 3
An integrated dust cover to extend product life by preventing dirt ingression across the shaft seal
An enhanced gear teeth machining and special coating to reduce noise levels to boost operator comfort
EH proportional valve integrated in the rear casting to provide more uniform performance over the entire operating temperature range
PLUS+1® Compliant technology to ensure all electro-hydraulic products integrate seamlessly in a customized control system


Frame size
 
022
026
033
038
044
Displacement
cm3/rev
[in3/rev]
22.1
[1.34]
26.2
[1.60]
33.1
[2.02]
37.9
[2.31]]
44.1
[2.69]
Peak pressure
bar
[psi]
270
[3916]
270
[3916]
270
[3916]
270
[3916]
270
[3916]
Rated pressure
bar
[psi]
250
[3626]
250
[3626]
250
[3626]
250
[3626]
250
[3626]
Back pressure
bar
[psi]
250
[3626]
250
[3626]
250
[3626]
250
[3626]
250
[3626]]
Min speed
min-1 (rpm)
2500
2500
2500
2500
2300
Max speed
min-1 (rpm)
800
800
800
800
800
Weight
kg
[lb]
8.62
[19.0]
8.72
[19.23]
8.82
[19.45]
8.88
[19.58]
9.02
[19.89]
Moment of inertia of
rotating components
x 10-6 kg•m2
[x 10-6 lb•ft2]
198
[4699]
216
[5126]
246
[5838]
267.2
[6341]
294.2
[6981]
1kg•m2 = 23.68 lb•ft2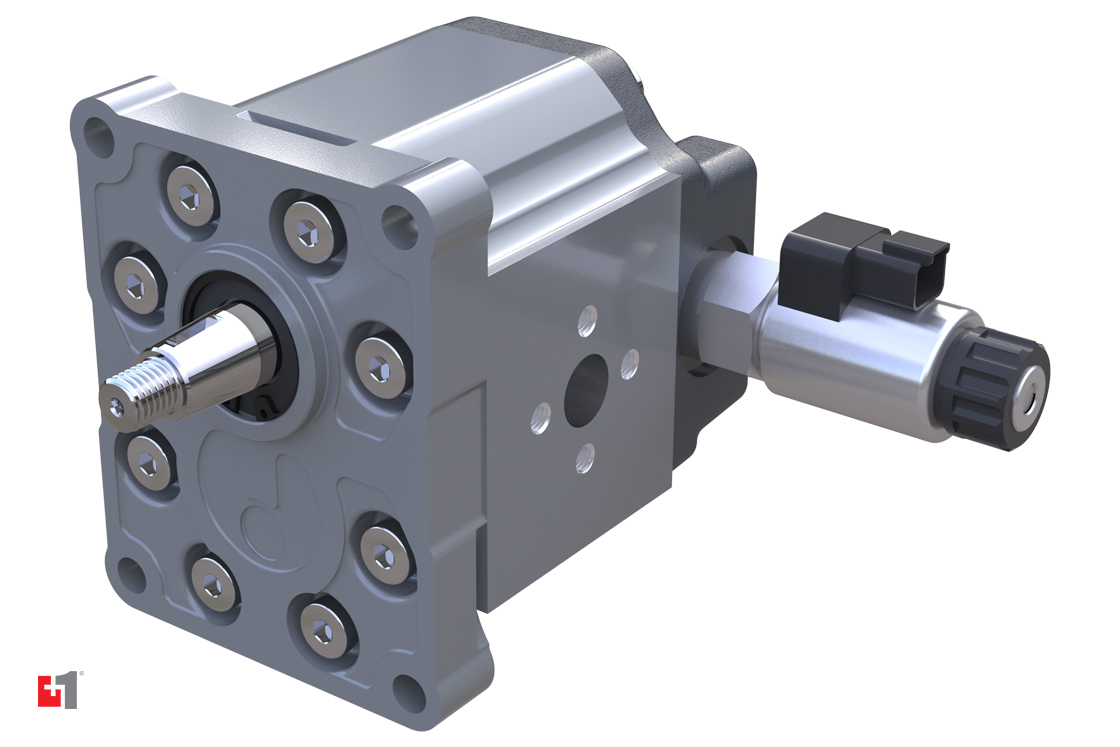 Documents

| Type | Name | Language | Valid for | Updated | Download | File type |
| --- | --- | --- | --- | --- | --- | --- |
| User guide | GearMe Aluminum Group 1, 2, and 3 Motor Technical Information | English | Multiple | 16 Feb, 2023 | 10.2 MB | .pdf |
| User guide | GearMe Aluminum Group 1, 2, and 3 Motor Technical Information | Japanese | Multiple | 16 Feb, 2023 | 9.3 MB | .pdf |
| User guide | GearMe Aluminum Group 2 and 3 Fan Drive Motors Technical Information | Japanese | Multiple | 16 Feb, 2023 | 7.3 MB | .pdf |
| User guide | GearMe Aluminum Group 2 and 3 Fan Drive Motors Technical Information | English | Multiple | 16 Feb, 2023 | 8.9 MB | .pdf |
| Data sheet | GearMe Ultra Compact Reversing Proportional Fan Drive Motor Data Sheet | English | Multiple | 17 Feb, 2023 | 486.2 KB | .pdf |