When your media require gentle treatment and are unsuitable for regular heat exchangers due to viscosity, fouling tendency, or particle contents, SONDEX® Free Flow sets the new standard for improved performance and reliability.
What does that mean for you?
Experience the benefit of maximum uptime with SONDEX® Free Flow plate heat exchangers. The contact-free plate channels lower the risk of fouling and clogging and ensure extended operation.
Prolonged production time and loss of product on account of frequent, unscheduled maintenance or cleaning, is an undesirable consequence of operating with hard-to-treat media.
Our engineers have designed the SONDEX® Free Flow solutions to reliably deliver the highest performance and gentle media treatment, while keeping the intervals between service as long as possible. If your media contains solids, fibers or other particles, the service intervals can be extended even further by regularly back-flushing the system.
Easy cleaning, maximum uptime
For media with fouling tendencies, CIP (Cleaning In Place) is the preferred option. The efficient design of the SONDEX® Free Flow ensures a low hold-up volume, which minimizes the amount of chemicals needed for the CIP process, and thus greatly reduces cleaning time, while also being environmentally friendly.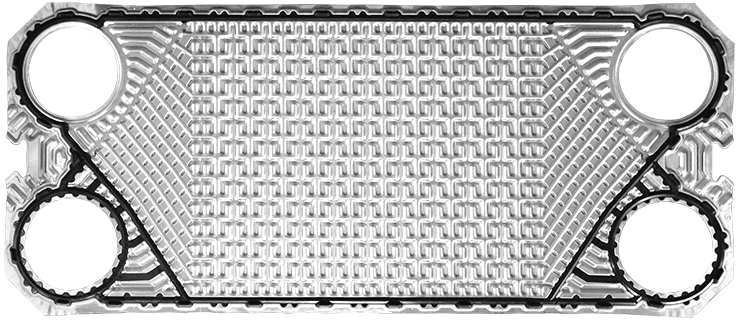 SONDEX® Free flow patterns
The SONDEX® Free Flow pattern is designed to treat media that is unsuitable for regular heat exchangers due to high viscosity, fiber and particle contents, or considerable risk of fouling.
Applications
Dairy/food/beverage industry
- e.g. food production, like juice and alcohol processing
Sugar industry
- e.g. sugar production, such as concentration of sugar content in sugarcane juice
Biogas industry
Wastewater industry
Pulp and paper industry
Mining industry
Technical specifications
Connections from DN25 to DN400
(Frames designed according to FEA and PED 2014/68/EU (EN13445) and ASME sec VIII, Div. 1 construction standards)
Plate materials: AISI 304/316, titanium, SMO, Hastelloy. Other materials available upon request
Gasket materials: EPDM-HT, NBR-HT, Viton. Other materials available upon request
Plate heights up to 3.5 m (11.5 ft)
Flow rates up to 1,600 m3/h (7,045 gpm)
Working pressure up to 10 bar (145 psi)
Working temperature up to 200 °C (392 °F)
Features and benefits
Gentle treatment and even distribution of the media provides the highest possible product output quality.
High heat transfer efficiency and extended intervals between cleaning ensure operation for an entire campaign with minimum downtime and maximum value for money.
Large plate gap, designed to combat fouling with sizeable plate channels and no stagnant zones.
What kind of heat exchanger is right for me?
The choice of heat exchanger depends on many factors. Our skilled sales engineers design the heat exchanger with the appropriate dimensions and correct specifications based on your input and requirements, to ensure that you receive a quality solution that performs optimally.
Which certificates are available for the heat exchangers?
Our heat exchangers are approved and certified according to industry standards and requirements. For specific details, please reach out to your local SONDEX® brand sales representative.
Where can I get a price list?
Please contact your local SONDEX® brand sales responsible.
How can I get a quotation?
Please contact your local SONDEX® brand sales office. For the most accurate quotation, please prepare the following data:
Duty,
Type of media,
Pressure drop,
Flow rate,
Working pressure,
Thermodynamic properties, Temperature,
Working temperature.