Plug-and-play gas detection for industrial refrigeration makes life easy
Danfoss gas detectors are based on a digital platform that delivers multiple communication and integration options for improved operational reliability, easy calibration and maintenance efficiency, cost effectiveness, and regulatory compliance. 
Based on a digital platform, Danfoss gas detectors deliver multiple communication and integration options for easy calibration and maintenance, improved reliability, built-in cost effectiveness, and complete regulatory compliance.
With a portfolio ranging from basic to heavy duty, complemented by an assortment of accessories, and able to detect a vast range of refrigerants—including ammonia (R-717), CO2 (R-744), fluorinated refrigerants (HCFCs and HFCs), and propane (R-290)—Danfoss' Gas Detection Solution delivers great flexibility when designing and building a gas detection system. Featuring electrochemical (EC), semiconductor (SC), Pellistor (P), and infrared sensor technologies, these gas detectors are able to meet the unique needs of wide array of refrigerants, applications, and safety regulations.
Each gas detector includes analog and RS485 Modbus connections to enable easy communication to a central system. Stand-alone gas detection units with integrated relays are available and can be directly connected to external systems to activate alarm devices.
Features and benefits
Factory-configured gas detection units match refrigerant and typically required PPM settings
PPM settings may be subject to change
Integrated calibration routine eliminates the need for potentiometers or multimeters
Plug-and-play design makes for easy replacement
Service information and alert support optimizes maintenance planning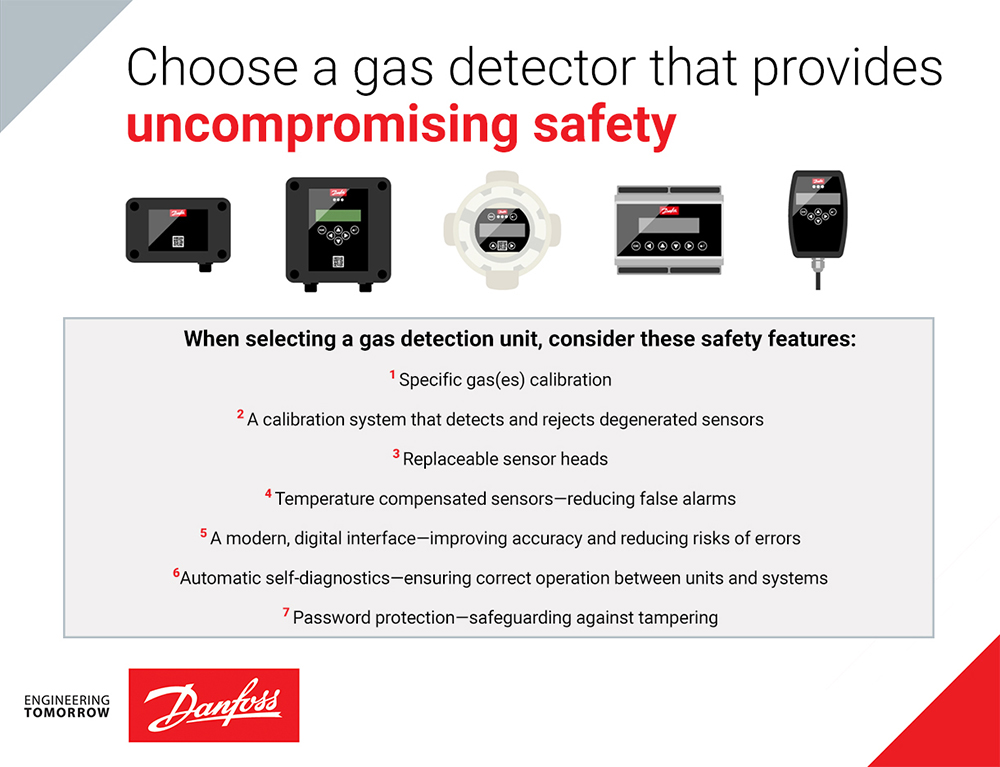 Watch video
See how our new Plug & Play gas detection solution can add value to your business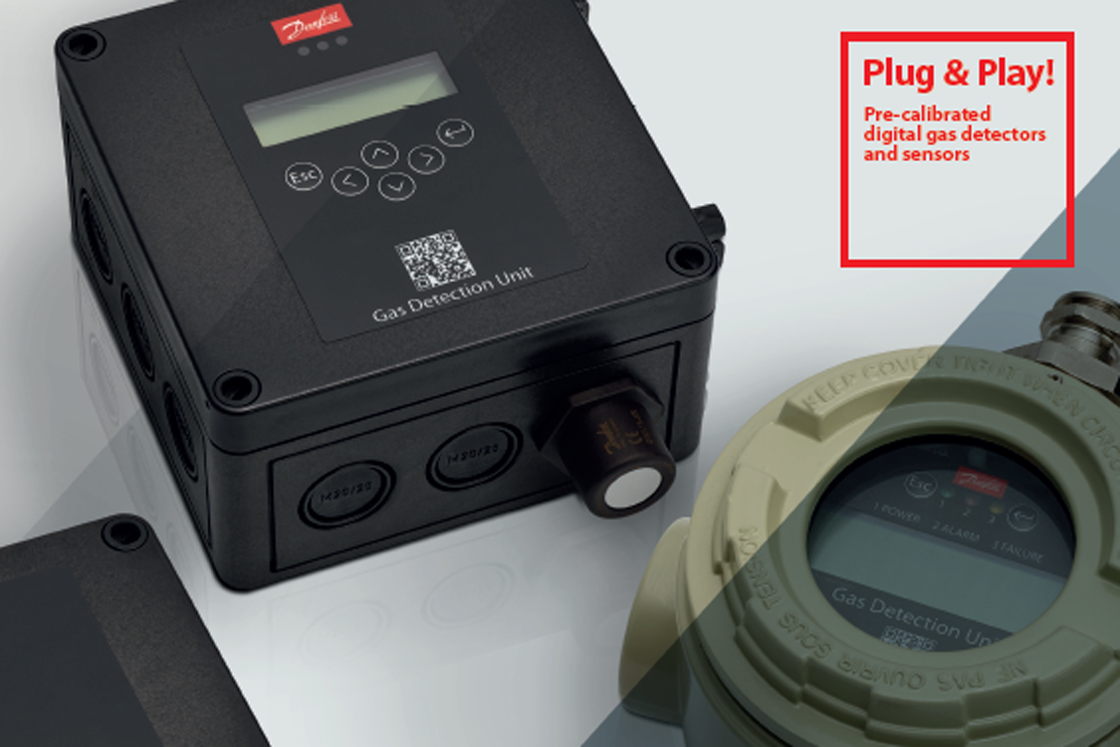 Download product overview catalog
Download our gas detection catalog and get an overview of Danfoss gas detection range, including code numbers, for industrial refrigeration
Documents

| Type | Name | Language | Valid for | Updated | Download | File type |
| --- | --- | --- | --- | --- | --- | --- |
| Installation guide | Danfoss Gas Detection - Controller unit and expansion module | English | Multiple | 04 Oct, 2023 | 494.9 KB | .pdf |
| User guide | Danfoss Gas Detection Units - Type Basic, Premium and Heavy Duty - Direct display or Service Tool display operation | English | Multiple | 20 Mar, 2020 | 1.3 MB | .pdf |
| Application guide | Gas detection in refrigeration systems | English | Multiple | 20 Aug, 2018 | 1.7 MB | .pdf |
| Installation guide | Gas detection PC Tool for configuration of Basic, Premium, Heavy Duty and Controller Expansion modules | English | Multiple | 05 Aug, 2022 | 408.9 KB | .pdf |
| Installation guide | Gas detection sensor - B_L (buzzer and light) alarm replacement for the types Basic, Premium and Heavy Duty | English | Multiple | 18 Jun, 2018 | 258.3 KB | .pdf |
| Installation guide | Gas detection Service Tool for configuration of Basic, Premium, Heavy Duty and Controller expansion modules | English | Multiple | 05 Aug, 2022 | 418.0 KB | .pdf |
| Catalog | Gas detection solution for industrial refrigeration | English | Multiple | 14 May, 2019 | 1.9 MB | .pdf |
| Installation guide | Gas Detection Unit (GDU) - GDA, GDC, GDHC, GDHF, GDH | English | Multiple | 25 Oct, 2023 | 988.7 KB | .pdf |
| Data sheet | Gas detection unit, accessory, Controller unit | English | Multiple | 23 May, 2023 | 1.0 MB | .pdf |
| Data sheet | Gas detection unit, Accessory, Expansion module | English | Multiple | 26 Feb, 2021 | 938.2 KB | .pdf |
| Data sheet | Gas detection unit, Accessory, PC tool | English | Multiple | 26 Feb, 2021 | 2.5 MB | .pdf |
| Data sheet | Gas detection unit, Accessory, Warning module | English | Multiple | 07 Nov, 2022 | 996.2 KB | .pdf |
| Data sheet | Gas detection unit, Basic, Type GD Basic and Basic+ | English | Multiple | 25 Oct, 2023 | 1.0 MB | .pdf |
| Data sheet | Gas detection unit, Heavy duty, Type GD Heavy Duty | English | Multiple | 01 Jun, 2022 | 1.0 MB | .pdf |
| Data sheet | Gas detection unit, Premium, Type GD Premium | English | Multiple | 06 Sep, 2023 | 982.2 KB | .pdf |
| User guide | PC tool - Software for addressing, calibration and parameterization of Basic, Premium and Heavy Duty gas detection units and gas detection controller configuration | English | Multiple | 18 Jun, 2018 | 3.3 MB | .pdf |