Optimize refrigerant charge with Optyma™ Cooler
The Optyma™ Cooler is an efficient unit cooler for walk-in coolers and freezers, designed for quick and easy installation.
Compliant to both US DOE AWEF and NRCan regulations, this compact unit utilizes a cross-rifled heat exchanger tubing with a corrugated fin design and comes equipped with a maintenance-free, factory-balanced variable-speed EC fan motor to ensure high efficiency, reliability, and performance.
Features and benefits
Easy installation and setup via highly secure stainless steel slotted brackets in both front and back.
Exterior cabinet features a smooth, easy-to-clean surface made from Al-Mg alloy with 60μ of highly durable powder coating, which extends the life of the cabinet.
Hinged doors feature a 90° & 180° opening range, offering rear access and ample room to work the installation to the e-box and connections.
Unique electric defrost coil design with coil-embedded heaters for fast and efficient defrost
Wide capacity range with 6 FPI and 4 FPI models available.
Easy servicing with four screw fan guard/motor/blade assembly.
Industry-leading standard three-year warranty.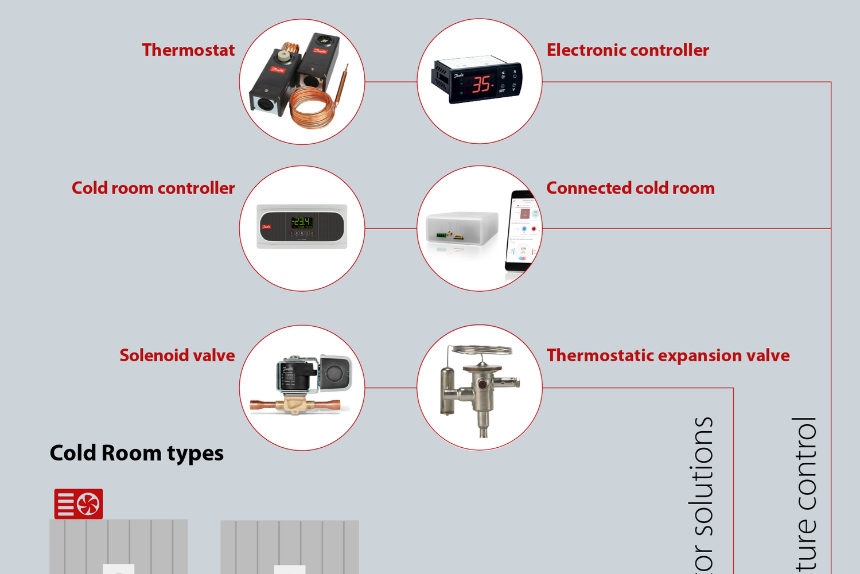 Low-GWP Walk-Ins
When building or upgrading a walk-in cooler or freezer, Danfoss ensures yours reaches high efficiency with low GWP and minimal carbon footprint.
The truth is Cool(selector®2)
Coolselector®2 features unbiased calculations for the selection of refrigeration and air conditioning components based on the user's requirements or based on standard operating conditions.
Use Coolselector®2 for the technical data you need to get the job done right.