Intelligent operation
Once installed, the AC drive monitors both its own performance, and the performance of its application. Logs of vital parameters and alarms facilitate preventive troubleshooting. Evaluation of the available internal data as well as external sensor signals takes place in the drive, and can be communicated further via fieldbus. All this information is available through protocols which match customer communication systems.
Danfoss AC drives also deliver a wealth of relevant process information, based on knowledge of the motor current reflecting the existing load conditions of the drive. The high quality of this data enables the drive to initiate action where required. Critical conditions such as over- or under-voltages, or small dips in the power supply from the grid, are detected and dealt with automatically.
Tools to check AC-drive performance
Use Danfoss' range of simulation and calculation tools to help you understand how your drive is responding to its environment.
Analyze harmonic disturbances 
Estimate energy savings
Calculate IE and IES efficiency classes in relation to the European Ecodesign Directive
Centralized control
For ease of installation and optimized operation, Danfoss drives are compatible with practically any control system.
Today's AC drives are intelligent, which enables them to handle many tasks in drive systems. To exploit the full potential of the drives, you can quickly and easily integrate them into the control system by using any leading fieldbus or industrial Ethernet protocols. Full access to all objects of the installed drives is possible from a central control point. Cabling and commissioning are simpler, which leads to cost savings from the installation phase onward.
Better fault/alarm management
Detailed messages simplify the pin-pointing of possible fault/alarm causes and provide effective support for remote facility monitoring. Decoding of collective fault/alarm messages allows faults/alarms to be diagnosed and the right correction or maintenance actions to be initiated. Remote maintenance via an active internet connection allows state and/or fault/alarm messages to be displayed quickly, even with remote systems or system components.
Better asset management
Your assets can be operated from one central point – the control room – and processes regulate themselves according to the settings programmed in the control room. The operator has a clear overview of the current situation at all times and is able to monitor and adjust all drive settings remotely.
Details of drive assets, such as SN, FW, all settings, module revisions and applications, are easily accessible and can be backed up. Status data, such as the output frequency or power consumption, can be retrieved and processed at any time. Additional data for effective energy and peak load management is available without additional components.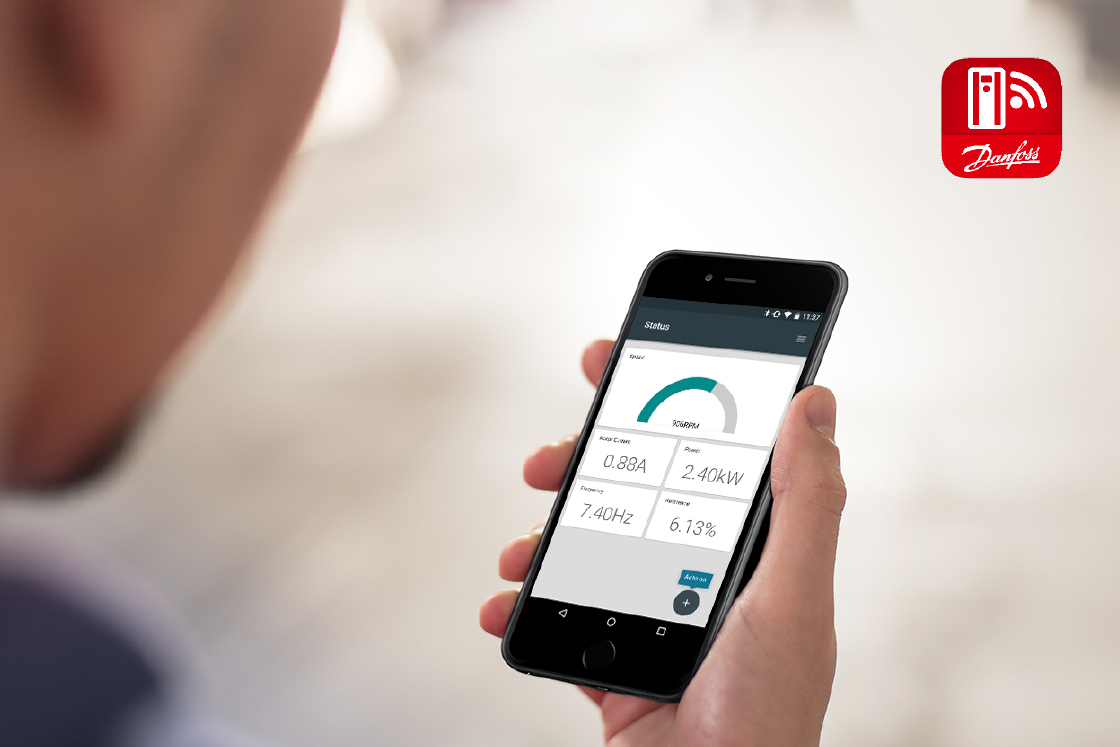 Fast, easy commissioning
MyDrive® Connect allows you to configure your drive while remaining conveniently close to the process.
This mobile application for commissioning and servicing of drives will use point-to-point communication based on Wi-Fi (IEEE802.11). Its intuitive widgets and user-friendly functionalities enhance usability. Benefits include:
Easy connection through pre-defined authentication 
Intuitive graphical widgets and live graphs for monitoring 
Quick parameter ID search
LCP copy to your phone or to the LCP 103 internal memory
Safe and secure wireless communication (AES, Advanced Encryption Standard) 
English- and German-language support
Simulation mode
Experience extended drive lifetime and optimized lifecycle performance.
Empower your AC drives by using PC tools that ensure easy operation and the highest level of customization.