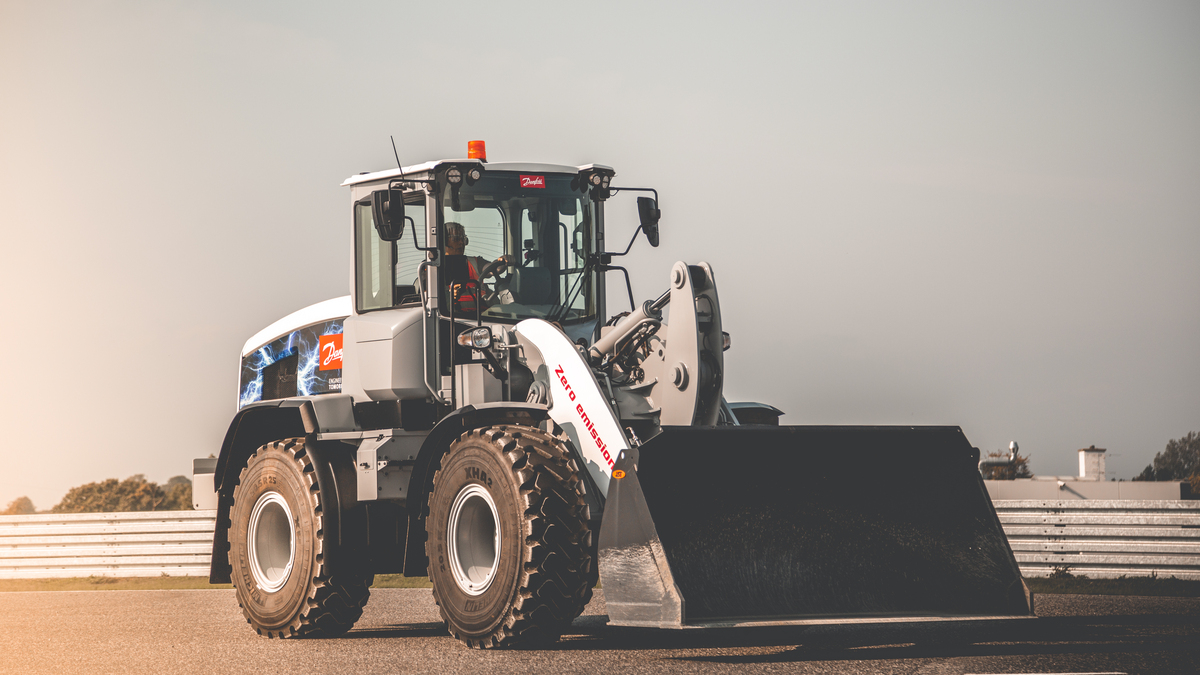 Danfoss Power Solutions develops proof-of-concept wheel loader with fully-electric drivetrain. Find out how our electrical solutions can benefit you – our distribution partners – your customers and end-users.
Danfoss recognizes the need for action and technology leadership to address the climate crisis our world faces today. Creating a cleaner, more-sustainable future is central to our values and pushes our team to develop innovative solutions that contribute to a better future. By investing in the Danfoss Editron portfolio and the future of electrification, we have become a leader in the electrified off-highway market. With a long, distinguished history in mobile machinery and hydraulics, our Editron division is building upon a strong group of Danfoss products, tools, and engineering teams to create the electrified technologies of tomorrow that provide tremendous benefits for you – our distribution partners – your customers and end-users.
Through recent investments in proof-of-concept (POC) vehicles and resources dedicated to building these solutions, we are committed to understanding and accelerating the development of electrified off-highway machines. At our Application Development Center (ADC) in Nordborg, Denmark, we have converted an existing 13-ton wheel loader to a full battery electric vehicle, leveraging our application expertise to pioneer the future of these vehicles and technology through market leading innovation.
As the world is moving towards net-zero emission goals, there's a focus on electrification in all types of applications, especially mobile machinery. With an extensive portfolio of electric machines and power electronics, Editron products cover a wide range of vehicle sizes, subsystem applications and powertrain architectures. Adding to our expertise in hydraulics and mobile machinery, Editron is leveraging years of application knowledge to develop market-leading solutions.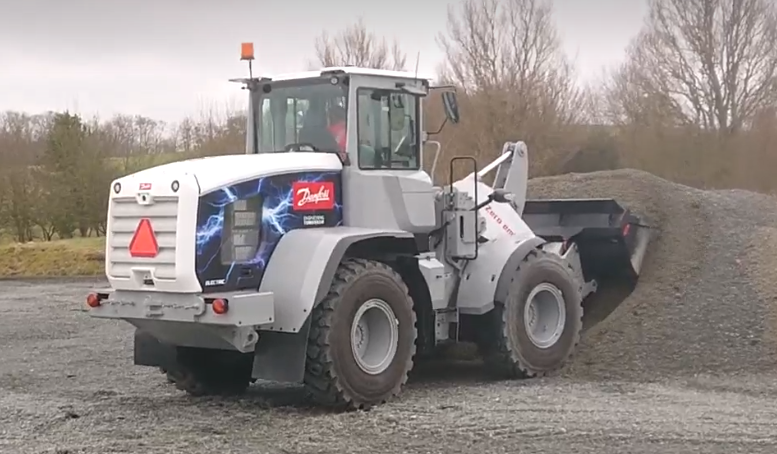 Wheel loader goes electric
Developing these products requires a deep understanding of the applications and the challenges customers face when electrifying their vehicles. This is why we have invested in our POC machines. When scoping the wheel loader application for the aforementioned  conversion project, we wanted the challenge of electrifying a larger vehicle with the hope of significantly reducing its fuel consumption. Wheel loaders are a common application, with  high volumes of these vehicles produced annually. By advancing the design and system architecture of the wheel loader, the goal was to create an impact that can be scaled throughout the market, provide the largest net benefit from electrifying, and then apply these learnings to other applications.
Although electrification is the megatrend focused on reducing carbon emissions, it adds value in many other ways to the owners and operators, including controllability, noise reduction, and lower total cost of ownership (TCO). Hybrid vehicles also play key roles in reducing emissions and fuel consumption in those applications that cannot be fully electrified with current technology capabilities.
Building a case for electric vehicles
The case for electric vehicles is still a challenge because they must provide enough value over their lifetimes to justify the upfront financial capital needed to purchase and establish infrastructure to support an electrified fleet. Without heavy industry regulations driving electrification in off-highway, it's up to customers to provide evidence that there's a strong business case.
Meanwhile, operators can enjoy increased productivity because of the improved performance of these electric vehicles. The human machine interaction (HMI) is crucial in any application, ensuring that the operator has safe control of the vehicle and can perform the required tasks. Typically, electric vehicles provide better controllability and quicker dynamic response, which help operators do their job. This control plays a large role in optimizing the power consumption of these vehicles. With the ability to regenerate power and control the different subsystems independently, the vehicle and operator's efficiency can be significantly higher than traditional diesel-hydraulic machines. Combine these benefits with the reduced noise and emissions, and operators typically enjoy a more comfortable working experience.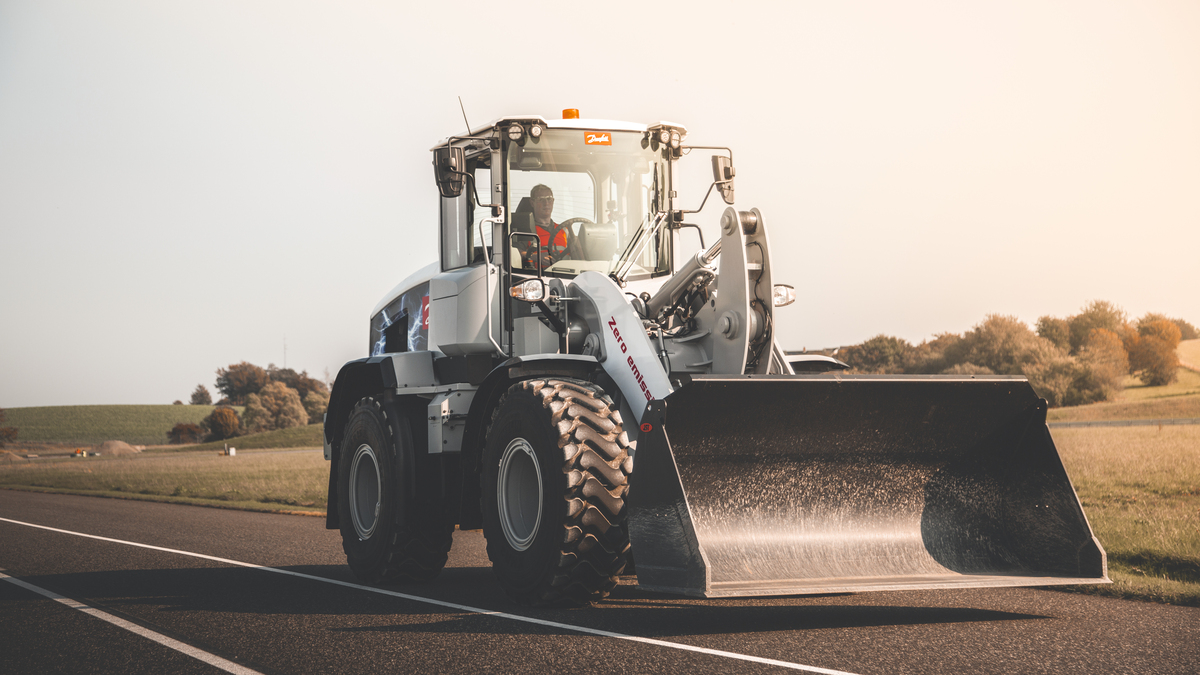 Approach to system design
Designing a vehicle is a complex process that requires front-end planning and a deep understanding of the market and end user's expectations. As the market begins to shift towards zero-emission vehicles powered by batteries and fuel cells, the approach to system design will need to change, too.
In each of our electrification projects, we pulled resources from all different business units, and our teams are learning alongside the market. By facing many of the same electrification challenges as our customers, we are building expertise, sharpening our tools and improving our products. Proficiency in electrification, hydrostatics, software, functional safety, system design, and other areas are essential in building any machine. With the portfolio and application knowledge to cover the entire system, we have a very unique ability to support customers in electrifying their applications.
Wheel Loader Conversion and Commissioning
By developing POC machines, our intention is to showcase the Editron portfolio, build new competencies internally centered around electrification, and create platforms that can be built upon and used in future. As for the vehicles, the goal is to build a machine that could meet or exceed the current performance and fulfill user expectations.
Because our goal for the wheel loader was to improve overall performance, the team decided to rethink the entire system architecture, rather than perform an engine swap. Through extensive research, our engineers concluded that a two-motor configuration (one each for propel and work function) would provide optimal efficiency, control and net benefit for the electrified vehicle.
The team in Nordborg started by disassembling an existing OEM wheel loader model, stripping it of almost all internal components until there was little more than an empty chassis to build from. Before we started the dimensioning of subsystems, performance goals were set to give direction on how the team would size the different components. Once these objectives were set, the team could begin sizing the different subsystems: propel, work function, cooling and power management.
By developing the vehicle at our ADC, our POC team had access to the right tools and testing environments needed to ensure the wheel loader's performance. These included a test track with graded inclines, gravel pits and other features that provide a huge advantage to our engineers when tuning the control of this machine. The team also had the use of advanced simulation tools that could test and run software from a desktop computer using an Xbox controller. By having these resources at our disposal, we can ensure the quality of our solutions.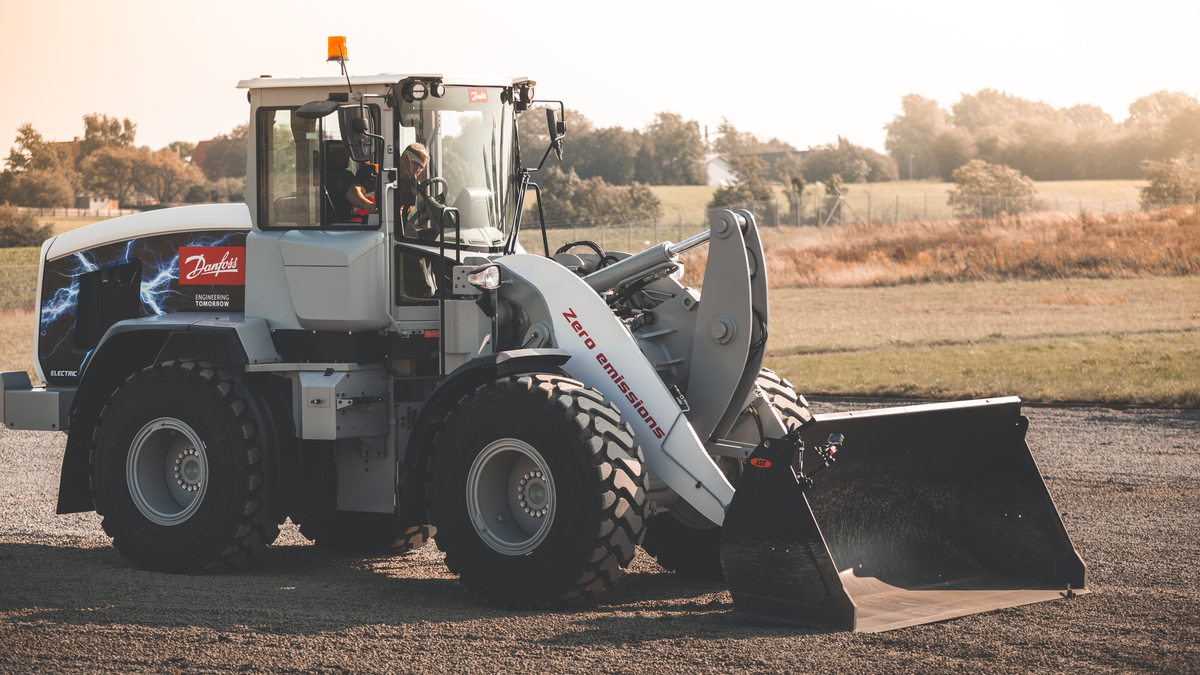 Hardware overview
We used Editron hardware exclusively to build the wheel loaders' electric system. Editron motors and inverters drive both the propel and work functions, while DC-DC converters and LCL filters are used for power management. The separation of the propel and hydraulic work functions also creates a significant impact on the dimensioning of the subsystems.
The propel function in our wheel loader consists of a single EM-PMI375-T800 motor with two EC-C1200-450 inverters driving it. The motor connects to a two-speed gearbox, which has a transfer case used to direct torque to either the front or rear axle. The wheel loader's hydraulic work function uses our EM-PMI240-T180 motor and EC-C1200 inverter to drive a Danfoss Series 45 hydraulic pump. By decoupling the work function from the propel system, the input speed to the pump is independent from the propel and can be controlled variably to reduce power consumption and optimize efficiency. The electric motor can adjust and reach speed quicker than a diesel engine, increasing the response of the loader's boom and making it easier for the user to operate.
The overall power distribution of the system is managed by a few different power electronic components from within the Editron portfolio. These components are needed to direct power to and from the two different batteries on board, as well as grid connection used for charging. The wheel loader has a main energy storage consisting of an 800V battery, as well as a 24V battery for auxiliary functions. Our EC-IDC24 DC-DC converter is used to adjust voltage levels between the 24V battery and the rest of the system, and the EC-C1200-450 converter with our EC-LCL1200 filter connects to the grid to manage the charging of the main battery. These power electronic components allow a complete electric system to be built from within the Editron portfolio.
In addition, the displays, joysticks, pedals and controllers for software all come from within the DPS portfolio. By combining this hardware with the software developed and managed by our PLUS+1® tools, Danfoss is showcasing the portfolio width and internal knowledge our teams have to support the next generation of electrified solutions in off-highway.
Software overview
With the latest advancements in electronic controls both in hardware and software, today's machines in the off-highway market have become increasingly more complicated and advanced. Developing and controlling these machines today requires extensive software development and tools to support the vehicle throughout its lifetime. We have invested heavily in building our PLUS+1® platform to support the software needs of customers, developers, testers and engineers use to design solutions for controlling mobile machines.
Within PLUS+1®, developers have access to a variety of pre-developed function blocks and libraries, as well as compliance blocks (device drivers) for our hardware and a growing set of third-party components. The most recent addition to our portfolio is our Editron Motor Control (MCU) Block, which works with the EC-C1200-450 to drive our motors. Our engineering teams were able to leverage this block when writing the software to control the vehicle. When developing and implementing software onto our POC wheel loader, the team was able to build from existing blocks and libraries related to hydrostatic systems.
Users can benefit in several ways from our PLUS+1® environment. It provides users with a complete ecosystem, allowing them to design from scratch or import existing code if they want. No matter the tools being used to write code and control hardware in their current hydraulic applications, the OEMs are still challenged with learning about all things electric: inverters, batteries, charging systems, etc. By developing this POC solution in PLUS+1®, it allows us to create this incredible solution, all while developing new software that ultimately will get pushed out to our customers for them to use and save time on development. This will further enhance not only our tools and internal capabilities, but also the software and tools our customers need.
Performance and improvements
The transition to battery electric provides many opportunities for improved performance. Once the technology, charging infrastructure and knowledge of these electric vehicles surpasses a certain threshold, the solutions that leverage all the benefits of electrification into their design will outperform their diesel counterparts and become standard in the market.