Global manufacturing facility
Work starts on new manufacturing plant in Loanhead, near Edinburgh
Multi-million inward investment
More than 30 jobs initially, with up to 200 further jobs to come
£100 million annual export business within ten years
'Ground-breaking technology with global potential'
Work begins on new manufacturing plant outside Edinburgh which will create new jobs. At the same time, enable Scotland to become a world-leader in a low-carbon technology. Which will radically reduce emissions in off-highway vehicles.
In October, Danish multi-national Danfoss took a majority share in Scots hydraulic specialists Artemis Intelligent Power. Today work starts on their new £multi-million facility, to be built alongside Artemis's existing Loanhead base.
The new 1500 square meter plant will manufacture high-tech digital hydraulic pumps and motors for off-highway vehicles. For instance, such as excavators and wheel loaders – utilizing Artemis's Digital Displacement technology. Where it is estimated they will reduce vehicle emissions by more than half.
The project will create more than 30 skilled jobs initially. Danfoss predicts the export-led business will be worth £100 million annually within a decade. With up to 200 further jobs to come.
The team will officially break ground on the site using an excavator fitted with a Digital Displacement pump.
"Our first goal is for Artemis technology to be a key component in the $3.5 billion off-highway vehicle hydraulic machinery market," says Eric Bretey. He is the Director of Digital Displacement at Danfoss, who heads up the Danfoss Scotland business.
"Vehicle manufacturers are asking for reliable, cost-effective solutions to reduce environmental impact and increase productivity. Digital Displacement technology will provide just that.
We estimate the emissions reduction of each Digital Displacement excavator will be the equivalent to taking 18 diesel family cars off the road. It is a technology which increases efficiency, reduces cost and pays for itself very quickly," Bretey says.
Digital displacement technology investment
Earlier this year, a consortium comprising Danfoss and Artemis secured £11 million from the Advanced Propulsion Center UK. This helped develop Digital Displacement technology, alongside Scottish firm Robbie Fluid Engineering.
"The support of the Advanced Propulsion Center has been an important catalyst in our collaboration in the off-highway sector. It underscores our decision to make this major investment in the UK. In the years ahead, these pumps will become a core component in any off-highway machine. Regarding to those which utilizes hydraulic power, and there is enormous potential in other sectors too," Bretey concludes.
In the off-highway market, the impact of digital displacement could be significant. In Greater London, for example, off-highway mobile machinery currently contributes ten percent of all NOx emissions. As well as 11 percent of all PM10 emissions. Even with modest adoption rates, the technology is forecast to make CO2 savings of ten million tonnes globally. This is over the first ten years of commercial operation.
Artemis Managing Director Niall Caldwell says:
"It's not enough to invent new technologies in the UK. We also need to manufacture here and export around the world, this is what this Danfoss investment will enable. We are also very grateful to the Advanced Propulsion Center for their support. Also, to Scottish Enterprise for their backing over many years.
In the coming months and years, we will help Danfoss develop commercial products for each of these sectors. But today the focus is on the off-highway market.
Ultimately, the Digital Displacement off-highway vehicles of the future will have smaller engines and be cheaper to run. Moreover, use less than half the energy – whether that energy comes from fossil fuel, hydrogen, biogas or batteries. It is a technology that pays for itself. It requires no sales subsidy and will make a very positive impact on the environment," Caldwell concludes.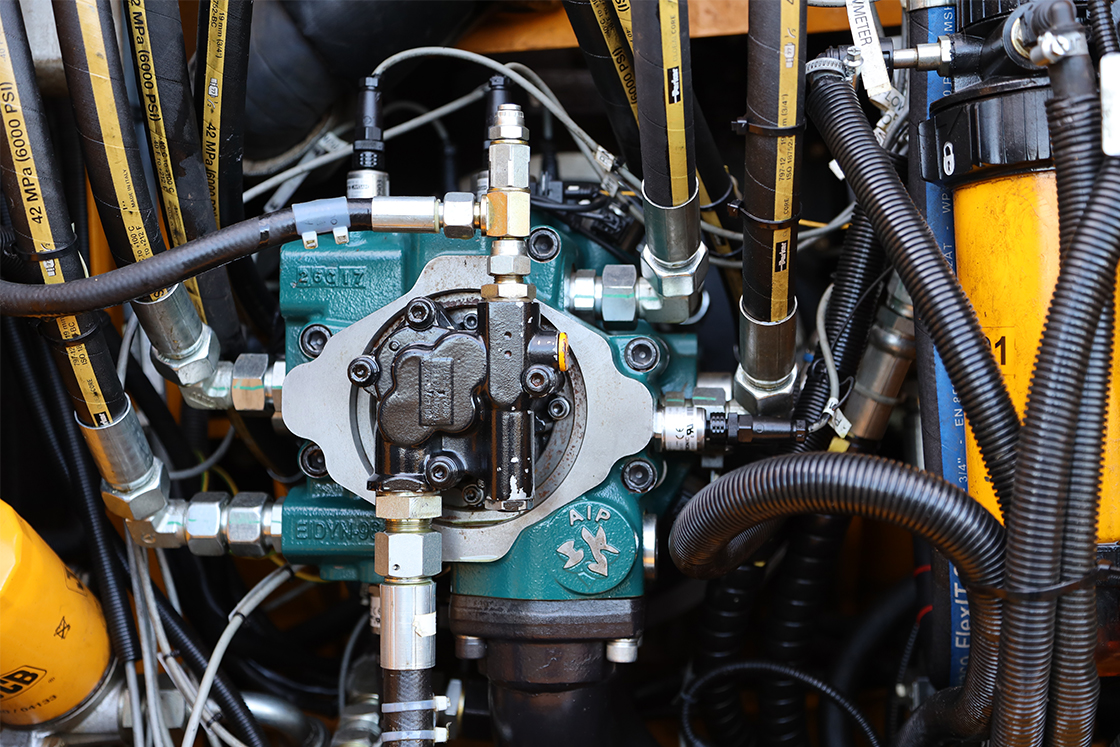 Disruptive technology leader
Danfoss announces the acquisition of the majority shares of Artemis Intelligent Power Ltd. (AIP), an R&D and engineering company based in Edinburgh, Scotland, specializing in hydraulic system development. The acquisition includes AIP's Digital Displacement® technology, which will enable Danfoss to develop hydraulic pumps, motors and systems with unprecedented levels of efficiency, controllability and design flexibility for customers.