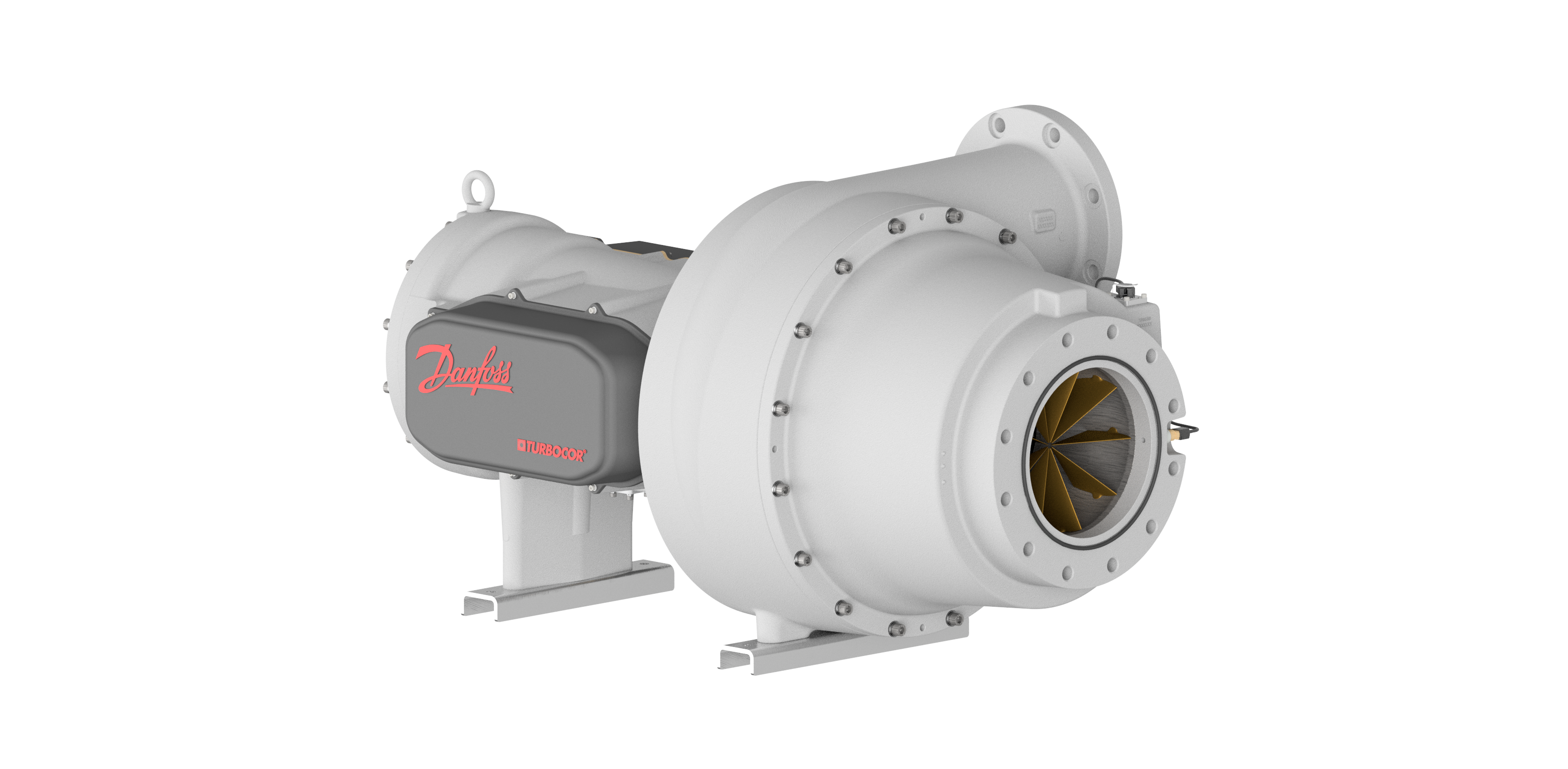 Danfoss Turbocor named winner of 2022 AHR Expo Innovation Awards
VTCA400 wins Cooling category; Danfoss also named a finalist in the Sustainable Solutions category

Danfoss has been recognized in multiple categories in the 2022 AHR Expo Innovation Awards. The annual awards competition honors the most inventive and original products, systems, and technologies showcased at the International Air-Conditioning, Heating, Refrigerating Exposition (AHR Expo) in the categories of building automation; cooling; green building; heating; indoor air quality; plumbing; refrigeration; software; tools & instruments; and ventilation.
Winner: Danfoss Turbocor® VTCA400 Compressor
In the Cooling category, Danfoss will receive an Innovation Award for its Turbocor® VTCA400 Compressor. The VTCA400 is the world's first oil-free, variable-speed, magnetic bearing centrifugal compressor utilizing a hybrid compression design that is optimized for use with low-GWP refrigerant R-1233zd in water-cooled chiller applications. The patent-pending design uses a combination mixed flow and radial impellers, enabling both high performance and a compact footprint.  As a result, the VTCA400 reduces footprint and weight by up to 50% compared to traditional designs, giving users the advantage of a more compact chiller design and more mechanical room space — as well as lower chiller costs.
The compact design of the VTCA400 offer significant benefits to chiller manufacturers, including reduced costs, higher efficiency, lower product carbon footprint, improved serviceability and redundancy. Manufacturers have the ability to place multiple compressors on the chiller, which provides higher part-load efficiency and more redundancy compared to single compressor configurations.
Finalist: Danfoss Turbocor® TGS380 Compressor
In the Sustainable Solutions category, Danfoss was named a finalist for its Turbocor® TGS380 Compressor. The TGS380 builds on the innovation of the other models in the TGS series, which was the first line of oil-free, magnetic bearing centrifugal compressors to offer low-GWP HFO-1234ze and A1 safety rated R-515B refrigerants to help reduce harmful direct emissions to the environment. It features an expanded operating map to support applications with pressure ratios up to 5.7. This includes not only comfort cooling applications but also higher lift applications such as air-cooled chillers in hot ambient climates up to 125 degrees Fahrenheit and water-cooled heat recovery generating up to 145 degrees Fahrenheit process water.
In addition to providing industry-leading efficiency with no performance degradation and substantial lifetime maintenance savings due to the elimination of the traditional oil management system, the TGS380 gives the most comprehensive offering of low-GWP refrigerants compared to any traditional positive displacement compressor. The available low-GWP HFO-1234ze refrigerant option provides an ultra-low GWP solution, while the R-515B option provides a low-GWP alternative that also has an ASHRAE A1 safety classification for lower toxicity and no flame propagation. The TGS380 is 80% smaller and lighter weight compared to equivalent capacity screw compressors, and with sound levels up to 8 dBA quieter.
"These Turbocor compressors are the latest generation of groundbreaking cooling technologies," said Ricardo Schneider, president of Danfoss Turbocor. "Turbocor has led the way in oil-free compressor technology and is proud to be recognized by the AHR Innovation Awards. We are committed to helping our customers reduce energy consumption and lower their carbon footprint with environmentally friendly HVACR solutions. As the industry transitions to low-GWP refrigerants, we look forward to the increased adoption of Turbocor compressors."
Winners of the AHR Expo Innovation Awards program are selected by a panel of third-party ASHRAE member judges who evaluate all award entries based on innovative design, creativity, application, value and market impact.
This year's award winners will be recognized in a formal ceremony during the 2022 AHR Expo, which takes place January 31-February 2 in Las Vegas.