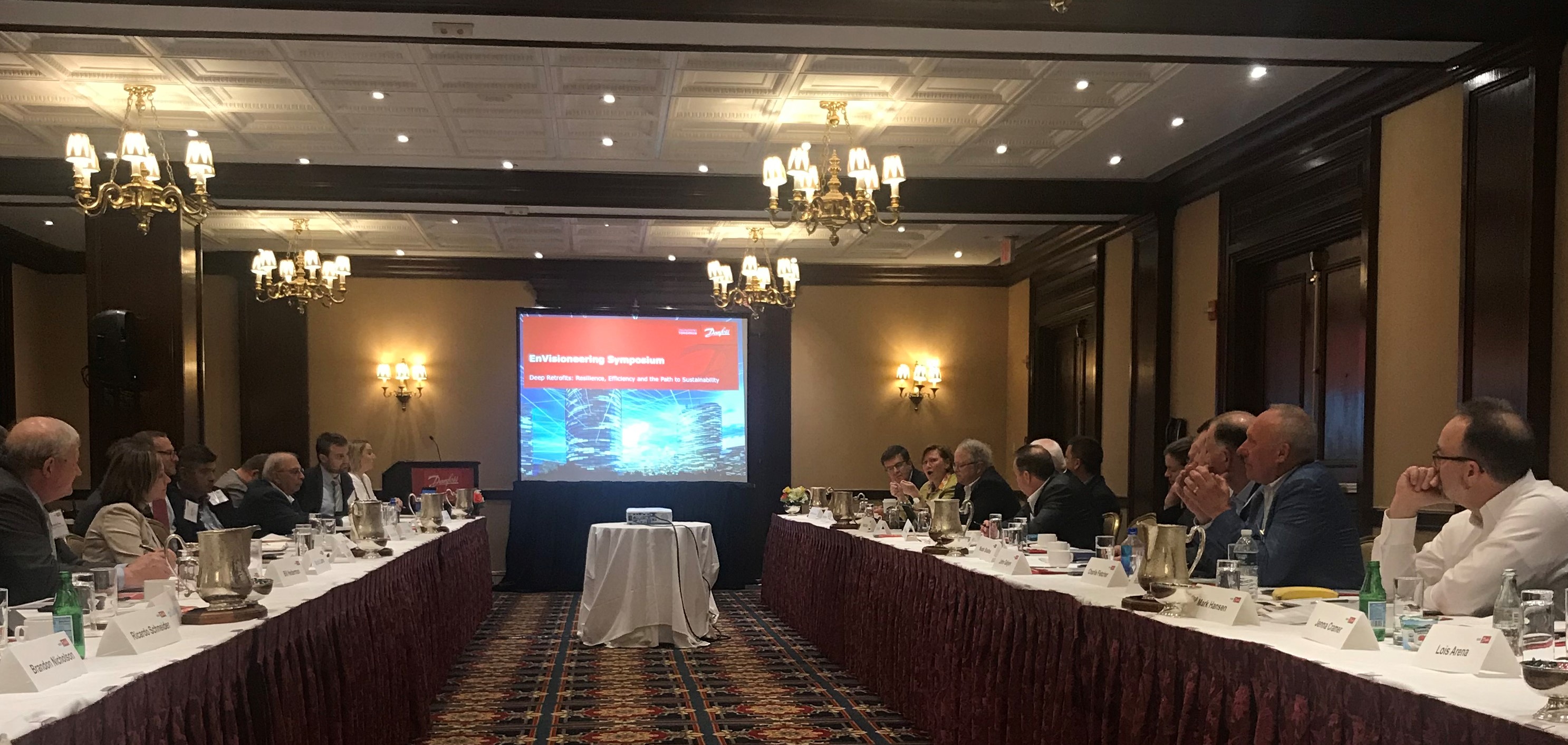 Cities and states are now assuming a leadership role on climate, resilience, and energy efficiency, and the 33rd Danfoss EnVisioneering Symposium convened thought leaders from industry, advocacy, and policy on June 4 in Washington, DC, to examine paths on which state and local government might drive the deep building retrofits that are critical to a sustainable built environment.  
"At our symposium on resilience last year, we saw that cities were starting to act forcefully on resilience,  energy efficiency, and carbon reduction policy. Even more is happening now," Lisa Tryson, director of corporate communications at Danfoss, said in her introductory remarks. "With the lack of federal leadership, states and cities are where the real action is occurring—making firm commitments to cut carbon emissions and provide a genuinely resilient infrastructure. And that's happening through transparency, benchmarking, grading and labeling, and smart connected buildings."
"However, the American building stock as a whole turns over at a rate of only one percent per year. Transformation that takes a century to complete is not transformation. That means the existing building stock needs to be retrofitted for efficiency and resilience—and those retrofits need to be deep."
Cities take action 
New York
Eric Wilson, deputy director of land use and buildings in the New York City Mayor's Office of Resiliency, explained that NYC's resilience strategy begins with the premise that New York City's buildings must be transformed to consume substantially less energy, dramatically reduce their greenhouse gas emissions, and be resilient to the conditions inherent in threats posed by a changing climate—all within 30 years. A city where the median building age is 90 years—with many predating the city's first building code in 1938—and with a coastline that exceeds the length of that of Miami, Boston, San Francisco, and Los Angeles combined, New York is actively preparing for changing climate conditions, including more frequent and stronger coastal storms, rapid sea level rise, increasing increased precipitation, and extreme temperature rise.
To reach its goals—which includes an "80x50" plan dictating an 80 percent reduction in carbon greenhouse gas emissions by achieving carbon neutrality by 2050, Wilson outlined the city's programs to retrofit buildings and improve building resilience and sustainability. For example, programs like the Carbon Challenge and the NYC Retrofit Accelerator help building owners streamline energy efficiency retrofits, and now also provide free technical assistance and advisory services for building operators as well as help new construction projects move toward high performance. RetrofitNY, a program from the New York State Energy Research and Development Authority (NYSERDA), enables cost-effective deep energy retrofits of multifamily buildings, without displacing residents. And the Climate Mobilization Act—a package of legislation that was just enacted in April 2019—establishes progressively more stringent emissions caps on New York City's largest buildings between now and 2050, requires all new and some renovated buildings to feature green roofs or solar systems, and establishes a Property Assessed Clean Energy (PACE) Program to finance energy efficiency retrofits.
Wilson underscored the progressive role benchmarking and grading are playing in the city's energy efficiency and carbon emissions reductions strategies. In New York City, all buildings larger than 25,000 square feet are already required to report annual energy and water consumption. But as of October 2020, those buildings must also obtain an Energy Star evaluation and post an "energy grade" at the building entrance. By requiring public awareness of a building's energy efficiency, current owners are encouraged to make informed decisions regarding capital planning and operation of their buildings to improve performance, and occupants can make better decisions about how to improve the way they use their homes. Potential occupants and future owners are also given a snapshot of a building's operational condition.
Washington, DC
In Washington, DC, the Clean Energy DC program is working toward ambitious goals by 2032, including reduction of energy use and greenhouse gas emissions by 50 percent. And by 2050, the city aims to be carbon neutral and climate resilient, including achieving a 50 percent reduction in energy consumption and drawing 50 percent of energy (electricity, thermal and transportation) from renewable sources.
According to Kate Johnson, chief of the Green Building and Climate Branch of the Washington, DC, Department of Energy and Environment, reaching the GHG goals would require existing buildings to contribute 20 percent of the emissions reduction needed between now and 2050; the overall target will be reached through a combination of deep retrofits and new building energy standards. Existing buildings will improve performance through the implementation of a Building Energy Performance Standard, and new buildings will, by 2026, adopt a net zero energy building code.
Pittsburgh
Pittsburgh, which is home to one of the oldest building stocks in the country, is facing resilience challenges not only as a water-front community but also in terms of residents leaving the city for the suburbs, requiring new ways of thinking about efficient—and less costly—building energy use and reducing the resulting GHGs.
But, as Majestic Lane, deputy chief of staff in the Office of the Mayor, explained, the city of Pittsburgh is in the process of undergoing a transformation. It has been a part of 100 Resilient Cities, which has been helping cities deploy resilience strategies to adapt to 21st century changes in climate, population, and economy. It also is one of the largest 2030 Districts in the world—having committed more than 84 million square feet toward 50 percent reductions in energy use, water consumption, and transportation emissions by 2030, while also improving indoor air quality.
Moving forward, tech is not the issue
Such initiatives as those for building efficiency, resilience, and overall sustainability are reflective of the urgency now recognized in leading American cities. And as cities move aggressively to meet their goals, they can deploy proven and available technology, creating a new orientation toward the goals and how they juxtapose to traditional policy targets.
Several examples emerged during the symposium. Majestic Lane highlighted the value in connecting green building retrofits to workforce development initiatives. Similarly, long established financing tools like PACE are maturing and can offer practical ways to overcome first cost barriers. John Galyen, president, Danfoss, North America, commented in a parallel vein that a key barrier to efficiency is split incentives. Rather, cities need data-based incentives, which become possible within a commissioning/recommissioning framework where performance (not modeling) data is collected to drive decisions. Such a framework, supported by smart buildings and cities technology and a well-trained technical workforce, creates the conditions for building evaluation based on real, not projected, performance and adds certainty to the building/energy/emissions equation.
Lois Arena of Steven Winters Associates drew on her experience working with property managers in NYC to upgrade buildings to Passive House standards, the most rigorous energy efficiency standards available, to refine the perspective on performance. Arena underscored three principles of building retrofits: durability, comfort, and efficiency. Performance-based standards oriented by those principles tighten the focus on insulation and reduction of thermal bridging, and balance mechanical ventilation, an air-tight façade, and high-performance windows and doors. In most of the firm's buildings, heating and cooling are provided with the same systems requiring (and permitting) smaller equipment—since the energy required for heating is approximately 90 percent lower and that for cooling is 30-50 percent lower than a building of similar size and type in the existing building stock. With such refinements in performance standards and strategies, passive systems can generate 60-70 percent reduction in energy use.
Cities are moving forward with climate goals at an unprecedented rate. Together with strategies to make their infrastructure more resilient to climate shocks, that movement finds its greatest opportunity in existing buildings. But, those buildings need a strong, dynamic interface with the grid and energy storage, load reduction, and renewable energy sources to have the best grid economics.