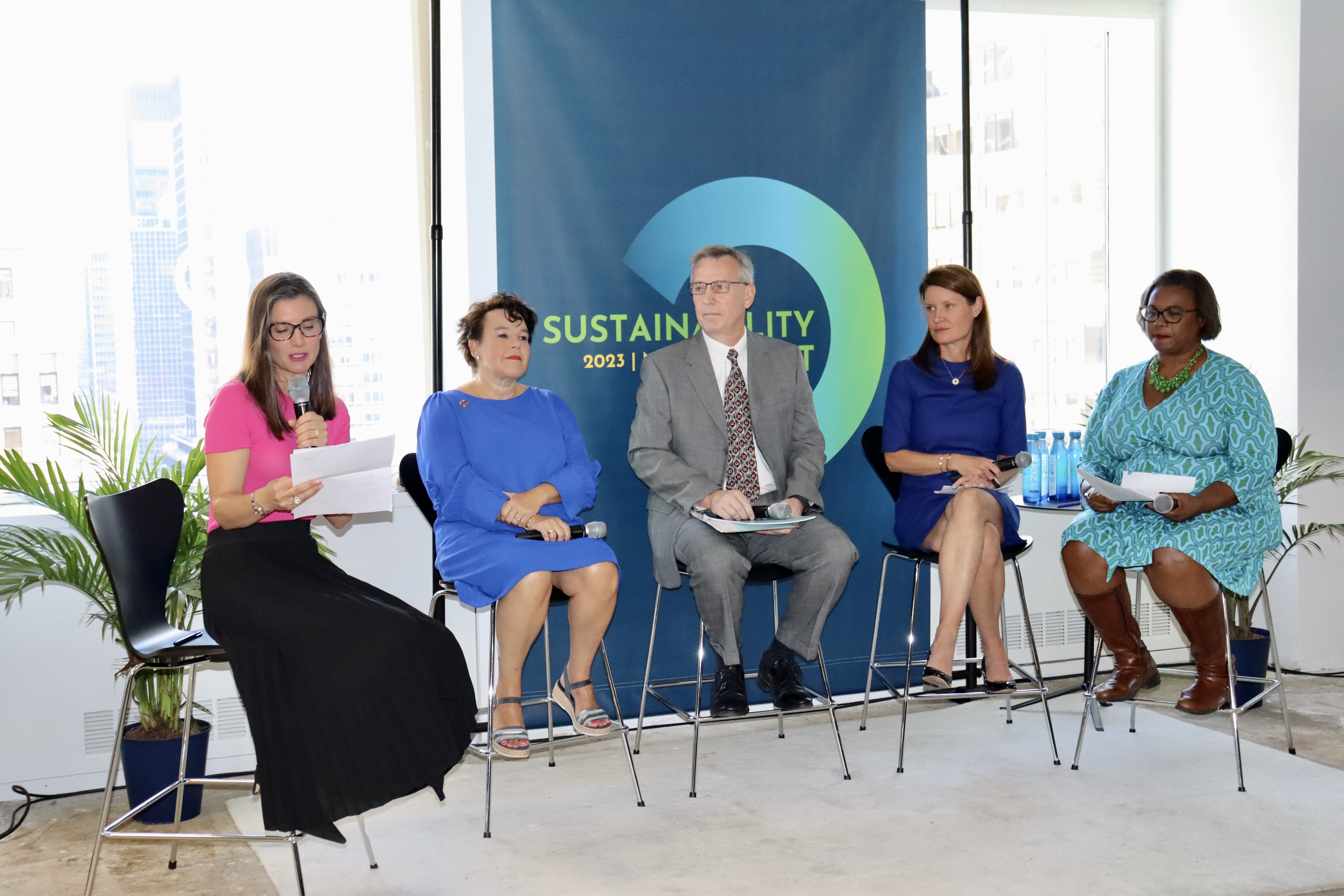 Presentation showcased Danfoss solutions for decarbonization
Danfoss North America president Rick Sporrer presented Danfoss' most recent whitepaper, "Roadmap for Decarbonizing Cities," on September 19 at the Chrysler Building in New York City. The presentation was part of a three-day Sustainability Summit, organized by the Danish consulate during Climate Week NYC. Organized by Climate Group and run in coordination with the United Nations and the City of New York, Climate Week brings together leaders from business, government and the climate sector to discuss progress toward addressing climate change and the challenges ahead.
This year's Climate Week theme is "We Can, We Will." Danfoss firmly believes that we can and will meet our climate goals and is committed to developing the technologies and solutions that will help lower carbon emissions and reduce energy consumption.
One of the most crucial keys to meeting climate goals will be energy efficiency as it is the single largest measure the world can take to reduce energy demand. Energy efficiency is, and always should be, the 'first fuel' for clean energy transitions. The technology is available, and it's the quickest and most cost-effective carbon mitigation option.
Decarbonization is a key pillar of Danfoss' ESG (Environmental, Social, Governance) goals, as it works toward achieving its own goal of becoming carbon-neutral across its global footprint by 2030.
"Roadmap for Decarbonizing Cities," the company's recent whitepaper, emphasizes that cities offer some of the best possibilities to optimize urban planning and accelerate a green transition, and there are already accessible, cost-efficient technologies capable of cutting emissions sufficiently to meet global climate goals. But political leaders need to take action to ensure the infrastructure exists for the technologies to be adopted and scaled. With cities accounting for two-thirds of global energy consumption and more than 70% of annual global carbon emissions, and with increasing urbanization, it is clear that in order to reach the goals of the Paris Agreement, business and political leaders must commit to decarbonizing our cities.
Examples noted:
Energy-efficient heating and cooling in buildings. By adopting low-carbon technologies such as heat pumps, buildings can significantly reduce their greenhouse gas emissions. If all urban areas and cities in Europe, the US, and China invested in energy-efficient heating and cooling of buildings, this would contribute 20% to the 1.5C target of the Paris agreement.
Electrification of urban transport would contribute 28% to the target.
Sector integration. Excess heat can provide for a substantial portion of heating/cooling needs in cities. This heat can be reused, but a holistic approach to energy reuse in cities is crucial to build out this capacity and decarbonize the power supply of cities.
"Cities are the key to reaching our climate goals," said Sporrer. "While some cities, like New York, are implementing energy efficiency standards and mandating reductions in carbon emissions, we still have a long way to go to make our cities cleaner and more sustainable. I was glad to be part of the conversation on how we can harness innovative technologies to meet our climate goals."