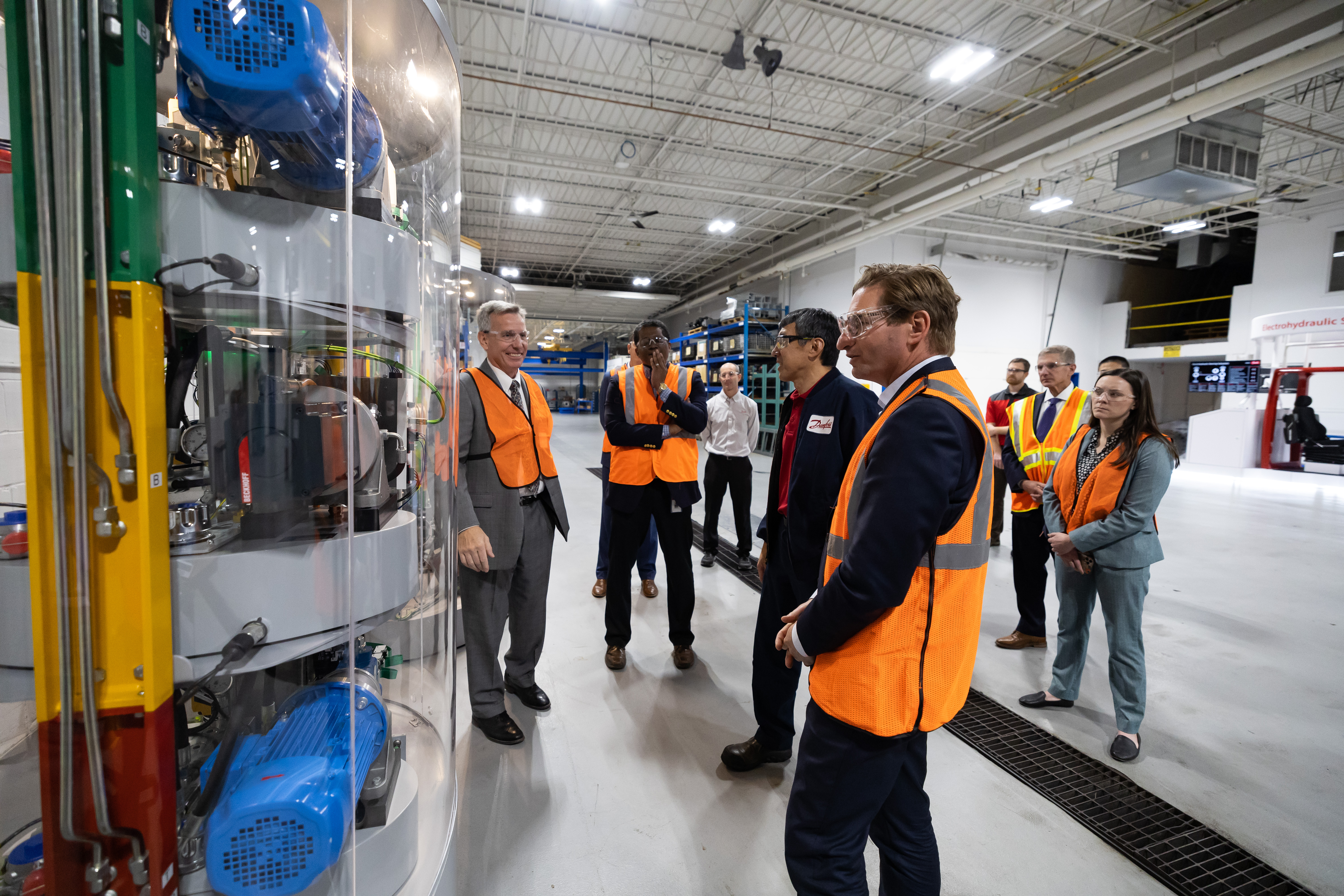 I Make America event honored manufacturing employees
Danfoss was proud to host Representative Dean Phillips (MN-03) for an I Make America event at its Eden Prairie, Minn. facility in November 2022. Organized in conjunction with the Association of Equipment Manufacturers (AEM), the event was part of AEM's national grassroots campaign to honor the 2.8 million men and women of the equipment manufacturing industry.
Eden Prairie is home to Danfoss' hydraulics business, producing steering components and systems for industrial applications. While visiting the Eden Prairie site, Phillips toured Danfoss' R & D Technical Resource Center and Proving Center where he saw firsthand the various applications of components manufactured by Danfoss and tested the company's Electrohydraulic Steering Subsystem. During the visit, Phillips convened a town hall with Danfoss employees and leadership, where he took questions and discussed the policies he has championed in Congress, such as the recently passed CHIPS and Science Act and the Infrastructure Investment & Jobs Act, which will greatly benefit the equipment manufacturing industry.
Said Rep. Phillips: "One of the great joys of this job is visiting businesses both large and small who are on the leading edge of technological advancements, sustainability, and innovation, and Danfoss was no exception. As someone who believes representation begins with listening, the conversations I have in the course of these visits make me a better representative for our community in Washington, DC.
"It was a pleasure to host Rep. Phillips and AEM at our Eden Prairie facility. We had the opportunity to demonstrate the importance of our technologies to the industries we serve and the impact we have on our local community, which is a priority for Danfoss. We appreciate AEM's ongoing support for policies that are important to U.S. manufacturers and workforce development," said Rick Sporrer, president of Danfoss North America.
Related links:
I Make America: https://imakeamerica.com/
AEM: https://www.aem.org/