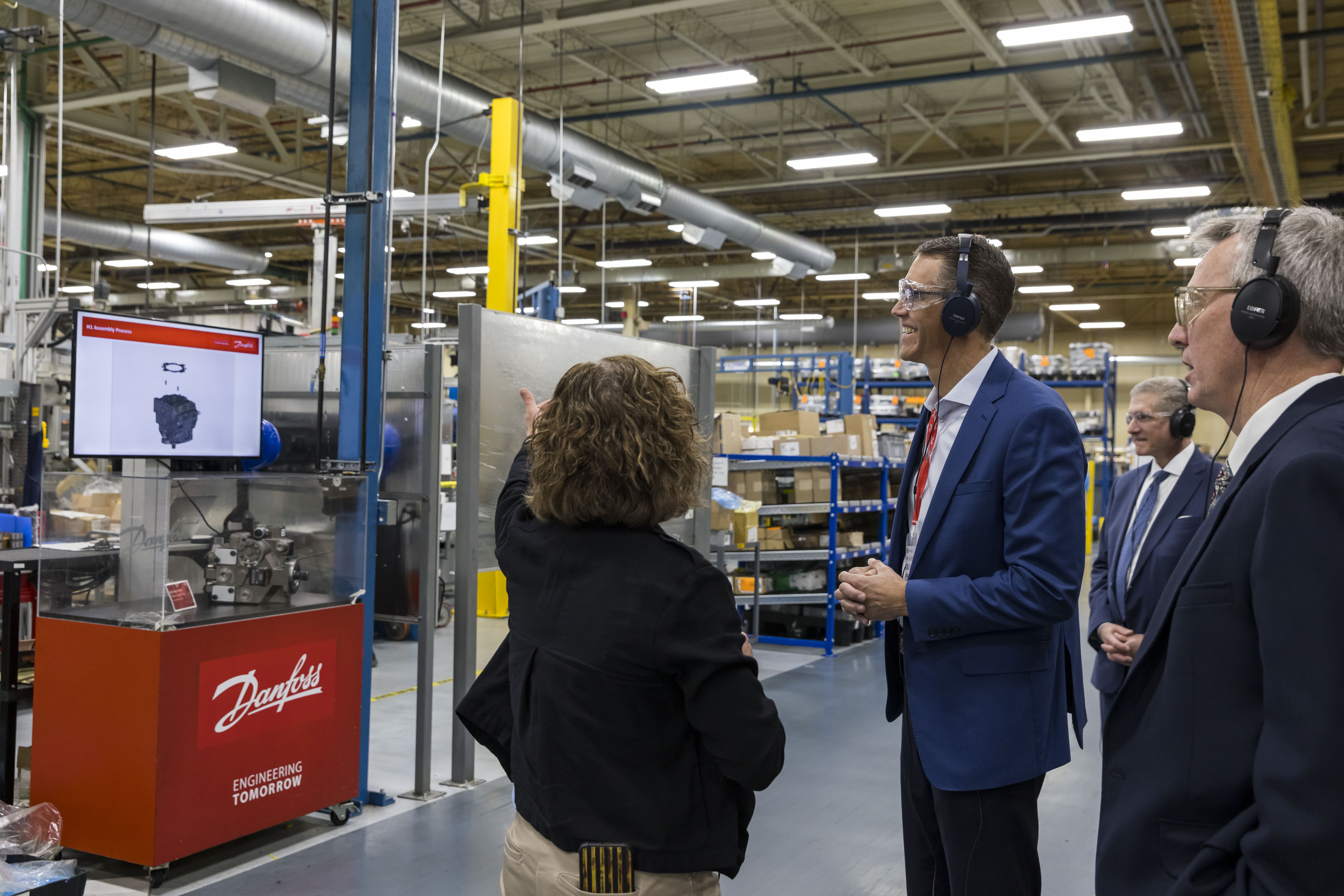 Visit included a factory tour, machinery demonstration at Application Development Center
On Tuesday, April 4, Danfoss hosted Rep. Randy Feenstra (Iowa-04) and the Ames Chamber of Commerce at Danfoss Power Solutions' Ames, Iowa location.  The visit was an opportunity for Danfoss to showcase its state-of-the-art, energy efficient technologies and emphasize its commitment to creating jobs in the community and supporting the economy in central Iowa.
The visit began with a meeting with Danfoss leadership in Ames, which included Rick Sporrer, president of Danfoss North America. The Congressman and the Chamber representatives then toured the factory and were treated to a demonstration of some of Danfoss' latest technologies and solutions developed in its Application Development Center. As part of its commitment to decarbonization, Danfoss is providing solutions that help machinery manufacturers improve efficiency and reduce both energy costs and carbon emissions.
Recently honored by the Ames Chamber as the 2022 Business of the Year, Danfoss is proud to be the community's largest private sector employer. The company has been a civic leader in the region for 51 years and continues to invest in innovation, hiring large numbers of interns and full-time employees each year and partners with Iowa State University to support workforce and development and technology advancement.
"I enjoyed touring Danfoss – which is the largest private sector employer in Story County – this week on my biannual 36 County Tour. Among numerous topics, we discussed tax policy, international trade, workforce matters and inflation," said Rep. Feenstra. "In Iowa, our businesses and workers power our economy and support our vibrant main streets. Danfoss is another shining example of ingenuity, innovation and success in Story County and the 4th Congressional District."
"We were honored to host Rep. Feenstra and the Chamber at our facility and provide examples of the investment in manufacturing technologies and innovation," said Sporrer. "We are committed to continuing to make an economic impact in Ames through job creation and technology development. As the need for energy-efficient and low-carbon solutions increases, Danfoss is excited to develop the next generation of technologies for equipment manufacturers and support the community locally and nationally."