RETHINK Live Returns to North America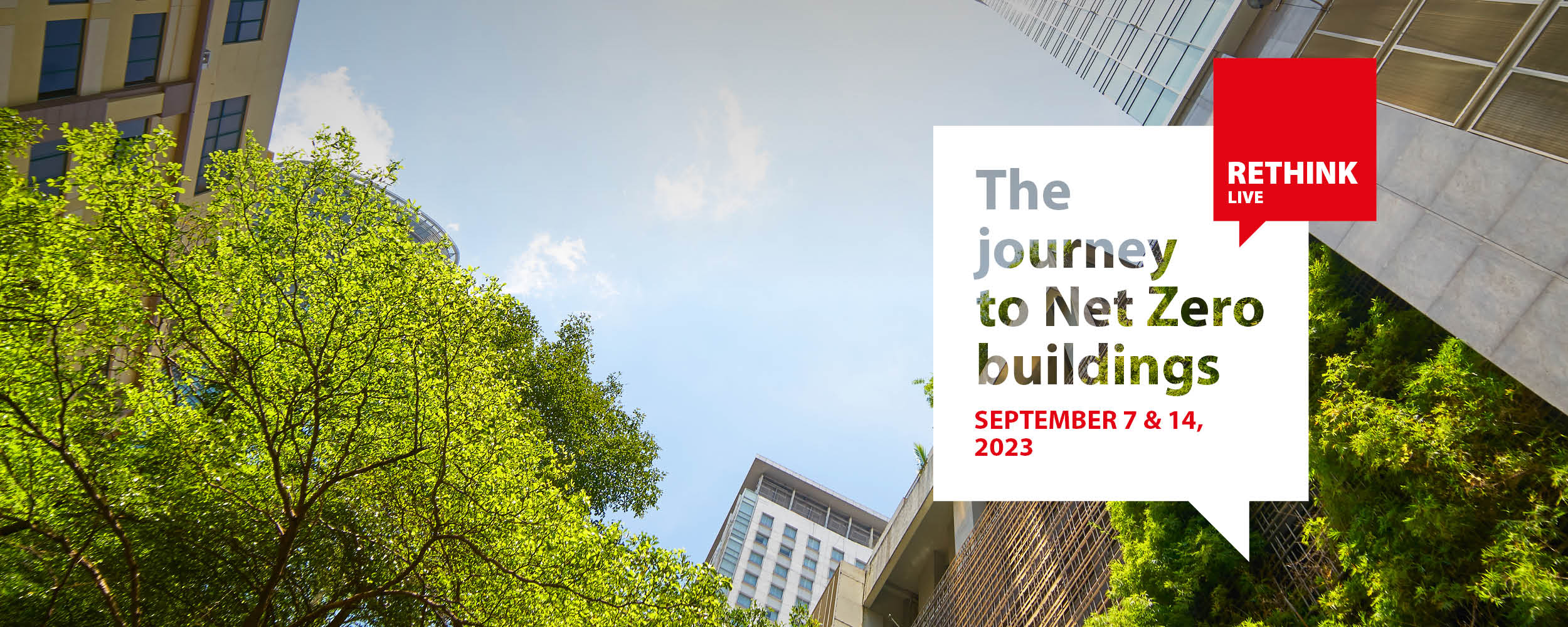 RETHINK Live Returns to North America
RETHINK Live, Danfoss' Climate Solutions global online webinar series dedicated to uncovering new ways of innovating in the HVAC world, is returning to North America! This year's theme is "The Journey to Net Zero Buildings!" Watch all of our sessions on demand now.
The journey to Net Zero Buildings 
Urbanization is changing the global landscape. Cities are growing rapidly, making decarbonization more critical than ever before—given that nearly 40% of global CO2 emissions derives from buildings. 
It's time to rethink how buildings can be the cornerstone of a smart, carbon-neutral economy. With a strong foundation for more sustainable buildings already in place, we're committed to helping you navigate your journey to Net Zero by sharing our latest intelligent solutions—and insights, expertise, and advice from the frontlines of sustainable building innovation.
How to accelerate our journey to Net Zero buildings
Join Danfoss for a live, virtual panel discussion about the importance of accelerating the journey to net zero buildings featuring Vikas Anand, Danfoss Climate Solutions Sales Vice President, North America, Jenna Cramer, President & CEO, Green Building Alliance, and Victor O Marinich, Danfoss Global Strategy Director, Commercial Buildings. This discussion, moderated by Michael Kellerman, Director of Business Development at Danfoss, will uncover the opportunities to develop greener, healthier, and more resilient buildings.
Watch on-demand now
Case Study
Danfoss Smart Store - Getting to Net Zero buildings and the role of smart technology
Join Dean Groff, Danfoss' Food Retail Services Contractor Manager, for a case study presentation on Danfoss' Smart Store Supermarket in Nordborg, Denmark, which is leveraging smart technologies to reduce carbon emissions and improve energy efficiency, thus leading the green transition through foundations already in place for Net Zero buildings.
With exciting new smart solutions already helping to achieve Net Zero—and even Net Positive—buildings, learn how Danfoss can support your transition to greener solutions through our real-life Food Retail model in Denmark's newly opened Danfoss Smart Store.
Watch on-demand now
Coffee Chat
Data center trends
Did you know data centers account for about 2-3% of global electricity consumption?
Join Rami Dalbah - Danfoss' Business Development Manager for Data Centers, Michael Strouboulis - Business Development Director for Data Centers, Evangeline Klingbeil - Danfoss Business Development Manager for Data Centers, and Ken Koehler - Senior Key Account Manager for Data Centers, for a chat as they introduce some key areas where Danfoss can help data centers stakeholders achieve their ESG and sustainability goals through decarbonization.
Watch on-demand now
Solution Leadership
How hydronic balancing helps heat pump systems deliver year-round efficiency
Hydronic balancing is the secret ingredient to achieving year-round efficiency in your heat pump system. In this RETHINK Live session, Andrew Simpson, Danfoss' National OEM Sales Manager for Chillers & Heat Pumps, will share how hydronic balancing helps you get the "highest possible seasonal coefficient of performance" (SCOP) from your heat pump—boosting the stability of flow and temperature, increasing system lifetime, and maintaining consistent seasonal performance.
Watch on-demand now

Watch RETHINK Live 2022 Sessions On Demand Now
Topic: Cooling in the green transition