Back for good installation

Meet the new Danfoss Electronic Room Controls. Designed to make life easier.
The first Danfoss ERC to be 100% co-created with installers just like you.
We're sorry we didn't get it right last time, but we listened to you and now we're back with a new and improved ERC range that we know you're going to be pleased with because it is quicker and easier to install.
Fast and hassle-free to install. Streamlined range for easier selection.
We listened to you. Now we can share the results of our collaboration!
We took your feedback on board and went back to the drawing board to develop a new, improved collection of ERCs, and choosing the right one for your job couldn't be simpler just use the Product Selector tool on the Danfoss Installer App to make your life easier
From a new industry-standard backplate, multiple cable access design and intuitive display wrapped up in a full white exterior, the new Danfoss ERC are designed for ultimate ease – from selection and installation to programming and everyday use.
We've also streamlined the range to make it easier to choose the right ERC for your customers. Here's the new line-up:
TS710 and FP720 Time switch and Programmer
TP5001 range of Programmable Room Thermostats
RET2001 range of Digital Room Thermostats
RET1001M Dial Room Thermostat
But that's not all. As well as updating the exterior styling we've made aesthetic improvements to the ERC displays and made them even easier to read. Upgrades include a larger dial on the RET range, sharper detailing on RET and TP models, and new LEDs and clearer labelling of functions on the FP720.
What more could you want? Okay, we know what you really want is to win the lottery. Unfortunately, we can't fix that – but we have fixed our ERC to make your life – and your customers' lives – easier.
The new Danfoss ERC range – designed by installers, for installers.
Time Switches and Programmers
New and improved in every way that matters
Added +1 hour boosted button(s)
Indicator lights for each channel
CH button changed to PB
Additional tap and radiator symbol
Multi cable access design 
Industry backplate 
Service interval updated 
Full white design 
Find out more
When simple is just better 
More appealing dial design 
Large cable access 
Cable access to the rear, top and side 
Extra live terminal added 
High and low limiting design
Full white design 
Find out more
Setting the standard
5 Year warranty
Grey lasered control markings 
Standby button and PCB upgraded
RF range is paired from the factory 
Cable access from the top, rear and side 
Extra live terminal added 
New mains design (surface mount)
Full white design 
Find out more
Programmable room thermostats 
Full of features, yet easy to use 
5 Year Warranty
Large backlit display
Battery version, Main power version and Radio frequency version (RF)
5/2 days or 24-hour schedule, 4 events function
Holiday mode & frost protect temperature settings
Maximum and Minimum temperature settings
Standby button
Multiple cable access for ease of installation
Optimised or Delayed Start options
Volt free output
Service Interval timer
Boiler plus compliant
Find out more
Back for good piece of mind
Trusted reliability. Proven energy saving. Fully compliant. It's got it all!
Extended warranty for extra peace of mind.
We're so confident in the reliability of our new, improved ERC range that we've extended the warranty from 2 to 5 years. That's extra peace of mind for you and your customers.
Also, when you choose a Danfoss ERC you can be sure it's 100% Boiler Plus compliant – that's another box ticked.
Expect more from Danfoss.
Trusted reliability - Extending our warranty from 2 to 5 years warranty
Fully compliant - Meets all legislation and boiler plus compliant
We support you - You can meet Danfoss experts face to face and we supply the right training 
Simple by design - Full white thermostat design with easy-to-read display
Raising the bar
We've raised the bar on energy saving - and that's official. Research by the University of Salford has shown that replacing a standard room thermostat with one that controls the boiler using load or weather compensation can deliver savings whenever the heating is on. So, when you choose a new Danfoss ERC you can pass on all these energy saving benefits to your customers.
Fast and easy to install and the obvious choice for efficiency too.  The new Danfoss ERC range really has got it all.
OpenTherm protocol (thermostat/boiler)
On/off load compensation
Temperature locking and limiting (new on Dial)
2% Energy Saving (Class 4 – ERP)
3% Energy Saving (Class 5 – ERP)
Discover the infographic

Stylish new design. Suits any décor. Easy to read displays.
Good looks and a breeze to use.
We know looks aren't everything, but we also know that today's discerning consumers want the products they choose for their home to be well-designed and easy to use, including their heating controls. That's why the new and improved Danfoss ERC range now sports a full white design, including the backplate, that will fit in with any décor.
Discover how Danfoss can help you help save your customers' money
Reduce energy waste and help saving money on the heating bills
With energy costs rising, consumers are looking for ways to increase the energy efficiency of their heating systems. For many, they will be looking at their radiators and thermostats. As well as out brand new range of electronic room controls, we also have a large range of thermostatic radiator valves designed to be as easy to install and efficient for the end user as possible. By installing thermostatic radiator valves, a quick, simple addition to your customer's heating system, you can help them reduce energy waste and save money on their heating bills. They get a better performing heating solution, and you get satisfied customers. 
Learn more
Coming to a wholesaler near you. Hop on the Installer Life Tour Bus.
Come and meet our newest family members when we stop by a wholesaler near you!
Check out the new and improved ERC range when you visit the 2022 Danfoss Installer Life Tour currently making its way around Britain. Just hop onto the tour bus when it comes to your area, get hands-on with new products, and meet the Danfoss team face-to-face.
Once on board Danfoss experts can provide short product demonstrations and explain how we're making installers' lives easier with products like our new, improved and fully compliant ERC.
We know it can be tricky to take time out of a busy day but if you can stop for a quick cuppa and a chat we're sure you'll find it worthwhile and informative.
Discover Installer Life on Tour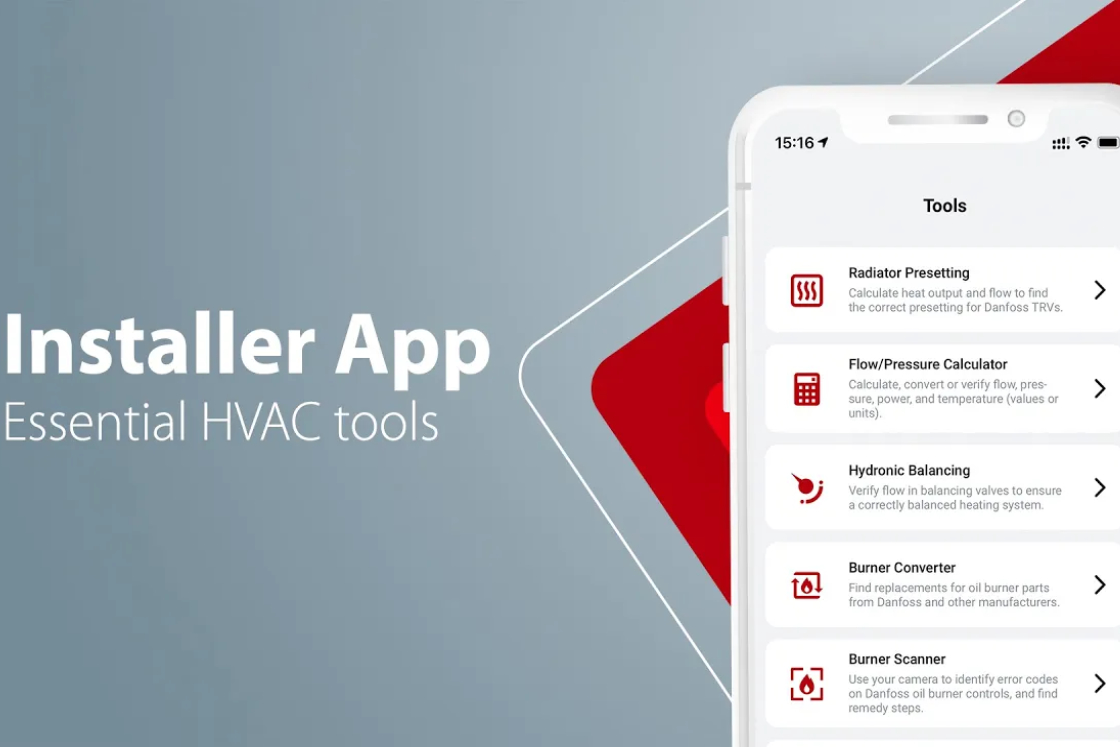 Installer App 
Dive into our app with tools that save you time on balancing, sensor replacement, valve replacement and more. The Danfoss Installer app is like having a second toolbox right in your pocket - at the point of installation! 
Subscribe to news for installers