Refrigeration compressors and condensing units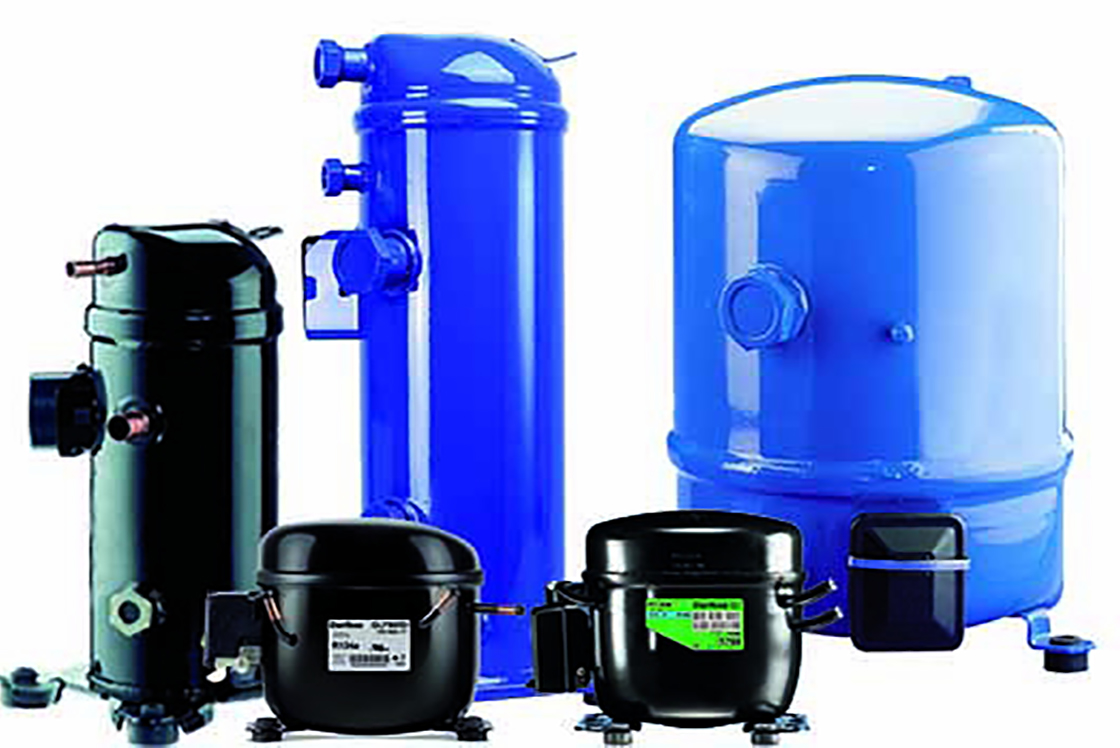 A Danfoss refrigeration compressor or condensing unit is purpose-designed for applications such as: glass door merchandisers, display cabinets, commercial refrigerators and freezers in the professional refrigeration market. The fixed and inverter solutions are perfect for an energy efficient and reliable system, no matter what the application or operating conditions are. Our offer cover:
Light commercial units below 2KW
Commercial units from 2 to 20KW
Large commercial and tandems above 20KW 
Operating with refrigerants R404A, R134a, R407A/R407C/R407F, R507A or R22, and green refrigerants like R290 and R600a, the Danfoss refrigeration compressor or condensing unit you select will deliver world class results meeting stringent energy regulations across the globe.
In addition, our housed condensing units for refrigeration are highly reliable, compact, cost effective and flexible solutions that combine the best of quality, efficiency and acoustic performance.
Alternative refrigerants for refrigeration system
In food retail and commercial refrigeration applications, where R404A and R134a are today primary refrigerants and high GWP, R404A will be banned in new equipment as well as for replacement in Europe and in the United States. Using different technologies in refrigeration, Danfoss' compressor validation plan includes alternatives for:
Danfoss Light Commercial Refrigeration: A lot of Danfoss compressors are already available for use with the A3 refrigerant R290 and A2L refrigerant R1234yf. Both provide improvements in capacity and compressor efficiency when compared to R404A and R134A. However, to overcome the charge limit of 150g for A3 refrigerants, both the A1 blends R449A and R452A are undergoing qualification tests.
Danfoss Scrolls and Maneurop reciprocatings for refrigeration: Danfoss Scrolls and Maneurop reciprocating refrigeration compressors have already been qualified for the mid-term solution of R-407A and R-407F in medium and high temperatures, and will now also be expanded to include R-452A, R448 and R449A.
For low temperatures, the models of both technologies will be qualified for R452A. Danfoss Scrolls will also be qualified for R448A and R449A.
Both R448A and R449A will reduce GWP by up to 65 percent compared to R-404A. 
R452A is an exceptional drop-in replacement refrigerant which maintains the compressors' existing features and technical performance in medium/high and low-temperature applications while reducing the GWP by about 45 percent.
Optyma™ condensing unit portfolio: the condensing units will be made available to operate with the same refrigerants as the compressors.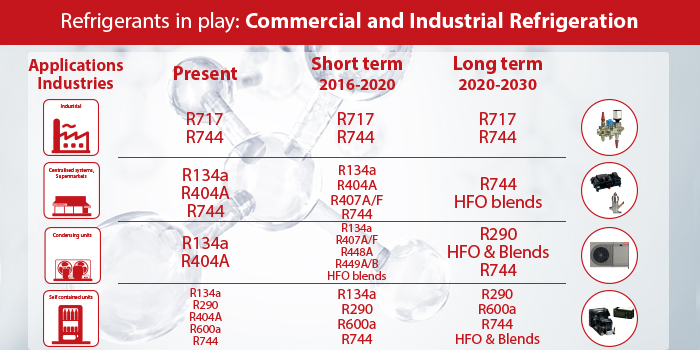 Products in focus